Thailand News Today | Thai surrogacy ring, vaccine-passport | February 8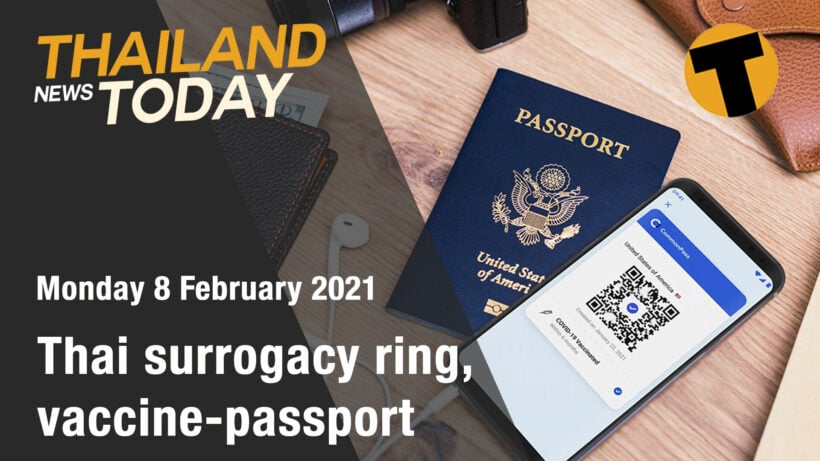 An alleged illegal transnational surrogacy ring, posing as a cleaning company, has busted by Thailand's cybercrime police after surrogate mothers were unable to deliver the children to buyers overseas due to the current travel restrictions.
Officers from the Cyber Crime Investigation Bureau raided 10 locations suspected of being involved in the underground transnational surrogacy network, arresting 3 alleged agents and 4 Thai women who are believed to be surrogate mothers.
Officers also found 2 infants, 6 months old and 8 months old, during the raids. The bureau partnered with the Department of Special Investigation, as well as other agencies, including the US Embassy in Thailand, for the investigation.
Investigators claim that Thai women were lured into the illegal surrogacy network through social media and were paid more than 500,000 baht each to bear children for overseas parents. By posing as a cleaning company, the surrogacy network managed to operate in Thailand for a number of years.
Thai women would travel to Cambodia for an embryo transfer and then head back to Thailand where they would stay until they gave birth. The intent then was to hand the babies over to the overseas parents.
The investigation was launched after a woman, believed to be a surrogate mother involved in the illegal network, gave birth to a premature baby with multiple health problems including a brain haemorrhage. Investigators then discovered many other Thai women had travelled abroad for an embryo transfer.
The suspects face charges for violating the Protection of Children Born by Assisted Reproductive Technology in Medical Science Act and the Anti-Participation in Transnational Organised Crime Act.
With families across Thailand getting together to celebrate the Chinese New Year this weekend, health officials are concerned the gatherings could potentially spread Covid-19. In Bangkok, Friday's festivities celebrating the year of the ox in Chinatown, have already been cancelled by the Bangkok Metropolitan Administration due to Covid concerns.
The director of the emergency disease and health hazards control, Chawetsan Namwat, says strict social distancing is important at family get-togethers and suggested reuniting families virtually instead, especially with elderly family members who are the most at risk.
Most of Bangkok's recent coronavirus infections have been linked to large social gatherings. 4 separate parties in Bangkok are behind nearly 40 cases. The CCSA says alcohol was a main factor in people letting their guard down when it comes to practicing disease control measures.
This Friday is a public holiday for Chinese New Year this year. The Friday and Saturday form the two main holidays to welcome in the Year of the Ox. The three day long weekend also includes Valentines Day on Sunday… just a reminder if you forgot.
Hundreds of Burmese nationals have again gathered outside the UN building in Bangkok to protest against last week's military coup in their home country. Many raised their hands in the 3-finger salute, a symbol of resistance and democracy taken from the movie the Hunger Games and widely used by Thailand's pro-democracy movement.
Some protesters held photos of Aung San Suu Kyi, the leader of Myanmar's League for Democracy Party and previous State Counsellor before she was deposed and arrested by the Burmese military on February 1. She had won last November's election in an overwhelming landslide. Some held signs with her picture that said "We are together with you."
Police say the estimate around 300 Burmese nationals gathered outside the UN's Economic and Social Commission for Asia and the Pacific on Ratchadamnoen Nok Avenue. The protesters wore all wearing face masks but the crowd were ordered to end the demonstration and disperse because it violates the ban on public gatherings.
Last week, protesters also gathered outside Myanmar's Embassy in Bangkok following the coup in the neighbouring country. Riot police dispersed that crowd and 3 Thais were arrested.
Thai health officials aren't yet onboard with the idea of a "vaccine passport" which would potentially allow travellers who have been vaccinated against Covid-19 to enter Thailand without having to go through the 14 day quarantine. Health officials in Thailand say there isn't yet enough evidence to prove that the vaccine is totally effective in preventing transmission of the coronavirus.
While the vaccines are considered to be effective and are being administered around the world, Thailand's Department of Disease Control says there's still not enough research to know if the shots are completely effective, how long they'll last or their efectiveness against transmission.
Thailand's Public Health Ministry has consulted the World Health Organisation about a potential vaccine passport regulation, but has determined that a mandatory 14 day quarantine is still the best international agreement on travelling during the pandemic.
The lack of tourists travelling to Thailand over the past year has led to many tourism-related businesses and hotels closing up, more than a third of them for good, according to a recent survey. With many people turned off by the idea of a 14 day quarantine at their own expense, some say the vaccine passport could been the magic short-term bullet for more tourists and a boost to the economy.
The Federation of Thai Industries say foreigners with a certificate of Covid-19 vaccination should be able to bypass some of the strict control measures when entering the country.
The Thai man who found what is believed to be a rare orange pearl worth millions of baht has been arrested on drug charges. Turns out he's a suspect in an ongoing drug case. And with his multimillion baht find getting both national and international media attention, Thai police were able to track him down and arrest him at his home next to a beach in Nakhon Si Thammarat.
The 37 year old said he was called to the Koh Phet beach by a spirit who told him there was a gift waiting for him. He took the spirits up on their suggestion and found the 7.6 gram pearl in either an oyster or a Melo Melo snail shell when wandering along the beach the next day. If the orange pearl is a genuine Melo pearl, it could be worth 10 million baht.
But police had previously found 16,000 methamphetamine pills near the man's home. After seeing reports that he was back at his home, Thai police obtained a search warrant and raided the house, seizing drug paraphernalia. The man, known as Haschai, was arrested on charges of using and possessing crystal methamphetamine.
Keep in contact with The Thaiger by following our Facebook page.
Never miss out on future posts by following The Thaiger.
Thai navy receives PETA award after rescuing cats from sinking ship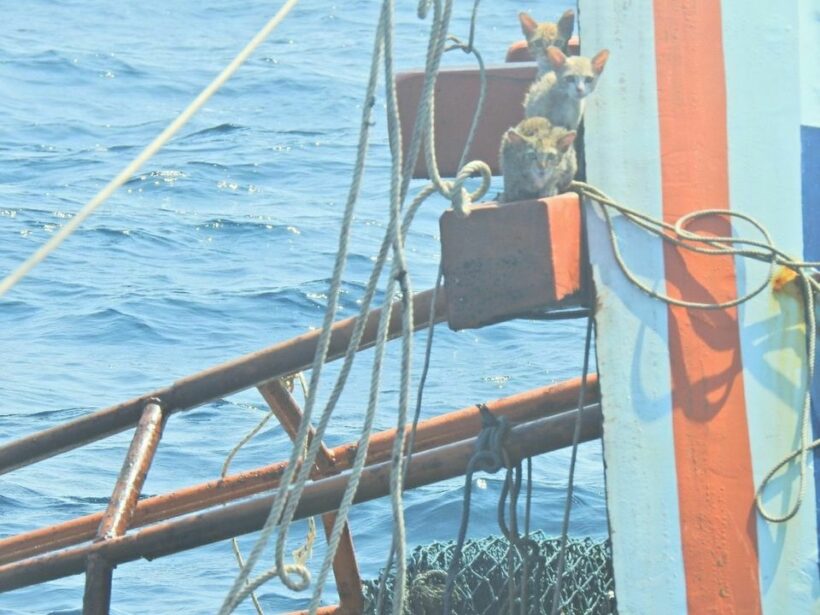 The Thai navy is celebrating receiving a PETA award after rescuing a group of cats from a sinking ship that had caught fire in the Andaman sea. The Hero to Animals Award was given to the naval officials by the People for Ethical Treatment of Animals group after Facebook user "Nookool.b" posted photos of the feline rescue mission.
The ship's 8 member crew had jumped off the sinking Phamonsin Nava 10 and were rescued by a passing fishing ship, but noticed 4 cats were left onboard. Navy sailors rescued the cats by carrying them piggy‐back style across the water to the navy vessel unit. The felines were safely rescued and were in good condition, just a bit dehydrated.
"They carried each cat on their backs and swam back to the Navy vessel until every cat was rescued."
PETA Senior Vice President Jason Baker said their efforts had resonated with kind people around the world.
"Peta hopes their example will inspire everyone to keep an eye out for animals in danger and do whatever it takes to ensure their safety."
PETA says they are sending the navy a framed certificate and letter of appreciation. The animal rights group has also offered to pay for the spaying or neutering of the cats.
In 1 rescue photo, a cat was shown to be riding piggy-back on a sailor as his crew mates pulled them both to safety. Other photos show the cats after they were rescued, enjoying food and cuddling in the naval command post in Koh Lipe.
Their rescuers, members from the Air and Coastal Defence Command Operation Unit 491, found the cats the day after they were deployed to assist the crew of the ship that had caught fire. The ship was located about 13 kilometres off Adang Island in the southern province of Satun
Keep in contact with The Thaiger by following our Facebook page.
Never miss out on future posts by following The Thaiger.
Thailand News Today | Changes to quarantine, 'adult content' ban continues | March 5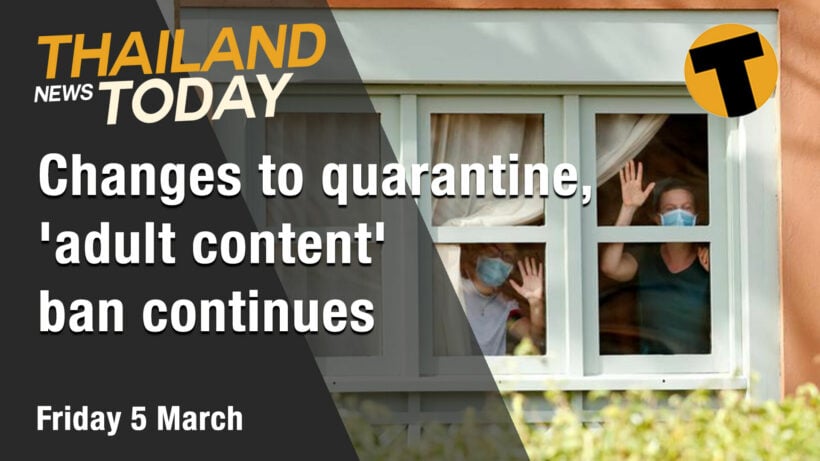 Thailand's Public Health Minister is chairing a meeting next Monday, where a vaccine passport scheme and potential travel bubbles is on the agenda. Anutin says those who've been vaccinated against Covid-19 will be issued with a book to confirm their vaccination. It's hoped this will make international travel easier, as well as boosting the public's confidence and helping life return to some kind of normality.
In related news…. From next month, foreign visitors to the Kingdom will be able to experience the delights of "area quarantine", after the government confirmed the scheme for 5 provinces. Following a meeting with the Public Health Ministry, the Tourism Minister confirmed that Phuket, Krabi, Chiang Mai, Chon Buri and Surat Thani, which includes Koh Samui, have been chosen to pilot the scheme.
P**nhub and other adult websites are remaining blocked in Thailand as they apparently "conflict with good morals for upstanding citizens". The Thai Government says the websites encourage "poor moral standpoints and can affect youth in a negative manner".
The Acting Minister of Digital Economy and Society and current Minister of Culture says that the decision that was made by the previous office holder will be upheld. The decision also includes keeping other popular adult websites blocked as the Thai Government has labelled them to be "obscene". But the move to ban adult content has brought protests with those disagreeing saying such sites are a part of freedom of expression.
A houseowner in the central province of Ang Thong, central Thailand, has discovered 3 skeletons on his land that are thought to be over 3,000 years old. 54 year old Somkiat Briboon says this most recent discovery isn't the first, as the first lot of bones was found last year after preparing his 17 rai plot of land to be rented out for sugarcane farming.
The Thai PM says he's ordered an investigation into allegations that the military has been using fraudulent social media accounts to aggravate the ongoing unrest in southern Thailand. Facebook has announced the removal of 185 accounts and groups that it has accused of "information-influencing", targeting audiences in the deep south of the country, where Muslim insurgents continue to fight for independence. The PM says he's tasked the Defence Ministry with looking into the matter and explaining it to the public.
Keep in contact with The Thaiger by following our Facebook page.
Never miss out on future posts by following The Thaiger.
Pro-democracy group to reach outskirts of Bangkok after almost 250 kilometre walk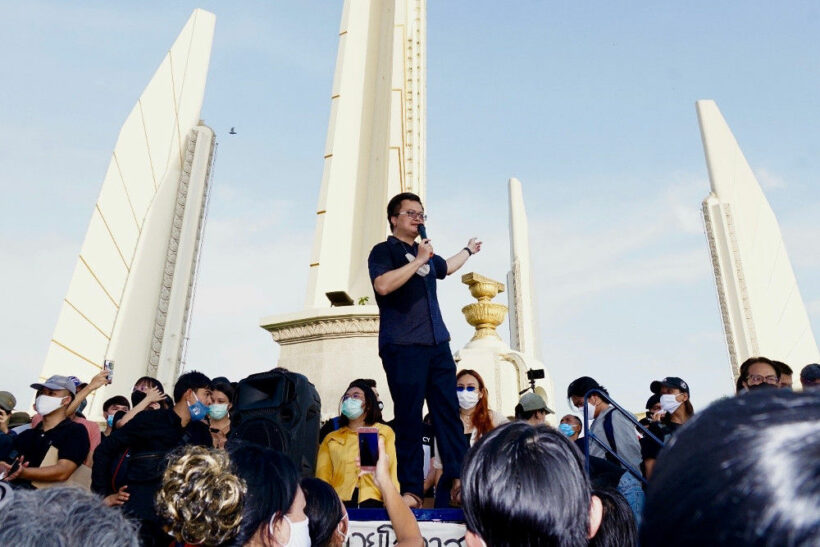 A group of pro-democracy protestors, on an almost 250 kilometre walk, are expected to reach the outskirts of Bangkok today. The group has been walking for 17 days, starting from the Thao Suranaree statue in Korat province's Muang district to protest the imprisonment of 9 pro-democracy demonstrators who are being denied bail.
The demonstrators imprisoned include 4 protest leaders from Ratsadon named Parit "Penguin" Chiwarak, Anon Nampa, Somyot Pruksakasemsuk and Patiwat "Morlum Bank" Saraiyeam. The 247.5-kilometre march, named "Walk Through the Sky: Bring Back the People's Power," started on February 16. Jatupat "Pai Dao Din" Boonpattararaksa, from the student-led protest group Ratsadon, is leading the walking protesters and says they have been held in jail without bail since February 9.
The 4 are facing charges under Article 112, which prohibits lese-majeste, or the defaming of the Thai Royal Monarchy. Lese-majeste carries a jail sentence of 3 to 15 years. They are also facing charges of sedition under Article 116 of the Criminal Code, which carries a jail term of 7 years, as they are accused of organising pro-democracy rallies.
"The ignition and the fuel for the walk is simple. They have started to incarcerate our friends while denying their bail requests, which made it impossible for us to do nothing."
The court has denied the demonstrators bail requests 4 times now, citing that their release would create more unrest.
Pai said he emphathises with the detained protestors as he has been imprisoned for lese-majeste before. He says he spent 2 years and 6 months in prison for sharing a BBC Thai's biography of the monarch on Facebook.
"When I was in jail, there were people outside who were protesting for my release so now that my friends are in jail by an unfair law while being denied their right to political expression, I must come out and do something."
"A walk is a type of a fight against injustice and we choose to fight this way in order to peacefully spread the words about police brutality, the uses of various laws to silence dissidents, the plights of the poor and the mismanagement of the government's covid-relief measures and natural resources."
The walk-in protest group is expected to reach Zeer Rangsit in Pathumthani around 5:30 pm today and will camp out near the department store before marching at the Bang Khen intersection tomorrow. On Sunday, the march is expected to end at Bangkok's Democracy Monument.
SOURCE: Thai Enquirer
Keep in contact with The Thaiger by following our Facebook page.
Never miss out on future posts by following The Thaiger.