Thailand News Today | Principal pulls out gun, rare orange pearl | February 5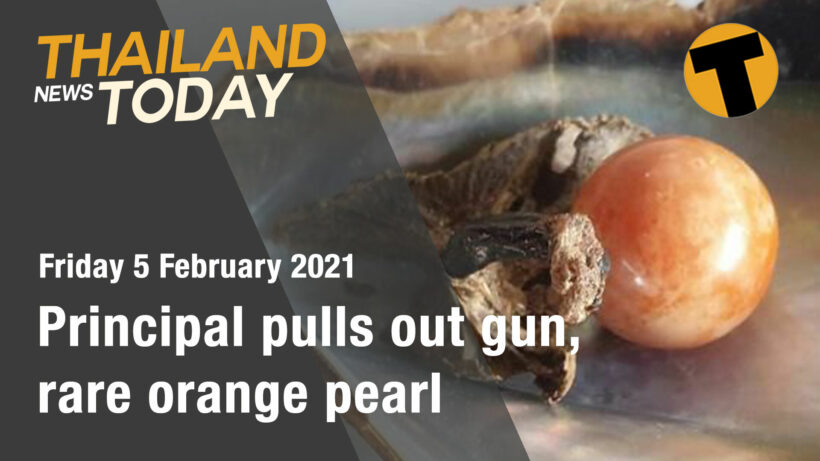 AstraZeneca says it will send 150,000 doses of its Covid-19 vaccine to Thailand from a plant in Asia, as a result of an EU ruling that restricts exports of the vaccine to countries outside the bloc. The doses had been due to come from Italy.
Thailand's Health Minister says officials have received a letter from the pharmaceutical giant that explains what measures are being implemented to avoid supplies being disrupted as a result of the EU ruling.
Thailand is still expected to take delivery of 50,000 doses from Europe imminently, but the next 150,000 due to arrive in March and April will now come from Asia.
Anutin says that Thailand has secured an additional 35 million doses of the AstraZeneca jab, giving it 61 million doses in total. He points out that it's up to AstraZeneca to ensure delivery, regardless of plans to produce the vaccine locally through Siam Bioscience.
A driver in a serious 3 vehicle pileup in Chon Buri has blamed the thick smog for the accident, saying his visibility was limited. Certainly a newer excuse than the old 'brake failure'.
Two people were injured, including a 30 year old man who was stuck inside his sedan when rescuers had to use the "jaws of life" hydraulic tool to get him out of the car.
Another 39 year old motorcycles was found lying on the road. Police say he had minor injuries. The 31 year old trailer truck driver told police that the haze from the air pollution made it hard to see.
Chon Buri had a level of PM 2.5 yesterday measured as unhealthy.
A principal at a school in Southern Thailand pulled out a gun at a morning flag assembly after a criminal complaint was filed with police claiming that he had a inappropriate relationship with a student.
The principal at Thepha School in Songkhla was discussing the school's budget at the assembly, but then changed the subject and started begging the students for forgiveness. He put down the mic and pulled out a gun tucked in his pants. It appeared that he was going to hurt himself rather than the students.
One student screamed "No! No! No!" Then hundreds of students quickly fled the area. After the incident, teachers immediately arranged for students to be picked up from school.
There's more details about that story at thethaiger.com
Police in the north-eastern province of Si Sa Ket have arrested a 37 old man accused of producing counterfeit currency. The man was arrested ed at a property in the Nong Phai district as part of an investigation into a trail of fake 100 baht notes in circulation in Si Sa Ket and neighbouring provinces. Police say his arrest follows the capture of 2 other suspects earlier this week.
A Thai fisherman man found a 7.6 gram orange pearl that is supposedly worth millions of baht on a beach in Nakhon Si Thammarat. A potential buyer even plans to fly to Thailand and undergo a 14-day quarantine to check out the pearl in person.
The man who found the orange pearl says he went looking for pearls on Koh Phet beach after a calling from a spirit who, he says, was helping him out of poverty.
The next day he walked along the coast and picked up 3 oysters, pried them open and voila, a large orange pearl. It was about the same diameter as a 5 baht coin.
Like plenty of other popular tourist spots in Thailand, the economy in the southern province of Krabi has been decimated by the lockdowns and border closures. Tourist numbers in Krabi have fallen sharply, from a yearly average of 6 million to less than 1.5 million last year… and most of that was in the first 3 months before the borders were closed.
And just when Krabi locals thought the worst was behind them, the second Covid-19 outbreak hit the country ruining even a boost from domestic tourists during the tradiitional high season.
Krabi's mayor believes there is light at the end of the tunnel and that the province is getting ready for the return of international tourists. He says the development of Krabi airport, and the provision of parking bays for 30 jet airliners, will increase the province's status as a tourism hub, in line with the neighbouring provinces of Phuket and Phang Nga.
More than 500,000 baht worth of unregistered skin whitening cream containing banned substances has been seized in factory raids in Chachoengsao, Sa Kaeo, Chon Buri and Ayutthaya.
The cream was advertised on social media with claims that it could whiten skin within 7 days no matter how dark the skin.
Cream tested in an initial examination contained mercury, hydroquinone, retinoic acid and steroids… all banned by the FDA.
Altogether, police seized around 100 kilograms of raw materials and equipment used in making the cream.
Keep in contact with The Thaiger by following our Facebook page.
Never miss out on future posts by following The Thaiger.
Thailand News Today | Thai army trim the Generals, sugar making Thais fat | March 8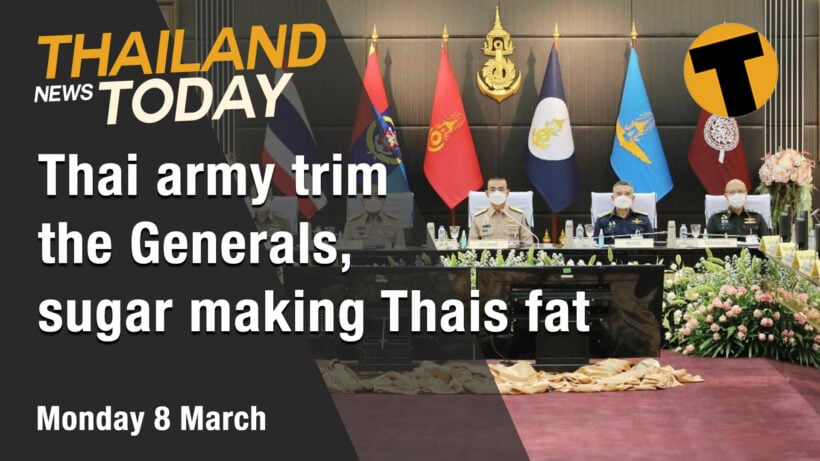 71 new Covid cases in Thailand today, the generals are being told they're going to face pay cuts and a Thai doctors has issued a warning about the link between Thai's love for sugary sweets and life-threatening diseases… there goes my afternoon donut. And don't worry, I'm not going to sing my way through the news today, it's just nice and cool in my home studio so you can enjoy the cool with me. We've also got a new segment at the end of the news today… you'll see that soon enough.
71 new coronavirus cases have been announced today, 31 of them from the hotzone of Samut Sakhon, just south of Bangkok. This beings the total number of confirmed cases in Thailand to 26,441.
The death toll remains at 85 people.
The Thai Army, Navy and Air Force are aiming to trim the number of generals in the ranks by 25% by 2029. But plenty of critics say the plan is probably just more words and won't ever happen.
A Thai doctor is reminding Thais about the clear links between eating sugary foods and the risk of various life-threatening diseases, including cancer. The doctor warns that high consumption of sugar can trigger everything from fatty liver, clogged arteries and liver cancer. 4 million Thais have been diagnosed with diabetes.
Hotels in the northern province of Chiang Mai have been forced to slash rates by up to 90%, desperately trying to attract more local tourists. The northern chapter of the Thai Hotels Association, claims, with tourists mainly favouring the southern beach destinations over the past month month, hotel operators in the north are now planning for low season.
Anti-government activists gathered at Bangkok's Democracy Monument yesterday. Although the anti-government protests have kicked off again after a 2 month hiatus, the numbers are well down on last years crowds, now measuring more in the hundreds than the thousands.
Meanwhile the protest leader Panusaya aka "Rung", has been hit with a fine of nearly 6 million baht. Her crime? Allegedly removing plants at the Democracy Monument. Panusaya and 5 other activists have been charged with removing plants placed as decoration around the monument, during a political rally back on February 13.
Various groups, including Amnesty International and the UN Human Rights Committee, continue to criticise the Thai government's use of the country's lèse majesté laws, with Amnesty International describing it as an attempt to silence dissent.
Keep in contact with The Thaiger by following our Facebook page.
Never miss out on future posts by following The Thaiger.
Local Thai politician arrested after allegedly firing shots at a pub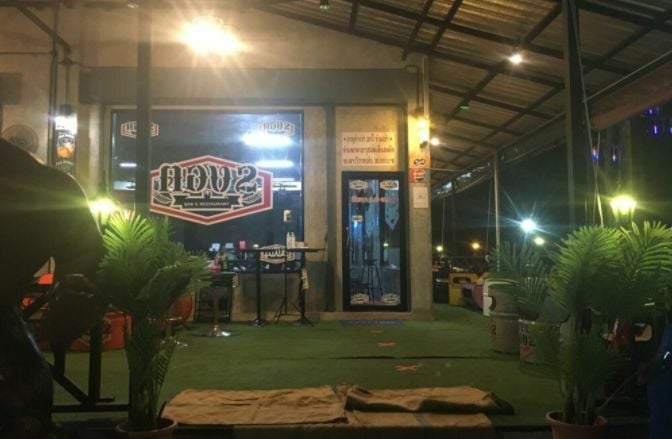 A local politician allegedly shot 4 people at a pub in Nakhon Phanom. Witnesses told the Bangkok Post that the man started firing shots at throughout the pub because he was drunk and unhappy with the table service. Police arrested 58 year old Paisal Saengnarai, who is a kamnan, the governing official of a tambon or sub district.
Witnesses say the kamnan of tambon Na-ngua at the pub drinking with friends when he got unhappy with the waiter. He then walked out to his car, drove to the front of the pub, grabbed his 9mm CZ pistol and started firing random shots in the pub, witnesses said, according to the Bangkok Post.
8 to 9 shots were fired, hitting 4 customers at the pub. They were rushed to Ban Phaeng Hospital. Paisal was arrested on a firearms charge.
SOURCE: Bangkok Post
Keep in contact with The Thaiger by following our Facebook page.
Never miss out on future posts by following The Thaiger.
Quarantine for vaccinated travellers to be reduced to 7 days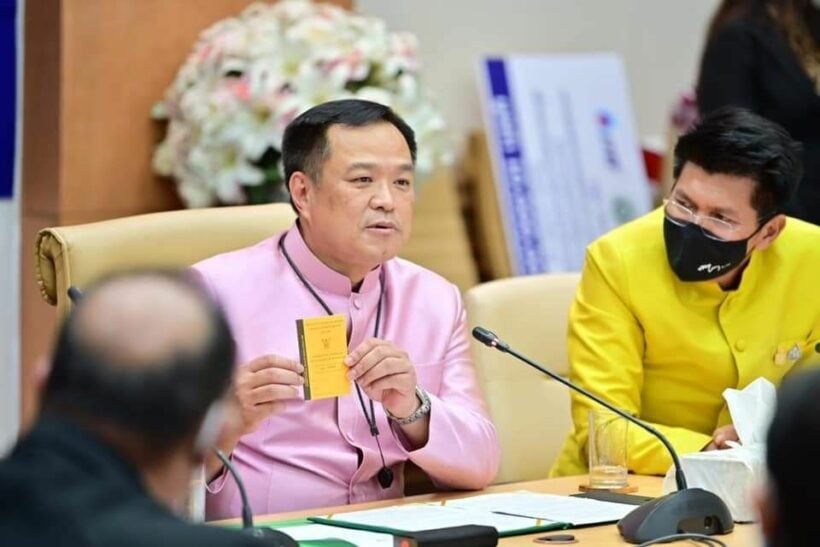 The mandatory quarantine period for those who have been vaccinated against the coronavirus will be reduced from 14 days to 7 days, Thailand's Public Health Minister Anutin Charnvirankul said in a press conference. Those who have not been vaccinated, but have a medical certificate declaring that they are Covid-free, will be required to quarantine to 10 days, Anutin said, according to Reuters.
The health minister says vaccinations must be administered within 3 months of travelling to Thailand. Travellers must still show negative Covid-19 test results issued within 72 hours of their departure to Thailand. Those travelling from Africa must still quarantine for 14 days due to concerns about new variants of the coronavirus.
SOURCE: Reuters
Keep in contact with The Thaiger by following our Facebook page.
Never miss out on future posts by following The Thaiger.