Thailand News Today | Herbal Covid vaccine, HM answers questions, Thailand goes to moon | Dec 15
Thai Covid-19 experimental vaccine to proceed to human testing from April 2021
A Thai start-up developing a herbal Covid-19 vaccine has reported that they're making good progress, with the candidate passing the first phase of testing.
ใบยาไฟโตฟาร์ม, a Thai firm developing a vaccine from plant leaves, is to sign an agreement to begin production for use in human trials. The State Enterprise Development Planning Subcommittee, says the firm is one of several Thai companies working on a vaccine to combat the virus.
The research team from จุลาลงกรณ์ University's Faculty of Pharmaceutical Sciences, whose vaccine has been developed from plant leaves, has reportedly passed tests on laboratory animals.
The Thai biotechnology firm Siam Bioscience has also signed a technology-transfer agreement with AstraZeneca-Oxford University to start production of their vaccine within the first 6 months of next year.
Festival-goers claim event shut down over pro-democracy content, not Covid-19
Social media users are accusing officials of shutting down a music festival in the north-eastern province of Nakhon Ratchasima because of its anti-government content.
The claims follow a statement from the provincial governor who says the festival was terminated early due to Covid-19 risks. He accuses organisers of failing to implement adequate preventative measures, saying there was no limit on numbers and many concert-goers were not wearing masks.
But festival goers have jumped online to share video footage of the three-fingered salute, yellow rubber ducks, the singing of protest songs, and a pretend "corpse" representing activists deemed to have been forcibly "disappeared".
Those posting the content accuse officials of using Covid-19 as an excuse to put an end to the festival over its pro-democracy messages.
No "drink voting" – Alcohol ban on Saturday and Sunday during elections
Possibly in an effort to make sure no one stumbles to the voting polls and casts their ballots drunk, alcohol will be banned from 6pm Saturday until 6pm Sunday during Thailand's municipal council elections.
Selling booze during the 24-hour ban carries a pretty hefty fine: up to 6 months in jail and a fine up to 10,000 baht. Bars, nightclubs and other entertainment venues can remain open, but they are prohibited from selling alcohol.
Drinking alcohol at home is still allowed, as long as it is not sold.
Thailand's Election Act was revised in September 2018, banning alcohol during elections.
HM the King says "I'm just like other human beings"
In another rare public appearance, His Majesty the King Maha Vajiralongkorn sat down and spoke with a group of student volunteers at the 11th Infantry Regiment, the King's Guard.
Answering a question about his role as Thailand's He'd of State, His Majesty remarked candidly… "I am just like other human beings."
Since HM the King's return from Germany in October, he's made several unprecedented public appearances.
At the gathering in Bangkok for the LOVE camp (leadership, oneness, volunteer and experience), Their Maesties the King and Queen sat down with 200 students and answered questions.
Bangkok scores world's 3rd worst air quality
The air quality index in Bangkok soared to an unsafe 190 yesterday morning, ranking third in the world's worst air pollution list.
AirVisual measures particulate matter 2.5 micrometers in diameter or less which is measured as PM2.5.
The safe AQI threshold is 100, and 190 is in the range of unsafe for public health.
The Pollution Control Department reported Bangkok's highest PM2.5 level were in the central Din Daeng district
Deputy PM Prawit Wongsuwon had ordered agencies to stop farmers burning field trash, ask industries to reduce production, facilitate traffic flow, limit construction times and put vehicles spewing black smoke off the roads, to reduce smog levels.
Minister says Thailand plans to build spacecraft to orbit the moon within 7 years
Government minister has announced that within 7 years, Thailand will have built and launched a spacecraft that will orbit and explore the moon.
The Minister of Higher Education, Science, Research, and Innovation was speaking at a press conference at Bangkok's Chulalongkorn University where he announced that the government will launch a space project by mid-January of next year.
He adds that Thailand will be the fifth Asian country to send a craft to the moon, following in the footsteps of China, India, Japan, and South Korea. He says information on how the project will be funded is yet to be confirmed.
"The project will forever change the whole perspective of Thai people that Thailand is no longer a developing country but is a country with a future, opportunity, and hope."
Keep in contact with The Thaiger by following our Facebook page.
Never miss out on future posts by following The Thaiger.
Tower Of Babble – Have your say on The Thaiger, January 18 | VIDEO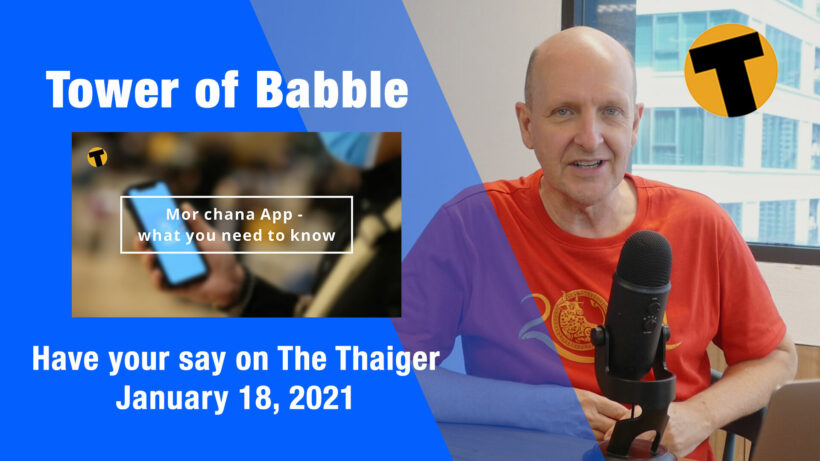 Tower of Babble is where we read some of your comments to The Thaiger YouTube videos. Some are insightful, some are interesting, some need to be shared! And some are just plain funny.
If you leave a comment under any of our videos it may be shared on our Tower of Babble each day.
Facebook Bangkok smog
Mcnab James
And they want the tourist back ???? Sort it out!
Nigel Joey Leggett
Not just this weekend, next Mon-Fri will also see toxic air pollution in Bkk above 150 (red level).
Cathy Odgers At least everyone has a covid mask. Harden up.
Phill Rose same s**t ,diferent year .
Keep in contact with The Thaiger by following our Facebook page.
Never miss out on future posts by following The Thaiger.
Australian man wanted for allegedly sexually abusing children in Thailand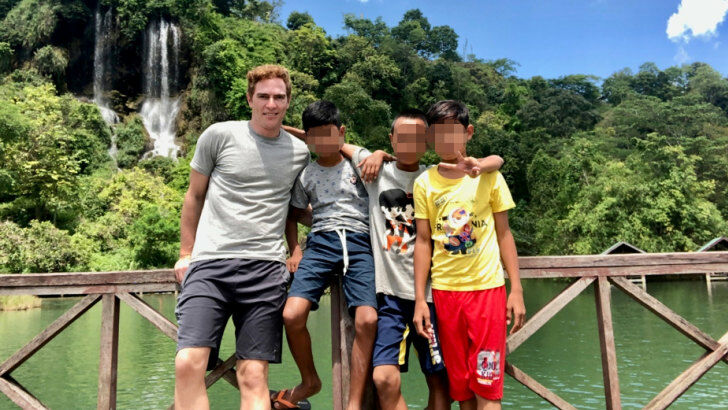 A 44 year old Australian man is wanted by Thai police for allegedly sexually abusing children in Thailand. Adam James Fox financially supported some migrant children in poverty stricken areas and allegedly sexually abused them.
Adam James Fox is wanted for allegedly sexually assaulting or abusing at least 3 Burmese boys, all under 15 years old, at his home in Tak's Mae Sot district near the Myanmar border.
According to the Sydney Morning Herald, Adam has claimed the accusations are a "set up." The Herald notes there is an explicit video allegedly involving Adam and a boy as well as messages that go into detail about sexual abuse.
Reports of alleged sexual abuse came in after a local school principal noticed some of the boys had been absent from class, according to human trafficking investigator Daniel Isherwood.
"All children were interviewed by local social workers from a multidisciplinary team. I can confirm serious sexual abuse was reported, including ongoing sexual violation and indecencies. Boys also report being photographed nude and having access to drugs."
Reporters from the Sydney Morning Herald obtained messages sent by Adam back in November on the messaging app Line. In a message about sexual acts with children, the Herald says Adam wrote "And I love it… And no one can do anything about it."
In another message, the Herald says Adam wrote about giving a boy methamphetamine and heroin, then sexually abusing him. He allegedly wrote in a message that he filmed the acts and posted it on the "dark web."
The Herald says reporters were able to contact Adam. They say Adam confirmed that he wrote the messages, but claimed he was angry and "didn't mean what he wrote."
"All right, I was an idiot to say that but, man, there's plenty of other things I said. I threatened to blow up the court building. I have been flipping out."
A local child welfare organisation reports that there is also a video of a child masturbating and Adam participating. Adam told the Herald that there is a video of a child masturbating, but Adam says his back was turned and the video was a set up.
The migrant boys who Adam allegedly abused live in poverty stricken areas. Adam says he was supporting their education and well being. According to local authorities, he paid a victim's mother 4,500 baht per month.
The Royal Thai Police first charged Adam early last year. He was released on bail, but failed to show up to his court date in December. Adam posted a video online saying he had bribed people, including government workers. The Herald says Adam is on the run in Bangkok.
"Corruption in Thailand is at all levels and with enough money you can get people to give you whatever you want, whatever you need."
SOURCE: Sydney Morning Herald
Keep in contact with The Thaiger by following our Facebook page.
Never miss out on future posts by following The Thaiger.
Disease control measures ease up in Samut Sakhon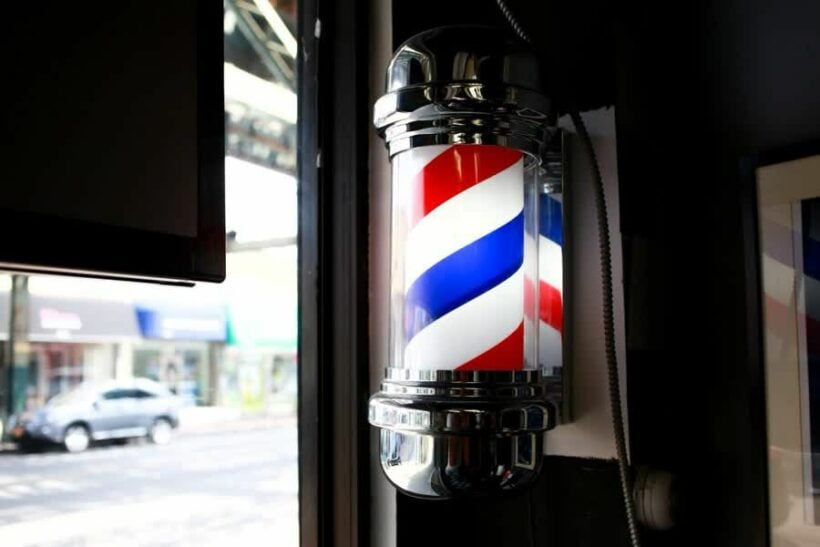 Disease control restrictions are easing up in Samut Sakhon. The coastal fishing province that has been under "maximum control" since last month's Covid-19 outbreak at a major seafood market in the province's Mahachai area.
Salons and barber shops are now allowed to open from 6am to 9pm in all districts of Samut Sakhon, but services are limited to hair cutting, dressing, and washing. Manicures, pedicures and shaving services are still prohibited. Each customer can only stay in the shop for only 2 hours and no queuing is allowed inside the salon or barber shop.
Restaurants and cafes are allowed to open, except for those in some sub districts of Muang District…
Thai Sai
Mahachai
Krok Krak
Tha Chalom
Nadee
Bang Ya Phraek
Khok Kham
Tha Chin
Restaurants and cafes can offer customers the dine-in services from 6am to 9pm. Takeaway services are allowed after 9pm. Other businesses including sports complexes, playgrounds, educational institutions, boxing gyms, internet cafes, fishing ponds, and cinemas are still closed.
SOURCE: NNT
Keep in contact with The Thaiger by following our Facebook page.
Never miss out on future posts by following The Thaiger.