Thailand News: Thawil pledges to rethink Deep South policy; Pregnant official slain; Bt2.9mn ATM robbery; Warrants sought for red shirt poet killers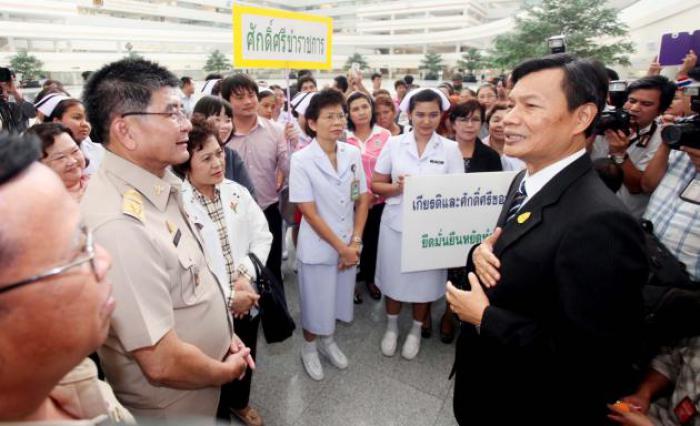 PHUKET MEDIA WATCH
– Thailand news compiled by Gazette editors for Phuket's international community
Thawil to review Deep South policy
The Nation / Phuket Gazette
PHUKET: National Security Council chief Thawil Pliensri says his first mission will be to review policy on the unrest in the Deep South and national security work there.
The guideline of having a peace dialogue with separatist groups – according to the caretaker government's policy – would still be implemented along with other solutions for problems, Thawil said yesterday.
He would continue his previous work throughout the remaining five months of his term, said Thawil, who will retire in September.
Meanwhile, Army chief Gen Prayuth Chan-ocha, is on his way to inspect the northern-based Army in Chiang Mai.
He said yesterday he had urged the Army Region 4 commander to adjust the southern insurgency-tackling operations and strategies to be more precise, fast and proactive, while also involving and integrating other state agencies.
On Sunday, the 10th anniversary of the Krue Se massacre in which 32 people were killed in clashes between authorities and suspected insurgents went without violence.
More caution needed
However, Prayuth said the situation still required extra caution because the insurgents were determined to launch attacks to pressure and discredit state officials.
He said the Army would perform various proactive measures – political and military as well as social development – in the region and that the southern unrest was a complicated issue.
All agencies were doing their best in the hope the situation would improve soon.
First Army Region chief Lt-General Theerachai Nakwanich urged state officials to watch out for attacks during the Red Cross fair in Narathiwat's Muang district from May 2-11.
He was told that there were 34 bomb attacks and 21 gun attacks, killing 29 persons, from October 2013 to March 2014 in Narathiwat and that officials had arrested 30 out of 93 wanted suspects in national security cases.
He was speaking during a visit yesterday to lift the morale of soldiers in the deep South.
In Yala, Police Operations Centre for Southern Border Provinces' chief Pol Maj-General Yongyuth Jaroenphanich reported that national security cases were only 6.88 per cent of all crimes in the restive region in the past decade (2004 to March 31, 2014).
The three southernmost provinces and Songkhla's four districts had a total of 138,979 criminal cases (Pattani 33,203, Yala 42,781, Narathiwat 43,506 and Songkhla's four districts 19,489), most of which stemmed from personal conflict, including political disputes and illegal trade (smuggled gasoline, narcotics).
Pattani had 3,241 national security cases, Yala 2,861, Narathiwat 3,216, and Songkhla's four districts' 245 cases.
In Narathiwat's Muang district, Southern Border Provinces Administration Centre secretary-general Pol Colonel Thawee Sodsong presented awards to eight outstanding health volunteers at a ceremony to mark Health Volunteer Day yesterday.
Pregnant health official killed in Narathiwat gun attack
The Nation / Phuket Gazette
PHUKET: A two-month pregnant health official was killed and her colleague wounded in a gun attack yesterday afternoon in Narathiwat's Si Sakhon district.
When the two women arrived on a motorbike at a market in front of Si Sakhon Hospital at around 2pm, four suspects on two motorbikes approached them before one opened fire at the victims before fleeing.
Health official Jariya Phromnuan, 29, who was married to Si Sakhon precinct's Pol Sub-Lieutenant Jessada Panyachotikul, succumbed to a gunshot wound in the head at Si Sakhon hospital. The other victim, 25-year-old health employee Pinyupa Wachirakijkosol, sustained a gunshot wound in right cheek and was later transferred to Pattani Hospital. Police believe insurgents might be behind the attack.
Separately, a police bomb squad defused a 20-kilogram bomb that was planted behind a roadside garbage bin in Narathiwat's Yi-ngo district at 1pm yesterday following a tip-off. Police suspect the bomb, which was to be detonated by a communication radio, had been planted to hit a team of security officials who were meant to use the route.
Arrest warrants sought for two key suspects in red-shirt poet's murder
The Nation / Phuket Gazette
PHUKET: At least two people were involved in the April 23 killing of red-shirt poet Kamol "Mainueng Kor Kuntee" Duangphasuk, a senior police officer said yesterday. Police were also trying to find out the motive behind the killing – if it was a personal conflict, or if it had something to do with the late poet's political campaigns, national police deputy chief Pol General Aek Angsananont said.
Arrest warrants for the two suspects were to be confirmed later yesterday after the case investigators met, he said, adding police were checking to see if the sketches made from eyewitness accounts matched the two people captured in security camera footage.
Judging from the attack, reported area scouting and victim stalking, he said police believed a team of more than two people carried out this killing.
Meanwhile, Army chief General Prayuth Chan-ocha dismissed reports that Kamol was on the Army's blacklist, saying that such allegations should be backed by evidence and urged people to not link the Army to any particular side because the armed forces were duty-bound to take care of all sides.
ATM robbed of Bt2.9mn in Chon BuriThe Nation / Phuket GazettePHUKET: Four men broke into Siam Commercial Bank's ATM booth in Chon Buri's Bang Lamung district and escaped with about Bt2.9 million in cash early Tuesday morning.
Police were alerted around 1am about the incident. At the scene, they found the back part of the ATM machine broken down by cutting torch.
A security guard told police that he smelt something was burning at the ATM booth around midnight so he went to check and found four men wearing hood were transferring two money boxes from the booth to their vehicle.
They intended to steal more money boxes but gave up and fled after seeing him, the guard said.
The bank later said that the stolen money was about Bt2.9 million, but would check the exact amount of money again.
Police said the investigation from security camera footage showed that the robbers may be Thais. The robbery was well prepared, police said, there was no alarm signal from the booth to police station so the suspects spent about half an hour to break into the ATM.
— Phuket Gazette Editors
Keep in contact with The Thaiger by following our
Facebook page
.
Academics warn of high cost of Thai ban on agri-chemicals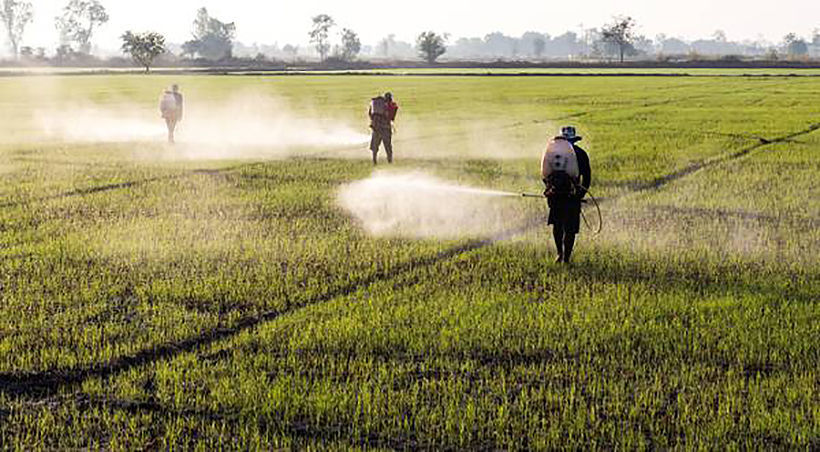 The chairman of the Thai Sugarcane Farmers Association, Thongkam Cheongklad, says a ban on the weed-killer paraquat would have a severe impact on production costs. Academics and Thai sugarcane farmers have also expressed their concern over the ban, saying it could cost the industry up to 570 billion baht.
The Nation reports that up to 1.2 million people working in the sugarcane industry are understood to be against the ban, saying the proposed paraquat substitute is both expensive and ineffective.
The president of the Thailand Society of Sugarcane Technologists, Kitti Choonhawong, says Thailand has approximately 11 million rai dedicated to sugarcane plantations, generating about 300 billion baht a year.
He claims that a ban on agri-chemicals may lower sugar production, which in turn would affect sugar factories and cause the export market to lose as much as 94.6 billion baht. Thailand is currently the world's second biggest sugar exporter, behind Brazil.
A research director from the Thailand Development Institute says the ban could ultimately mean the country is not allowed to produce enough food, unless chemical fertilisers are still allowed if chemical pesticides are banned.
Viroj Na Ranong says production costs will still rise however, along with labour costs, adding that the government needs to do its homework.
"The government has to implement measures based on research, not on social trends and politics."
It's understood that The National Hazardous Substances Committee will meet on October 27 to decide if a ban on three chemicals currently used in farming will go ahead. The substances involved are paraquat, glyphosate and chlorpyrifos and the proposal is for them to be banned from December 1.
SOURCE: The Nation
Keep in contact with The Thaiger by following our
Facebook page
.
Thailand's swift response to the 'fall armyworm' pest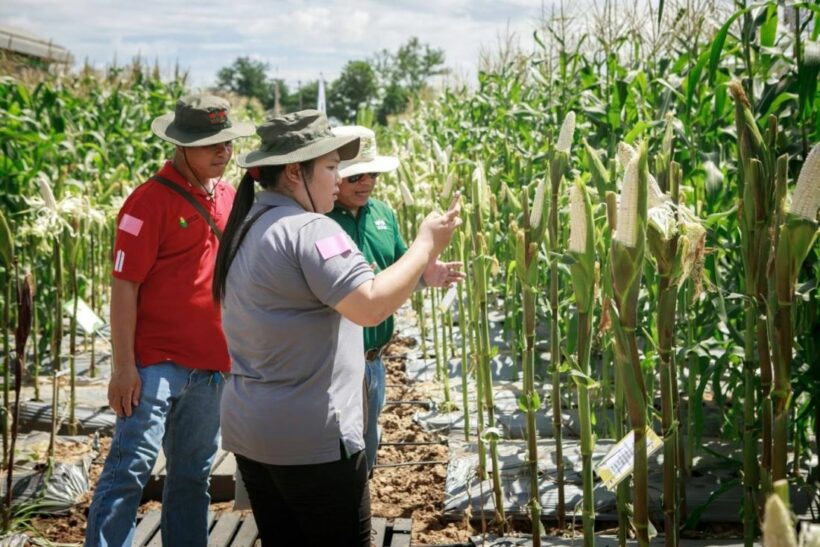 OPINION: Somsak Samanwong – Regional Technical Educator for APAC, Corteva Agriscience. PHOTO: East-East Seed
In Thailand, corn is an indispensable staple crop, used as an important source of feed for a thriving poultry and livestock industry. About 1.04 million hectares of our land is used to produce corn, with this year's yields estimated at a record high of 5.3 million tonnes.
As Thailand becomes increasingly recognised as a major world food exporter, our reliance on corn is growing to meet consumer demand for meat, both locally and globally – we are currently the third largest chicken exporter in the world. For many of us, it comes as a surprise that this ordinary but versatile crop is intrinsic in fuelling our status as the "kitchen of the world".
A small but powerful threat
However, this established position and the very growth of our food economy is currently under siege from the rise of fall armyworm, a pest so damaging that it can destroy corn crops overnight. The fall armyworm is an insect native to the Americas, where it has caused significant damage for decades. With a zealous appetite for corn, the pest quickly began to ravage crops in the Africa region following its arrival in 2016, causing losses of $13.3 billion.
Fall armyworm started moving closer to home, spreading across Yemen, India, Bangladesh, Sri Lanka and Myanmar, before reaching Thailand in December 2018. Since then, around 50 corn-growing provinces have been infested, particularly in the west of Thailand.
Fall armyworm infestations can result in yield losses for corn of up to 50%, which can have devastating implications – for those whose livelihoods rely on their crops, but also for the poultry and other meat production industries whose success and expansion heavily depend on their produce.
What makes fall armyworm so challenging to control is its high reproductive capacity and long migration distances. The pest has been known to migrate up to 1500 km3, slightly more than the distance from Kuala Lumpur to Bangkok, covering up to 100 km per night. Couple this ability to travel with rapid reproduction – four generations of fall armyworm can be observed in a single corn crop – and you have a devastating mix.
Recognising the tremendous impact of fall armyworm on the nation's farmers and our food security, the Thai authorities and key stakeholders across the agriculture industry have come together, uniting efforts to equip our farmers with the tools they need to help manage the spread of fall armyworm. By applying our learnings with fall armyworm in response to future threats, we can help to ensure our farmers are empowered and our nation's food supplies – for Thailand and for the rest of the world – are protected.
Taking swift and decisive action
Thailand's Department of Agriculture responded to the first FAO warning of fall armyworm in India by setting up a surveillance program to monitor corn growing states along the shared border with Myanmar. During this time, informative materials about fall armyworm and the ongoing surveillance program were shared with relevant agencies, universities, and most importantly, corn farmers.
Establishing communication between the authorities and those on the ground was and remains an important focus, and a telephone hotline and Line account were set up so that farmers are able to report potential infestations. As a previously unseen pest in Thailand, setting up infrastructure to monitor crops in the recognition of fall armyworm was pivotal to aiding a quick response.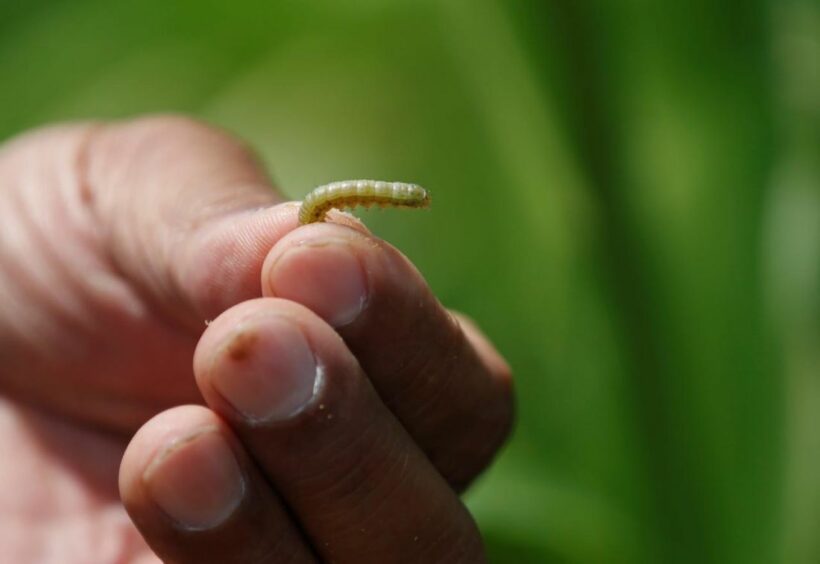 Imparting knowledge through educational efforts
Knowledge-sharing between the authorities, academic experts, farmers and industry is crucial in the fight against threats like fall armyworm. In November 2018, an educational programme for Thailand's authorities developed with the Insecticide Resistance Action Committee (IRAC) by CropLife Asia helped to provide senior agricultural and food industry leaders with in-depth information about fall armyworm and its habits.
By sharing knowledge of the pest between the government and affected industries, accurate and up-to-date information could spread across the country almost as quickly as fall armyworm itself.
Farmers remain at the heart of agriculture, and thus, in-field education is of paramount importance to safeguard crops.
Through a series of training programmes and the provision of educational materials, farmers were educated on and empowered to adopt an Integrated Pest Management (IPM) approach, as recommended by the World Trade Organisation on Sanitary and Phytosanitary Measures, to control and prevent the spread of fall armyworm. IPM combines pre-emptive treatments, scouting, monitoring and targeted treatments to protect the health of corn crops from seed to plant, and, in turn, to protect Thailand's food security.
Equipping farmers with the necessary tools
In adopting an IPM approach against fall armyworm, it is our role as agriscience experts to ensure farmers have access to safe, effective and greener solutions to control its physical spread. And, through the development of innovative technologies, solutions are available to provide farmers with long-lasting control of fall armyworm, whilst being environmentally safe to use.
Amparar®, Corteva Agriscience's foliar spray, contains the active ingredient Spinetoram and has been recommended for use in corn in Thailand to help protect corn crops against fall armyworm. It controls the insects in two ways – through ingestion and contact by the pest, providing a quick knock-down for lasting control. Amparar® has been awarded the prestigious Presidential Green Chemistry Challenge Award for its positive environmental profile and margin of safety towards beneficial insects. It is recommended by the Thai authorities as the top crop protection product for managing fall armyworm.
Our fight against fall armyworm has brought to light the invaluable role of corn in the development of Thailand as global provider of food. Perhaps even more importantly, it has helped to demonstrate how much can be achieved when public and private sectors work together in response to those that threaten our food security. We must continue to activate and engage all stakeholders – from farmers, governments, industry and academia – to ensure that, whatever the next threat to our "kitchen of the world", we remain poised for action to protect it.
Keep in contact with The Thaiger by following our
Facebook page
.
Thai Abbot accused of sexually abusing teen novice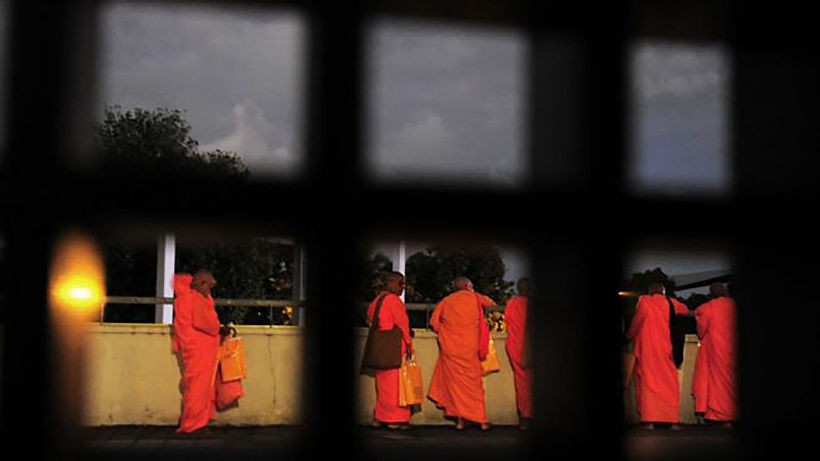 A 51 year old Buddhist monk is accused of detaining a 13 year old novice monk and sexually abusing him, allegedly forcing him to give oral sex. The novice monk's father accompanied the teenager to file a complaint at the Nong Khao police station in Kanchanaburi, western Thailand, this week.
The novice, identifying himself only as Nat, claims the abbot had often called him and ordered him to provide massage and oral sex. At one stage he was detained in the monks residence for five days. The abbot allegedly intimidated the boy into staying, saying he had a gun.
The man said his son was ordained in July and had been staying at the temple ever since. The boy told his family of the sexual abuse early last month. The novice first called his aunt for help in getting transferred to another temple. The boy eventually told her what had happened. After the calls for help, a local monk rescued the boy from the abbot's residence. The monk was then assaulted by the abbot, according to the boy's story.
The monk alleged the abbot kicked him, stepped on the boy's chest and repeatedly hit his face. He also said he had earlier accused the abbot of failing to perform his duties. The Abbot is denying the accusations.
The Buddhism affairs chief of Kanchanaburi, said senior local monks would form a committee to investigate the case.
SOURCE: Chiang Rai Times
Keep in contact with The Thaiger by following our
Facebook page
.