Thailand
Thailand News: Thawil pledges to rethink Deep South policy; Pregnant official slain; Bt2.9mn ATM robbery; Warrants sought for red shirt poet killers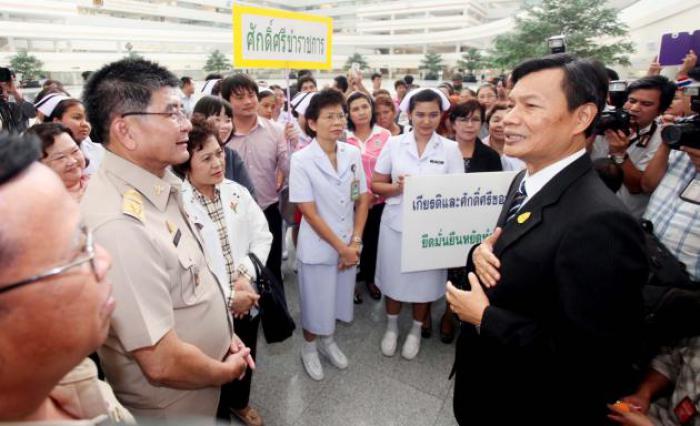 PHUKET MEDIA WATCH
– Thailand news compiled by Gazette editors for Phuket's international community
Thawil to review Deep South policy
The Nation / Phuket Gazette
PHUKET: National Security Council chief Thawil Pliensri says his first mission will be to review policy on the unrest in the Deep South and national security work there.
The guideline of having a peace dialogue with separatist groups – according to the caretaker government's policy – would still be implemented along with other solutions for problems, Thawil said yesterday.
He would continue his previous work throughout the remaining five months of his term, said Thawil, who will retire in September.
Meanwhile, Army chief Gen Prayuth Chan-ocha, is on his way to inspect the northern-based Army in Chiang Mai.
He said yesterday he had urged the Army Region 4 commander to adjust the southern insurgency-tackling operations and strategies to be more precise, fast and proactive, while also involving and integrating other state agencies.
On Sunday, the 10th anniversary of the Krue Se massacre in which 32 people were killed in clashes between authorities and suspected insurgents went without violence.
More caution needed
However, Prayuth said the situation still required extra caution because the insurgents were determined to launch attacks to pressure and discredit state officials.
He said the Army would perform various proactive measures – political and military as well as social development – in the region and that the southern unrest was a complicated issue.
All agencies were doing their best in the hope the situation would improve soon.
First Army Region chief Lt-General Theerachai Nakwanich urged state officials to watch out for attacks during the Red Cross fair in Narathiwat's Muang district from May 2-11.
He was told that there were 34 bomb attacks and 21 gun attacks, killing 29 persons, from October 2013 to March 2014 in Narathiwat and that officials had arrested 30 out of 93 wanted suspects in national security cases.
He was speaking during a visit yesterday to lift the morale of soldiers in the deep South.
In Yala, Police Operations Centre for Southern Border Provinces' chief Pol Maj-General Yongyuth Jaroenphanich reported that national security cases were only 6.88 per cent of all crimes in the restive region in the past decade (2004 to March 31, 2014).
The three southernmost provinces and Songkhla's four districts had a total of 138,979 criminal cases (Pattani 33,203, Yala 42,781, Narathiwat 43,506 and Songkhla's four districts 19,489), most of which stemmed from personal conflict, including political disputes and illegal trade (smuggled gasoline, narcotics).
Pattani had 3,241 national security cases, Yala 2,861, Narathiwat 3,216, and Songkhla's four districts' 245 cases.
In Narathiwat's Muang district, Southern Border Provinces Administration Centre secretary-general Pol Colonel Thawee Sodsong presented awards to eight outstanding health volunteers at a ceremony to mark Health Volunteer Day yesterday.
Pregnant health official killed in Narathiwat gun attack
The Nation / Phuket Gazette
PHUKET: A two-month pregnant health official was killed and her colleague wounded in a gun attack yesterday afternoon in Narathiwat's Si Sakhon district.
When the two women arrived on a motorbike at a market in front of Si Sakhon Hospital at around 2pm, four suspects on two motorbikes approached them before one opened fire at the victims before fleeing.
Health official Jariya Phromnuan, 29, who was married to Si Sakhon precinct's Pol Sub-Lieutenant Jessada Panyachotikul, succumbed to a gunshot wound in the head at Si Sakhon hospital. The other victim, 25-year-old health employee Pinyupa Wachirakijkosol, sustained a gunshot wound in right cheek and was later transferred to Pattani Hospital. Police believe insurgents might be behind the attack.
Separately, a police bomb squad defused a 20-kilogram bomb that was planted behind a roadside garbage bin in Narathiwat's Yi-ngo district at 1pm yesterday following a tip-off. Police suspect the bomb, which was to be detonated by a communication radio, had been planted to hit a team of security officials who were meant to use the route.
Arrest warrants sought for two key suspects in red-shirt poet's murder
The Nation / Phuket Gazette
PHUKET: At least two people were involved in the April 23 killing of red-shirt poet Kamol "Mainueng Kor Kuntee" Duangphasuk, a senior police officer said yesterday. Police were also trying to find out the motive behind the killing – if it was a personal conflict, or if it had something to do with the late poet's political campaigns, national police deputy chief Pol General Aek Angsananont said.
Arrest warrants for the two suspects were to be confirmed later yesterday after the case investigators met, he said, adding police were checking to see if the sketches made from eyewitness accounts matched the two people captured in security camera footage.
Judging from the attack, reported area scouting and victim stalking, he said police believed a team of more than two people carried out this killing.
Meanwhile, Army chief General Prayuth Chan-ocha dismissed reports that Kamol was on the Army's blacklist, saying that such allegations should be backed by evidence and urged people to not link the Army to any particular side because the armed forces were duty-bound to take care of all sides.
ATM robbed of Bt2.9mn in Chon BuriThe Nation / Phuket GazettePHUKET: Four men broke into Siam Commercial Bank's ATM booth in Chon Buri's Bang Lamung district and escaped with about Bt2.9 million in cash early Tuesday morning.
Police were alerted around 1am about the incident. At the scene, they found the back part of the ATM machine broken down by cutting torch.
A security guard told police that he smelt something was burning at the ATM booth around midnight so he went to check and found four men wearing hood were transferring two money boxes from the booth to their vehicle.
They intended to steal more money boxes but gave up and fled after seeing him, the guard said.
The bank later said that the stolen money was about Bt2.9 million, but would check the exact amount of money again.
Police said the investigation from security camera footage showed that the robbers may be Thais. The robbery was well prepared, police said, there was no alarm signal from the booth to police station so the suspects spent about half an hour to break into the ATM.
— Phuket Gazette Editors