Thailand News: Lese Majeste upheld; Thailand slammed over Rohingya; DSI seeks to arrest 58 protest leaders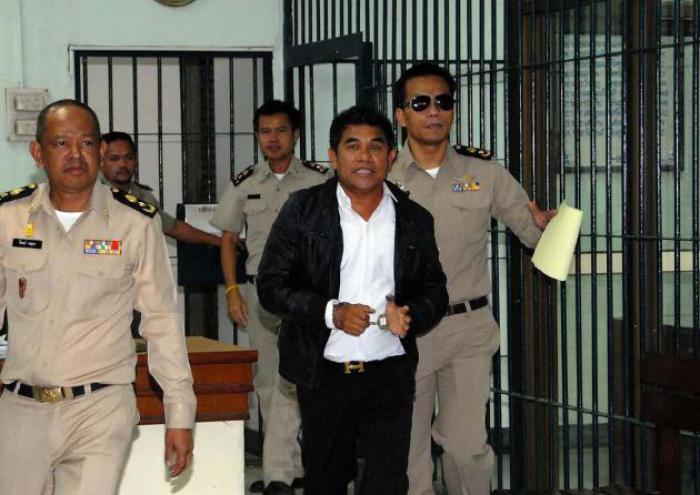 PHUKET MEDIA WATCH
– Thailand news compiled by Gazette editors for Phuket's international community
Appeals Court upholds lese majeste sentence
The Nation / Phuket Gazette
PHUKET: The Appeals Court yesterday upheld a two-year lese majeste prison sentence against Jeng Dokjik for his speech during a red-shirt rally on March 29, 2010.
The court said the sentence would not be suspended for Yossawaris Chuklom, alias Jeng Dokchik, a former adviser to a minister and a leading member of the United Front for Democracy against Dictatorship (UDD).
The court agreed with the lower court's ruling on January 17, 2013, that part of his speech made from the UDD rally stage violated Section 112 of the Criminal Code and Articles 2, 8 and 12 of the Constitution.
After the court's verdict, Yossawaris was remanded to Bangkok Special Prison pending the Supreme Court's consideration of his request for temporary release, expected early next week.
Thailand slammed over Rohingya
The Nation / Phuket Gazette
PHUKET: Lawmakers in the United States have urged the administration of President Barack Obama to punish Thailand and other countries in Southeast Asia for not doing enough to fight human trafficking, accusing Thai officials of selling Rohingya Muslims from Myanmar to traffickers.
Republican Representative Chris Smith called on the administration to downgrade Thailand and Malaysia unless the authorities in these countries showed progress on the protection of the Rohingya refugees.
Thailand and Malaysia are transit places for Rohingya migrants who flee from harsh persecution in Myanmar, he told a House of Representatives subcommittee hearing on tier rankings and the State Department's annual Trafficking in Persons (TIP) report on Tuesday.
"According to reports put out by Reuters, Thai authorities are selling Rohingya to human traffickers, where they are held in 'tropical gulags' until relatives pay ransom," Smith said.
Those who do not pay are sold into sex slavery or hard labour and many die from abuse or disease, he said.
Thai authorities did little to prevent this situation, he said, adding that the Rohingya migrants are always sent to Malaysia, where they are also exploited as workers.
Myanmar is the source of the refugee problem because of its policies of discrimination, harsh persecution and violence, which force Rohingya to leave the country as boat people, he said.
In the report, "Tier 1" countries are those meeting anti-trafficking standards. "Tier 2" do not but are making a significant effort to do so. "Tier 3" countries do not meet the standards and do not make significant efforts to do so.
Tier 3 countries are open to sanction by the US government. A US law also includes a watch list, in which countries on Tier 2 for two years are downgraded to Tier 3 unless they receive presidential waivers, available for two additional years.
Thailand is on the Tier 2 watch list.
Mark Lagon, a professor of international affairs at Georgetown University, said in his testimony on Tuesday that Thailand was on the cusp of an automatic downgrade to Tier 3.
"Public unrest and shaky rule of law in the last year are no pretext for not telling it like it is in the TIP 2014 report," he said.
DSI seeks indictment of 58 protest leaders
The Nation / Phuket Gazette
PHUKET: Department of Special Investigation (DSI) chief Tarit Pengdith yesterday approached the director-general of the Office of Special Cases to indict 58 People's Democratic Reform Committee (PDRC) leaders on eight grave charges – including sedition, insurrection, instigating chaos, trespassing, and violating election laws.
Tarit submitted 217 files comprising 57,514 pages of documents as evidence against PDRC chief Suthep Thaugsuban and the other 57.
The other charges are conspiring with more than 10 people to stage armed protests, resisting police orders, encouraging work stoppages to coerce the government, blocking election officials at polling stations from carrying out their duty, and preventing and disrupting the work of the Election Commission.
They are alleged to be in violation of Articles 113, 114, 116, 117, 215, 216, 365 of the Criminal Code and the Election of MPs and Acquisition Senators Act.
Ready to submit evidence
The evidence was given to Special Case Office director-general Nanthasak Poonsuk.
The DSI will submit evidence against seven other PDRC leaders including Democrats Ongard Klampaiboon and Boonyod Sukthinthai, who face the same charges, next week.
Nanthasak said a team of seven prosecutor would work together to decide on the cases.
The indictment will be classified into types of wrongdoing and not one decision against all 58 suspects.
While most of 58 suspects are at large, Sonthiyan Chuenruthainaitham and Sakoltee Phattiyakul were arrested.
Nanthasak said prosecutors would try to reach a decision before the detention deadline. Sonthiyan is scheduled to be released on May 10.
Govt ignores Abhisit's reform offer
The Nation / Phuket Gazette
PHUKET: The government and the ruling Pheu Thai Party yesterday gave the cold shoulder to an offer from Democrat Party leader Abhisit Vejjajiva that would see him take a political break if his proposal to get the country out of the political crisis is accepted by all the parties involved.
Prime Minister Yingluck Shinawatra said she was looking forward to seeing details of Abhisit's proposal, which is supposed to be unveiled tomorrow.
"I hope that Abhisit and the Democrat Party will not set any conditions," she said. "I believe that society is waiting patiently for the problems to be over. We are trying to find common ground, as Abhisit has said, so that we can move forward."
Abhisit, Yingluck's predecessor as prime minister, said yesterday that he would by tomorrow unveil his proposal, the result of his recent meetings with key political players.
"If all the parties involved accept my proposal, I will not contest the next election and will not assume any political position," he said. "This is to make sure that I will not derive any benefits if my proposal is implemented.
"I will just be an ordinary citizen who supports a reform that will be carried out in line with my proposal."
Abhisit served as the opposition leader before the dissolution of the House of Representatives in December.
Pheu Thai secretary-general Phumtham Vechayachai said he was more interested in Abhisit's proposal than whether he would or would not contest the next election.
"It's no problem if Abhisit runs in the election or not," Phumtham said. "It's more important whether Abhisit's proposal will benefit the country.
"If his proposal really offers a way out for the country, it's no problem if Abhisit contests [the election] or does not."
Deputy Pheu Thai spokesman Anusorn Eamsa-ard said he viewed Abhisit's offer to skip the election as a ploy by the Democrat Party to pressure Pheu Thai to sk
— Phuket Gazette Editors
Want more from the Thaiger family?
📱 Download our app on Android or iOS for instant updates on your mobile
📧 Subscribe to our daily email newsletter
👍 Like/Follow us on Facebook
🔔 Subscribe to or Join our YouTube channel for daily video updates
'Safe zone' in Thailand for refugees fleeing Myanmar violence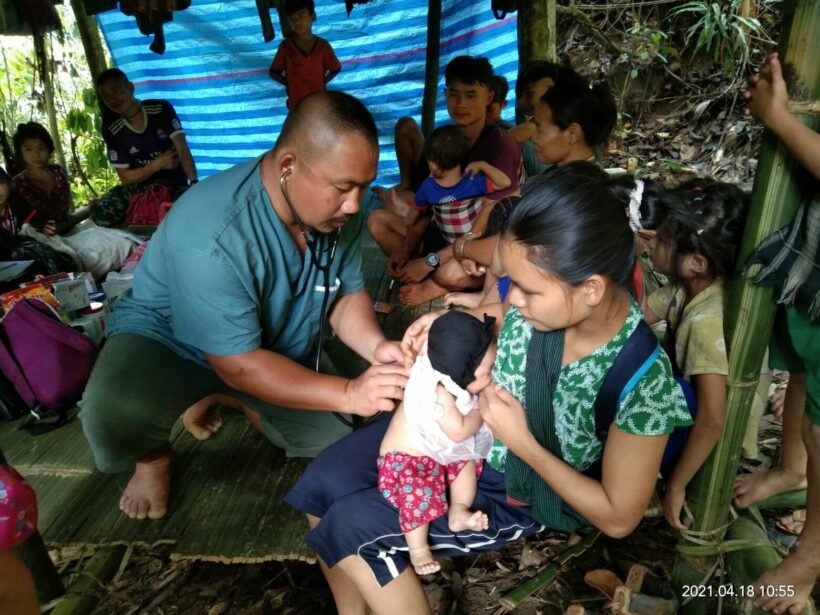 Due to the ongoing violence between the Myanmar military and ethnic troops, the Thai military has set up a "safe zone" for thousands of refugees in Mae Hong Son near the Salween River, the natural border between Thailand and Myanmar.
The prominent armed wing of the Karen National Union has openly supported the anti-coup movement in Myanmar, leading to clashes with the military junta. Recently, the Karen National Liberation Army reported took over a military outpost near the Thai border. Those just across the Salween River in Thailand said they could hear the gunshots and explosions.
Defence Ministry spokesperson Kongcheep Tantravanich says shelter and humanitarian assistance are being provided for around 2,200 people who have fled Myanmar.
Kongcheep says the "safe zone" is under tight security and only those authorised can enter. There are strict health and disease control measures are in place to prevent the spread of Covid-19.
His statement comes after the local civil rights group People of Salween River Basin Network called on the Thai government not to push refugees back, claiming that Thai soldiers had been ordered to tell the refugees to return to their home country due to a potential negative impact with border trade.
They say the Myanmar military has been carrying out airstrikes on Karen army bases and many Karen villagers fear for their safety.
Mae Hong Son governor, Sitthichai Jindaluang, also told a United Nations representative last week that refugees have been given shelter and assistance.
SOURCE: Bangkok Post
Want more from the Thaiger family?
📱 Download our app on Android or iOS for instant updates on your mobile
📧 Subscribe to our daily email newsletter
👍 Like/Follow us on Facebook
🔔 Subscribe to or Join our YouTube channel for daily video updates
Covid UPDATE: 1,630 new cases and 22 deaths, provincial totals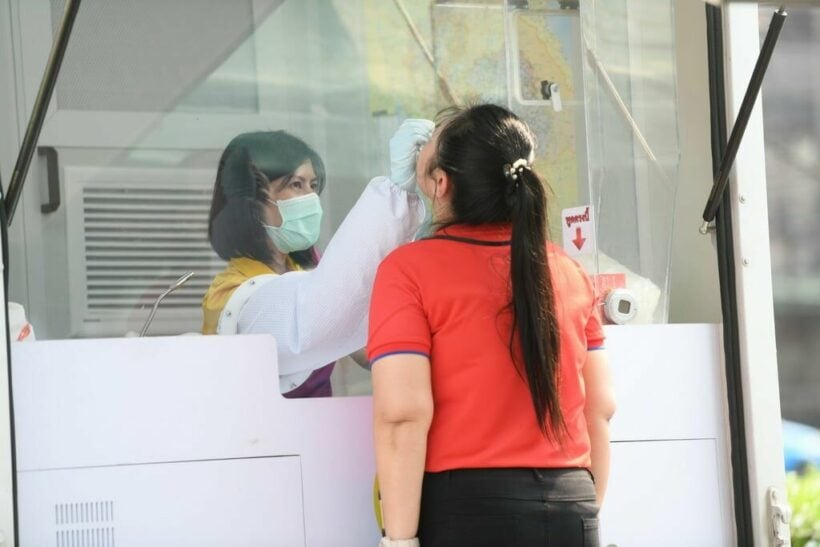 1,630 new Covid-19 cases and 22 coronavirus-related deaths were reported today in the Centre for Covid-19 Situation Administration's daily briefing. There are now 29,376 active Covid-19 cases. Since the start of the pandemic last year, the CCSA has reported 85,005 Covid-19 cases and 421 Covid-related deaths.
Out of the 22 deaths, most of the patients had chronic illnesses. Many contracted the virus from family members or close friends.
Most of the new cases were detected in Bangkok, particularly in districts with crowded communities and markets. While cases in Bangkok continue to be high, CCSA spokesperson Natapanu Nopakun says the number of new cases in most other provinces in Thailand is decreasing.
Health officials are rolling out proactive case finding campaigns in several high-risk communities, testing 9,000 to 10,000 per day, Nopakun says, adding that officials are working to provide the appropriate treatment as quickly as possible.
Those who test positive for Covid-19 and are asymptomatic must stay at an official field hospital for 14 days and then self-isolate at home for another 14 days.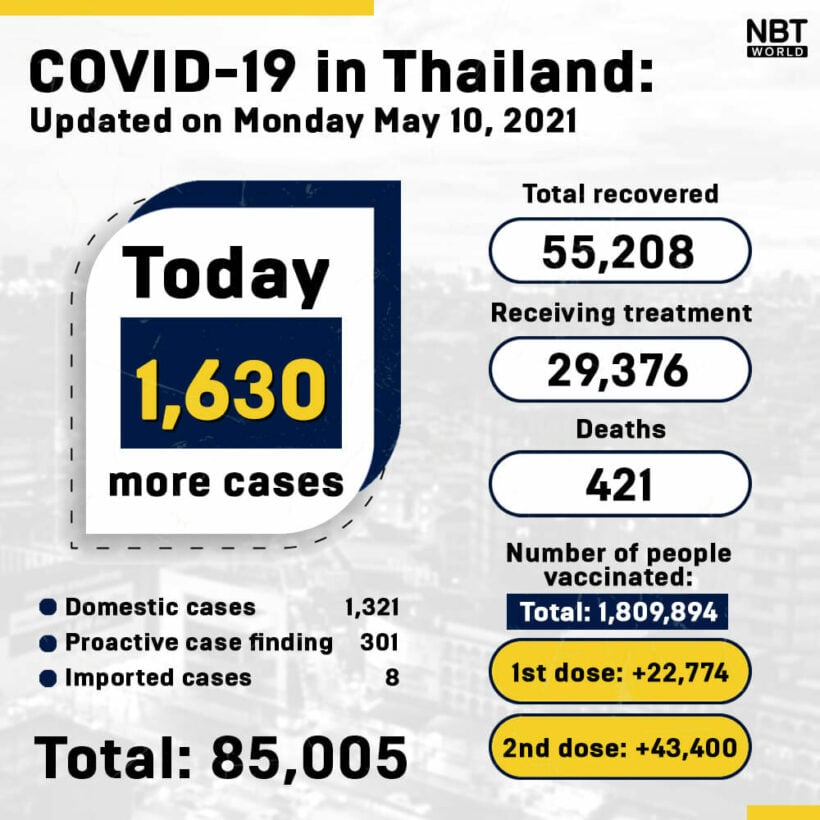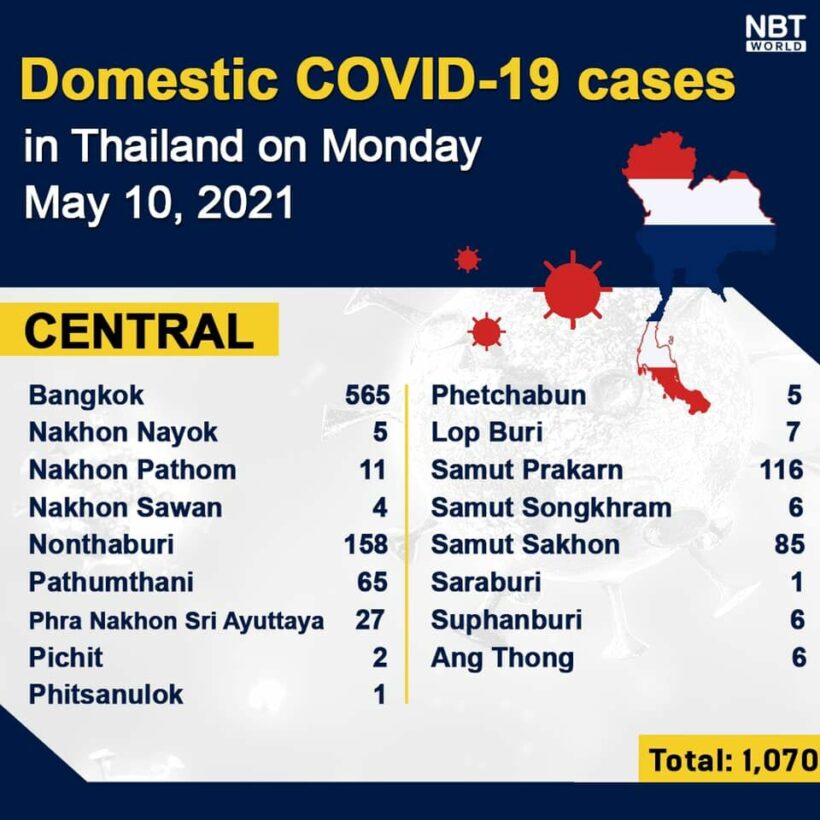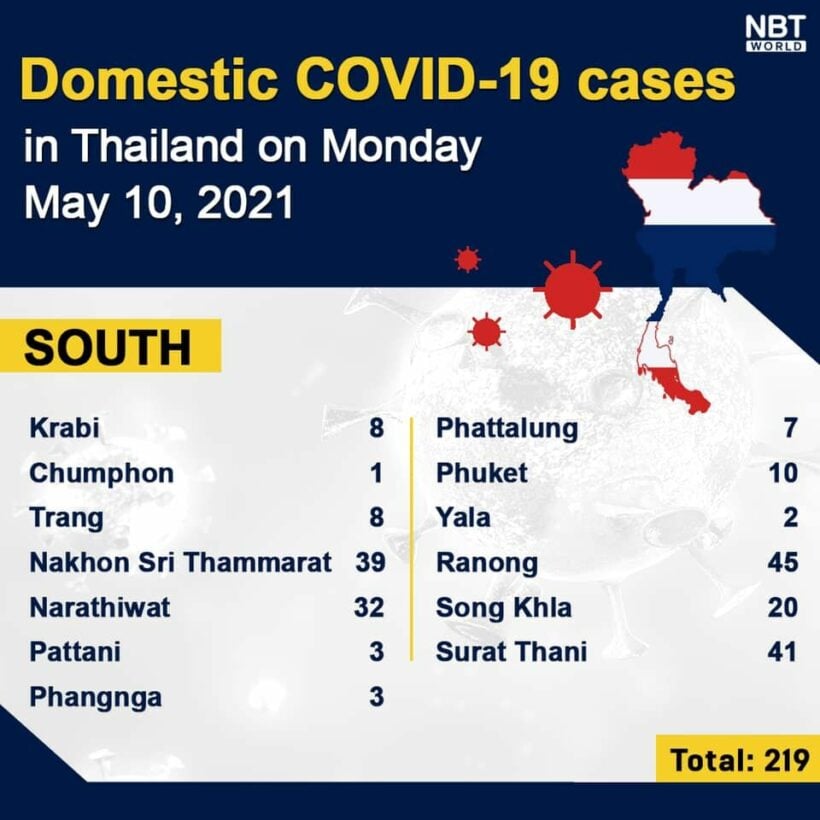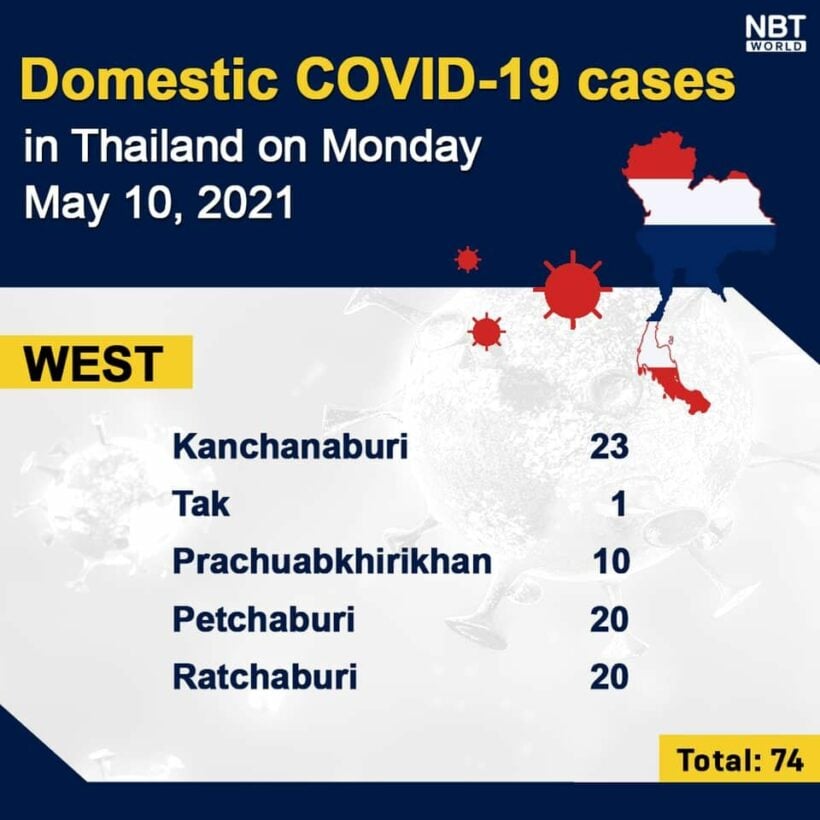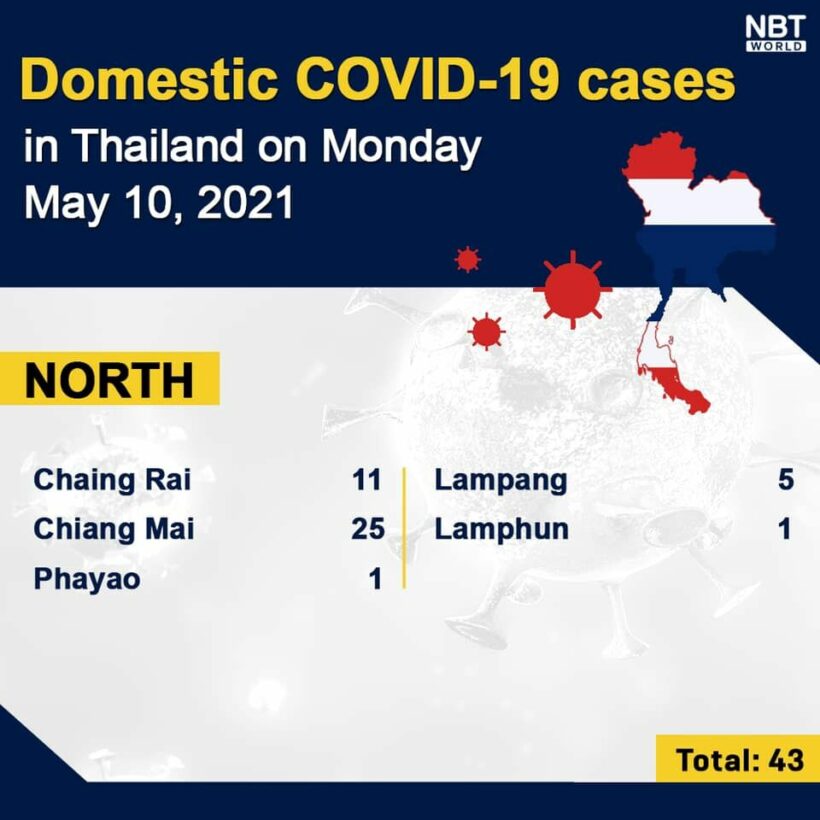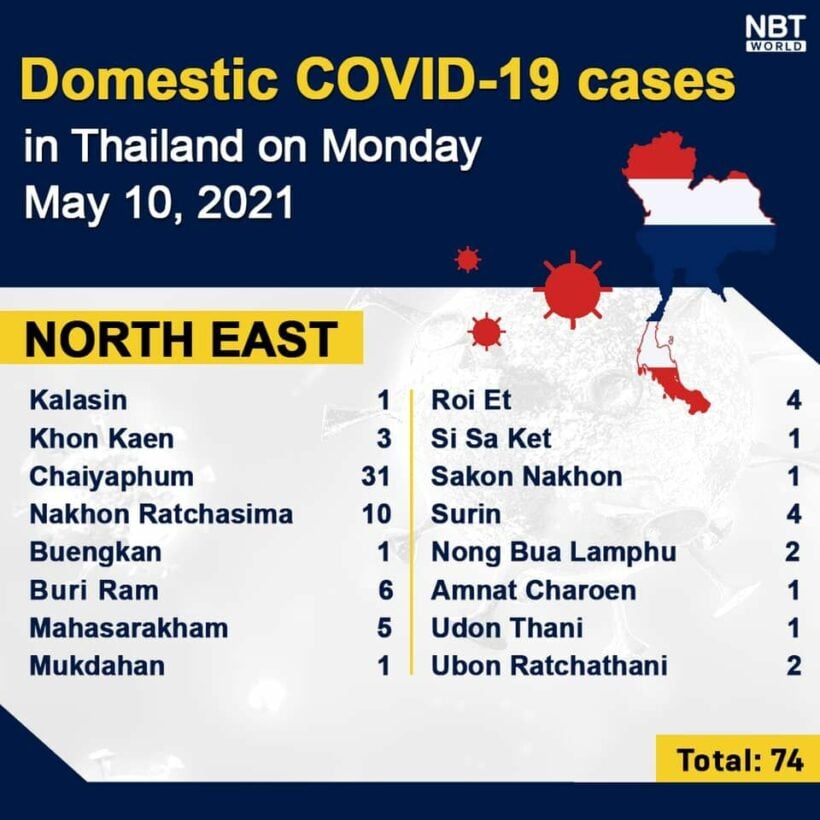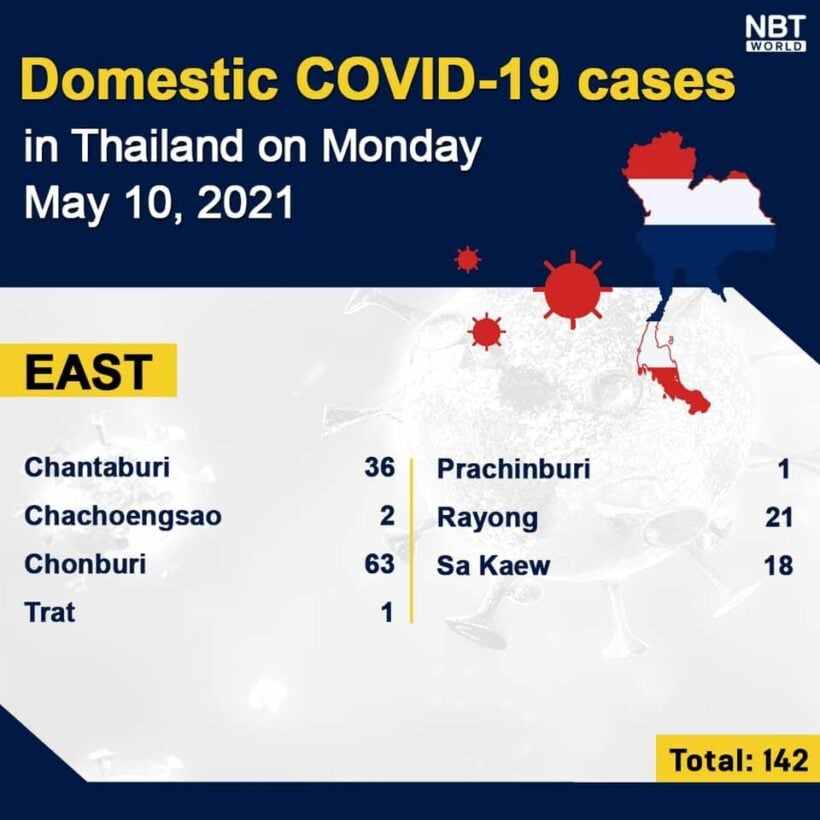 Want more from the Thaiger family?
📱 Download our app on Android or iOS for instant updates on your mobile
📧 Subscribe to our daily email newsletter
👍 Like/Follow us on Facebook
🔔 Subscribe to or Join our YouTube channel for daily video updates
Thailand donates cash, equipment to Laos to help combat Covid-19 outbreak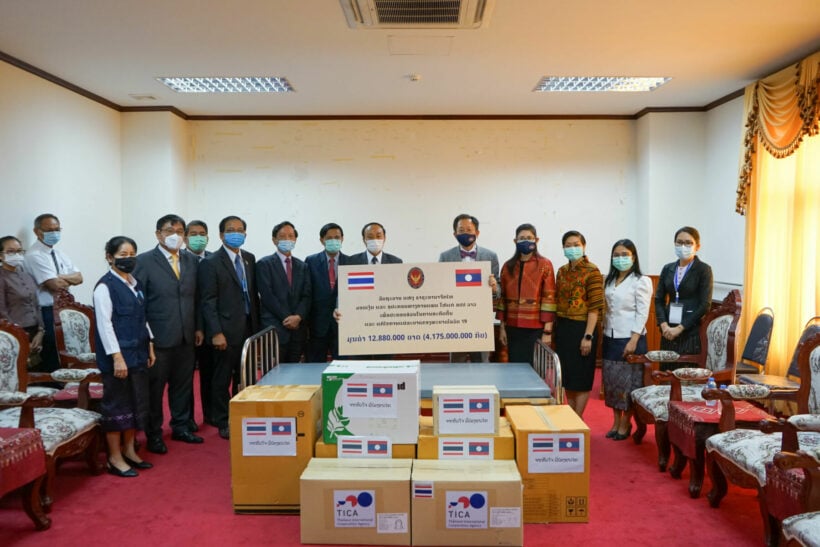 With Laos, just north of Thailand, under lockdown measures to control a spike of Covid-19 infections, the Royal Thai Embassy to Laos helping the country combat the outbreak and has donated cash and materials valued altogether at more than 16 million baht.
While cases have remained low in Laos since the start of the pandemic last year with active cases typically under 10, there was a spike in cases in mid-April and active cases are now at 1,302. The country reported its first coronavirus-related death yesterday.
Donations from Thailand help supply mobile biosafety labs to conduct swab Covid-19 testing and beds for Covid-19 patients as well as protective equipment such including 50,000 medical masks and more than 2,000 Personal Protective Equipment, or PPE, outfits.
An order of supplies valued at 8.5 million baht is set to be delivered by the end of the month. That order will have 2,000 more PPE outfits, Covid-19 test equipment, DNA/RNA extraction kits, and 2,500 test kits. Other equipment provided by Thailand include a defibrillator, patient monitoring machine, infrared thermometers, oxygen regulators, and pulse oximeters.
SOURCE: Nation Thailand
Want more from the Thaiger family?
📱 Download our app on Android or iOS for instant updates on your mobile
📧 Subscribe to our daily email newsletter
👍 Like/Follow us on Facebook
🔔 Subscribe to or Join our YouTube channel for daily video updates