Thailand News: Kidnapped Thais in Nigeria still alive; Taib will lead BRN team; Channel 7 journo seeks help with libel charge; ICT scoffs at online control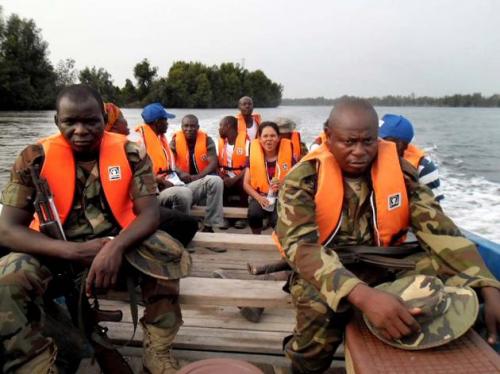 PHUKET MEDIA WATCH
– Thailand news compiled by Gazette editors for Phuket's international community
Kidnapped Thai calls to say all safe
The Nation / Phuket Gazette
PHUKET: One of the four Thai workers, who were abducted by an unknown gang in Nigeria, called his company to say he and the others were safe and had not been harmed, Thai Foreign Ministry spokesman Manasvi Srisodapol said yesterday.
The victim told the company that he would make contact again, the spokesman said, without identifying the caller. The kidnapped Thais are husband and wife Somchok Punpinit, 55; and Bussaya Sripanya, 38; Somchok's brother Thanawut, 50; and Chaiyan Taichompu, 46.
The four Thais and two Nigerians were on their way to work at an Israeli-operated fish farm in the southern Rivers State in Nigeria on Friday when a gang of about six people kidnapped them. Manasvi said Thai Ambassador to Nigeria Somchai Powcharoen has assigned his minister counsellor to go to Rivers State to take charge of the issue.
"The kidnappers have not demanded a ransom or anything else. When the demand is made, we can start negotiating," he said.
Meanwhile relatives of the abducted Thais met in Udon Thani's Nong Han district to seek help from MP Thongdee Manissarn. They said the four victims had travelled to Nigeria in December last year with a six-month visa, and returned home on June 9 when their visas expired.
They returned to Nigeria on June 20 with new visas. Somchok and Bussaya's son, Panu Punpinit, 23, said his parents contacted him everyday via Facebook. Since there were no signs of danger, he and one of his cousins were scheduled to go to work in Nigeria and had already obtained a six-month visa.
"We are about to leave. We're just waiting for air tickets and my father's confirmation of the travel date," Panu said.
Keep checking the Phuket Gazette's Thailand news pages, join our
Facebook fan page
or follow us on Twitter
@PhuketGazette
for the latest national news updates.
Malaysia confirms Taib will lead BRN team in talks
The Nation / Phuket Gazette
PHUKET: National Security Council secretary-general Paradorn Pattanatabut said yesterday that he had received the confirmation from Malaysia, which is playing the role of dialogue facilitator.
Aziz Benhawan, a Thai representative, said he was confident the fourth round of talks would take place on Sunday as scheduled. The peace talks officially began in March. Yet, bloody attacks in the deep South have continued and rumours have been spreading that the peace process is collapsing.
Over the past two days, several incidents have taken place in the region, with at least two deaths reported.
Aziz explained that the upcoming meetings would be important because both sides would likely raise questions and demand clear answers from the other.
Paradorn said the Thai team expected to use Sunday's meeting to develop tangible results.
"We need tangible solutions," he reiterated.
He went on to say that the government-appointed steering committee would meet this week to discuss the BRN's five demands.
Separately, a bomb exploded yesterday as officials were inspecting the site where unknown gunmen opened fire on a vehicle carrying Sayan Chanachaiwong, the chief of Narathiwat's Sungai Padi district, on Monday night. The district chief got away unharmed as the vehicle was bullet proof.
The explosion injured 11 people, including two assistant reporters. Of the victims, Pol Corporal Rungroj Netrat succumbed to his injuries on the way to a hospital, while another policeman, Lieutenant Supanit Wijitsopa, is in serious condition.
Police say about seven kilograms of explosives were used in the bomb attack. In Pattani, a bomb exploded as soon as territorial-defence volunteers arrived at a scene where burning tyres were reported earlier yesterday. Six people were injured, including a 13-year-old boy.
Two of the victims are in critical condition. In Yala, a former village chief was shot dead as he was about to enter his home on Monday evening. In Narathiwat, two gunmen opened fire on a territorial-defence-volunteer base on Monday night.
Fortunately, none of the 14 volunteers and an assistant village head was hurt. "We ran for cover when they opened fire," team leader Abdulloh Dormi said.
"We also fired back and they sped away on their motorcycle."

Keep checking the Phuket Gazette's Thailand news pages, join our
Facebook fan page
or follow us on Twitter
@PhuketGazette
for the latest national news updates.
Channel 7 journalist seeks support over libel charge
The Nation / Phuket Gazette
PHUKET: An assistant chief of the Channel 7 television station's news team is seeking help from various organisations after his work exposing alleged budget-use irregularities in the Samut Prakan Provincial Administrative Organisation resulted in him being charged with defamation.
Sompoch Toraksa yesterday met with the chief of the Anti-Corruption Organisation of Thailand (ACT), the Thai Journalists' Association, the Lawyers Council of Thailand, and the Thai Broadcast Journalists Association.
His news coverage reportedly raised questions about the local administrative organisation's Bt800-million budget for temples. Sompoch yesterday said he had not accused any organisation of being corrupt, but just wanted to alert the public about abbots' concerns about budget use.
"I will continue to do my duty," he said. ACT chief Pramon Sutivong said his organisation would look into how to help Sompoch and to prevent such cases from hurting the morale of people working against corruption.
"When media present news related to corruption, society pays more attention to corruption issues," he said. He said he wanted to see the public become more aware of anti-graft efforts.
According to Pramon, the case against Sompoch is now being handled by investigators and it remains to be seen whether it will go to court.
Keep checking the Phuket Gazette's Thailand news pages, join our
Facebook fan page
or follow us on Twitter
— Phuket Gazette Editors Keep in contact with The Thaiger by following our
Facebook page
.
Never miss out on future posts by
following The Thaiger
.
4 people drown after SUV careers into canal in Chon Buri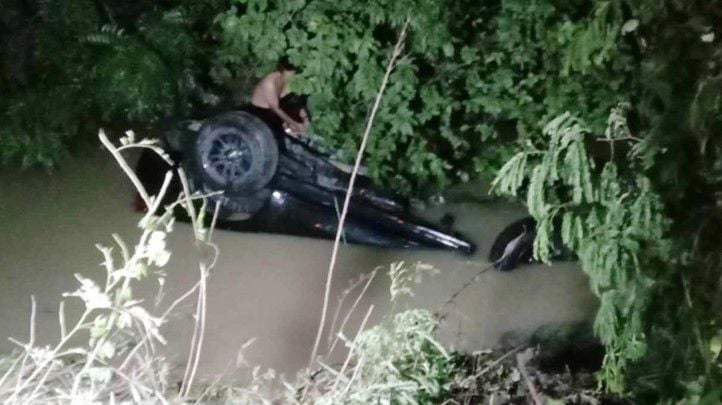 4 people died after a driver allegedly hit a curb and lost control of her Toyota Fortuner SUV, running it off the road and into a Chon Buri canal.
The driver, 38 year old Sukanya from Bangkok, survived and told police she was driving 6 friends from Bangkok to Rai Lak Thong, a subdistrict in Chon Buri. She says the road was dark and she was unfamiliar with the area. She hit a curb, breaking through the road barrier and overturning the car. The SUV then slid into the a Phanat Nikhom district canal.
The water in the canal was high due to the weekend storm. The driver and 2 others were able to get out through the window, but the others – 1 man and 3 women – drowned in the submerged vehicle. By the time rescue workers arrived and pulled the bodies out of the car, they were dead.
SOURCE: Pattaya Mail
Keep in contact with The Thaiger by following our
Facebook page
.
Never miss out on future posts by
following The Thaiger
.
5 protesters to be charged over a rally in front of the Thai Army's headquarters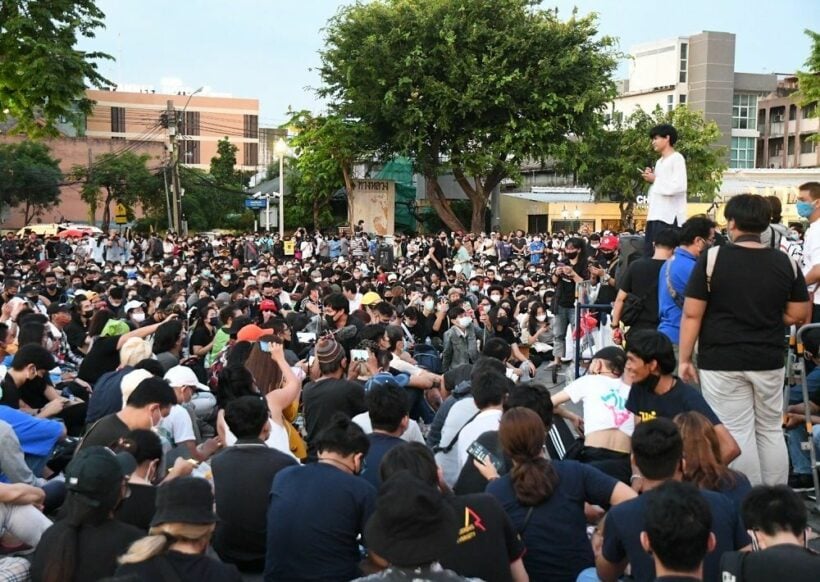 With impeccable timing, Nang Loeng police have summoned 5 protest leaders to appear before the Special Prosecutor's Office at the Dusit District Court in Bangkok. They will be formally charged over their roles in a protest in front of the Army's headquarters on July 20. At the time it followed an online exchange from an Army official criticising the students who had been protesting at the Democracy Monument days before.
The protest targeted Colonel Nusra Vorapatratorn, deputy spokesperson of the Army. Posting on her Facebook page about the Saturday protest, the Colonel said that rally's participants should "focus on doing their jobs rather than joining the protest." The Colonel later deleted the social media post.
Another army spokesman, Colonel Winthai Suvaree, spoke to the media at the time and stated that Nusra "had expressed her personal opinion" and that "she is no longer the deputy spokesperson".
After protesting outside the Army over the contents of the post, 5 protest leaders face official charges of "violating the Emergency Decree, the Traffic Act and use of loudspeakers in public without permission. The 5 protagonists facing charges are human rights lawyer Anon Nampa, Parit "Penguin" Chiwarak, Piyarath "Toto" Jongthep, Suwanna Tarnlek and Panupong Jardnok (Mike Rayong).
All 5 deny the charges and say they will defend their roles in court.
The charges follow a weekend of protests, with up to some 30,000 people gathering in the Bangkok rain to rally against the government and confirm a 10-point manifesto which includes demands to reform Thai politics and the country's monarchy. Specially the demands include the dissolution of the Thai parliament, standing down of the current PM and a new constitution to replace the 2017 Thai charter.
Today the Fine Arts Department has also says it will file charges of "trespassing on an archaeological site" after protesters yesterday embedded a symbolic brass plaque to replace another plaque that dates back to the 1932 Siam Revolution (when a bloodless coup overthrew the 'absolute monarchy' in Thailand). That plaque mysteriously disappeared in 2017.
The protesters responded this afternoon by saying that Sanam Luang is not an archaeological site, but a "public space for recreation and for vendors and hawkers".
Following on from the support of the crowd over the weekend, the protesters are planning to stage another protest in front of Parliament this Thursday. A House debate on constitutional amendments is due to start this Wednesday.
SOURCE: Thai PBS World
Keep in contact with The Thaiger by following our
Facebook page
.
Never miss out on future posts by
following The Thaiger
.
Thailand Post to upcycle parcel boxes into furniture for Border Patrol Police School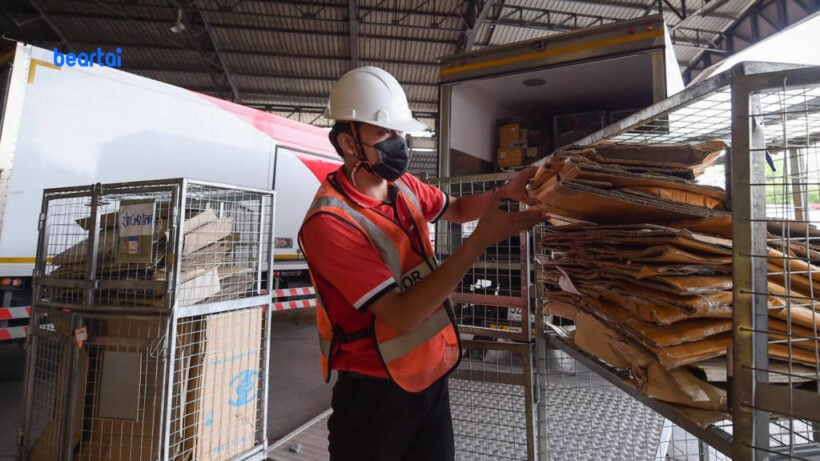 The Thailand Post is going to turn its parcel cardboard boxes and paper envelopes into tables and chairs for students at the Border Patrol Police School. The postal service says they've already received 10,000 kilograms of used boxes and envelopes for the upcycling project.
People can send used parcel boxes and envelopes back to Thailand Post to be collected for the furniture project. President of the postal service Korkij Danchaivichit says discounts and promotions are offered through the 9.9 online shopping campaign which promotes the reuse of the packages. He says some local online marketers have already hopped on board.
"It is a win-win situation for all… First of all, suppliers use compostable paper parcels that are eco-friendly; also 9.9 online shopping enhances the economy, and finally, we (Post Office) get to collect the reusable paper parcels and turn them into furniture to supply schools."
The campaign ends on October 31. Korkij says he'd like to invite more people, online retailers and businesses to send back their used parcel boxes and envelopes.
SOURCES:Xinhua| Nation Thailand
Keep in contact with The Thaiger by following our
Facebook page
.
Never miss out on future posts by
following The Thaiger
.