Thailand
Thailand News: Impact of the clash in the deep South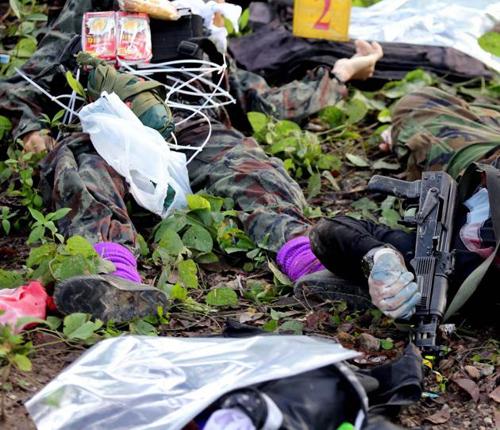 PHUKET MEDIA WATCH
– Thailand news compiled by Gazette editors for Phuket's international community
Raids aim for psychological impact
Phuket Gazette / The Nation

PHUKET: Separatist attempts to overrun military bases in the deep South, like the one that occurred yesterday morning in Narathiwat's Bacho district, are rare. Most attacks involve roadside bombings, ambushes on patrolling troops or point-blank shootings of victims suspected of spying (click here for article).
Some coordinated and simultaneous attacks, while not necessarily a key feature of the conflict in this region, have also been employed and tend to result in physical damage.
Like the arson attacks on CCTV cameras across the region in January this year, or the planting of hundreds of Malaysian flags in August 2012, coordinated and simultaneous operations usually involve small bands of insurgents carrying out attacks on various targets at the same time. Such operations often have a major psychological impact on the general public and force policy makers to rush into damage-control mode or provoke them into knee-jerk reactions.
In an attack in April 2009 in Yala, scores of paramilitary Ranger outposts came under simultaneous attack across the province.
Often, insurgents use grenade launchers to attack remote outposts, mainly to antagonise the troops, but not engage in full battle.
But events like yesterday's attempt to overrun a military installation by scores of militants are rare, mainly because of the time needed for planning and to bring militants from different cells together.
Perhaps the most famous such incident was the January 4, 2004 arms heist at a military base in Narathiwat's Rangae district, in which militants made off with about 300 pieces of weapons after killing four soldiers.
The attack was significant because it forced the government to admit that a new generation of Malay-Muslim insurgents had effectively resurfaced in the region. Bangkok could not deny the political underpinning of the attack.
Another significant incident that captured international attention was on April 28, 2008, in which well over 100 men attacked 10 police outposts and one station with little more than machetes.
An attack by insurgents – about 30 in all – took place on January 19, 2011, also in Narathiwat's Rangae district. The incident resulted in the killing of four soldiers, including a captain. Insurgents made off with about 60 pieces of military weaponry after torching some of the installations, including an interrogation center, inside the camp.
In March 2012, an estimated 50 insurgents attacked a remote military outpost in Bacho district with M79 grenade launchers, wounding 12 soldiers after a 20-minute gunfight. In nearby Rangae district, a small band of militants overtook a ranger outpost and made off with seven weapons after killing two rangers. Most of the simultaneous attacks on military bases in the border provinces have been carried out in the evening.
What made yesterday's attempt in Bacho district different was the fact that the operation was foiled by security forces, who were said to have been tipped off. It ended in the deaths of 16 insurgents.
Marine Captain Somkiat Polprayoon, commander of the Marines in Narathiwat, estimated the number of insurgents at about 30. He dismissed suggestions that the marine company had been tipped off by informants.
"My men are always posted outside the camp perimeter. We are always prepared," he said.
Authorities immediately went into a mop-up operation to look for the remaining insurgents who had fled the area after the gunfight, which lasted for about an hour. At least two villages in the district were sealed off and residents were told to stay put as the authorities carried out searches. Roadblocks along the way heading to and from the area were heavily guarded.
South on alert after deadly marine ambush
Phuket Gazette
PHUKET: Residents in the deep South have been advised by the National Security Council to brace for heightened violence in retaliation for the deadly ambush of a team of insurgents.
NSC secretary-general Lt-General Pharadorn Phatthanathabutr yesterday said arson attacks were the most likely form of retaliation by "angry insurgents ready for revenge" over the heavy casualties inflicted on them in recent days.
A school in Bacho district was set on fire three hours after the Marines' ambush. The ambush, in which the authorities suffered no casualties, was their biggest success in many years. It followed improved intelligence resulting from better cooperation with local residents. High-ranking and government security figures have called it a tactical, operational and intelligence success.
Sixteen insurgents were killed at the remote outpost in Bacho district in a one-hour gunfight shortly after midnight on Tuesday after a team of 50 walked into a trap set by the Marine unit, the 2nd Rifle Company of the Royal Thai Marines, under Taskforce 32 Narathiwat.
A 24-hour curfew was later announced, with the cooperation of villagers in four tambon in Bacho district – where all five schools have been closed – and two tambon in Pattani until 6am today to clear the way for a full-scale manhunt.
The death toll among the insurgents was one of the highest yet in a single gunfight between separatist militants and government security forces. A Marine commander, Captain Somkiat Pholprayoon, said that six of the men killed were insurgent leaders, including much-wanted Marohso Jantharawadee (see below), who had been indicted on 11 charges of violence.
A total of 13 M-16 and AK-47 assault rifles were seized, along with three handguns, a large amount of supplies, a pickup truck and two motorcycles. Security officials later said the planned attack was intended as revenge for the death of an insurgent during a raid on Monday in Pattani. Police had said earlier that Maruding Yusoh, 25, a suspected operative who died in the ensuing shootout, was found with a pistol linked to 10 previous attacks.
All the dead insurgents wore camouflaged uniforms identical to those worn by civil defense volunteers, in addition to bullet-proof vests seized from security officials they have killed, police said. Also found at the scene were a number of improvised explosive devices prepared for use, while trees were felled and roads scattered with spikes in nearby areas leading to the Marines' outpost.
Somkiat later repeated his praise for residents – mostly Muslim locals – who supplied tip-offs that led to the successful ambush. "They are fed up with the violence in the region, which has been going on now for more than nine years. They want to see peace restored and they have seen that the authorities could help sort out their troubles," Somkiat said.
Defence Minister Sukampol Suwannathat and Army commander General Prayuth Chan-ocha expressed regret to the families of the slain insurgents, for their innocence and lack of knowledge about their insurgent relatives' involvement in the activities. Sukampol said later that the Foreign Ministry would make an official clarification of the situation to Muslim countries.
The names of all 16 dead insurgents have been made public, after the completion of DNA-based identification at a local hospital. Deput
— Phuket Gazette Editors