Thailand
Thailand faces renewed calls to abolish death penalty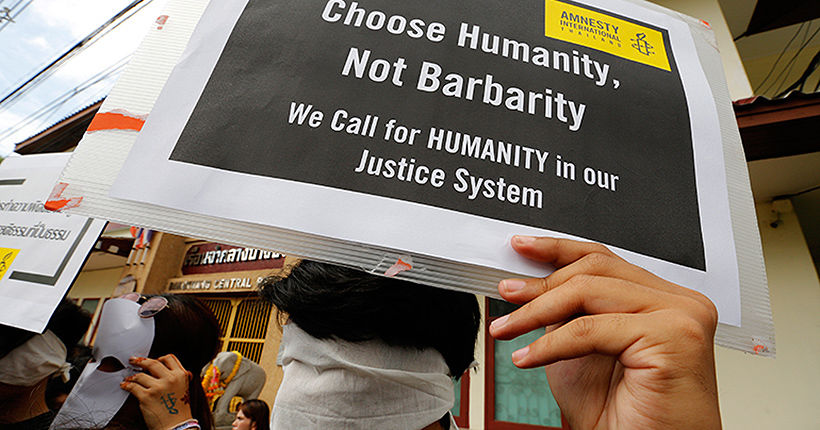 A lobby group arguing for the abolishment of the death penalty is urging Thailand to agree to the Second Optional Protocol to the International Covenant on Civil and Political Rights (ICCPR), as part of a process that would ultimately see an end to capital punishment in the country.
To mark World Day Against the Death Penalty, Gothom Arya, a representative from The Network for the Abolition of the Death Penalty, discussed the challenges faced by Thailand, where the Buddhist concept of karma underpins a belief that if someone carries out a violent act, they too must suffer violence.
"There is a belief that if there's no death penalty, convicts will return to society and harm again. I think the process towards abolishing the death penalty in Thailand is likely to be a time-consuming one."
Bangkok Post reports that Mr Gothom acknowledges the dilemma such ingrained beliefs pose but says if Thailand were to at least agree to the Second Optional Protocol, it would be a step forward. The protocol allows for a reduction in the number of crimes where the death penalty can be handed down.
He says, in the past, Thailand has imposed the death penalty for crimes involving drugs, bribery or corruption, which would not be considered serious enough crimes.
A survey carried out by Mahidol University reveals that 41% of Thai people are in favour of keeping the death penalty, while 51% say they're undecided. Only 8% say they would support abolishing it. A Mahidol academic in Criminology, Atcharapan Jaraswathana, says there is no evidence that the death penalty is effective as a deterrent or a means to reduce crime.
"The death penalty is ultimately a cruel, inhuman and degrading punishment which provides no quick-fixes to problems the authorities want to confront."
SOURCE: Bangkok Post