Thailand
Thai students awarded for innovation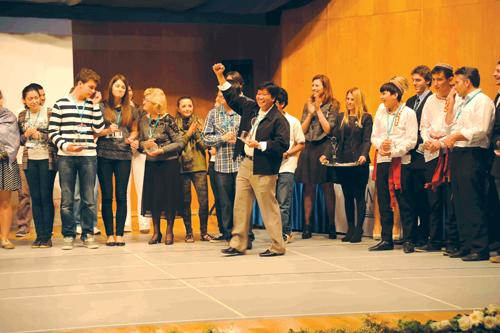 PHUKET: Thai students have demonstrated their capacity for innovation at the MEF Educational Institutions' 22nd International Research Projects Competition held in Turkey recently.
The students from Somtawin Witeadsuksa Huaymongkhon School near Hua Hin received a special jury award for their 'Boe-bot in voice command and GPS program'. Students from Slovenia and Italy also received a special jury prize.
MEF Educational Institutions Founder and Chairman of the Board, Ibrahim Arikan, Ph.D. presented awards to winners for the projects in the areas of physics, chemistry and biology.
In this year's contest, the number of international applications increased five times more than the previous years' applications. A total of 64 projects developed from Turkey and 26 international projects competed in this years' contest. Young inventors, from 25 countries including Albania, Azerbaijan, Bulgaria, Canada, China, Croatia, Cyprus, Dubai, Hungary, Italy, Kosovo, Lithuania, Macedonia, Poland, Romania, Russia, Spain, Sweden, Serbia, Slovakia, Slovenia and Thailand had an opportunity to present their projects at the exhibition and travelled around Istanbul at the unifying atmosphere of science.
Over 1500 students with 806 projects from all over the world, applied to MEF Educational Institutions' Research Projects Competition. In the end, only 90 projects developed by 165 high school students qualified to take a place at the exhibition of the competition.
Developing projects including concrete production with no cement, window-cleaning robots, fuel-efficient aircraft and green electricity generation from plants, the young scientists impressed the judges with their extensive knowledge on the topics, including nanotechnology, genetics, ecology and their high-level of awareness about environmental issues.
Keep checking the Phuket Gazette's Thailand and World pages, join us on our Facebook fan page or follow us at @PhuketGazette for the latest local, national and international news.
— Phuket Gazette Editors