Thai preparedness limits Pabuk damage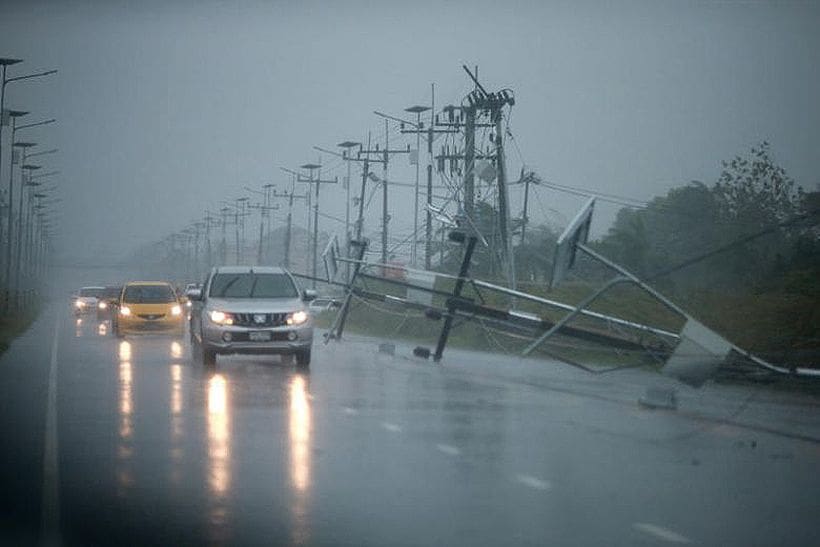 Just a week ago the tropical storm Pabuk was poised to make landfall on the southern Thailand Gulf coast after days of predictions, warnings and anticipation.
Now the entire event can be assessed in hindsight and lessons learned for next time.
Reliefweb.int has issued a compiled report on Pabuk.
"Early warning and early action helped ensure that tropical storm Pabuk, which struck the southern region of Thailand last week from January 3-5, passed with limited loss of life.
"The storm, however, caused high economic losses and considerable damage to critical infrastructure, including schools and hospitals."
Warnings for Pabuk were first issued on January 1, when Pabuk was still a tropical depression heading west across the South China Sea. By the time the storm made landfall, Thai authorities had evacuated about 30,000 people living in the coastal districts into shelters.
They also suspended flights and ferry services (on the Andaman Coast as well), raised red warning flags on the beaches to ban swimming, and advised fishermen to stay ashore.
According to Thailand's Disaster Prevention and Mitigation Department, Pabuk affected 212,784 people across 2,635 villages in 18 southern provinces. Seven people were reportedly killed, two of whom were volunteers who died during rescue missions.
The casualty figures could have been much higher if not for the government's preparedness and early actions. Ahead of the storm, many worried of a repeat of tropical storm Harriet, which killed around 900 people in 1962.
"Even though this storm was very powerful and comparable to tropical storm Harriet, a good weather forecast system, as well as an advance disaster warning and evacuation, ensured there were only a few casualties," said Seri Supharatid, Director of Rangsit University's Centre on Climate Change and Disaster.
After the storm passed, the most affected areas in southern Thailand continued to struggle with flooding, uprooted trees, downed electric poles, and flattened fruit plantations. Moreover, since the storm struck Thailand during its peak tourism season, it threatened the livelihoods of thousands who depend on income from tourism.
While there is no official estimate yet of the total cost of damage, the Thai Chamber of Commerce's Centre for Economic and Business Forecasting, estimates economic losses at around US$ 150 million.
This reinforces a trend seen elsewhere in the region, where improvements in early warning systems and disaster response have resulted in fewer deaths, but the economic cost of disasters continues to rise due to more people and economic activity being concentrated in in high-risk coastal areas.
According to the Bangkok Post, Pabuk damaged around 435 schools and up to 29 public hospitals.
SOURCE: reliefweb.int


Read more headlines, reports & breaking news in South Thailand. Or catch up on your Thailand news.
Six metre king cobra caught by rescue workers in Trang – VIDEO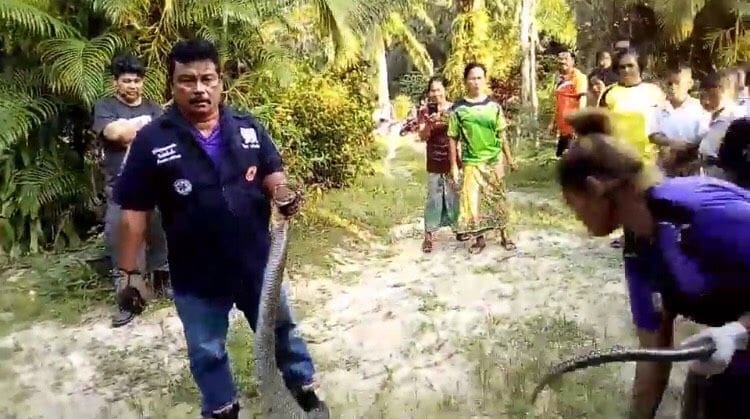 VIDEO/PHOTOS: หน่วยกู้ภัยบรรเทาวังวิเศษ
A 20 kilogram, 6 metres king cobra has been caught in Trang by rescue workers.
77 Kaoded news reports that Sikao Police in Trang were notified of the incident at a house at 4.45pm yesterday. Police decided it wasn't quite in their work contract and contacted rescue workers who headed to the house.
Sawai Kaewjuea, a rescue worker, led his team to catch the cobra. It took about 20 minutes to catch the feisty king cobra which 6 metres long.
23 year old Sunata Duangkleang says, "While I was talking with my friends in the house, I saw the king cobra. We immediately ran out of the house and called the police."
Good advice!
TRANGRescue worker catches a king cobra in Trang, southern Thailand, yesterday. Yikes!VIDEO: หน่วยกู้ภัยบรรเทาวังวิเศษ

Posted by The Thaiger on Tuesday, January 15, 2019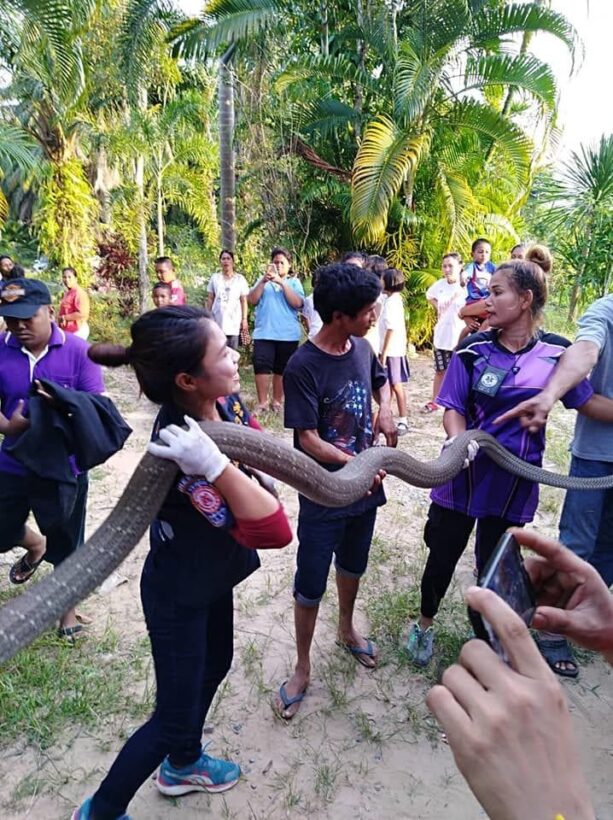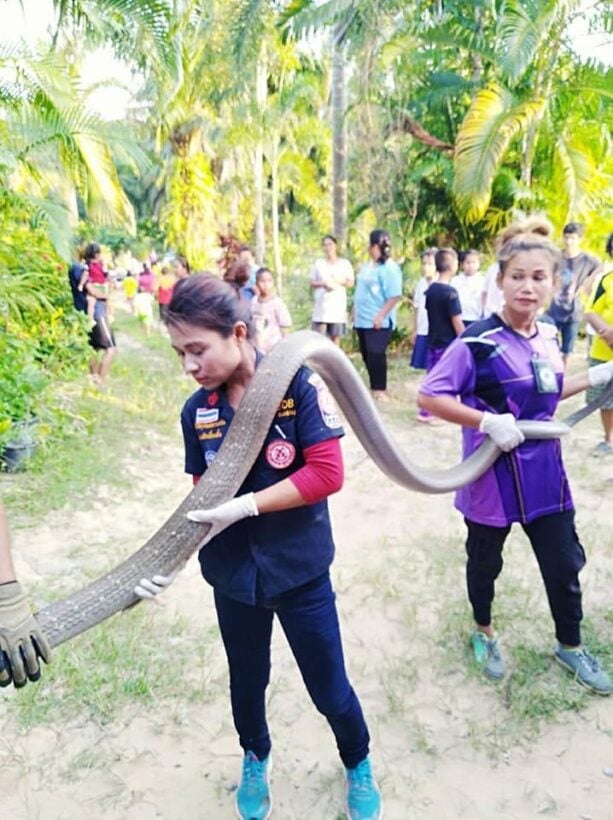 SOURCE: 77 Kaoded
Air quality for Thailand – January 16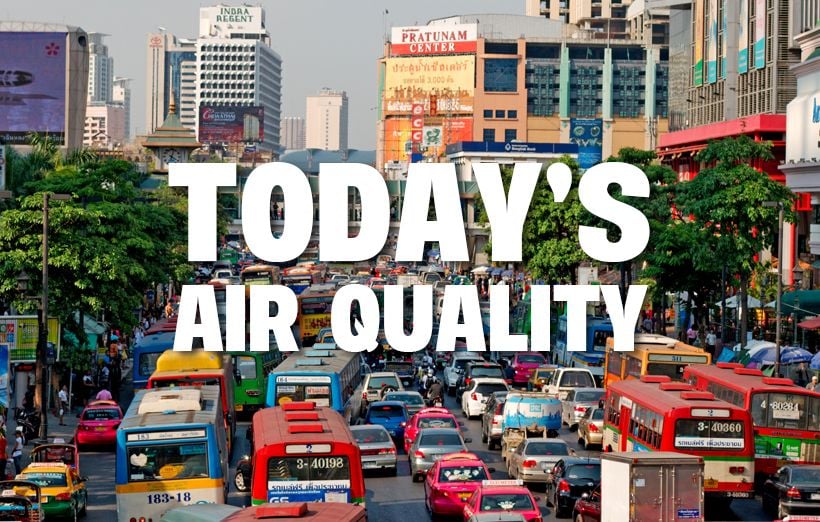 Northern Thailand



Central Thailand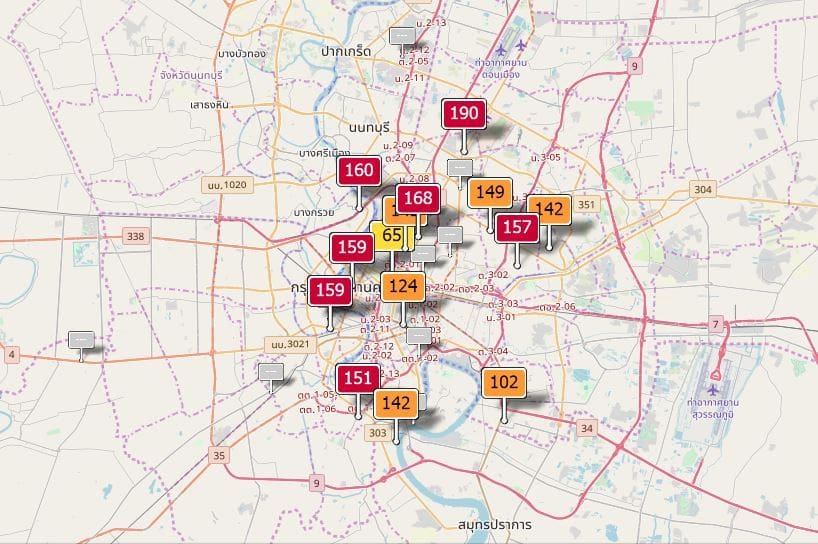 Southern Thailand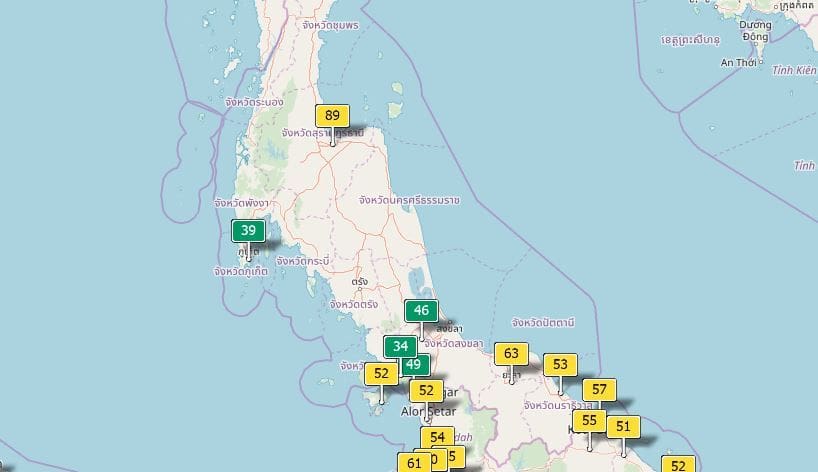 Driver charged in Chumphon tour bus accident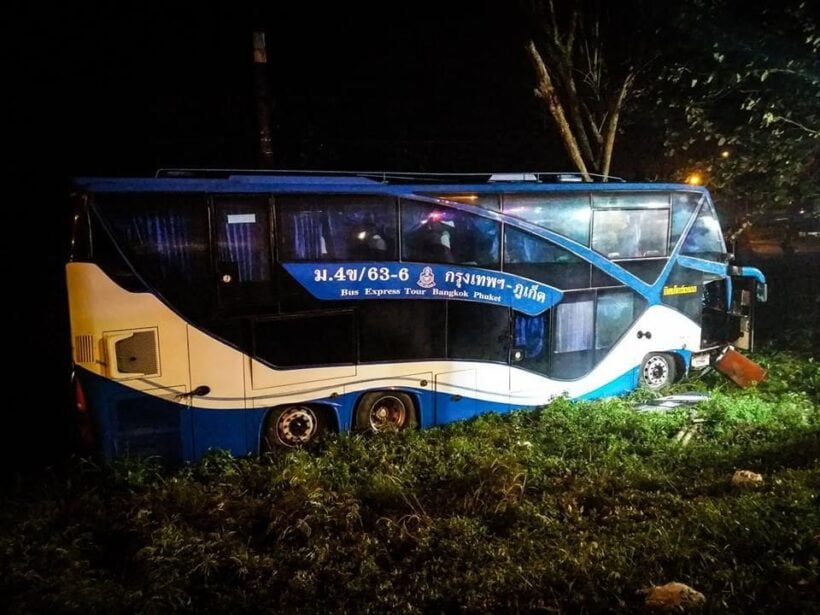 PHOTOS: หน่วยกู้ภัยมูลนิธิชุมพร //บางหมาก 02 / MulnithiChumphrKarKuslSngKheaaH
A tour bus driver has been charged for reckless driving after yesterday morning's tour bus accident in Chumphon.
23 Filipino tourists escaped serious injury in the bus crash. The bus was travelling from Bangkok to Phuket.
Read more about yesterday's crash HERE.
Thairath is reporting that the tour bus driver, 36 year old Taweesak Chitchuea from Ranong, has been charged. He had to be removed from the bus with the aid of hydraulic cutters and was taken to Chumpon Hospital with a broken right leg.
At this stage police speculate that the driver fell asleep at the wheel. The bus driver has been charged with reckless driving causing injuries and damages.
All passengers were loaded onto another bus to continue their journey to Phuket. One Filipino passenger was taken to Chumpon Hospital for precautionary examination but was released yesterday.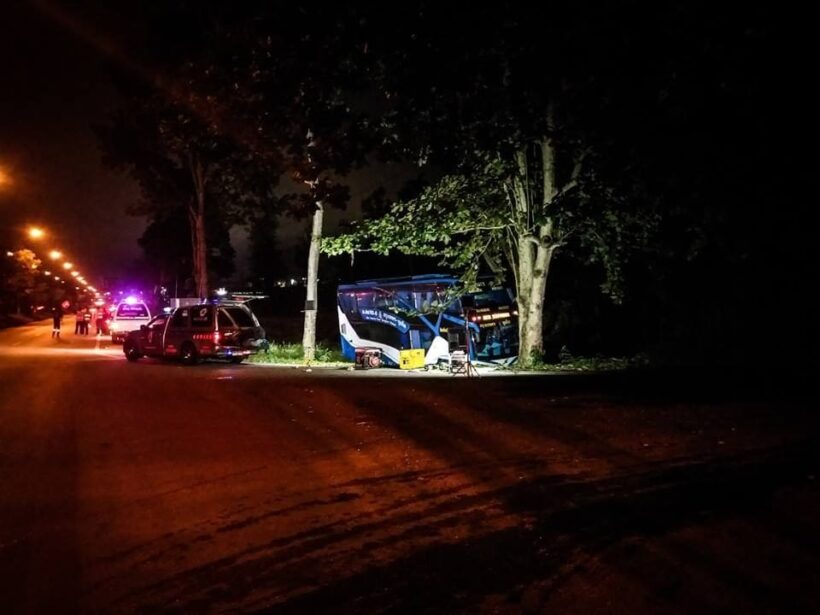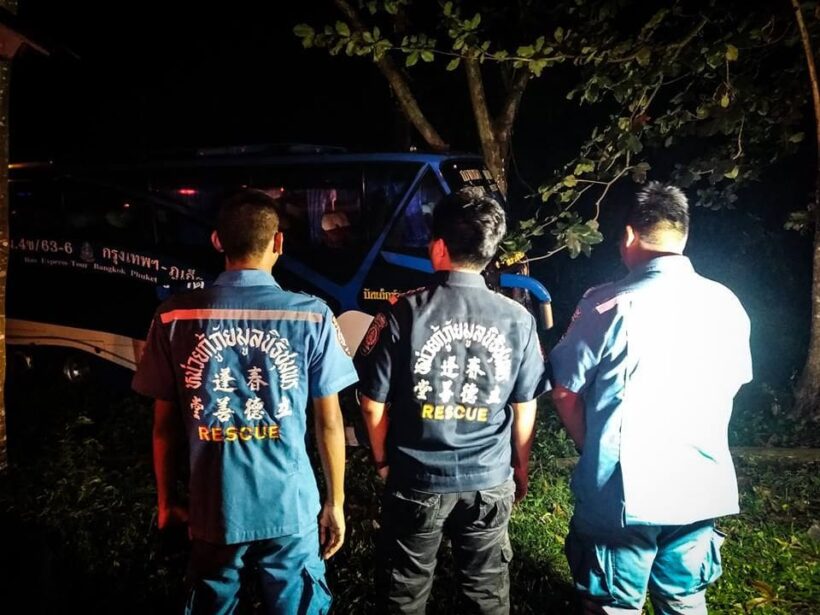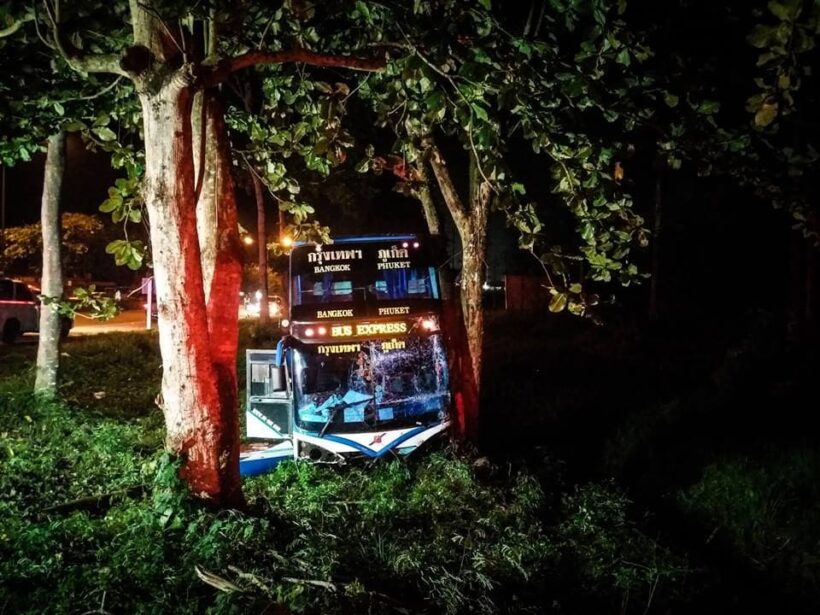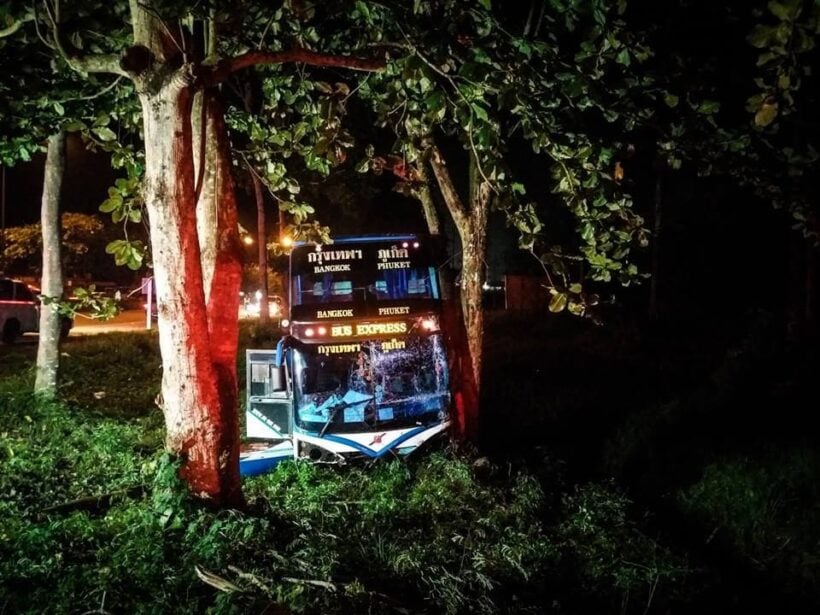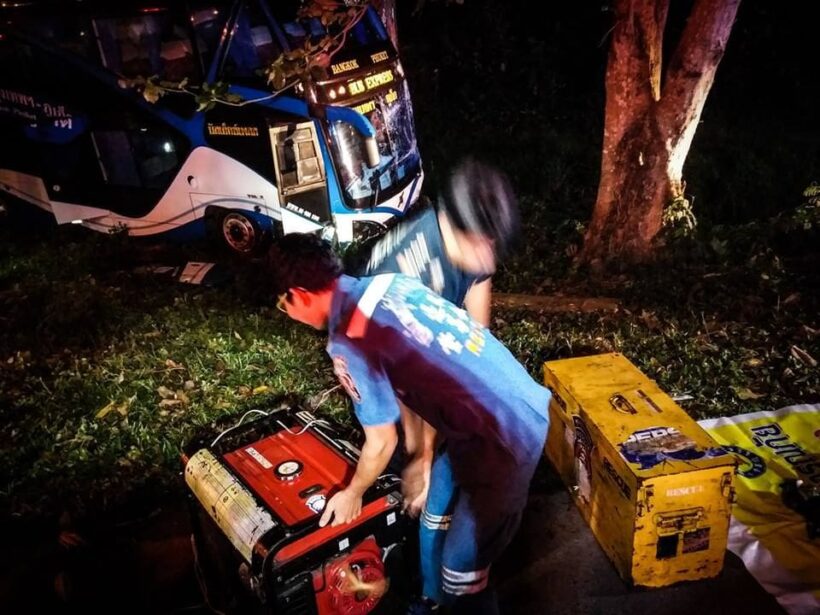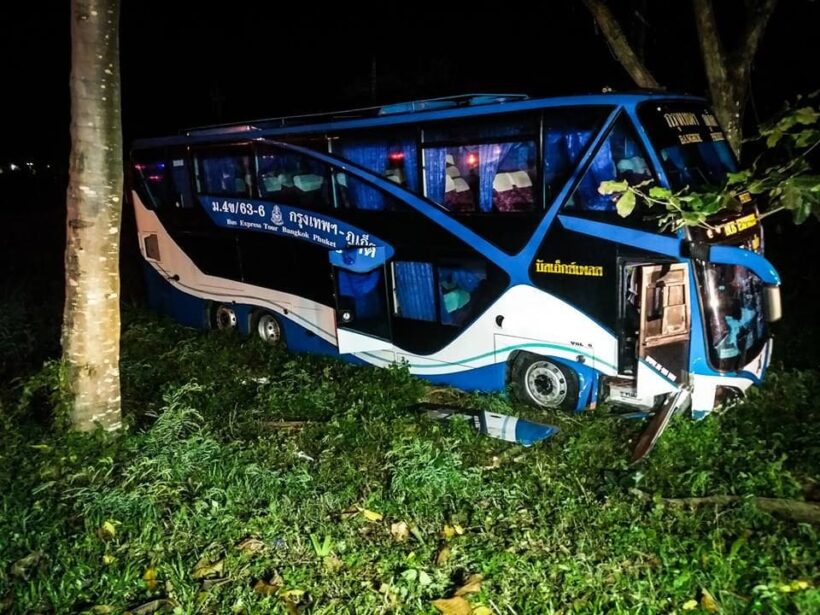 SOURCE: Thairath