Thai preparedness limits Pabuk damage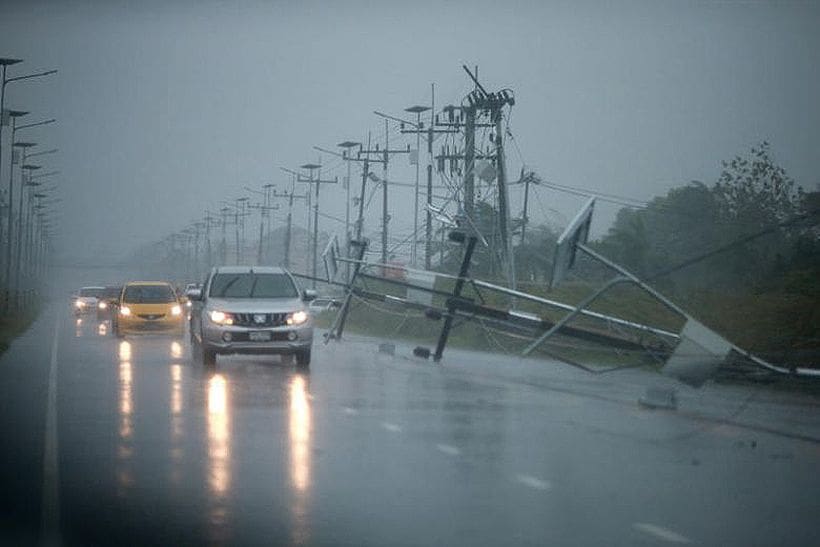 Just a week ago the tropical storm Pabuk was poised to make landfall on the southern Thailand Gulf coast after days of predictions, warnings and anticipation.
Now the entire event can be assessed in hindsight and lessons learned for next time.
Reliefweb.int has issued a compiled report on Pabuk.
"Early warning and early action helped ensure that tropical storm Pabuk, which struck the southern region of Thailand last week from January 3-5, passed with limited loss of life.
"The storm, however, caused high economic losses and considerable damage to critical infrastructure, including schools and hospitals."
Warnings for Pabuk were first issued on January 1, when Pabuk was still a tropical depression heading west across the South China Sea. By the time the storm made landfall, Thai authorities had evacuated about 30,000 people living in the coastal districts into shelters.
They also suspended flights and ferry services (on the Andaman Coast as well), raised red warning flags on the beaches to ban swimming, and advised fishermen to stay ashore.
According to Thailand's Disaster Prevention and Mitigation Department, Pabuk affected 212,784 people across 2,635 villages in 18 southern provinces. Seven people were reportedly killed, two of whom were volunteers who died during rescue missions.
The casualty figures could have been much higher if not for the government's preparedness and early actions. Ahead of the storm, many worried of a repeat of tropical storm Harriet, which killed around 900 people in 1962.
"Even though this storm was very powerful and comparable to tropical storm Harriet, a good weather forecast system, as well as an advance disaster warning and evacuation, ensured there were only a few casualties," said Seri Supharatid, Director of Rangsit University's Centre on Climate Change and Disaster.
After the storm passed, the most affected areas in southern Thailand continued to struggle with flooding, uprooted trees, downed electric poles, and flattened fruit plantations. Moreover, since the storm struck Thailand during its peak tourism season, it threatened the livelihoods of thousands who depend on income from tourism.
While there is no official estimate yet of the total cost of damage, the Thai Chamber of Commerce's Centre for Economic and Business Forecasting, estimates economic losses at around US$ 150 million.
This reinforces a trend seen elsewhere in the region, where improvements in early warning systems and disaster response have resulted in fewer deaths, but the economic cost of disasters continues to rise due to more people and economic activity being concentrated in in high-risk coastal areas.
According to the Bangkok Post, Pabuk damaged around 435 schools and up to 29 public hospitals.
SOURCE: reliefweb.int


Read more headlines, reports & breaking news in South Thailand. Or catch up on your Thailand news.
Massive petrol smuggling network uncovered in South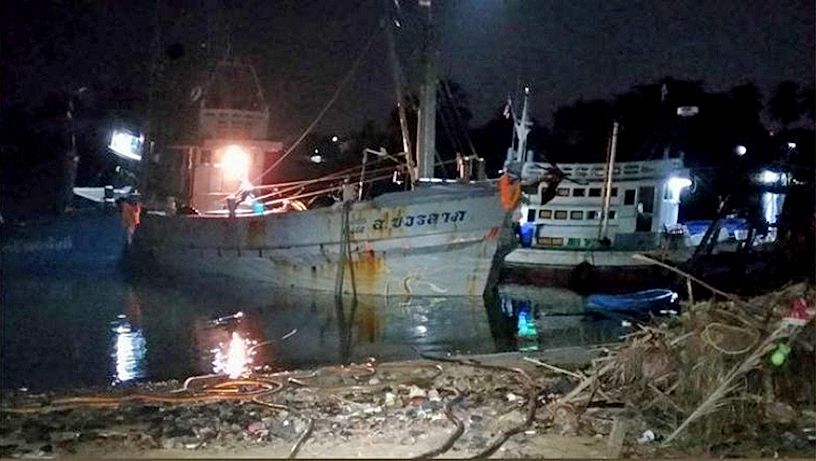 by Krissana Thiwatsirikul
PHOTO: Facebook/Thai News Agency 
Thirteen people have been arrested following the largest seizure of smuggled petrol in the South in years.
Soldiers and paramilitary rangers intercepted 290,000 litres of petrol being smuggled at a pier in Nakhon Si Thammarat's Tha Sala district after a stake-out this morning. Customs and excise officials inspected the petrol and vehicles before handing the matter and the suspects over to the police.

Two modified 20 metre vessels, the Ore Feungfa and Khajornlarp, docked at the pier with 290,000 litres of gasoline in their holds. Officials also impounded four 18-wheel trucks and a six-wheel truck parked nearby ready to take on the shipment.

The 13 suspects apprehended included the boats' skippers and crewmembers and the truck drivers. Several boat crewmembers jumped into the sea and escaped arrest.

Officials claimed that Somsak Narongdech, skipper of the Ore Feungfa, confessed he had received the shipment in international waters and was going to offload it to the trucks, but he didn't know the final destination. He reportedly said he handled six or seven such shipments a month.

Yothin Pengsawat, driver of one of the 18-wheel trucks, purportedly said he was supposed to take the petrol to a customer in Nakhon Sawan.

STORY: The Nation
3 wounded in explosion at Narathiwat border defence unit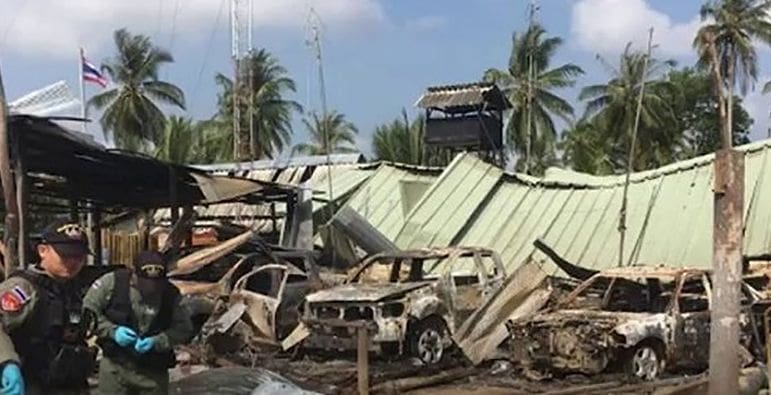 Three security officials have been injured in the latest bout of southern violence when armed militants attacked a border defence unit's base near the Kolok River in the Tak Bai district in the southern province of Narathiwat on the Thai/Malaysian border.
Several houses and cars nearby were also damaged by the powerful IED (improvised explosive device).
Initial reports have revealed that a group of about 6 militants opened fire at the base with automatic weapons, followed by a powerful blast from a device attached to a motorcycle parked in front of the base.
Three suspects have been apprehended by security police and are being questioned.
SOURCE: Thai PBS
Boy killed by train while playing on his mobile phone in Songkhla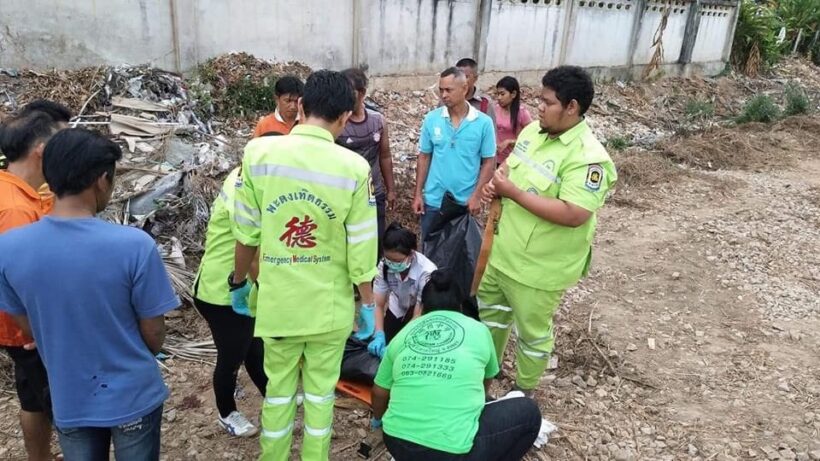 PHOTOS: Phatong Tredtam Rescue Foundation
A 12 year old boy has died on a railway track near a school in Hat Yai, Songkhla after being crushed by a train while he was playing on his mobile phone on local railway tracks.
The Phatong Tredtam Rescue Foundation report that Thunglung Police in Hat Yai, Songkhla were notified of the incident at 6pm near a school yesterday.
Rescue workers arrived at the scene to find the body of the boy near the railway. He was later identified as 12 year old Watanyoo Dissaroe. The train involved was the Express 46 from Padang Besar to Bangkok.
Locals say they saw the boy playing on his mobile phone near the railway tracks. They then heard several blasts from the horn on the train but say the boy failed to hear the warnings.