Thai MICE sector secures major international events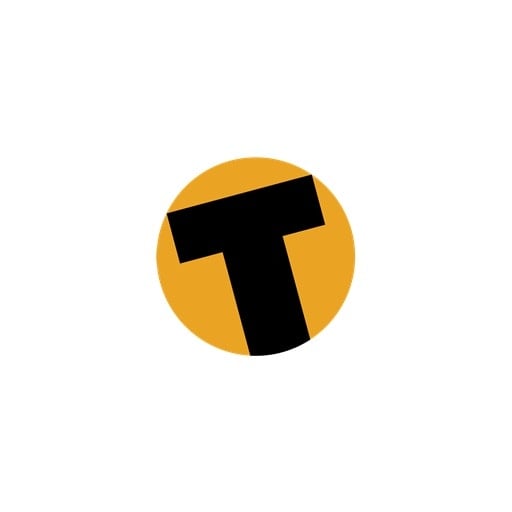 PHUKET MEDIA WATCH
– Thailand news selected by Gazette editors for Phuket's international community
Thai MICE sector secures major international events
Phuket Gazette
PHUKET: The Thailand and Convention Exhibition Bureau (TCEB) has announced that the country will play host to several major international MICE events (meetings, incentives, conventions and exhibitions), including the 74th "FIP World Congress of Pharmacy and Pharmaceutical Sciences 2014", in the second half of this year and in 2015.
The event was confirmed by the International Pharmaceutical Federation (FIP), a global federation representing 2 million pharmacists and pharmaceutical scientists worldwide, of whom more than 2,000 will attend the congress in Bangkok.
Meanwhile, the World Puppet Carnival has also reaffirmed its confidence in Thailand by announcing that the "Harmony World Puppet Carnival" will be held in Bangkok, with more than 30,000 expected to attend.
Also, Unicity International, an international multi-level marketing company, has picked Thailand as the venue for the Unicity Global Convention – its annual meeting and incentive travel program – this October. The event is expected to welcome more than 50,000 business travellers to the Kingdom. The confirmations signal renewed international confidence in the Thai MICE sector, as operations return to normal after the country's political transition, according to the TCEB.
"Winning major bids for international MICE events of this caliber, which will take place in Thailand from the second half of 2014, reflects the strong international confidence business communities around the globe have in Thailand," TCEB president Nopparat Maythaveekulchai said.
"Stability is a key consideration for MICE travellers, and the confidence shown by international organizers is proof positive that Thailand is again ready to host MICE events of any size and scale. "TCEB is looking forward to extending our famous warm Thai hospitality and world-class MICE services to 157,930 high-quality business travellers during the final quarter of the 2014 fiscal year."
The Harmony World Puppet Carnival will be held from November 1-10 in a historic area of Bangkok's Rattanakosin Island. It is expected that 124 productions from 74 countries, including 66 European countries and six in Asia, will join up with renowned Thai puppeteers.
— The Nation
Keep in contact with The Thaiger by following our
Facebook page
.
Never miss out on future posts by
following The Thaiger
.
US cuts Thailand's tariff benefits after long-running pork dispute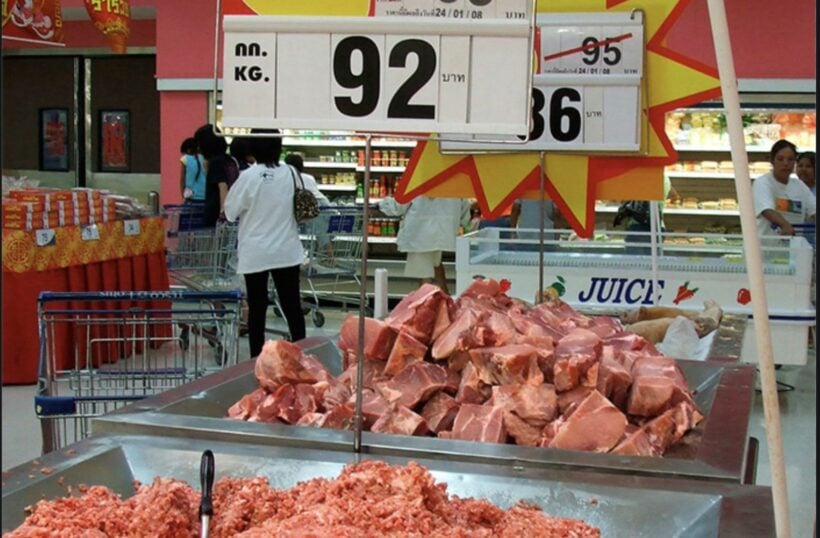 Thailand's duty-free privileges for US$817 million in exports with the US are to be revoked from the end of this year, according to US President Trump in an announcement yesterday. The President blamed a lack of progress in opening the Thai market to US pork products. Trump's letter announcing the action follows more than 2 years of threats and negotiations with Thai officials over issues ranging from access to Thailand's markets for US goods and the documented inadequate labour rights in the south east Asian nation.
Washington will now eliminate some tariff benefits for Thailand, accusing the country of failing to allow imports of pork from US producers.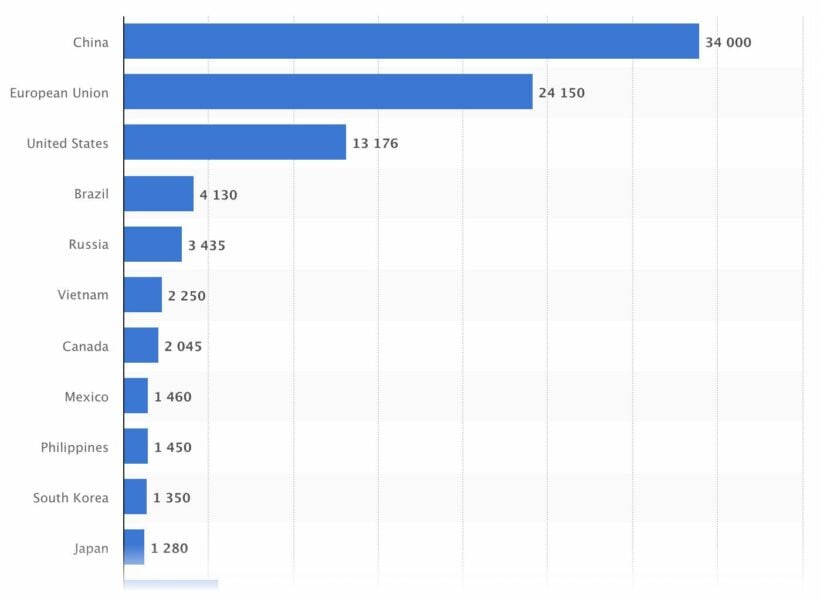 GRAPHIC: Global pork production in 2020, by country (in 1,000 metric tonnes) – statista.com
The suspension of the Generalised System of Preferences access follows a suspension earlier this year on about $1.3 billion worth imports from Thailand, which once had such privileges for about US$4.4 billion in exports to the United States.
The US Trade Representative's office said the list of products includes mango, pineapple, manicure kits, steel pipes and precious stones., auto parts, dried produce, tools, electrical products and aluminium kitchenware.
Writing to the House Speaker Nancy Pelosi, President Trump said… "I have determined that Thailand has not assured the United States that Thailand will provide equitable and reasonable access to its markets."
GSP, Generalised System of Preferences, is a 70s-era program of US trade preferences for developing economies aimed at improving workers' rights and access to broader markets.
"The US Trade Representative's office also announced that it had closed other GSP eligibility reviews with no loss of benefits for Georgia, Indonesia and Uzbekistan. It also said new GSP reviews were opened for Eritrea based on concerns about workers' rights."
SOURCE: Reuters | VOANews | statista.com
Keep in contact with The Thaiger by following our
Facebook page
.
Never miss out on future posts by
following The Thaiger
.
Dow and S&P 500 take a breath after an ugly week, tech stocks lead the way down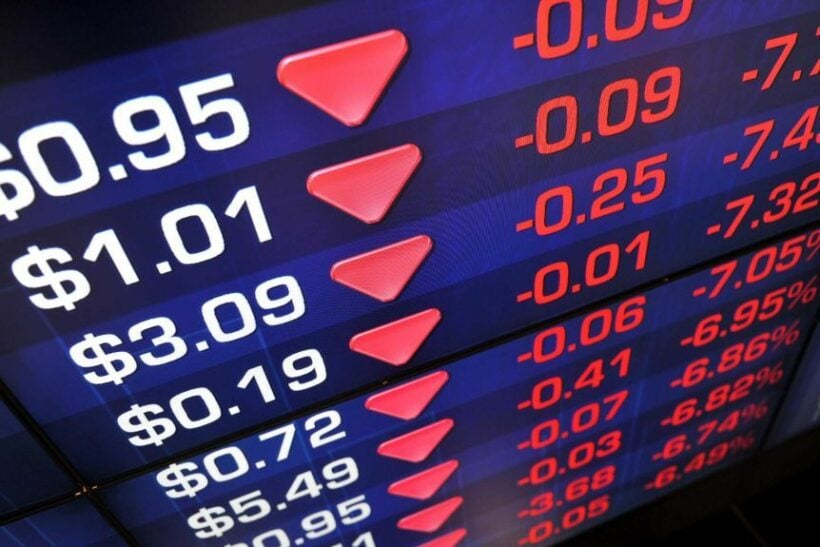 US stocks closed lower yesterday to end an ugly week downbeat with 'uncertainty' remaining the overwhelming sentiment. Tech stocks led the march downwards. The Dow Jones Industrial Average dropped in its biggest monthly collapse since March with investors reacting to rising Covid-19 cases in the US and Europe, peppered by nervousness ahead of next Tuesday's US presidential election. The increased volatility forced all three major indexes seeing their biggest weekly declines since the worst of the coronavirus-inspired selloff 8 months ago.
The Dow fell around 157 points, to end near 26,502, according to preliminary figures, while the S&P 500 lost around 40 points, or 1.2%, to finish near 3,270. The Nasdaq Composite gave up around 274 points, or 2.4%, closing near 10,912. The Dow had a 6.5% weekly fall and a 4.6% monthly drop. Friday's decline saw the Nasdaq negative for the month of October, falling 2.3%. The Nasdaq was down 5.5% for the week.
The Dow dropped more than 500 points at its session low with tech stocks – primarily Apple, Amazon, Alphabet and Facebook – leading the market decline.
A number of stocks were on the move, down, following a slew of earnings, including from the tech giants. Twitter sank more than 20% on slowing growth, while Exxon reported its 3rd straight quarter of losses.
Key moments yesterday…
Dow closed down 0.59% for its 5th negative day out of 6
S&P 500 closed down 1.21% for its 4th negative day in 5
Dow closed down 6.47% this week for its worst week since March 20
S&P closed down 5.64% this week for its worst week since March 20 when the S&P lost 14.98%
S&P closed down 2.77% this month for its second-straight negative month
Nasdaq closed down 5.51% this week for its worst week since March 20 when the Nasdaq lost 12.64%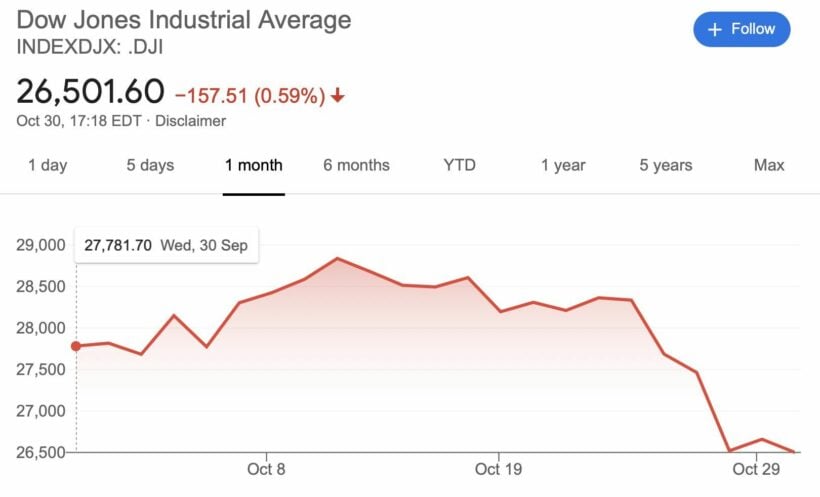 Keep in contact with The Thaiger by following our
Facebook page
.
Never miss out on future posts by
following The Thaiger
.
Free Trade Agreement talks continue between Thailand and EU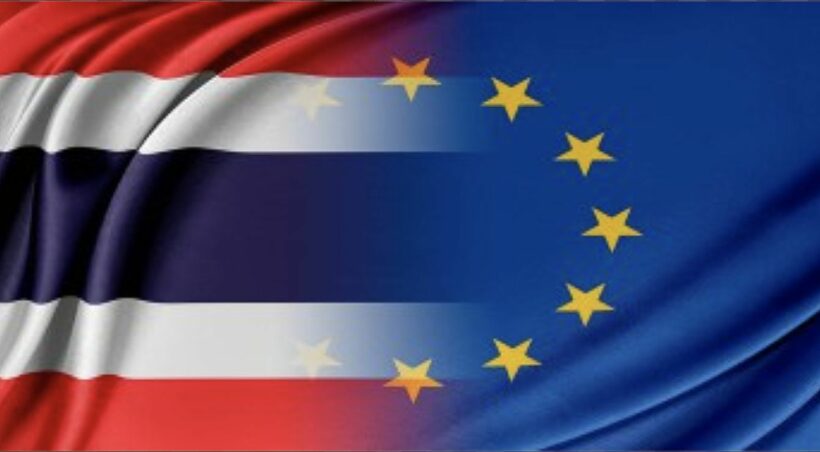 Thailand is resuming trade talks with the European Union on the long-delayed Thai-EU free trade agreement. The 15th Thai-EU Senior Officials' conference was held virtually between leading Thai and European trade officials this week. The push was on to have the Free Trade Agreement signed and sealed by the end of this year.
Discussions were held regarding the ongoing affects of the Covid-19 pandemic, the impact on Euro and Thai economies, the current political unrest in Thailand, the fight against Illegal Unreported and Unregulated fishing, promoting the protection of labourers and a commitment to strengthen ties between the Euro zone and Thailand.
The next step in the establishment of the FTA will be a forthcoming meeting on trade and investment in December.
The virtual meeting was represented by Sasiwat Wongsinsawat, the Director-General of the Department of European Affairs and the European Union's Paola Pampaloni , the Deputy MD for Asia and Pacific Department at the European External Action Service.
Keep in contact with The Thaiger by following our
Facebook page
.
Never miss out on future posts by
following The Thaiger
.