Thai industry captains praise NCPO moves, reforms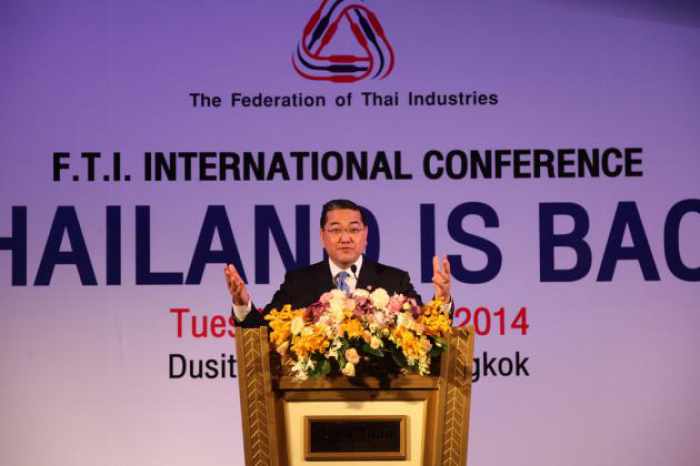 PHUKET MEDIA WATCH
– Thailand news selected by Gazette editors for Phuket's international community
Thai industry captains praise NCPO moves, reforms
The Nation / Phuket Gazette
PHUKET: Thailand is back to work and business after months of political impasse, but there are challenges to be addressed to ensure sustainable growth, an international business conference heard yesterday.
Inclusive political reform will be of utmost importance in sustaining the country's long-term development, Surakiart Sathirathai, former deputy prime minister and ex-minister of foreign affairs, told the conference.
Surakiart said in his keynote address that it had to be recognised that the actions of the military administration over the past two months had brought a respite and had received broad popular support throughout the country. "The nation has pulled itself back from the brink."
He was speaking at an international conference on "Thailand Is back", co-hosted by the Federation of Thai Industries (FTI) and The Nation at Dusit Thani Hotel in Bangkok. Surakiart was speaking on the subject of "Thailand's Reforms".
He said that in principle, he was not an advocate of military intervention. But it had to be conceded that the actions taken by the military two months ago most likely avoided hundreds of deaths that could have resulted from impending violent clashes among opposing groups of demonstrators.
He said the increasingly strident confrontations between the two unyielding forces of the political divide had threatened to tear the nation apart.
Surakiart, who is also chairman of the Asian Peace and Reconciliation Council, said that after the protracted political conflicts of the eight months before May 22, "Thailand is now back to business with public and private sectors joining hands to move the country forward through economic restructuring and a major process of national reform, in order to return the country back to a state of well-being."
Already, without the burden of limited authority of the previous caretaker government, and the legal entanglements created by parties to the conflict in the past year, the interim administration has been able to tackle pressing issues.
Surakiart cited the payment of debts amounting to more than Bt90 billion owed to farmers for more than eight months under the rice-pledging scheme, and approval for long-awaited projects under promotional privileges of the Board of Investment worth Bt200 billion, with a further approximately Bt400 billion worth of projects in the pipeline.
Many challenges ahead
There are still a number of tasks that have to be performed to ensure sustainability, he added. Among these, the public and private sectors need to devise strategies and action plans to handle the decline in tourists and the sluggish export growth. Relatively weak small and medium-sized enterprises need capital facilities and other assistance to enable them to benefit fully from the upcoming Asean Economic Community.
He noted that while the economic road map has been spelled out and is in the process of implementation, the political road map was equally important, as political stability is a necessary condition for economic growth and prosperity. The foreign business community should view the reform agenda as a great opportunity to engage with Thailand even more than before in order to bring about a strong country with more economic opportunities for everyone, he added.
FTI chairman Supant Mongkolsuthree told the conference that during the past two months after the May 22 coup, the National Council for Peace and Order (NCPO) had been able to maintain peace and order while initiating a comprehensive reform plan to move the country towards a fully functioning and sustainable democracy.
"I believe that with peace and order on hand, we can regain our way of doing business as usual," he said.
He added that the FTI and relevant organisations had jointly worked to restore investors' confidence in Thailand and were seeking ways to work with the junta to amend regulations and laws that have hampered the process of doing business in Thailand.
Speaking on the topic of Thailand taking the lead as the AEC's investment hub, panellist Frank Krings, chief country officer and general manager of Deutsche Bank, Bangkok, said the country was back to work after a long political impasse, which had brought important parts of the economy to a grinding halt.
The country should focus on six areas – building competency, embracing competition, creating inclusive frameworks for society and business, fostering innovation, driving technologies, and on the back of that, fostering transparency, all for the betterment of the country.
'Hub of Asean investment
Kan Trakulhoon, president and chief executive of Siam Cement Group, said the current military government with absolute power should take the opportunity to amend laws and regulations that are obstacles to doing business in Thailand.
He added that Thailand should be the hub of regional operating headquarters of Asean and to achieve the goal the country must revise existing incentives to be much more attractive than those offered by other regional countries.
Another panellist, Boonchai Chokwatana, chairman of Saha Pathanapibul, said that after the military took over the administration of the country, "peace and happiness" has returned to most Thais, ending months of uncertainty. Confidence has also returned to the public and the business community.
— Phuket Gazette Editors
Keep in contact with The Thaiger by following our
Facebook page
.
Never miss out on future posts by
following The Thaiger
.
Thailand News Today | Thai Airways corruption, Southern floods, Border Covid outbreak | Dec 3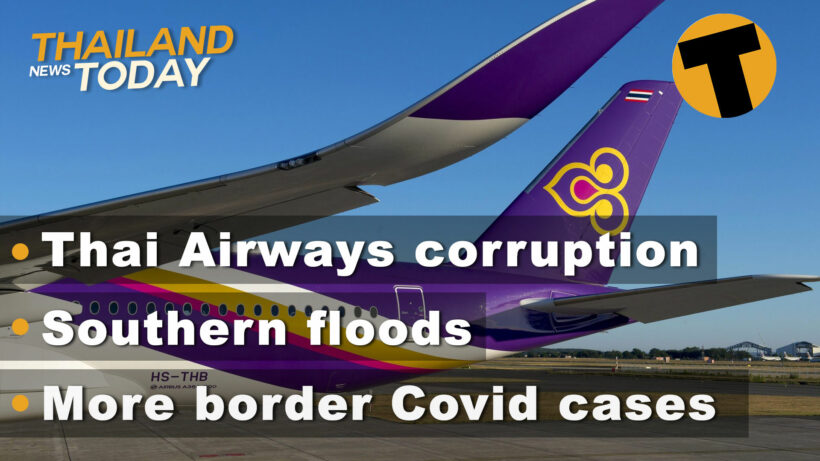 Thursday's edition of Thailand News Today, including the latest in the local cases popping up in Northern Thailand. Thailand's most watched English language news.
20 more people suspected of being involved in corruption at Thai Airways
20 people are now under suspicion of corruption and mismanagement within Thai Airways as accountants unravel the massive losses for the airline, spanning a decade
The news, announced by police and deputy head of the commission investigating the airline, comes as little surprise to anyone who has been following the demise of Thailand's legacy airline. The airline is tackling a debt of around 300 billion baht.
The story follows many other tales of corruption and bad deals that have been part of a larger puzzle that is now being unraveled by accounts and committees who are handling the airlines' bankruptcy.
Now, 20 people are suspected of corruption in 6 different parts of the company's management.
The investigation into alleged corruption at the airline started in August. In September, 18 documents showing evidence of corruption and mismanagement at the airline was submitted to the Finance Ministry, still a major shareholder for Thai Airways.
The airline's decision to buy 10 Airbus A340 aircraft for 100 billion baht in 2004 was catastrophic. The airline lost money on every single flight of these aircraft. All but 1 of them have been decommissioned and stored at the U-Tapao airport.
2 infected Thai women took domestic flights after illegal crossing from Myanmar
2 Thai women, both infected with Covid-19, took domestic flights after entering the Kingdom illegally from Myanmar and bypassing health checks and quarantine.
A total of 10 Thai women have now tested positive for Covid-19 after crossing the border from Myanmar, several having worked in the same hotel and entertainment establishment in the Burmese border town opposite Mae Sai in Chiang Rai.
Health officials are tracking and tracing anyone who could have been in contact with the women, a number well into the 100s. Some have travelled to Chiang Mai and Bangkok.
Thai economists say new local Covid-19 cases will slow tourism recovery
Meanwhile, the National Economic and Social Development Council says that the mini outbreak in Northern Thailand will re-ignite fears of a second wave of infections in Thailand, stifling travel and tourism in the northern cities.
Operators already note that there has been a drop off of bookings and cancellations related to the publicity from the cross border infections. Airline bookings have also dropped off to both Chiang Mai and Chiang Rai.
Government to raise 5-year Elite visa fee by 20%, as foreigners flee Covid countries
As more foreigners opt for one of Thailand's "elite" visas, allowing stays of between 5 and 20 years, and costing anything from 500,000 baht to 2 million, the most popular version is up for a price hike.
The cost of the 5-year "Easy Access" visa will go up by 20% from January, to 600,000 baht.
An additional 2,674 applicants signed up for an elite visa so far this year. That's an increase of nearly 25%, with the scheme generating revenue of 1.6 billion baht.
By the end of September this year, over 11,100 people hold an elite visa in Thailand, as part of 9 different packages offered by Thailand Privilege Card.
Heavy rain wreaks havoc in flood-ravaged Nakhon Si Thammarat
The governor of Nakhon Si Thammarat has put the province on high alert, following 6 days of heavy rain in the southern province.
Nakhon Si Thammarat is directly east of Phuket, on the Gulf of Thailand.
Large swathes of land are underwater after extensive flooding that has affected tens of thousands of people in the region. Floods have been recorded in 351 villages in 15 districts, with some 48,000 people affected.
Heavy rain and flash flood warnings were issued for all southern provinces except Chumphon and Ranong
Keep in contact with The Thaiger by following our
Facebook page
.
Never miss out on future posts by
following The Thaiger
.
5 people killed in Nakhon Si Thammarat flash flooding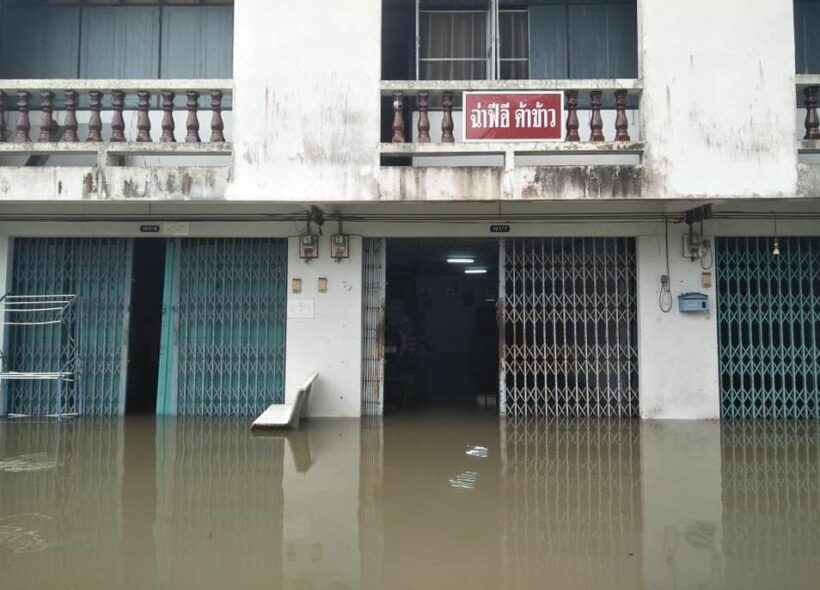 5 people died from the flash floods in Nakhon Si Thammarat after several days of heavy rain, according to Governor Kraisorn Wisitwong. Disaster mitigation officers have rescued locals from several districts who had to evacuate their homes due to the extensive flooding.
The 5 deaths were in the districts Noppitam, Phra Phrom, Chalerm Phra Kiat and Chawang. Thousands of households have been affected by the rising waters. This morning, reports say 942 villages in 19 districts were flooded, affecting more than 180,000 people.
SOURCE: Pattaya News
Keep in contact with The Thaiger by following our
Facebook page
.
Never miss out on future posts by
following The Thaiger
.
4 years until tourism industry gets back to pre-pandemic levels – Finance Ministry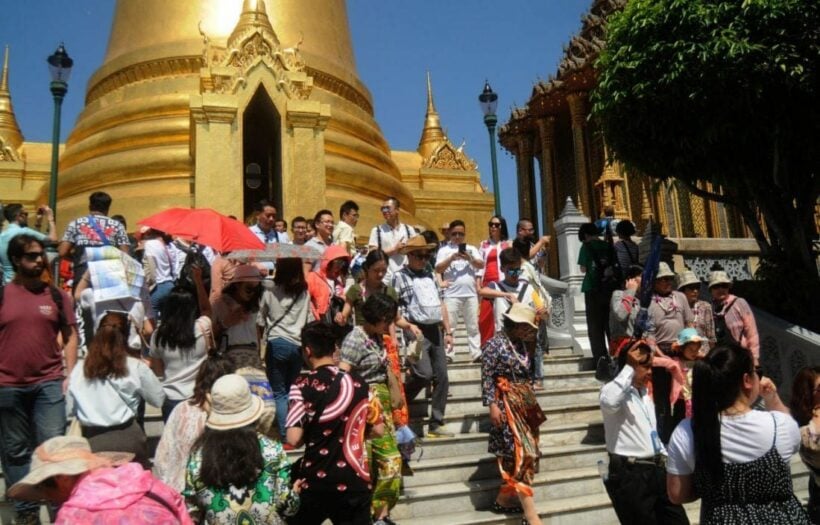 It could take 4 years for Thailand's tourism industry to recover after being battered by the lack of travel due to the coronavirus pandemic, the government's reaction and the economic fallout, according to the Finance Ministry.
While local and international experts project Thailand's economy will continue to recover over the next 2 years, the tourism industry, which directly contributes 12-15% of the country's GDP, is forecasted to take at least 4 years to get back to the pre-pandemic level, if ever. Last year, Thailand had nearly 40 million foreign tourist arrivals, generating 2 trillion baht.
Finance Minister Arkhom Termpittayapaisith says he expects 8 million foreign tourists to arrive in 2021, followed by 16 million in 2022, 32 million in 2023 and 40 million in 2024. But the projections are just broad speculation.
No foreign tourists entered the country between April and September this year. In October, 1,201 foreign tourists were issued Special Tourist Visas for 90 day stays that can be renewed twice, adding up to about 9 months in total. Under the current arrangements there will only be a trickle of tourists coming under the current regime including 14 day quarantine, at the tourist's expense, and lots of paperwork and red tape.
IF Thailand does end up. with 8 million foreign tourist arrivals next year, and the cash subsidy scheme is extended, the country's GDP is expected to expand by 4% to 4.5%, according to the National Economic and Social Development Council.
SOURCE: Bangkok Post
Catch up with the latest daily "Thailand News Today" here on The Thaiger.
Keep in contact with The Thaiger by following our
Facebook page
.
Never miss out on future posts by
following The Thaiger
.