Teacher blames stress over dog killing for slapping student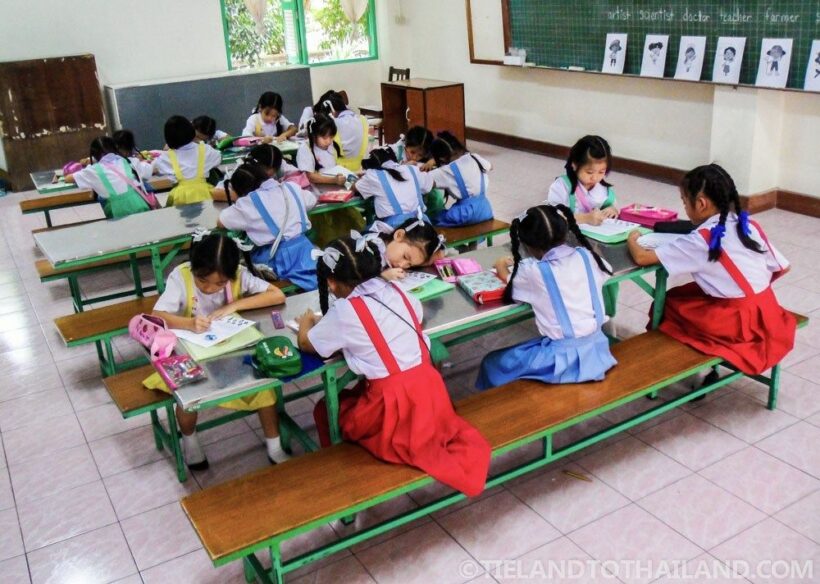 A teacher in the northeastern Buriram province has reportedly blamed slapping a student on being stressed after killing a dog accidentally with his car. The teacher, who works at a famous school in the province, allegedly slapped Fuse, a grade 8 student, after he found him waiting to go on stage to sing for retired teachers. Fuse was reportedly confused about why the teacher slapped him as the teacher didn't seem to know why the student was on stage.
"Why are you here, who let you come here, go back home."
A fellow teacher saw the incident and told Fuse it was okay for him to go home for the day in which Fuse then reported his experience to his grandmother and aunt. The following day, the grandmother met with the school's principal where it was promised that the problem would be addressed. As they were leaving the meeting, the teacher's wife, who is also a teacher, talked to Fuse and his grandmother.
"Don't be mad at the male teacher, he is stressed after accidentally driving into their dog at home. The teacher is also getting older."
However, the teacher reportedly still has not contacted the family to apologise, leaving Fuse's grandmother wanting to know why and for her grandson to receive an apology. The incident, which occurred on September 30, is the latest to be publicised after a recent string of incidents have been reported around the country, including a female teacher in Nonthaburi who was seen on CCTV pushing down a kindergarten student during class and dragging him around on the floor.
SOURCE: Thai Residents
Want more from the Thaiger family?
📱 Download our app on Android or iOS for instant updates on your mobile
📧 Subscribe to our daily email newsletter
👍 Like/Follow us on Facebook
🔔 Subscribe to or Join our YouTube channel for daily video updates
Thailand's government schools may see another delay in reopening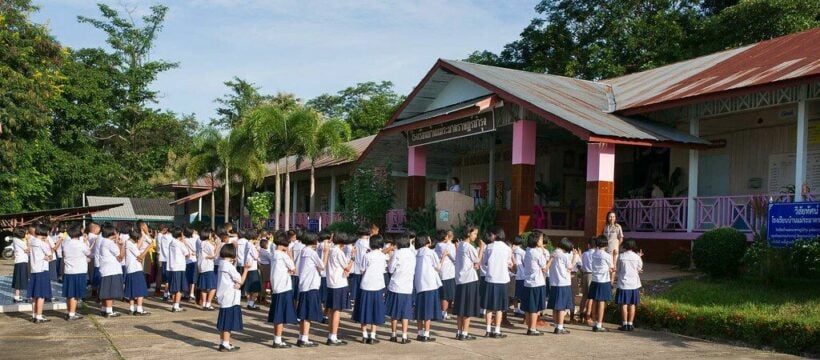 Thailand's government schools may see another delay in reopening if Covid-19 infections continue to surge. The Office of the Basic Education Commission says the date could be pushed back to June 1 for the new school term. As of now, the reopening is tentatively set for May 17.
The reopening date was set before Thailand's 3rd outbreak swept the nation, seeing more than 2,000 new Covid infections on a daily basis. Now, the Ministry of Education is closely monitoring the situation to determine whether to push the date back for reopening. Just recently, the Ministry held a meeting to discuss the reopening date, along with updates on containment measures such as partial lockdowns and bans on some domestic travelling.
Schools that feature large class sizes and training establishments have been suspended until further notice, with the Ministry taking note. As it is well-known that many Thai government schools feature large class sizes, the idea of these classes potentially spreading the virus is of concern. If the reopening of the new school term is delayed to June 1, admissions to Prathom 1 (Grade 1) and the entrance exams of Mathayom 1 (Grade 7) and Mathayom 4 (Grade 10) would be deferred as well.
Last week, the drawing of lots for the admission of Prathom 1 students had been rescheduled for May 2 with the registration of new students set for May 4. For Mathayom 1 students, applications will be accepted between April 24-28 and the admission exams will be held on May 6 with exam results to be announced on May 8.
For Mathayom 4, applications are also to be submitted between April 24-28, with the admission exam being set for May 9 with results announced on May 12. Schools for the disabled have set application submissions for April 24-30 and enrollment for May 15.
With news of some provinces going into partial lockdowns, the delay in reopening would take into consideration the inability for many families to travel to other provinces for entrance exams.
SOURCE: Bangkok Post
Want more from the Thaiger family?
📱 Download our app on Android or iOS for instant updates on your mobile
📧 Subscribe to our daily email newsletter
👍 Like/Follow us on Facebook
🔔 Subscribe to or Join our YouTube channel for daily video updates
Phuket student protests and is flunked as "not loyal to the nation"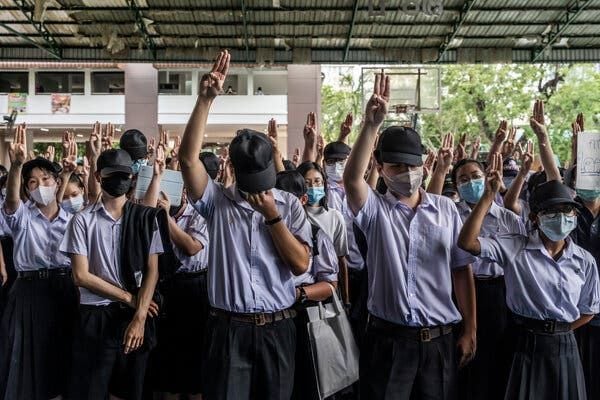 After participating in protests for student's rights, a Phuket student was barred from graduating 9th grade, moving from middle school to high school, charged with being "not loyal to the nation, institution of the monarchy". The student had advocated against mandatory uniforms and for student's liberties. He told reporters that the school started paying attention to his actions last year when he participated in rallies in solidarity with students across Thailand. The school's student affairs office received a copy of posts he made on social media encouraging others to join the cause. The school ordered a stop to his political actions, but he and his friends disregarded warnings and violated school rules when they handed out white ribbons to classmates. They received a warning from the student affairs office.
Student protests have increased after pro-democracy demonstrations surged in July last year, empowering many Thai people to speak out against injustices, including students' rights and liberties. People from schools across the nation have been banding together in solidarity to bring their issues to public light.
On graduation day, all the students were promoted into high school, except for the one student protestor, says the Bad Student protest group. The theme of the day focused on dedication to the monarchy, country and religion, and specifically how students should be obedient. The student said he has received support from friends, but his parents remain neutral and his teachers have been completely silent on the matter. He is frustrated that he was punished for his right to express himself. He plans on testing with incoming students to re-enrol in the same school, and if he is not accepted because of the disloyalty charge, he will pursue legal ramifications, suing the school for blocking his right to an education over the student's protests.
The student believes he needs to speak out to prevent school administrators from imposing on more students' rights. He advocates for diversity in schools and ending prejudices, with increased liberties and freedoms for students.
"Schools must teach children to be able to think by themselves, not force children to think like them. Schools should create opportunities for students to express their ideas more freely."
SOURCE: Prachatai
Want more from the Thaiger family?
📱 Download our app on Android or iOS for instant updates on your mobile
📧 Subscribe to our daily email newsletter
👍 Like/Follow us on Facebook
🔔 Subscribe to or Join our YouTube channel for daily video updates
Thailand's first female Education Minister targets bullying in schools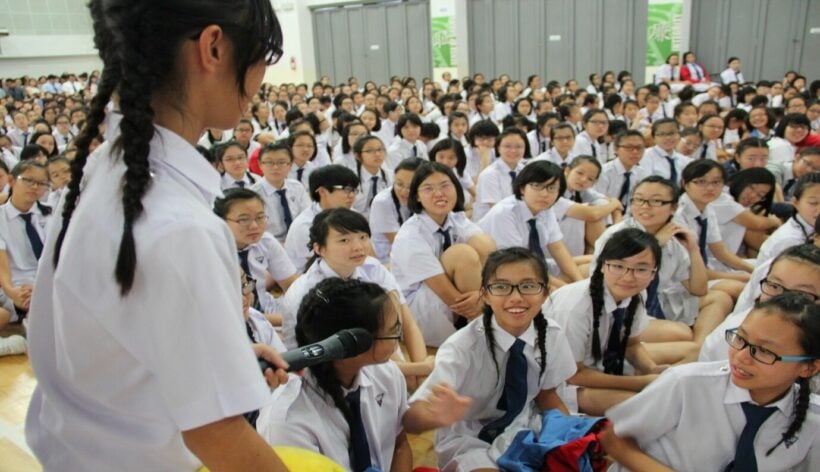 Thailand's first female education minister is targetting bullying in schools as part of 3 policies she says she will start implementing today. Trinuch Thienthong, an MP from the coalition – core Palang Pracharath Party, says she will promote safety at schools, access to digital resources and knowledge and campaign for vocational education.
Trinuch says Thailand's schools, must be free of bullies and child abuse. She says those who abuse students will face "decisive action." Thailand has made the news often in terms of bullying incidents as corporal punishment, although illegal, is still widely practised with educator's often receiving little to no repercussions. As Thailand's culture practises obeying those older and higher in status, most victims of abuse stay quiet or are blamed.
Recently, a franchised school sent shock waves through the nation after a teacher was caught on CCTV hitting and dragging a kindergarten student in class. The issue made headlines causing many to take a stand against such punishment in schools. After investigating, officials revealed that many teachers in government schools are not licenses, and therefore, do not have the training necessary to understand the psychological effects of such abuse on children. Student protesters also made a point of bringing a taboo subject to light with many being criticised even for doing so.
The issue of skin colour is also a subject in which students can be bullied. Many Thais pass on their views of skin colour to their children, who may then pass on those views to their peers. Patriarchy is alive and well in Thailand, with many of the students who brought such bullying to light, said they were discriminated against as females.
Trinuch says the Ministry of Education would also ensure that they share the knowledge and skills that were necessary for people of the 21st century and push for the development of adequate internet networks and relevant equipment to ensure public access to digital resources. The minister says Thailand suffers from a shortage of vocational workers and parents could plan a good future for their children by sending them to vocational schools.
Want more from the Thaiger family?
📱 Download our app on Android or iOS for instant updates on your mobile
📧 Subscribe to our daily email newsletter
👍 Like/Follow us on Facebook
🔔 Subscribe to or Join our YouTube channel for daily video updates