Starbucks investigate Thai garment factory after underpaid workers exposé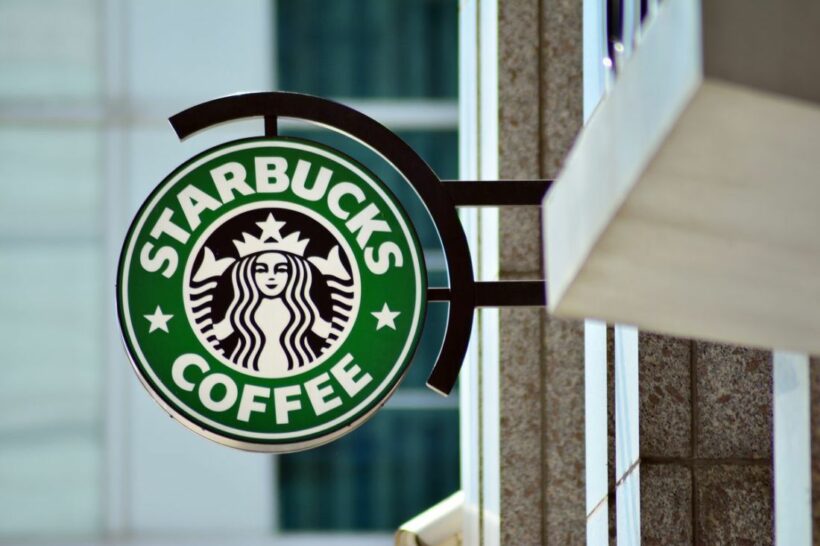 PHOTO: Eater.com
An investigation is underway into 4 garment factories in Mae Sot, western Thailand, following the revelation that workers are illegally underpaid.
It's understood the factories provide clothing to Starbucks and U.S. sports gear manufacturer Bauer Hockey.
The Thomson Reuters Foundation, who carried out the investigation, spoke to 26 workers from Myanmar, who say they're paid less than Thailand's daily minimum wage of 310 baht.
The MAP Foundation, a non-profit organisation supporting Burmese migrant workers, claims dozens of pay slips prove the workers are illegally underpaid.
Starbucks has issued a statement confirming it's looking into the claims.
"The supplier in question has denied these allegations. We take these claims seriously and are conducting a full investigation."
Bauer Hockey says it has asked the supplier to investigate and take action to rectify the matter.
The factory in question claims to provide many benefits to workers, including free housing and paying half the cost of work permits.
Deducting the cost of housing or work permits from salaries is a violation of Thailand's labour laws and in the case of one factory, 3 workers claim they already receive less than the minimum wage before housing and work permit deductions are made.
At another factory, 3 workers say they are forced to sign two different pay slips – one showing their actual pay of around 4,000 baht a month, and another stating they earn the minimum wage.
The Map Foundation claims most workers are afraid to speak up for fear of losing their jobs or causing the factory to shut down. The foundation estimates that only about 6 factories in Mae Sot pay the legal minimum wage.
The government disputes this figure, but questions are being raised about its ability to inspect factories and protect workers.
A spokesman for the Department of Labour Protection and Welfare says he's aware many workers in Mae Sot are underpaid, but claims investigating the factories is a challenge.
"We have to admit Mae Sot is a black hole because there are many garment factories that are very hard to inspect."
SOURCE: ThaiVisa
Keep in contact with The Thaiger by following our
Facebook page
.
Significant developments in cannabis farming in Thailand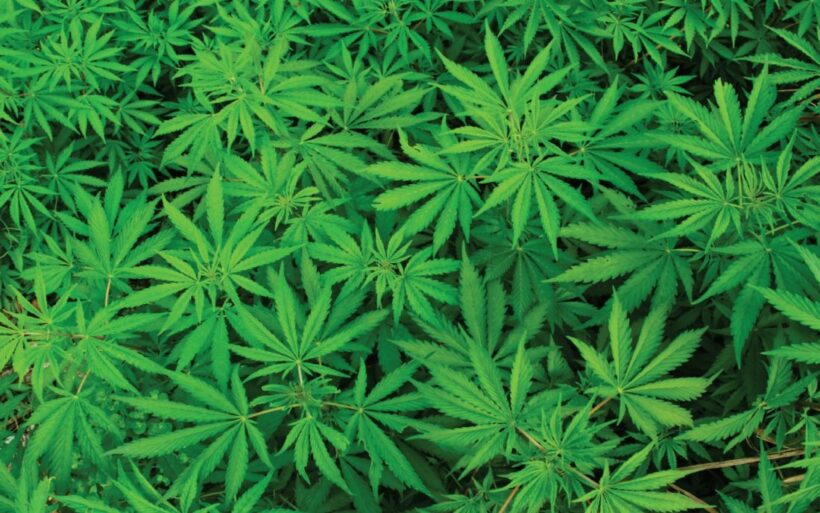 PHOTO: www.growbarato.net
In what's thought to be the first-ever industrial scale manufacturing facility for medical cannabis within the Asean Region, Maejo University in Chiang Mai has planted 12,000 cannabis sprouts – the largest lot in the country.
It's hoped the result will eventually be 1 million bottles, each containing 5ml of cannabis oil, by February.
Senior officials from the Ministry of Public Health attended a planting ceremony yesterday, along with the university's executive team, the provincial government, and local administrative organisations.
Deputy Prime Minister and Public Health Minister Anutin Charnvirakul planted the first sprout, saying recent changes in the law would allow families to grow their own plants at home.
"These are historic first steps on the path towards allowing people to grow six cannabis trees in their homes. The university will be a centre where ordinary people can learn how to plant and grow good quality cannabis. Cannabis is not an issue of politics, it is a product that can benefit people's health. In the near future, families will be able to plant it in their back gardens like any other herb."
In June, Maejo University signed a memorandum of understanding with the Department of Medical Service and the Government Pharmaceutical Organisation (GPO) concerning the development of cannabis plantations, including local strain development for medical use. Following that, the narcotic board granted the university a plantation licence in September.
It's understood the planting session should produce 2.4 tons of dried cannabis flowers by February, which will be forwarded to the GPO for the production of 5,000 litres of cannabis oil. This will be given to doctors who can prescribe it to qualifying patients.
The Thai Food and Drug Administration's decision to approve cannabis oil for prescription was met with cautious optimism by medical practitioners.
Medicinal use began on August 20 and the Chief of the Deparment of Medical Service, Somsak Akasin says initial results appear to indicate that cancer patients enjoy a better quality of life due to the cannabis oil mitigating the effects of chemotherapy.
He adds that half of children with epilepsy who have been treated with the drug have responded well.
SOURCE: Bangkok Post
Keep in contact with The Thaiger by following our
Facebook page
.
Overturned truck was carrying 450 kilos of crystal meth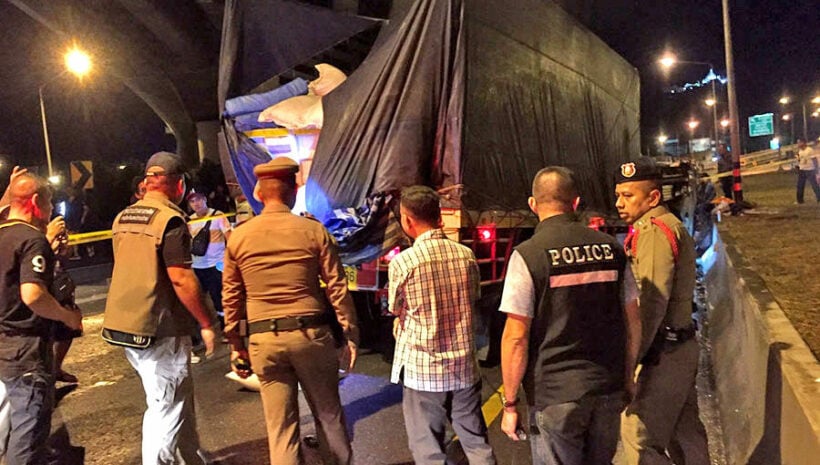 PHOTO: Thai PBS World
Police have seized about 450 kilograms of crystal methamphetamine (ice), with a street valued around 225 million baht – a major shipment of the illicit drug. The seizure followed a ten-wheel truck ending up on its side after crashing into a traffic island in Phetchaburi province on Friday night.
The truck driver, 45 year old Adinan Laeha, and his 18 year old son, Wilayan, both from the southern province of Narathiwat, ended up with minor injuries in the overturn but are now being questioned by police over the illicit payload found in the truck.
The truck crashed on the main north-south Phetkasem highway near an underpass at about 8.30pm in Phetchaburi's Muang district.
As the truck turned over, some of its cargo of illicit drugs crashed out onto the road. The first emergency services to arrive on the scene found several suspicious-looking packages wrapped in plastic spilled on the road and alerted police. Police checked some of the packages and found they contained crystal methamphetamine, and there was more inside the truck.
SOURCE: Thai PBS World
Keep in contact with The Thaiger by following our
Facebook page
.
Thailand ranked sixth best in the world for healthcare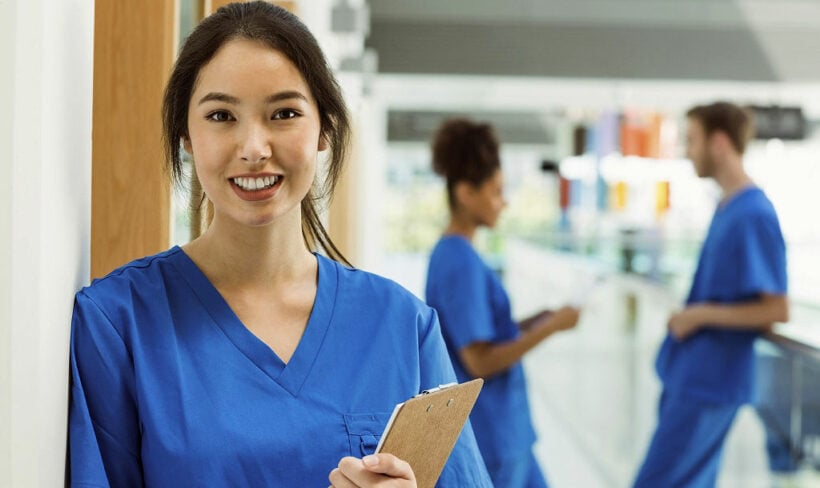 Sixth best healthcare system in the world! Well done Thailand.
The Kingdom is gaining worldwide recognition for quality healthcare services after placing sixth in a ranking of countries with the best healthcare systems. The ranking was conducted by the US magazine CEOWORLD who do annual rankings of a number of world businesses and services. The rankings came out last month.
The annual Health Care Index is a statistical analysis of the overall quality of a country's healthcare system.
Thai Public Health Minister Anutin Charnvirakul says the ranking as an indication of Thailand's success in developing a sustainable and valued healthcare sector.
According to CEOWORLD Thailand is among few Asian countries which managed to place in top 10 in 2019. Thailand joins South Korea who reached second place and Japan in third place.
But European countries dominate the list – Austria leading at fourth place, followed by Denmark (5th), Spain (7th), France (8th) and Belgium (9th). Australia rounded out the top 10 at 10th place.
Taiwan's health care topped the the list of 89 countries, scoring 78.72 out of 100 on the Health Care Index. At the opposite end of the spectrum, with a score of 33.42, Venezuela was named the country with the worst health care system in 2019.
The Health Care Index rates a number of factors in a country's health care services, including infrastructure; health care professionals' (doctors, nursing staff, and other health workers) competence, cost, availability of quality medicine, and government readiness.
The Public Health Minister, responding to the great result, says that the government must not rest on its laurels, "as mere rankings do not matter as much as how well the ministry performs its duty of maintaining public health".
SOURCE: Bangkok Post
To find the latest medical procedure info and make bookings, go HERE.
Keep in contact with The Thaiger by following our
Facebook page
.