Senior official arrested over alleged poaching in Kanchanaburi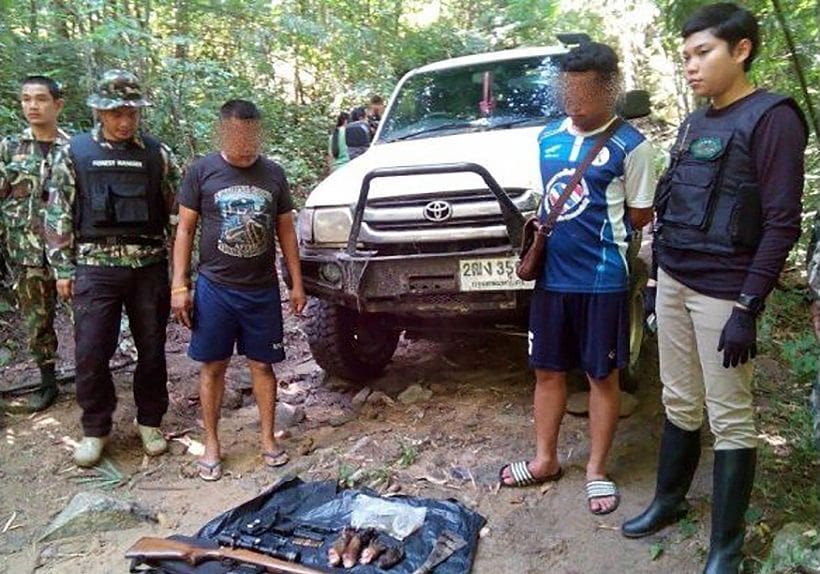 A new group has been arrested following alleged poaching in a Kanchanaburi national park, again involving high profile officers.
A group, including a deputy district chief, who allegedly camped out overnight and shot a 'binturong' at the Sai Yok National Park in Kanchaburi province over the weekend, has been arrested.
An informed source said park officials checked the group after finding that they had entered the park on Saturday and did not come out on the same day.
The park does not allow overnight camping.
The group allegedly used six off-load vehicles and one of them was found to have contained a rifle with a silencer, two other guns, ammunition, and a binturong carcass, according to the source.
"We arrested the group and called for reinforcements as the man, who claims to be the deputy district chief of Dan Makham Tia, tried to resist arrest," the park's chief, Panatchakorn Phothibandhit, said on Sunday.
Early this year, Italian-Thai Development president Premchai Karnasuta was also arrested in Kanchanaburi for alleged poaching.
Premchai faces several charges after being found at the Thung Yai Naresuan wildlife sanctuary with carcasses of a Kalij pheasant, a barking deer, and a black leopard nearby.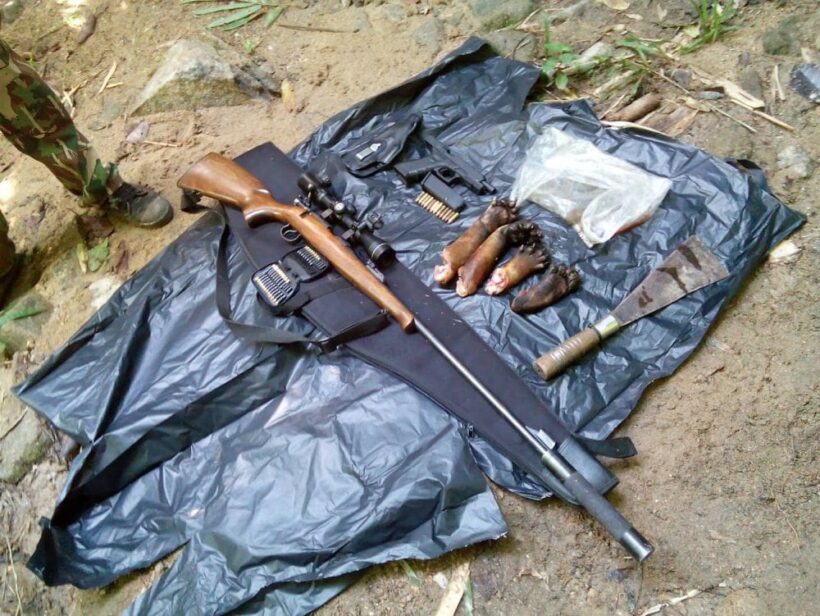 STORY: The Nation
Keep in contact with The Thaiger by following our
Facebook page
.
Never miss out on future posts by
following The Thaiger
.
Things that have changed in Thailand in the Covid Era | Top 10 | VIDEO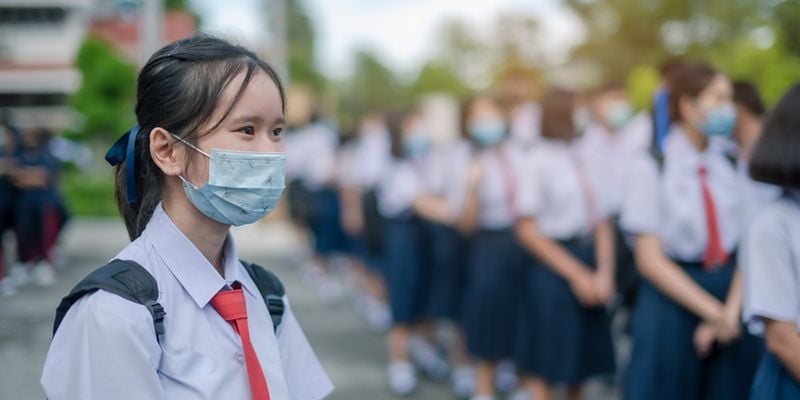 Top 10 things that have changed in Thailand during the Covid-era
Things have changed. In some cases they've changed a lot and may never be the same again. Many people are suffering as a result of the impacts of lockdowns and the border closures. Some people are being forced to re-invent their lives as a result. Here are some of the main things we believe have changed since January this year.
Face Masks
The now every-present face mask is now with us for a long time. In Asia, it was never uncommon to see people wearing face masks, for traffic, air pollution, fears of disease or just to a fashion statement.
In the Covid-era, mask wearing will now just become a normal thing we wear when in public spaces. Even when the government relaxes the actual laws about the wearing of face masks, most people, we predict, will continue to wear them anyway.
Taking Your Temperature
It's everywhere, it doesn't appear to be very effective or reliable, but it's not uncommon to have your temperature taken by someone pointing a gun-thing at your head, numerous times a day. The only people to have benefitted from these temperature checks are the manufacturers of infra-red temperature check machines.
Flying in the Covid-era
While the domestic carriers are all flying again, they're doing it tough. Planes are sometimes half-empty and there's certainly less choice of times and destinations, compared to before the Covid travel restrictions set in.
But it hasn't stopped the budget airlines from making the situation extremely competitive with the fares still very low. The aviation industry will certainly re-emerge with fewer airlines as some will be unable to weather the Covid storm.
Confidence
Many business had to close during the lockdown. Some have re-opened, some tried to re-open but have since closed again, and some are struggling along as best they can. But people, through fear or simply being unable to afford it, are going out and spending less. The impacts of recessions across the reason will have long-lasting, profound effects on consumer confidence.
Eating Out
There's been few clear winners in all this Covid mess. Delivery companies are just one of them, and the local motorcade delivery services in particular. Grab Food and Food Panda are just two examples of the new way we eat and many restaurants are changing their table service model, and even their take away services, to suit the new normal of food on demand. Some restaurants have even closed their doors forever and turned into virtual restaurants, delivering food exclusively through the convenience of app ordering and delivery.
The Travel Industry
Apart from the obvious lack of international tourism, there's no doubt we're simply going to be travelling less in the short to medium term. Many people will be unable to afford the long holidays of the pastand may travel less, or not at all.
For the communities that relied on tourism, the changes in their situation has been profound. Businesses are having to reinvent their model to cater for domestic tourism or simply find other ways to diversify their business plan, or just wait out the situation.
The Economy
Thailand is in recession. So is everywhere else, and the situation, sadly, is likely to get worse as the Covid-era stretches out and restrictions hold back investment. Some previously good businesses are now out of business. Businesses that were struggling before have been proven unsustainable.
Globally, the government stimulus poured into local economies has caused artificial spikes in some stock markets. In other countries, where the government paid salaries for companies that were forced to close up or sack staff, are finding it hard to ween people off the grants and get them back to work.
In Thailand the economy has been hit hard, particularly in the export , tourism and hospitality industries. The downstream effects of all the staff losing their work, will have an effect on the local economy for many years.
Shell shock
Thailand, reliant on international tourism, has found itself exposed once the borders were closed. As the situation extends way past the 'few months' people were expecting, the full impact is starting to hit hard, particularly in places like Pattaya, Phuket and Chiang Mai. Their reliance on tourism has exposed their economies and left thousands wondering what else they can do to sustain themselves.
Whilst Thailand has recovered quickly from past political unrest, tsunamis and past pandemic threats, this time there will be a much longer path to recovery and will force many businesses to re-evaluate their businesses.
The red light industries
The reality has certainly hit home for tens of thousands of Thailand's sex workers. Although not officially recognised in Thailand, prostitution has been a huge local industry in the past, creating an enormous underground market for locals and international tourists as well.
Without official government acknowledgment, their jobs are not recognised and their salaries vanish once the bars and borders close. No rights, no unemployment pay. The number of prostitutes in Thailand could be upwards of 100,000, and these workers have had to head home, many back to the northern and north east provinces. Thailand's red light districts were locked down for almost 3 months and bars and clubs, and the bar girls and boys, have been struggling ever since.
The pause button
There are few people that have not been profoundly affected by the impact of the coronavirus. Whilst some have been confronted directly with health issues, and even the deaths caused by Covid-19, of friends or relatives, others have had to put their lives and businesses on hold.
People have been unable to travel, business doors have been closed, many people have lost their job and thousands of events have had to be cancelled or postponed.
Even though many parts of the economy are being to grind back into action, there will be a lingering hang-over for just about everyone as they re-orient their lives to suit the new situation.
In some cases, the pause button may have to be hit again, as the world continues to battle Covid-19, and find new ways to live with it.
Keep in contact with The Thaiger by following our
Facebook page
.
Never miss out on future posts by
following The Thaiger
.
Riding and renting a motorbike in Thailand | Top 10 tips | VIDEO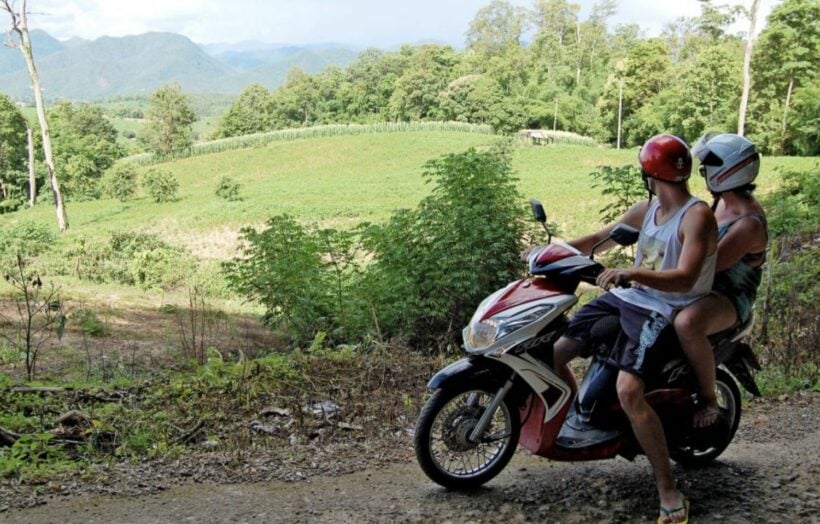 Motorbikes and scooters are the most popular mode of transport in Thailand, and most of south east Asia. In many cases, they're the 'engine' for the local economies. Most of them just go and go and go, they're astonishingly reliable. Getting around on a motorbike is easy enough and will get you to your destination faster, whilst the cars and trucks are plodding along in the traffic.
But riding a motorbike in Thailand can also be very dangerous. If you stick to the common sense basics – ride within the speed limits, wear a bike helmet, obey the traffic rules and don't drink and drive – it remains a perfectly reliable way to get around.
Here's our Top Ten tips to make your journey on the motorbike safer, and, more comfortable.
Number 1. Wear appropriate clothes. Falling off a motorbike without anything covering your knees or elbows, is going to be painful enough – having at least some fabric between you and the road is going to reduce the painful grazes a bit. Long pants and a long shirt are a good start. Always wear shoes for the same reason. And a motorbike helmet as well – it's the law and it could save your life.
Number 2. Keep your bike in good condition. As hardy and reliable as the modern motorbikes are, they will run better and for longer if you keep up the service schedule, and change the oil around once a month. Apart from changing the engine oil, keep an eye on the tyres as the road surfaces in much of Thailand, plus the heat and humidity, will wear down your tread quickly. Your brakes will also need checking. Then there's the lights at the front and back, which are your best way to inform other driver's what you're doing in the traffic. Indicators may not be used much by the locals, but YOU should.
Number 3. Make sure you have a proper license. Your car license in your home country isn't legal in Thailand to ride a motorbike. Your International Drivers License for cars, issued in your home country isn't going to cut it either. Legally, the only document that will satisfy the Thai legal system, officially, is a Thai motorcycle license. Keep this in mind if you want to rent a motorbike! If you live in Thailand you simply must get a proper motorbike drivers license of you want to ride a motorbike here. And whilst we're talking about a Thai Motorbike License, we're talking about the ones you get from the Land Transport Offices, not along Khao San road for 500 baht!
Number 4. Check your travel and health insurance. Every week The Thaiger hears from tourists stuck in a Thai hospital with mounting hospital bills and an insurance company that won't pay out because they didn't have a proper drivers license. Or no insurance at all. And even if you have travel or health insurance, check the fine print because most insurance contracts don't include driving on motorbikes in Thailand.
Number 5. Driving is different in Thailand. Many of the rules are the same as countries that also drive on the left-hand side of the road. But it is a totally different vibe. Apart from the lunatics that drive too fast, drink-drive or ghost ride…. That's driving against the flow of traffic on the wrong side of the road…. there's just a different attitude to driving. It's a bit like swimming with a school of fish… if you just go-with-the-flow, and keep in the stream of traffic, you'll generally do well. Be extra careful and mindful if you're not used to the flow of Thai traffic. Number
Number 6. Green lights mean GO. Red lights also mean GO…. sometimes. You'll see what we mean. Don't even think about trying it. You'll either end up fined, or dead.
Number 7. Have a practice. If you're either new to driving a motorbike or new to driving a motorbike in Thailand don't thrust yourself into a busy stretch of road immediately. Try something a little calmer and slower to get a feel of the subtle differences in Thai traffic movement. You're sharing the road with trucks, cars, buses and passenger vans.
You're meant to stay on the left hand side and you'd be well advised to do so, despite the behaviour of some Thai motorbike drivers that want to mix it with the 'big boys'. Get some confidence with your motorbike and way it handles, and moving in and around traffic on a quiet road before you tackle the main roads.
Number 8. There's pot holes, then there's POT HOLES. The roads around Thailand have really improved in the past decade but you'll still find pot holes in places there wasn't one the day before. If you want a really good reason for giving plenty of distance between you and the car in front, it's to see the pot hole before you end up IN it. Whilst car tyres might glide over these holes in the road, your motorbike is likely to come to an abrupt halt, with you continuing over the front of the handlebars – something to do with Newton's first law of motion.
Number 9. If you're not sure, don't. Never ridden a motorbike? Didn't ride a motorbike in your own country? There's two good reasons not to try it for your first time in Thailand.
It can be a bit of a challenge for even experienced motorbike drivers, well different anyway. There's plenty of other ways to get around and if you want THAT selfie for your Facebook page there's thousands of bikes parked by the side of the road where you can get a photo. Just because your friends did it when they travelled to Thailand doesn't mean you have to.
Number 10. Police will often arbitrate on the spot at an accident. If you are in the wrong and damaged someone or someone else's bike you're probably going to have to pay up. Now, there's the 'official' way to sort things out in these case and the 'unofficial'.
The policemen will get to the scene soon enough and, often, decide there and then who was at fault. They'll often negotiate how much should be paid as well. The urban myth is that Thai police always side with the the locals – that's not the case although, if you are indeed in the wrong then you're IN THE WRONG!
If you are concerned that you're being rolled by the locals in sorting out a simple motorbike accident then call the Tourist Police or your consulate immediately. DON'T agree to pay any money to anyone until you've spoken to at least the Tourist Police.
Getting into an argument with the local police will almost certainly guarantee you'll come off second best. Demanding that you speak to the police chief, etc, will also usually end up in the situation not going well in your favour. Be patient and don't lose your cool. You are in a foreign country, you're a guest and they do things differently – end of sentence.
Keep in contact with The Thaiger by following our
Facebook page
.
Never miss out on future posts by
following The Thaiger
.
Heavy rain, big protest tomorrow, special tourist visa | Thailand News Today | September 18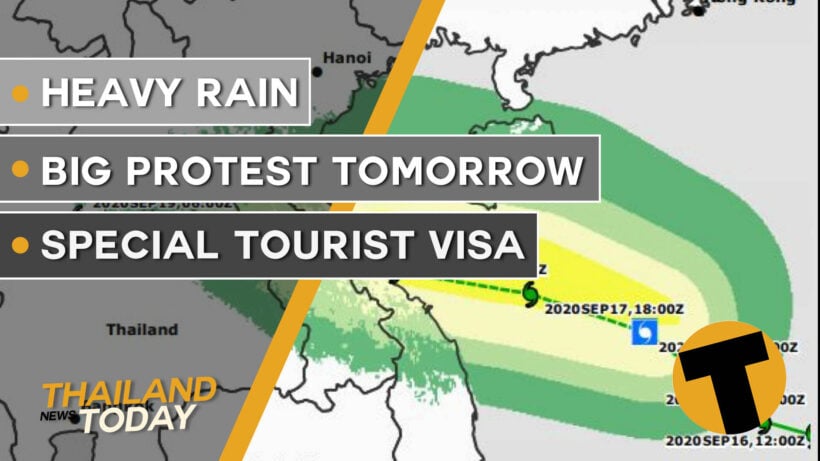 Daily TV news from around Thailand.
Police catch inmate who escaped prison dressed as a guard
He was smart enough to get hold of a prison guard uniform and escape, but was wasn't smart enough to not get caught. The inmate who walked out of Phetchabun Provincial Prison yesterday, disguised as a guard, has now been recaptured.
Police were able to track him down and found him later in the day, hiding in an abandoned house in the province's main city district.
The 35 year old was incarcerated on charges over 6 burglary cases. The man told police he decided to escape because he faced a long prison sentence. The man has a long track record with similar criminal offences.
Wutthichai walked out of the prison's front gate yesterday. No one noticed at first and no alarms went off. Surveillance camera footage shows him wearing a prison guard's uniform and was carrying documents.
Travel businesses told to prep for long stay tourists, with an October kick-start looming
The first round of long-stay tourists on the newly approved special tourist visa will be able to enter Thailand by the start of October and the Tourism Ministry is pushing for tourism business to get ready…. now.
On the other hand, not much has been said about the thousands of foreigners who are already here, many of them trying to figure out how to stay in the country as the September 26 deadline for the visa amnesty is only a week away.
Whilst the country's TAT and the ministry of sports and tourism hammered out the arrangements for the new Special Tourist Visa, the online reception has been less than enthusiastic. Many foreigners, hoping to return to Thailand to live, or as tourists, believe the minimum 90 day stay and 14 day quarantine, plus the need to book only on charter flights, remains overly restrictive.
The new long-stay visa, called a Special Tourist Visa, is expected to help boost Thailand's tourism dependant economy. But many restaurants, hotels, tour companies and attractions that rely on foreign tourists say they can't make a profit again until international tourists are let back in the country, without restrictions or 14 day quarantines.
Heavy rain across the country this weekend
Heavy rain is expected across much of Thailand over the next few days, mostly as a result of the intensity of a tropical storm crossing into Vietnam today, 'Noul', from the South China Sea.
The low pressure cell will help intensify the effects of the south west monsoon too. There will probably be a lot of rain and increased winds, especially in the north east, but Noul will be weakened by the time it passes through Laos and reaches the Thai north east border, sometime tomorrow morning.
Around the country, Saturday will be the worst with rains easing during Sunday. Here are the forecasts in your part of Thailand for the weekend….
Thai PM uses Covid fears to persuade protesters to postpone Saturday rally
The Thai PM Prayut Chan-o-cha is rolling out his biggest weapon, fear, to try and persuade anti-government protesters to postpone tomorrow's rally at the Thammasat University Tha Prachan campus. He asked them to consider putting off their plans to hold the rally at least "until the Covid-19 outbreak is over".
In a televised address, he asked Thais to unite in ending the Covid-19 crisis "before focusing on political issues". PM Prayut has not mentioned 'Covid' as an issue before the other student rallies.
The rally has been planned for tomorrow with student and anti-government groups demanding amendments to the 2017 Thai constitution, dissolution of the parliament, an end to intimidation of government critics and changes to the role of the Thai Head of State.
His appeal, using Covid-19 as his main argument to stop the rally, will probably do little to dampen the enthusiasm of the anti-government groups. But the forecast for a 90% chance of rain around Bangkok tomorrow probably will.
Speaking about the planned protest, the PM has said, numerous times, that he wants to avoid any violence "at all costs".
Travellers from Thailand can enter United Kingdom without quarantine
No more quarantine for those travelling from Thailand and entering the United Kingdom. Thailand and Singapore will be added to the UK's so called "travel corridor" list ,starting tomorrow.
The Thailand Foreign Ministry says this is "good news, adding that Thailand's Covid-19 prevention methods have been recognised by other nations. He says several countries have removed Thailand from their so called "watch lists." Israel and Germany also recently stopped requiring quarantine for travellers coming from Thailand.
The UK Department of Transport says travellers need to complete a passenger locator form before entering the UK. The form can be completed online up to 48 hours before arrival. A confirmation email must be shown to border office.
Other countries on the travel corridor list include Australia, New Zealand, Japan, South Korea, Vietnam and Malaysia.
Keep in contact with The Thaiger by following our
Facebook page
.
Never miss out on future posts by
following The Thaiger
.