Police corruption scandal: Pongpat, 5 others face dishonourable discharges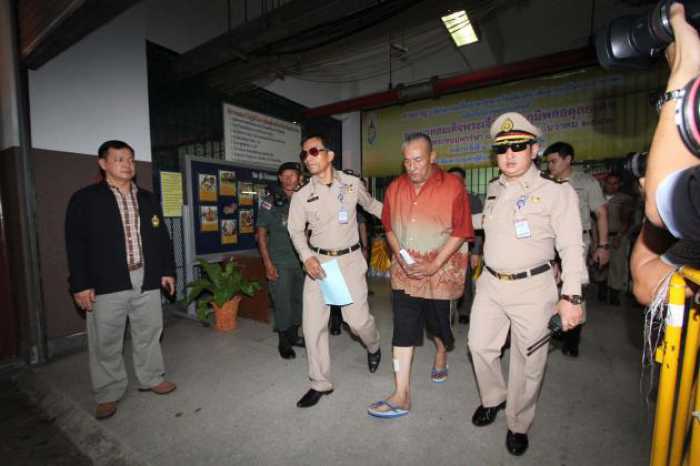 PHUKET MEDIA WATCH
– Thailand news selected by Gazette editors for Phuket's international community
Police corruption scandal: Pongpat, 5 others face dishonourable discharges
The Nation / Phuket Gazette
PHUKET: Former Central Investigation Bureau commissioner Pol Lt Gen Pongpat Chayaphan and five officers accused of racketeering and intimidation are to be dishonourably discharged after being found guilty of severe malfeasance by an internal investigation committee.
The discharge of the six officers will take effect once it is approved officially by deputy Royal Thai Police commander Gen Eak Angsananont, RTP spokesman Pol Lt Gen Prawut Thawornsiri said yesterday.
The five other officers are former CIB deputy chief Pol Maj Gen Kowit Wongrungroj, former Marine Police commander Maj Gen Bunsueb Phraitheun, former anti-human-trafficking officer Col Suchart Leunsukhan, and Snr Sgt Majors Surasak Jan-ngao and Chattarin Laothong. They are currently suspended.
Meanwhile, the Royal Gazette confirmed yesterday that Nuttapon Suwadi, one of many suspected of being involved in Gen Pongpat's racket, had been stripped off his Army rank of captain, along with a number of royal decorations. Certain news reports earlier cited his rank as acting major. Nuttapon's royally granted surname of Akkarapreechapong has also been revoked and replaced by Suwadi.
Arrest warrants have been issued for three suspects, including two police, in connection with an online gambling organisation allegedly run by an Indian businessman with ties to Pongpat.
— Phuket Gazette Editors
Keep in contact with The Thaiger by following our
Facebook page
.
Never miss out on future posts by
following The Thaiger
.
'Bread' krathongs are killing the fish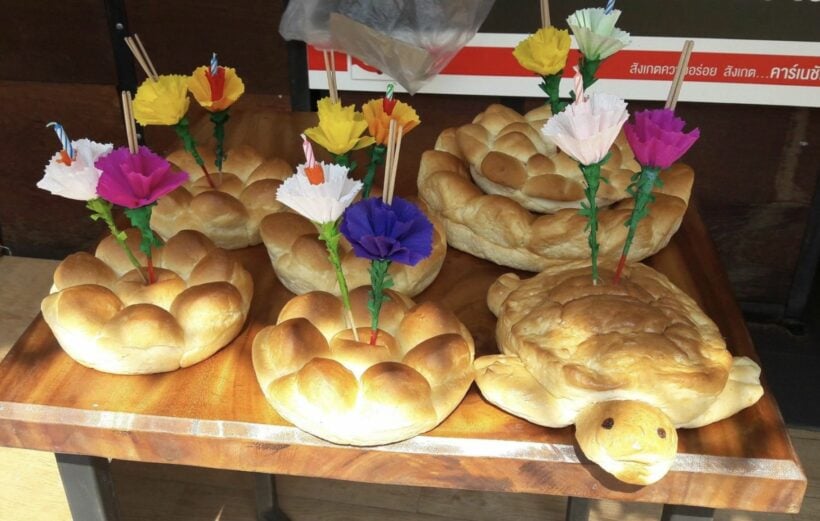 First it was no polystyrene or steel pins. The push was for natural, sustainable ratings as Thais floated away their woes in the annual celebration. Now there is a new warning that the "natural" kratongs, made from bread and edible ingredients, are causing river pollution.
Fish found in the river don't eat bread and the ingredients have broken down before cleaners remove the krathongs from the waters and along the shores.
Department of Fisheries' Wichan Ingsrisawang, is asking Krathong launchers, celebrating Loy Krathong Festival this evening, to be careful what they're pushing out onto Thailand's waterways. He noted that bread and ice cream cone krathongs have become increasingly popular over the past few years because people believed that fish would eat the au natural krathongs. After years of foam and polystyrene krathongs, held together with pins and plastic cable ties, became a clean up nightmare, authorities urged people to consider more environmentally-suitable components of their floating offerings.
Wichan says that the intention behind edible krathongs is good, "but the truth is that not all fish can eat these ingredients".
"Even if they can, there are too many krathongs for the fish to eat and they just end up stinking the river."
The situation is even worse in closed water catchments like temple and school ponds because the food ends up sinking and makes the water rotten over a long period time, killing the fish.
"The only fish that can eat these types of krathongs are herbivorous fish while thai rivers often have a lot of predatory fish including catfish and snakehead fish."
"If you intend to use edible krathongs because that is what you prefer or the kratongs have already been purchased then it is best to float them in open waters.
The best materials for a krathong are natural, plant-based products like banana tree trunk, spider lily plant, banana leaves, flowers, and wooden sticks to join all the materials. In the past krathongs were made from natural materials but the banana tree trunk later became replaced with polystyrene and foam and the krathongs decorated with plastic, sharp needles, and other materials that don't break down and cause pollution and a dangerous, unsightly mess.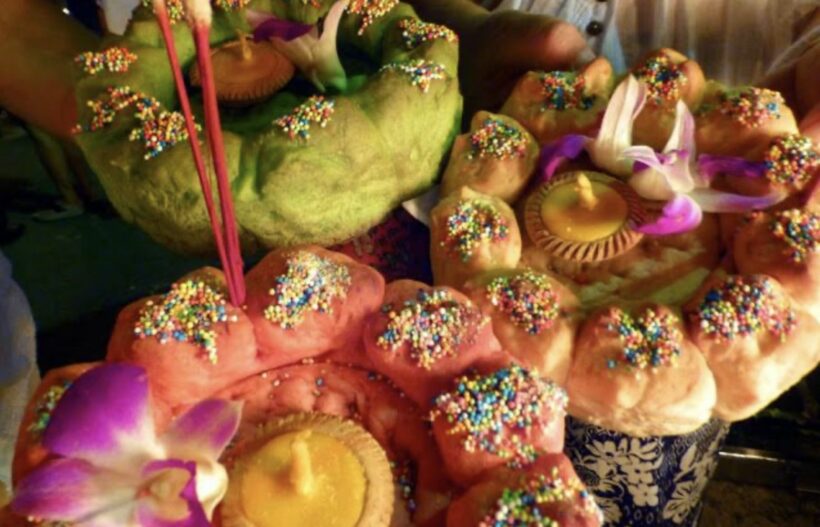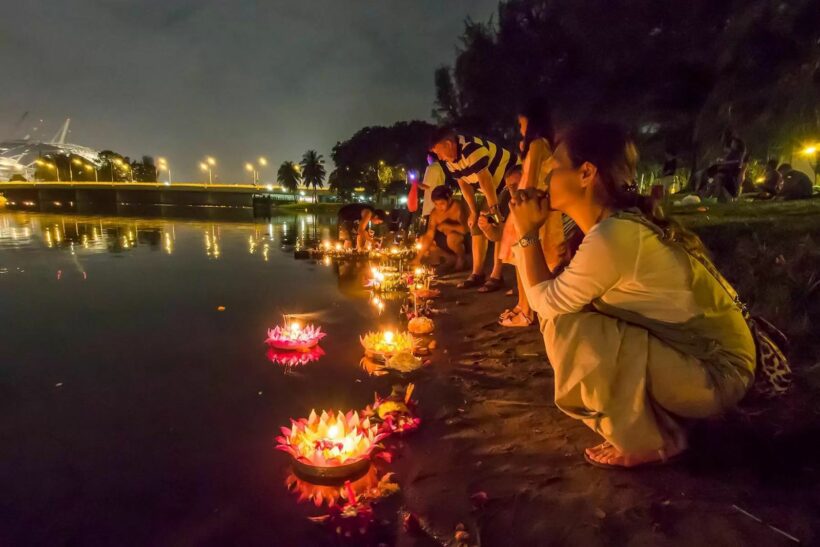 SOURCE: Thai Residents
Keep in contact with The Thaiger by following our
Facebook page
.
Never miss out on future posts by
following The Thaiger
.
Thailand News Today | Immigration deadline, quarantine update?, arrests averted | October 30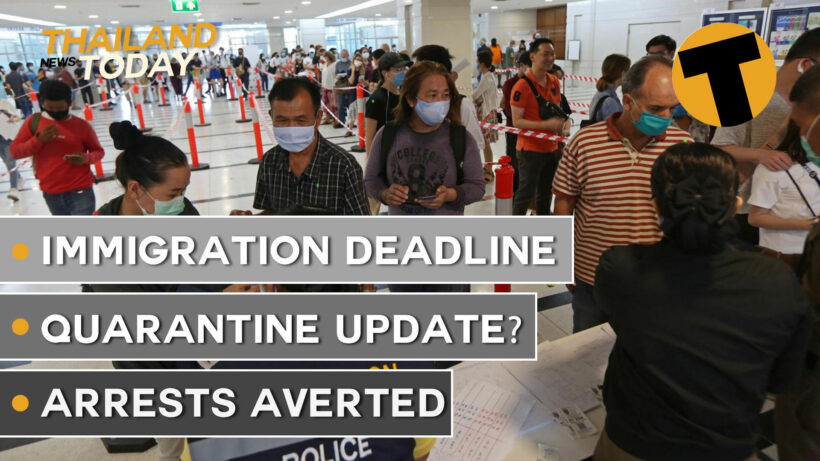 Last day of the week and all the main stories from around Thailand. Thailand News Today, a bit late today but here it is…
Some immigration offices open tomorrow for last minute visa extensions
The latest amnesty is up tomorrow (October 31) and some immigration offices will be open for those who still need sort out their visa extensions.
Those who miss the deadline could face fines for overstay, immigration officials warn. The extensions all go into effect from November 1 and allow a 60 day stay.
Some immigration offices that are typically closed on Saturdays will be open tomorrow for those filing for extensions. Immigration Bureau commissioner Sompong Chingduang says immigration offices on Chaeng Watthana Road in Bangkok and at Muang Thong Thani in Nonthaburi, just outside Bangkok city, will be open tomorrow from 8.30am to 4.30pm. Check with your local immigration office.
Court rejects bid to arrest activists who led march on German Embassy
A bid to apprehend 5 anti-government activists who led a march to the Germany Embassy on Monday has failed, after a court in Bangkok rejected a police application for arrest warrants.
The Bangkok South Criminal Court has turned down the application for arrest warrants.
The 5 would have faced charges of sedition and other offences. But the court told officials to instead issue a summons, given that the protesters are students who only gathered for a short time and are unlikely to flee.
On Monday, protesters marched to the German Embassy to submit a petition calling on the country's government to investigate whether Thailand's Head of State conducted official business while in Germany. Which nicely segues to the next story…
German government does not believe the Thai Monarch broke the law on conducting state affairs
The German government does not believe the Thai Monarch broke the law on conducting state affairs during his time in the German state of Bavaria.
Germany says His Majesty the King has not violated the European country's ban on conducting foreign politics on German soil where he resides. The government in Berlin briefed lawmakers this week, saying the Thai Monarch is allowed make occasional decisions regarding Thai state affairs, but he cannot continuously conduct business from overseas.
So far, the German government says they do not believe the King Maha Vajiralongkorn "continuously" conducted Thailand state business during his residence in Bavaria.
PM to visit Phuket on Monday as island's economy lies in tatters
PM Prayut Chan-o-cha is heading to Phuket on Monday, where he will meet with local business leaders and discuss proposals to help revive the southern island's devastated tourism sector.
Despite Phuket Models and any number of promises from the Thai tourism sector, Phuket remains in a perilous situation whilst the government keeps its borders closed. Almost 100% of Phuket's economy is derived directly or indirectly from tourist traffic.
Health officials propose reducing quarantine to 10 days
Health officials are suggesting cutting mandatory quarantine for international arrivals to 10 days. We've heard it all before but the idea has risen to the top of the Health Minister's file again.
Health Minister Anutin Charnvirakul says the proposal will be submitted to the CCSA for approval. It's hoped that a reduction in the quarantine period could help revive Thailand's battered tourism sector. Only a tiny handful of STV tourists have arrived on the the tourist visa over the past month. The health minister said…
"The priority now is to strike a balance between people's health and the economy. Thailand still has to rely on foreign tourists. Re-opening the country to foreign visitors will help put the economy back on track."
The Minister didn't say where all these tourists might come from or speculate when a reduction on the quarantine period might be introduced.
Police arrest woman for allegedly selling fashion dental retainers
Police have arrested a woman for allegedly selling and fitting fashion dental retainers and braces.
Police seized equipment used for making dental casts and retainers found at her home in Ratchaburi and charged the 27 year old with illegally fitting fashion dental retainers.
The woman has allegedly been selling the retainers on a Facebook page under the name since November 2017, targeting mostly teenage students.
In Thailand, braces and retainers are a fashion trend and also seen as a symbol of wealth. The Thaiger suggests that if you want a set of straight teeth, go to an orthodontist.
Floods in NE Thailand as Vietnam mops up after typhoon
Flooding persists in four north eastern provinces, including Nakhon Rachasima as of this morning. All in the wake of the weakening tropical depression that crossed the Vietnamese coast on Wednesday as Typhoon Molave.
'Molave' was the most powerful typhoon to hit Vietnam in 20 years. The remnants of the tropical depression are now centred over the west of Thailand where it continues to drop plenty of rain.
At least 35 people are dead, 100s injured, and 50+ missing in Vietnam as disaster mitigation authorities are now reaching some of the worst hit areas in central Vietnam.
Keep in contact with The Thaiger by following our
Facebook page
.
Never miss out on future posts by
following The Thaiger
.
Lockdown may contribute to Thailand's rise in dengue fever cases, study suggests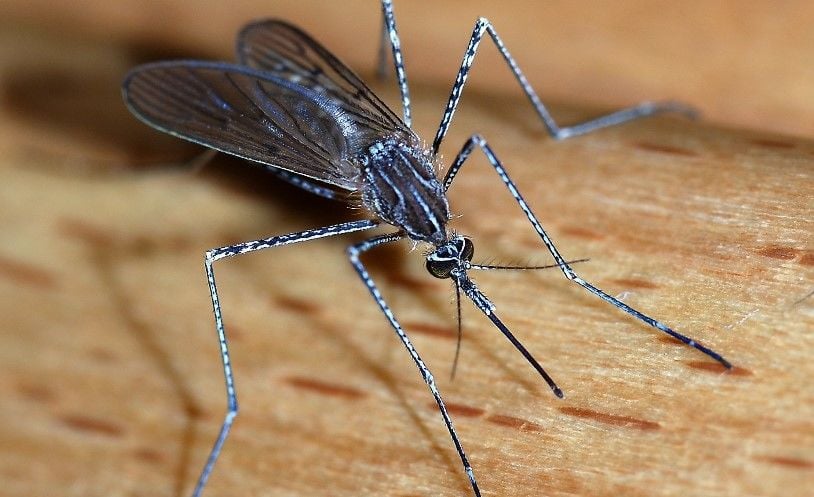 Social distancing and lockdown measures may have contributed to a rise in dengue fever in Thailand, according to a recent study funded by the Singapore Ministry of Health's National Medical Research Council.
Researchers, which included scientists from the University of Singapore, examined dengue fever cases in Malaysia, Singapore and Thailand. No impact on the dengue transmission was found in Malaysia or Singapore, but in Thailand, they found that social distancing may lead to an increase in the number of coronavirus cases. They say the largest impact is in Bangkok Researchers say social distancing is expected to lead to 4.32 additional dengue fever cases per 100,000 people in Thailand each month.
Many people in Thailand stayed at home during lockdown measures put in place to control the spread to the coronavirus, but the study found that people in Thailand are typically bitten by dengue-carrying mosquitos at home rather than at work. Some people even travelled back home to their home provinces to be with their families during the lockdown period.
"Although it is possible for dengue infections to occur in workplaces, it was found in one study that 60% of dengue cases live less than 200m apart came from the same transmission chain, revealing that residential areas are a focal point of transmission."
Reported dengue fever cases in 2019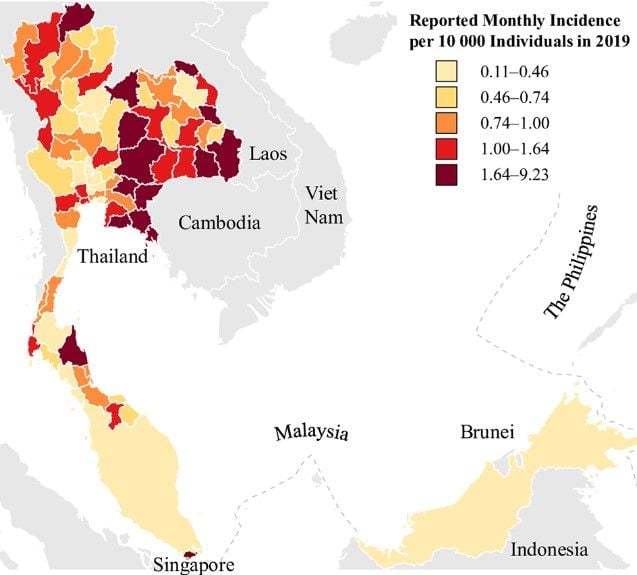 Reported dengue fever cases in 2020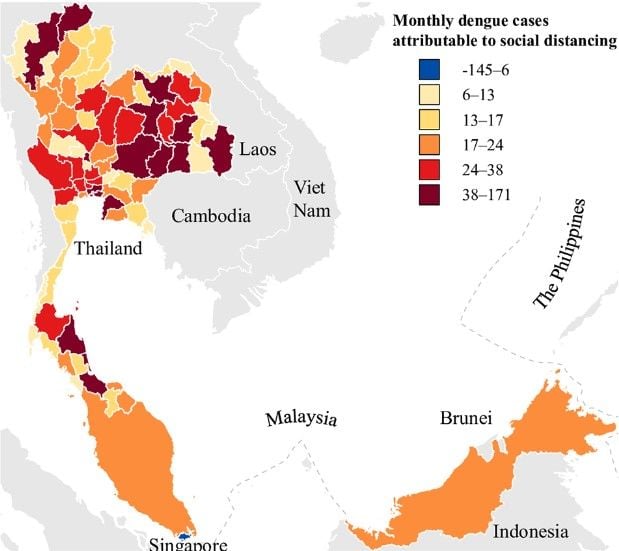 To read the full study click HERE.
Keep in contact with The Thaiger by following our
Facebook page
.
Never miss out on future posts by
following The Thaiger
.