Phuket Gazette: The trade in sex and bodies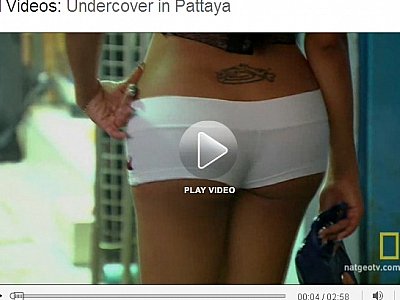 PHUKET MEDIA WATCH
– Thailand news selected by Gazette editors for Phuket's international community
The trade in sex and bodies
Phuket Gazette / The Nation
PHUKET: A National Geographic Channel documentary tonight sheds light on the trafficking of Central Asian women to Thailand for sex work. The programme, "Inside: 21st Century Sex Slaves", looks at the case of Uzbek women caught in a web of deceit in Bangkok and Pattaya (click here for preview).
It focuses on the efforts by Freeland – a non-governmental organization that fights trafficking of people and wildlife – and Thai law-enforcement officers to extricate two young women and take action against the criminal network that brought them to Thailand.
The spotlight is on individuals caught in the Bangkok and Pattaya underworld. The size of the network involved is hard to gauge from this report, but the "Uzbek connection" is a slice of the local sex industry that has grown over the years, allegedly because rogue army and police officers protect it.
The operation includes criminals from the Middle East faking passports and peddling drugs. Further arrests were made after the documentary was completed.
Part of the footage was shot with cameras concealed on Freeland agents as they searched bars in downtown Bangkok for a "mamasan" responsible for encouraging Uzbek women to come and work here, as well as the higher-level traffickers.
The mamasan was also accused of forcing the Uzbek ladies to undertake sex work on a casual basis by approaching men – generally Middle Eastern men – in notorious pick-up joints along lower Sukhumvit Road.
There are many twists and turns in the story, and the film does a good job of showing why human trafficking is difficult to combat and prosecutions hard to achieve.
Thousands of people come to Thailand in search of work every year, mostly from adjacent countries. Their situations vary greatly, but women and young men commonly lose control of their circumstances when the broker or a go-between seizes their passport, effectively trapping them here. Often there are threats of violence and sometimes they are simply locked up.
Individuals like the Uzbek women at the center of this report say they suddenly found themselves in a web of extortion and threats were made to harm them or their family back home.
The film is at times overly dramatic, but at one point the prospect of violence is clear and police must enlist support for a rendezvous arranged to try and arrest key figures in the network in which the Uzbeks are caught.
This report is timely. There has been serious criticism recently of Thailand's efforts to counter human trafficking, characterized as lethargic and half-hearted. Freeland seem to have done a remarkable job just getting the Thai police to participate and be filmed during an undercover operation that had the potential to turn nasty.
The Uzbeks might only be "slaves" to a certain degree and lower on the scale in terms of their personal trauma, compared to the many horror cases found in Thailand, but the fact remains that this is organized crime in downtown Bangkok – with tentacles that spread across the continent.
Rights activists and people working in the anti-trafficking sector say Burmese and Cambodian men forced to work on Thai fishing boats probably face the worst instances of modern-day slavery.
There have been many credible reports in the past couple of years about young migrants killed at sea or forced to work for months on Thai trawlers for no wages, yet the government follow-up on this has been scandalously deficient.
Early this week a man was found floating in waters off of Phuket's fishing port in Rassada. Police believe the stab-riddled body was of a Burmese fisherman, though no form of identification was found.
Only now, with the US reportedly on the verge of downgrading Thailand to Tier-3 status, warranting economic sanctions because of the lack of concerted action against trafficking, does it appear that the government might do something.
The Labor Ministry conceded on Tuesday that cases of trafficking are poorly handled because its five departments are not integrated. Officials are due to meet next week to discuss a master plan to combat trafficking in key sectors such as crews on fishing trawlers and migrant workers in Thailand in general.
Sadly, however, there is considerable skepticism about the approach, given the widespread corruption in the government hierarchy. Trafficking is deeply entrenched because it pays its sponsors and enablers high dividends.
The TV documentary shows some of the complexity and the sleazy side of the Thai sex industry. It also shows how people caught in difficult circumstances can get drawn in – and that it can be tough for them to escape.
GRIM VIEWING
"Inside: 21st Century Sex Slaves" airs at 9 tonight National Geographic Channel with rebroadcasts at midnight and 11pm tomorrow.
— Phuket Gazette Editors
Keep in contact with The Thaiger by following our Facebook page.
Never miss out on future posts by following The Thaiger.
Thailand News Today | Week In Review | February 26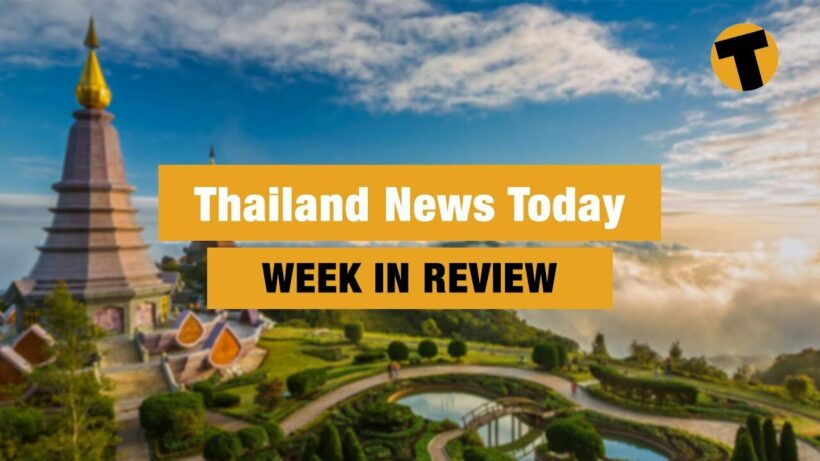 Thailand News Today usually covers five days of the news week. This week only four days as today (Friday) is a public holiday. Now we have a weekend edition which goes over the biggest, or best stories, from the past week. Out every Saturday afternoon, catch up with Jett and Tim's major Thai news stories. Welcome to the Thailand News Today Week in Review. Tim and Jett give you a quick recap of the main news stories.
To get all the latest news and information about Thailand, go to https://thethaiger.com. Like and subscribe our YouTube channel too. Go on, right now 🙂
You can also LIKE our Facebook page https://facebook.com/thethaigernews to get even more information about Thailand.
Keep in contact with The Thaiger by following our Facebook page.
Never miss out on future posts by following The Thaiger.
45 new cases today, 37 local‐Covid‐19‐Update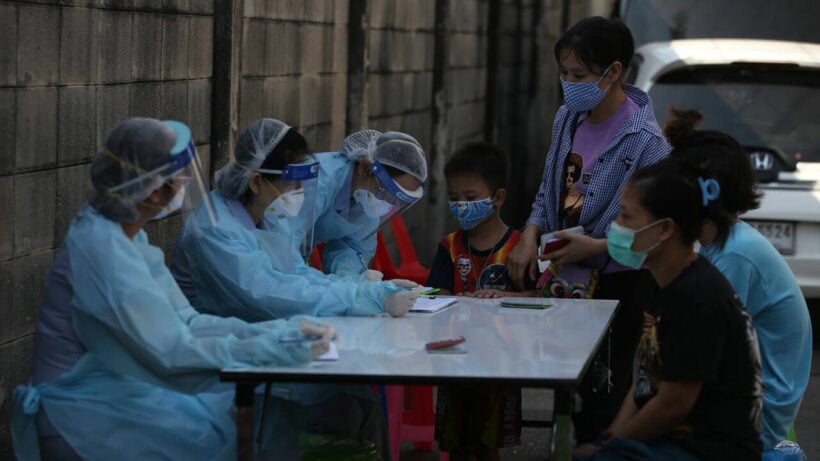 Thailand reports 45 new cases of Covid-19cases today, with 37 infections being locally-transmitted. 8 of those infections were imported, raising the total amount of infections since the pandemic began to 25,809.
The Department of Disease Control reports that 32 cases were confirmed at hospitals with 5 confirmed through active case finding in communities.
Samut Sakhon province, the 2nd wave epicentre, reported over half of the new cases at 19. 14 of those cases were confirmed at hospitals and 5 were detected in Myanmar communities. Bangkok has reported 3 new cases, Nakhon Nayok reported 5, Chai Nat 3, Nakhon Pathom 3, Saraburi 2, Prachuap Khiri Khan 1, and Samut Prakan 1.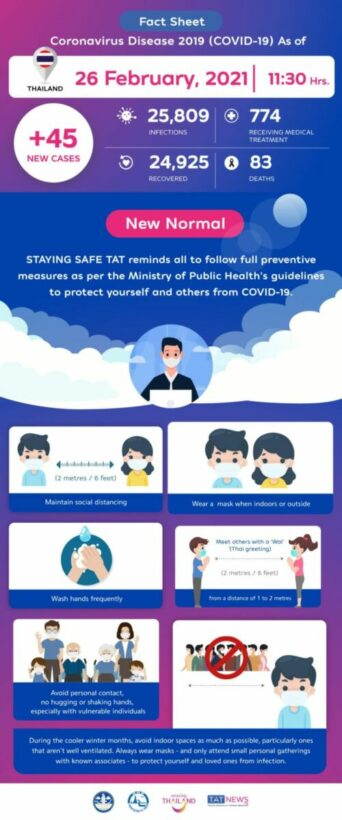 The 8 imported cases were those under quarantine arriving from Pakistan, Bangladesh, the UK, Germany, France, The Netherlands, and Kuwait. The case from the UK was that of a 6 year old Thai schoolgirl.
Globally, Covid-19 cases rose by 444,466 over the past day to 113.54 million. The worldwide death toll increased by 10,552 to 2.52 million. The United States still has the most cases at 29.5 million, with the most deaths at 520,785.
SOURCE: Bangkok Post
Keep in contact with The Thaiger by following our Facebook page.
Never miss out on future posts by following The Thaiger.
Surveys show Thailand still one of the top holiday choices post-pandemic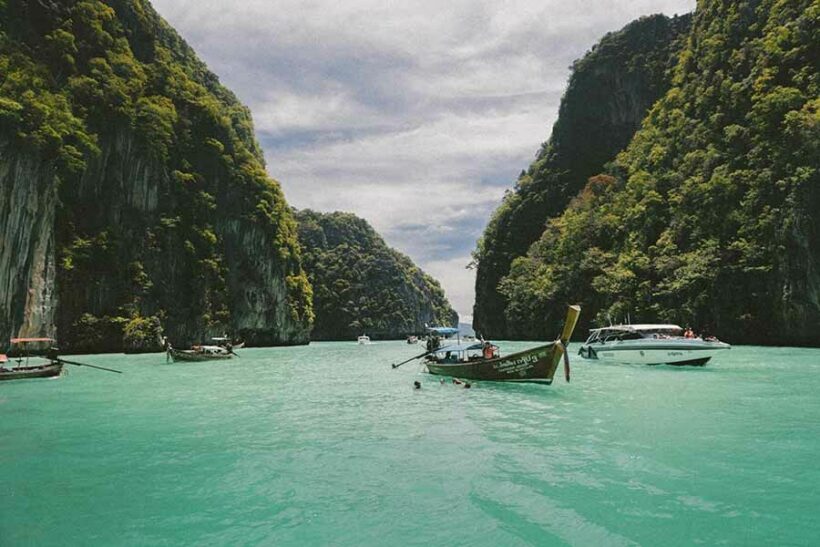 The Stockholm office of the Tourism Authority of Thailand has conducted a survey in which 62% of respondents say they want to spend winter in Thailand provided restrictions are lifted. The top destinations are Phuket, Krabi and Khao Lak, followed by Koh Samui, Koh Pha-ngan, Koh Tao, Bangkok, and Hua Hin.
68% say they would cancel bookings if the 14-day quarantine remains in place. 26% say they would still go ahead, and 13% said they'd be in favour of quarantine being cut to 10 days. 99% of participants say they would be worried about testing positive for Covid-19 after travel plans have been made.
Meanwhile, the TAT's London office has also been busy, carrying out a survey in conjunction with market research firm, YouGov. The idea behind the survey was to get an idea of the future of tourism once the pandemic is over.
4,127 people took part, with 75% of them saying they're prepared to be vaccinated if it's required for travel. 41% are against mandatory quarantine, although 52% would accept a 5-day quarantine. 62% of those planning holidays are over the age of 50 and interested in countries with low infection rates.
According to a Nation Thailand report, Siripakorn Cheawsamoot from the TAT says the findings of the survey indicate that up to 6 million people are interested in travelling to Thailand at some point this year.
Meanwhile, a number of online travel agency platforms in France have also carried out a survey. The poll, conducted by companies such as Go Voy, Opodo, and eDreams, showed that the number of hits to tourism-related websites rose by 15% once the success of Covid-19 vaccines was announced. The top destinations searched for were Dubai at 49%, Marrakesh at 27%, and Bangkok at 25%.
Another travel survey in the Americas found that most holidaymakers have chosen to postpone their trips by 7 months to a year, rather than cancelling completely. Siripakorn says that booking flexibility is a priority for Americans.
"Flexibility to reschedule is the top priority for American tourists, followed by safety. These tourists are looking for safety, no quarantine, flexibility, and no deposit."
Meanwhile, a report issued by Skift Research shows that travel will not recover until 2023 and will not return to pre-pandemic levels until 2025.
SOURCE: Nation Thailand
Keep in contact with The Thaiger by following our Facebook page.
Never miss out on future posts by following The Thaiger.