Phuket Gazette Thailand News: White masks to march on CentralWorld; Sadao supercar smuggler's highway; Call for businesses to help educate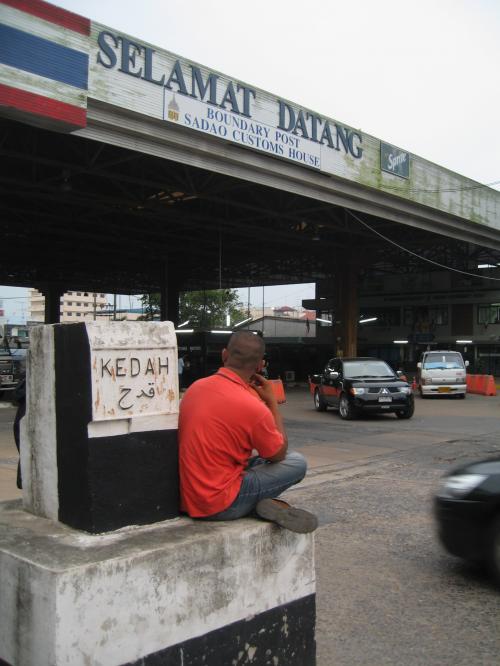 PHUKET MEDIA WATCH
– Thailand news compiled by Gazette editors for Phuket's international community
White masks adamant about rallying at CentralWorld despite ban
The Nation / Phuket Gazette
PHUKET: The white-masks are adamant about rallying at CentralWorld today as part of their weekly anti-government protest, although the department store yesterday banned protesters from using its premises for political rallies.
CentralWorld announced that it wanted to operate its business professionally and with political neutrality. Although it did not object to political rallies or political expression, it has decided not to allow any group to use its premises for political activities.
After the ban was announced on Friday night, Facebook page "V for Thailand", which provides information about the rally plans of the white masks, posted a message yesterday on the website saying the Bangkok rally would take place there.
The group had earlier planned to converge in a show of force against the Yingluck government at 1pm yesterday and rallies of provincial white masks were planned at 38 locations across the country today.
The white masks also posted a message asking members to persuade friends and families to join the rally to "liberate the country'.
"The more the obstacles, the more will power we have. Our mission is to suppress the corrupt,' the message stated.
The message was posted after Deputy Prime Minister Chalerm Yoobamrung warned of a bomb threat at the white mask rally, which was interpreted as a veiled threat against the protesters.
Senior Democrat MP Ongart Klampaiboon yesterday urged Prime Minister Yingluck Shinawatra to order police to keep security at the white mask rally.
He said government officials had leaked news that a third ill-intentioned group might incite violence at the white mask rally.
"Since the government already has this information, it must safeguard the protesters against any group. We have only seen the red shirts harass the white masks and resort to violence and force,' he said.
Government Spokesman Teerat Ratanasevi said Yingluck had instructed security officials to keep a close watch on the rally sites.
He said the government has not asked political groups to refrain from staging rallies as it believed they have the right to express their political opinion but police would monitor rallies to prevent any ill-intentioned group from creating a violent situation.
Yingluck was scheduled yesterday to attend the wedding of her niece, Chayika Wongnapachan at Plaza Athenee hotel.
Luxury cars regularly smuggled in from Malaysia, say officials
The Nation / Phuket Gazette
PHUKET: Customs officials from Songkhla's Sadao district said yesterday they had intercepted approximately 200 luxury cars in the last few years that were smuggled over the Malaysian border into Thailand via Sadao and Padang Besa.
They included stolen cars or those that car owners or rental shops had driven in and then reported stolen so they could claim insurance money, said Sadao customs deputy head Siwakrit Jenwipich, adding that some of the cars intercepted carried the insignia of the Malaysian royal family.
He said customs officials had recently tightened the rules and closed loopholes on selling impounded cars to prevent luxury car dealers and rogue officials from gaining possession of them later at cheaper prices.
Prayuth Maneechote, chief of Custom Office Region 4, said that in the last 12 months his office had seized 35 luxury cars smuggled across the Malaysian border at Padang Besa and five at Sadao, including a Daimler, Mercedes Benz and Jaguar.
He said one loophole enabled illegal high-end car traders to bring in luxury cars with tourists. The cars where then sold in Thailand with the proper papers and reported stolen in Malaysia in order to claim insurance money.
Prayuth said customs officials needed to implement stricter rules for checking tourists who brought high-end cars into Thailand.
Phongthep calls for private-sector boost in educational services
The Nation / Phuket Gazette
PHUKET: Speaking at a recent Nation Forum, Education Minister Phongthep Thepkanjana urged the business sector to step in and actively engage in the provision of educational services.
It is time for big corporations to start developing courses and producing graduates on their own to best respond to their needs, he said.
Phongthep's idea received a warm welcome from many top executives present at last Wednesday's event. CP All and Central Retail Corp (CRC) have, after all, already made efforts in this direction.
Held at the Dusit Thani Hotel, the latest Nation Forum embraced the theme of "Nation Exclusive Insights for CEOs Education Reform to Match Needs of Business". Nation Multimedia Group (NMG) chairman Suthichai Yoon served as moderator at the event.
"We organise the Nation Forum every few months to bring together key players in society so that they can discuss existing issues and explore solutions together. We are discussing educational issues today because education is a way to solve all other problems in the country," Suthichai said. About 40 business executives, including those from NMG, and academics attended the latest forum.
Everyone should join in efforts to provide educational services, because everyone is a stakeholder, Phongthep said, adding, "You will either reap or lose benefits from educational services."
No room for politicking
The minister emphasised that politicking must have no place in the educational arena.
"The educational sector must be politically neutral. Educational policies should not be changed every now and then. We have to create [quality] education for the future generations," he said.
In trying to persuade the business sector to play an active role in education, he pointed to the good example of such an approach in Germany.
Phongthep said Germany had identified 300 occupations that require technical skills and designed vocational courses accordingly with help from the private sector. Companies have either set up their own schools or conducted courses in collaboration with government agencies. "There are guaranteed jobs for graduates," he added. CP All chairman and chief executive officer Korsak Chirasmisak said big corporations should definitely do more than merely handing out scholarships.
With funding from CP All, the Panyapiwat Institute of Management and Panyapiwat Technological College have sprung into operation and successfully supplied staff to CP.
Busaba Chirathivat, CRC senior vice president for Corporate Communications, said that in a bid to find suitable staff, Central had been working with eight Rajabhat institutes in conducting retailing courses.
"We have done so for 10 years already. Our senior staff has helped with writing textbooks and developing curricula for the courses," she said, adding that the latest textbook revision had been undertaken last year.
Busaba said that so far, leading universities in the country had, however, not shown any interest in working with companies in developing their courses.
CRC has hired more than 20,000 people.
Mechai Viravaidya, founder and chairman of the Population and Community Development Association, s
— Phuket Gazette Editors
Keep in contact with The Thaiger by following our
Facebook page
.
Points deduction system for drivers to be introduced mid-December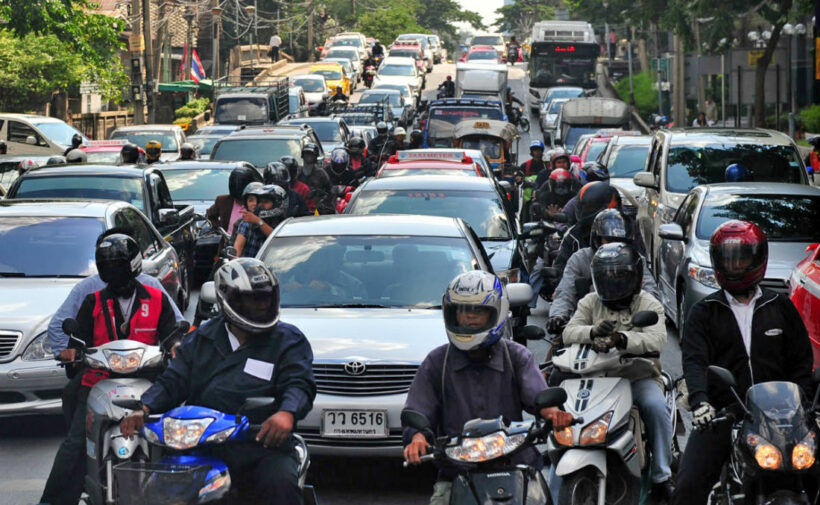 The point deduction system, for traffic and road infringements, is tentatively scheduled for activation for motorists and motorcyclists in mid-December. It is hoped that the system will help reduce road fatalities and injuries on Thai roads.
The deputy commander of Highways Police Command says that every licensed driver will be given an allocation of 12 points. Each time the driver commits a traffic law violation, points will be deducted. When there are no points left, the driver's license will be suspended for 90 days, after which the driver or motorcyclist will have to undergo training administered by the Land Transport Department to get their licence back, and another 12 points.
Those who don't attend the training, however, will have their licence returned after 90 days, but with only 8 points.
Points to be deducted differ, depending on the offence. Offences are divided into four categories:
• One point deduction
Using a cell-phone while driving; exceeding the speed limit; not wearing crash helmets for motorcyclists; not wearing seat belts; not giving way to emergency vehicles, riding on the sidewalk and not stopping for pedestrians on zebra crossings.
• Two points deduction
Running a red light; driving on the wrong side of the road; reckless driving; driving while his/her license is suspended and drunk driving.
• Three points deduction
Organising or promoting street racing without permission; hit-and run; driving while under the influence of narcotics; driving while under the influence of alcohol exceeding 150mg per ml.
• Four points deduction
Driving under the influence of alcohol exceeding 200mg per ml, drunk driving in a way which may cause serious injuries or death to the other people; driving in a manner disregarding the safety of the other people or causing trouble to other people.
SOURCE: Thai PBS World
Keep in contact with The Thaiger by following our
Facebook page
.
Opposition hits out at government's military spending in 2020 budget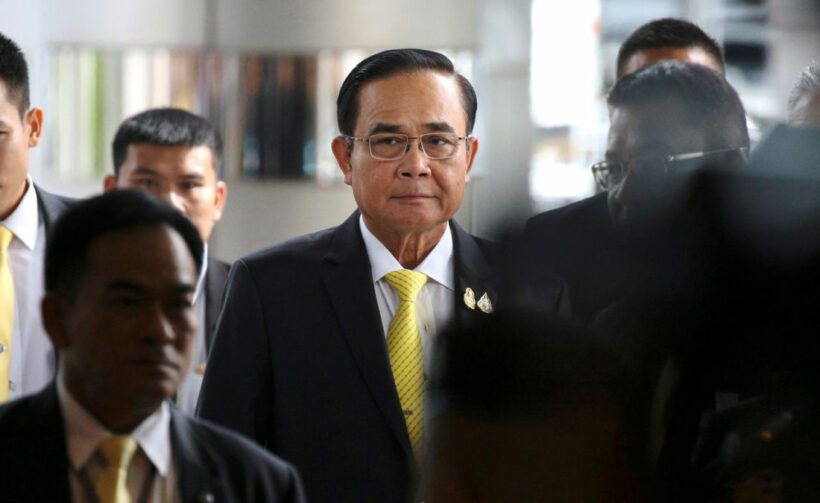 PHOTO: Reuters | The Business Times
The opposition is accusing the government of being more concerned with military arms than the daily struggles of Thai citizens. During a debate in Parliament on the budget bill, the government was accused of caring more about the growth in military spending than citizens' financial woes.
The opposition levied the attack after PM General Prayut Chan-o-cha delivered the 3.2 trillion baht bill to the House of Representatives. The debate on the 2020 budget is expected to continue for two more days and if approved by Parliament, the bill will come into force early next year.
The PM says the budget aligns with the "20 year strategy" to improve the living standards of the nation's citizens while growing the economy, but opponents accuse him of making defence spending a priority.
The leader of the opposition, Sompong Amornvivat, claims that in the five years the PM has been in power, total spending has hit 14.3 trillion baht, with loans of 2.2 trillion baht, without any significant growth in the economy. He accuses the government of spending more than 6 billion baht on defence, with the Interior Ministry getting 25 billion baht more than last year.
It's also understood that the government has also put 518.8 billion baht aside, which it can spend as it wishes, without the consent of Parliament.
The government's tourism stimulus plan, whereby domestic tourists would be given cash incentives, also came under fire as Sompong declared it a waste of money that would do nothing to boost productivity.
The subject of the PM's oath-taking fiasco reared its head again, as the leader of the Seree Ruam Thai Party, Pol General Sereepisut Temiyavej declared the PM and his government unfit to rule or propose a budget bill as a result of it.
Anudit Nakorntab from the Pheu Thai party said the government should postpone unnecessary spending on military arms while the country's citizens battle economic hardship, accusing the previous junta-led administration of also prioritising the military in its spending.
SOURCE: The Nation
Keep in contact with The Thaiger by following our
Facebook page
.
Academics warn of high cost of Thai ban on agri-chemicals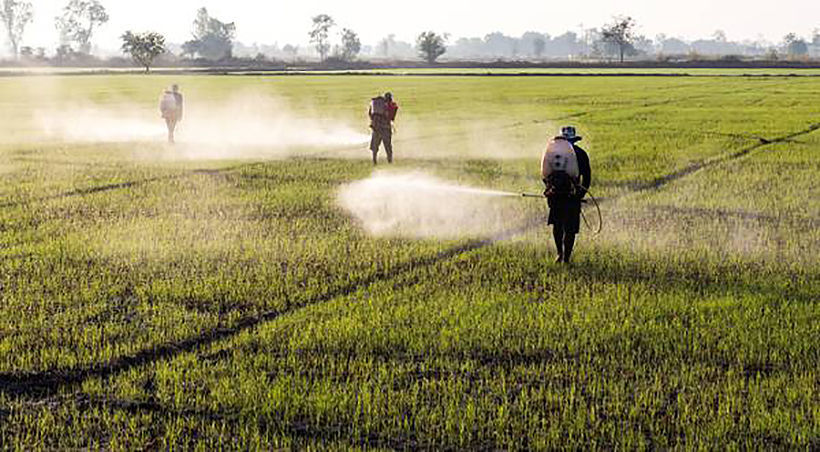 The chairman of the Thai Sugarcane Farmers Association, Thongkam Cheongklad, says a ban on the weed-killer paraquat would have a severe impact on production costs. Academics and Thai sugarcane farmers have also expressed their concern over the ban, saying it could cost the industry up to 570 billion baht.
The Nation reports that up to 1.2 million people working in the sugarcane industry are understood to be against the ban, saying the proposed paraquat substitute is both expensive and ineffective.
The president of the Thailand Society of Sugarcane Technologists, Kitti Choonhawong, says Thailand has approximately 11 million rai dedicated to sugarcane plantations, generating about 300 billion baht a year.
He claims that a ban on agri-chemicals may lower sugar production, which in turn would affect sugar factories and cause the export market to lose as much as 94.6 billion baht. Thailand is currently the world's second biggest sugar exporter, behind Brazil.
A research director from the Thailand Development Institute says the ban could ultimately mean the country is not allowed to produce enough food, unless chemical fertilisers are still allowed if chemical pesticides are banned.
Viroj Na Ranong says production costs will still rise however, along with labour costs, adding that the government needs to do its homework.
"The government has to implement measures based on research, not on social trends and politics."
It's understood that The National Hazardous Substances Committee will meet on October 27 to decide if a ban on three chemicals currently used in farming will go ahead. The substances involved are paraquat, glyphosate and chlorpyrifos and the proposal is for them to be banned from December 1.
SOURCE: The Nation
Keep in contact with The Thaiger by following our
Facebook page
.