Phuket Gazette Thailand News: Violent deaths shake Bangkok to core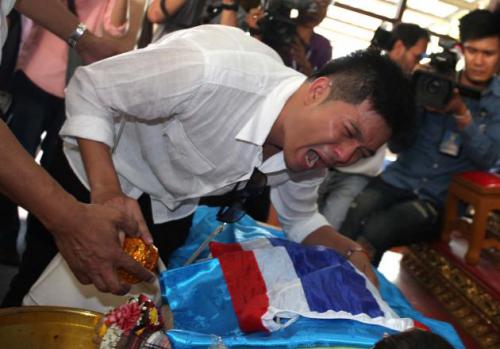 PHUKET MEDIA WATCH
– Thailand news compiled by Gazette editors for Phuket's international community
Death, injury toll jumps after attacks
Phuket Gazette/ The Nation
PHUKET: The number of casualties from political violence over the past three months has surged to 21 dead and 762 people injured nationwide since November 30.

Of this number, 718 were injured in Bangkok, two in Rayong, eight in Pathum Thani and 34 in Trat.

Another policeman died yesterday from injuries sustained during a clash with protesters near Phan Fah Bridge last Tuesday, the Erawan Emergency Centre said.

The centre said Lance Corporal Sarawut Chaipanha died at 12:30pm at the Police Hospital.

In a related development, caretaker Public Health Minister Pradith Sinthawanarong visited patients at Rajavithi Hospital who were injured in the bomb blast in front of the Big C store on Sunday.

"It is time for us to seek a resolution together so no more people die. Bloody violence involving Thais should not take place again," he said.

A medical workers' network condemned perpetrators of the violence for using war weapons to kill and injure people.


Father grieving over his children's deaths chooses to forgive
Phuket Gazette / The Nation

PHUKET: The father who lost his children to Sunday's grenade attack says he is engulfed in pain, but feels no anger against the attackers who were apparently targeting the anti-government rally site.
"I am suffering the deepest pain, but have decided to forgive," Thayakorn Yos-ubol said tearfully.
His two children, Korawich and Patcharakorn, were not among the demonstrators.
They were shopping with their aunt and cousin when they were hit by a grenade that landed in front of a Big C shopping mall on Rajdamri Road on Sunday afternoon.
Korawich was four and his sister six years old.
"I can't cope with what has happened. My children were so pure and innocent. I really don't know how long it will take for this wound in my heart to heal," the devastated father said.
Mr Thayakorn went on to say that he had a simple dream for his children – he just wanted them to grow up and become good members of society.
"But now my dream is dead," he said as he hugged his wife while waiting to pick up their children's bodies.
Both children were pronounced dead at Ramathibodhi Hospital – the place they were born.
Korawich passed away on Sunday evening, while his sister succumbed to her injuries on Monday morning. Their nine-year-old cousin, Yothin Cha-aemram, is under intensive care at the same hospital.
Yothin's mother, Nareerat Chairat, wished she had been hit instead of the children.
"Better me than my nephew, niece and son," the distraught mother, who was in a wheelchair, said.
She sustained minor injuries from the blast.
Ms Nareerat said she and the children were about to hail a tuk-tuk to head back to Mr Thayakorn's home when the grenade suddenly landed in their vicinity and exploded.
"I wish it was just a bad dream," she lamented.
Mr Thayakorn said he hoped all sides would learn from this and bring an end to the chaos.
He said his focus was on holding his children's funeral rites, which will be held at Phrom-wongsaram Temple (Wat Luang Phor Nane).
Meanwhile, the lawyer representing the relatives of the two men killed in bloody clashes at the Phan Fah Lilat Bridge on February 18 lodged a complaint yesterday at the Criminal Court against caretaker Prime Minister Yingluck Shinawatra for her alleged role in the violent crackdown on protesters.
The lawsuit also named Chalerm Yoobamrung in his capacity as director of the Centre for Maintaining Peace and Order, National Police chief General Adul Saengsingkaew, Department of Special Investigation chief Tarit Pengdith and a few other senior police officers.
Rally sites should be 'child-free', Unicef warns
Phuket Gazette / The Nation
PHUKET: The United Nations and UN Children's Fund (Unicef) yesterday condemned the political violence in Thailand, particularly attacks over the weekend that claimed the lives of three children.
Unicef's representative in Thailand, Bijaya Rajbhandari, said areas within and around the protest barricades should become "child-free zones" to ensure there are no further children killed or injured in the political crisis.
He urged the government, plus pro- and anti-government protest leaders and all parents to ensure that children do not enter protest sites and are kept well away from areas where people are rallying.
He also called upon authorities to ensure that those responsible for the attacks are brought to justice.
His statement came after two political-related attacks over the weekend – in Trat and central Bangkok – that claimed the lives of children aged four, five and six and left some others in a critical condition.
"[Unicef] condemns the violence that resulted in these tragic and senseless deaths and injuries to children. These incidents underscore the urgent need to keep children out of harm's way in order to ensure their safety," Mr Rajbhandari said.
A five-year-old girl was killed when gunmen attacked an anti-government rally in Trat province on Saturday night, while a four-year-old boy and his six-year-old sister died after a bomb blast in Ratchaprasong on Sunday afternoon.
Meanwhile, UN Secretary General Ban Ki-moon said that he is ready to assist in any way he can to end the political violence in Thailand.
"The secretary-general believes strongly that there is no place for violence by any side in resolving political differences and disputes," Mr Ban's spokesperson said.
Army chief urges talks
Phuket Gazette / The Nation

PHUKET: After a weekend of deadly violence, Army Chief Prayuth Chan-ocha yesterday urged all parties to sit down and talk – to try to find a way to prevent the country from plunging into further drama.
In a rare television address on military-run Channel 5, Gen Prayuth reiterated that the army had no intention of playing an active role in forcing a solution to the ongoing political strife.
Meanwhile, caretaker Prime Minister Yingluck Shinawatra said in a separate interview that there was nothing better than all sides coming together.
"When violence is used, the pain will eventually be felt by the nation," she said.
However, the Ms Yingluck said she would not resign as demanded by anti-government protesters, because it would create a political vacuum.
Gen Prayuth, reading from a prepared document, said it was the government that had the primary duty to stop people using violence, and he believed some of those behind the violence were linked to attacks during the 2010 red-shirt protests.
The army is collecting evidence and investigating in order to bring the culprits to justice.
"The army are not afraid of doing duties to bring those responsible for the violence to justice. However, we worry that there would be more casualties, as some groups do not understand and oppose our duties," he said.<
— Phuket Gazette Editors
Keep in contact with The Thaiger by following our
Facebook page
.
Never miss out on future posts by
following The Thaiger
.
MP files complaint against 3 opposition MPs for allegedly joining the protest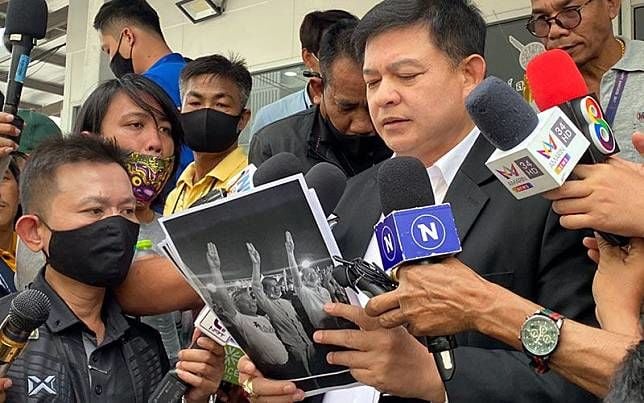 A member of parliament filed a complaint against 3 opposition MPs for allegedly joining the weekend's pro-democracy protest where activists demanded reform of the Thai Monarchy. He's also putting together a legal team aimed at dissolving the members' 3 opposition parties.
Palang Pracharat MP Sira Jenjakha says he has a photo of the 3 members raising their hands in a 3 finger salute, a symbol of resistance against the military run government. He says the protest was illegal, and the location, the Royal Field next to the Grand Palace, is off limits to unauthorised people.
He filed the complaint with the Chanasongkhram police against Mongkolkit Suksintharanont, of the Thai Civilized Party, Peerawit Ruangluedolapark, of the Thai Rak Thai Party and Nattha Boonchai-insawat of the Kao Klai Party.
A legal team assigned by Sira will collect evidence and file a petition with the Constitutional Court calling on the dissolution of the 3 opposition parties: Thai Civilized Party, Thai Rak Thai Party and Kao Klai Party.
He says he also plans to ask the House Speaker to investigate the 3 members to determine if they breached the parliament's ethical conduct.
SOURCE: Thai PBS
Keep in contact with The Thaiger by following our
Facebook page
.
Never miss out on future posts by
following The Thaiger
.
4 people drown after SUV careers into canal in Chon Buri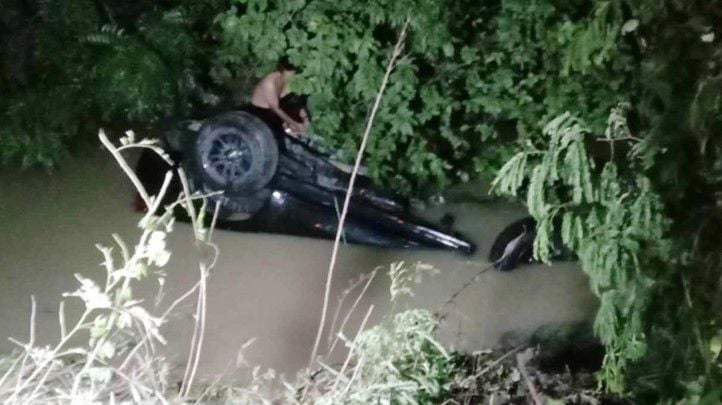 4 people died after a driver allegedly hit a curb and lost control of her Toyota Fortuner SUV, running it off the road and into a Chon Buri canal.
The driver, 38 year old Sukanya from Bangkok, survived and told police she was driving 6 friends from Bangkok to Rai Lak Thong, a subdistrict in Chon Buri. She says the road was dark and she was unfamiliar with the area. She hit a curb, breaking through the road barrier and overturning the car. The SUV then slid into the a Phanat Nikhom district canal.
The water in the canal was high due to the weekend storm. The driver and 2 others were able to get out through the window, but the others – 1 man and 3 women – drowned in the submerged vehicle. By the time rescue workers arrived and pulled the bodies out of the car, they were dead.
SOURCE: Pattaya Mail
Keep in contact with The Thaiger by following our
Facebook page
.
Never miss out on future posts by
following The Thaiger
.
5 protesters to be charged over a rally in front of the Thai Army's headquarters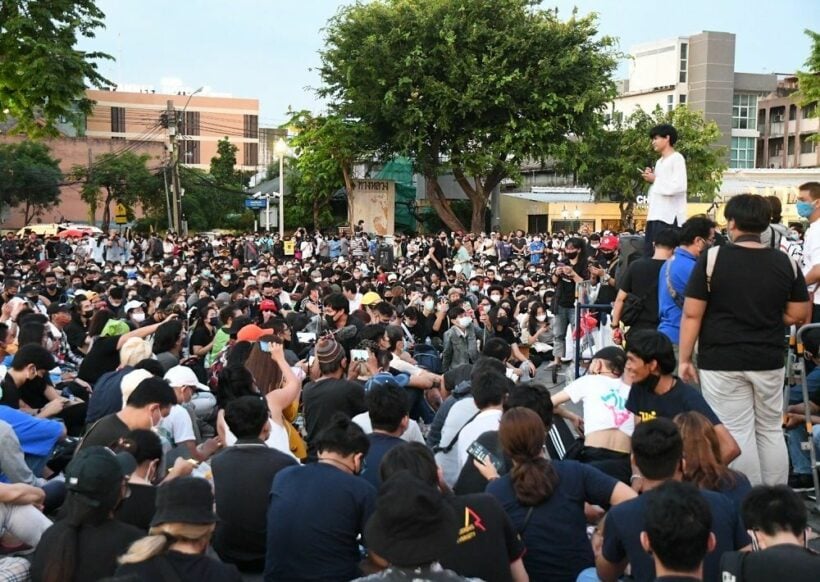 With impeccable timing, Nang Loeng police have summoned 5 protest leaders to appear before the Special Prosecutor's Office at the Dusit District Court in Bangkok. They will be formally charged over their roles in a protest in front of the Army's headquarters on July 20. At the time it followed an online exchange from an Army official criticising the students who had been protesting at the Democracy Monument days before.
The protest targeted Colonel Nusra Vorapatratorn, deputy spokesperson of the Army. Posting on her Facebook page about the Saturday protest, the Colonel said that rally's participants should "focus on doing their jobs rather than joining the protest." The Colonel later deleted the social media post.
Another army spokesman, Colonel Winthai Suvaree, spoke to the media at the time and stated that Nusra "had expressed her personal opinion" and that "she is no longer the deputy spokesperson".
After protesting outside the Army over the contents of the post, 5 protest leaders face official charges of "violating the Emergency Decree, the Traffic Act and use of loudspeakers in public without permission. The 5 protagonists facing charges are human rights lawyer Anon Nampa, Parit "Penguin" Chiwarak, Piyarath "Toto" Jongthep, Suwanna Tarnlek and Panupong Jardnok (Mike Rayong).
All 5 deny the charges and say they will defend their roles in court.
The charges follow a weekend of protests, with up to some 30,000 people gathering in the Bangkok rain to rally against the government and confirm a 10-point manifesto which includes demands to reform Thai politics and the country's monarchy. Specially the demands include the dissolution of the Thai parliament, standing down of the current PM and a new constitution to replace the 2017 Thai charter.
Today the Fine Arts Department has also says it will file charges of "trespassing on an archaeological site" after protesters yesterday embedded a symbolic brass plaque to replace another plaque that dates back to the 1932 Siam Revolution (when a bloodless coup overthrew the 'absolute monarchy' in Thailand). That plaque mysteriously disappeared in 2017.
The protesters responded this afternoon by saying that Sanam Luang is not an archaeological site, but a "public space for recreation and for vendors and hawkers".
Following on from the support of the crowd over the weekend, the protesters are planning to stage another protest in front of Parliament this Thursday. A House debate on constitutional amendments is due to start this Wednesday.
SOURCE: Thai PBS World
Keep in contact with The Thaiger by following our
Facebook page
.
Never miss out on future posts by
following The Thaiger
.