Phuket Gazette Thailand News: Songkran spirit soaks nation; Koh Tee harbored in Isarn, say Dems; Road toll hits 102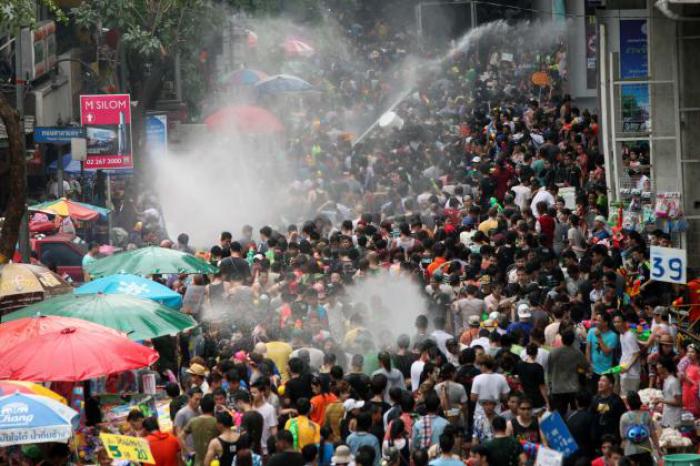 PHUKET MEDIA WATCH
– Thailand news compiled by Gazette editors for Phuket's international community
Thais forget their woes
The Nation / Phuket Gazette
PHUKET: The Songkran festival appears to have cooled down Thai politics, at least for a short while, given the reduction in political violence, and a break in politicians' activities during the five-day holiday, which began on Saturday.
Revellers enjoyed themselves with traditional water fights across the country, including at political rally venues in Bangkok. Lumpini Park was packed with anti-government protesters in traditional costume challenging each other in water combat. The protesters were restricted from bringing their own water and white clay into the site but were provided with alternatives by the protest organisers.
People's Democratic Reform Committee chief leader Suthep Thaugsuban slowly rode a motorcycle through Lumpini Park taking water hits and receiving greetings from supporters. A fun fair was also held in the protest site near and around the Government House and a road network occupied by supporters of the Students and People's Network for Thailand's Reform.
Thai and foreign revellers gathered and shared the fun on Silom Road across the street. Activities on Khao San Road in Bangkok, the most famous venue for Songkran, warmed up yesterday as more and more celebrants gathered.
Caretaker Prime Minister Yingluck Shinawatra, accompanied by her son, gave alms offerings to 109 monks to mark Songkran, the Thai traditional New Year, at Tha Phae Gate in the northern province of Chiang Mai.
Yingluck then presided over the opening ceremony of the Chiang Mai Lanna New Year celebration 2014 in the famous northern resort province, one of the most popular destinations for tourists celebrating Songkran. Yingluck wished happiness for all Thais on this occasion.
Songkran is celebrated traditionally on the calendar dates of April 13, 14 and 15. April 16 is a substitute, because the 13th is a Sunday this year.
In Phichit, a 14-year-old boy was electrocuted and a 16-year-old was injured at a foam party in Muang district, after a foam dispenser apparently suffered an electrical leak. Both victims were dancing near the area and touched the dispenser. The foam party was halted by local officials, who ordered an investigation into the incident.
Alms were given to 187 monks at a ceremony at the Civic Plaza near the Bangkok City Hall by the Bangkok Metropolitan Administration. A trade fair was also scheduled at this venue from yesterday to tomorrowTuesday, featuring traditional goods and food from all 50 capital districts.
The authentic ancient Buddha Sihing image has been placed in a shrine at this event, along with imitative images of nine other Buddha statues from various temples.
Alms ceremonies were held elsewhere across the country yesterday, either at official events by local authorities or private functions, with Buddhist prayers said to bless celebrants who set free birds and fish.
There were 102 deaths and injuries to 893 people in 471 road accidents reported as of yesterday – day two of the seven-day safety campaign period. The daily update was compiled by the Department of Disaster Prevention and Mitigation. Drunk-driving remained the largest cause of accidents (38.43 per cent), followed by speeding (25.27 per cent).
Police pulled over 658,214 motorcycles and vehicles at checkpoints for inspection, with 99,896 motorcyclists and motorists fined for driving without licences and 32,674 for not wearing safety helmets.
Ko Tee and Tang 'under protection' in Northeast, Dems say
The Nation / Phuket Gazette
PHUKET: Pro-government red-shirt leader Wuthipong Kotthammakhun, who faces an arrest warrant for alleged lese majeste, is believed to be hiding under the protection of an influential figure in the Northeast.
Democrat Party spokesman Chavanond Intarakomalyasut said yesterday that Wuthipong, aka Ko Tee, was hiding in the Kingdom and had not left the country. Chavanond said it was time police proved that they were law enforcers and not servants of politicians.
He said if police made the effort, they would be able to nab both Wuthipong and Ekkapob Luara, aka Tang Acheewa, who is wanted for alleged lese majeste offences following a speech he gave at a red-shirt rally last year.
Police issued an arrest warrant for Wuthipong after a YouTube clip of an interview he gave to a foreign media outlet in which he allegedly made remarks offensive to the monarchy went viral on social media networks.
Chavanond called on the police to get information about the plot to topple the monarchy from Department of Special Investigation (DSI) director-general Tarit Pengdith, saying Tarit had knowledge of the plot and links within the Pheu Thai Party.
He said police should start probing the alleged plot against the monarchy by looking into the case of Wuthipong. "If police are reluctant to take necessary action for fear of negative consequences to vested interest groups, the country will continue to face political conflict," he said.
Deputy Democrat Party Spokesman Jurit Laksanawisit said Wuthipong may have now realised the meaning of the saying "Butcher the donkey after it has finished its job on the mill," because it looked like the Thaksin camp had severed ties with him. He said United Front for Democracy against Dictatorship co-leader Korkaew Pikulthong had said that if Wuthipong said what was in the YouTube clip, he had to take responsibility.
But former Pheu Thai Ubon Ratchathani MP Somkid Chuakong dismissed speculation Wuthipong was hiding in Isaan, saying the man was more familiar with Bangkok and Pathum Thani, his stronghold where he has led political activities. He urged Wuthipong to turn himself in to fight the charges.
Petrol bombs at 'red' radio station
Police searched Wuthipong's Red Guard radio station and his house in Pathum Thani, looking for him.
The arrest warrant had been circulated online in the police department's information system nationwide.
A person found guilty of lese majeste, according to Article 112 of the penal code, could face from three up to 15 years in jail. These offences have a 15-year statute of limitations.
Meanwhile, petrol bombs have been thrown into the red-shirt community radio FM 105.25 in Pathum Thani's Lam Luk Ka district.
Manont Sailektim, 35, filed a complaint with police that an unknown number of assailants threw molotov cocktails into the plastic bottle recycle factory which also operates as a radio station.
Police said after inspecting the scene the air conditioners and wiring systems in the factory had been damaged after the petrol bombs exploded and sparked the fire.
Police suspected the assailants intended to destroy equipment to prevent the station broadcasting.
Arthit Jitsawaeng, DJ of FM 105.25, said the People's Democratic Reform Committee might have believed the station was linked to Wuthipong and there had been threats before the incident.
He said Wuthipong had nothing to do with the broadcaster. "We have different opinions from Wuthipong. We have only campaigned for democracy but we also have been attacked," he said.
Songkran death toll rises to 102 after two days
Thailand News Today | Immigration deadline, quarantine update?, arrests averted | October 30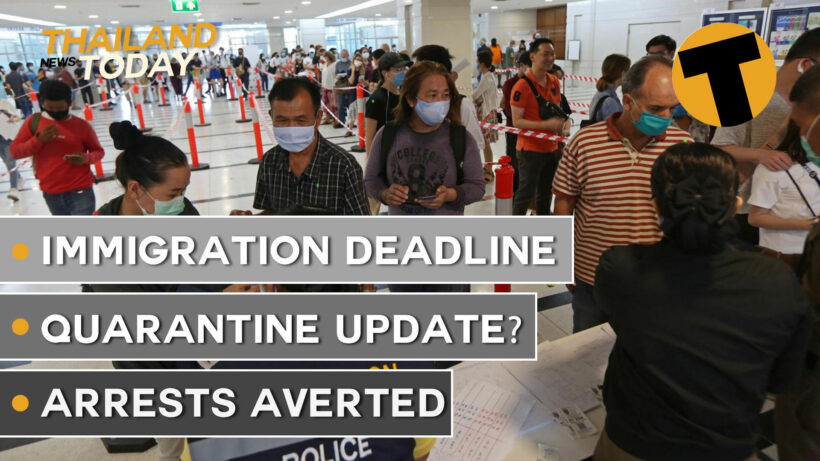 Last day of the week and all the main stories from around Thailand. Thailand News Today, a bit late today but here it is…
Some immigration offices open tomorrow for last minute visa extensions
The latest amnesty is up tomorrow (October 31) and some immigration offices will be open for those who still need sort out their visa extensions.
Those who miss the deadline could face fines for overstay, immigration officials warn. The extensions all go into effect from November 1 and allow a 60 day stay.
Some immigration offices that are typically closed on Saturdays will be open tomorrow for those filing for extensions. Immigration Bureau commissioner Sompong Chingduang says immigration offices on Chaeng Watthana Road in Bangkok and at Muang Thong Thani in Nonthaburi, just outside Bangkok city, will be open tomorrow from 8.30am to 4.30pm. Check with your local immigration office.
Court rejects bid to arrest activists who led march on German Embassy
A bid to apprehend 5 anti-government activists who led a march to the Germany Embassy on Monday has failed, after a court in Bangkok rejected a police application for arrest warrants.
The Bangkok South Criminal Court has turned down the application for arrest warrants.
The 5 would have faced charges of sedition and other offences. But the court told officials to instead issue a summons, given that the protesters are students who only gathered for a short time and are unlikely to flee.
On Monday, protesters marched to the German Embassy to submit a petition calling on the country's government to investigate whether Thailand's Head of State conducted official business while in Germany. Which nicely segues to the next story…
German government does not believe the Thai Monarch broke the law on conducting state affairs
The German government does not believe the Thai Monarch broke the law on conducting state affairs during his time in the German state of Bavaria.
Germany says His Majesty the King has not violated the European country's ban on conducting foreign politics on German soil where he resides. The government in Berlin briefed lawmakers this week, saying the Thai Monarch is allowed make occasional decisions regarding Thai state affairs, but he cannot continuously conduct business from overseas.
So far, the German government says they do not believe the King Maha Vajiralongkorn "continuously" conducted Thailand state business during his residence in Bavaria.
PM to visit Phuket on Monday as island's economy lies in tatters
PM Prayut Chan-o-cha is heading to Phuket on Monday, where he will meet with local business leaders and discuss proposals to help revive the southern island's devastated tourism sector.
Despite Phuket Models and any number of promises from the Thai tourism sector, Phuket remains in a perilous situation whilst the government keeps its borders closed. Almost 100% of Phuket's economy is derived directly or indirectly from tourist traffic.
Health officials propose reducing quarantine to 10 days
Health officials are suggesting cutting mandatory quarantine for international arrivals to 10 days. We've heard it all before but the idea has risen to the top of the Health Minister's file again.
Health Minister Anutin Charnvirakul says the proposal will be submitted to the CCSA for approval. It's hoped that a reduction in the quarantine period could help revive Thailand's battered tourism sector. Only a tiny handful of STV tourists have arrived on the the tourist visa over the past month. The health minister said…
"The priority now is to strike a balance between people's health and the economy. Thailand still has to rely on foreign tourists. Re-opening the country to foreign visitors will help put the economy back on track."
The Minister didn't say where all these tourists might come from or speculate when a reduction on the quarantine period might be introduced.
Police arrest woman for allegedly selling fashion dental retainers
Police have arrested a woman for allegedly selling and fitting fashion dental retainers and braces.
Police seized equipment used for making dental casts and retainers found at her home in Ratchaburi and charged the 27 year old with illegally fitting fashion dental retainers.
The woman has allegedly been selling the retainers on a Facebook page under the name since November 2017, targeting mostly teenage students.
In Thailand, braces and retainers are a fashion trend and also seen as a symbol of wealth. The Thaiger suggests that if you want a set of straight teeth, go to an orthodontist.
Floods in NE Thailand as Vietnam mops up after typhoon
Flooding persists in four north eastern provinces, including Nakhon Rachasima as of this morning. All in the wake of the weakening tropical depression that crossed the Vietnamese coast on Wednesday as Typhoon Molave.
'Molave' was the most powerful typhoon to hit Vietnam in 20 years. The remnants of the tropical depression are now centred over the west of Thailand where it continues to drop plenty of rain.
At least 35 people are dead, 100s injured, and 50+ missing in Vietnam as disaster mitigation authorities are now reaching some of the worst hit areas in central Vietnam.
Keep in contact with The Thaiger by following our
Facebook page
.
Never miss out on future posts by
following The Thaiger
.
Lockdown may contribute to Thailand's rise in dengue fever cases, study suggests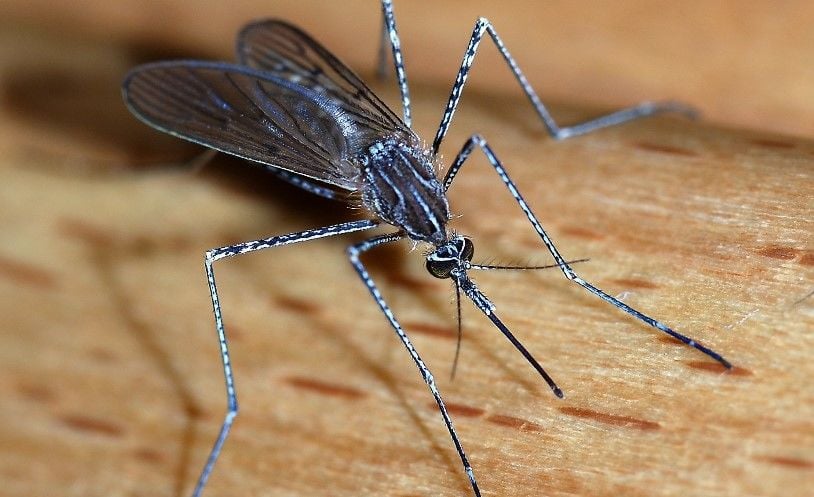 Social distancing and lockdown measures may have contributed to a rise in dengue fever in Thailand, according to a recent study funded by the Singapore Ministry of Health's National Medical Research Council.
Researchers, which included scientists from the University of Singapore, examined dengue fever cases in Malaysia, Singapore and Thailand. No impact on the dengue transmission was found in Malaysia or Singapore, but in Thailand, they found that social distancing may lead to an increase in the number of coronavirus cases. They say the largest impact is in Bangkok Researchers say social distancing is expected to lead to 4.32 additional dengue fever cases per 100,000 people in Thailand each month.
Many people in Thailand stayed at home during lockdown measures put in place to control the spread to the coronavirus, but the study found that people in Thailand are typically bitten by dengue-carrying mosquitos at home rather than at work. Some people even travelled back home to their home provinces to be with their families during the lockdown period.
"Although it is possible for dengue infections to occur in workplaces, it was found in one study that 60% of dengue cases live less than 200m apart came from the same transmission chain, revealing that residential areas are a focal point of transmission."
Reported dengue fever cases in 2019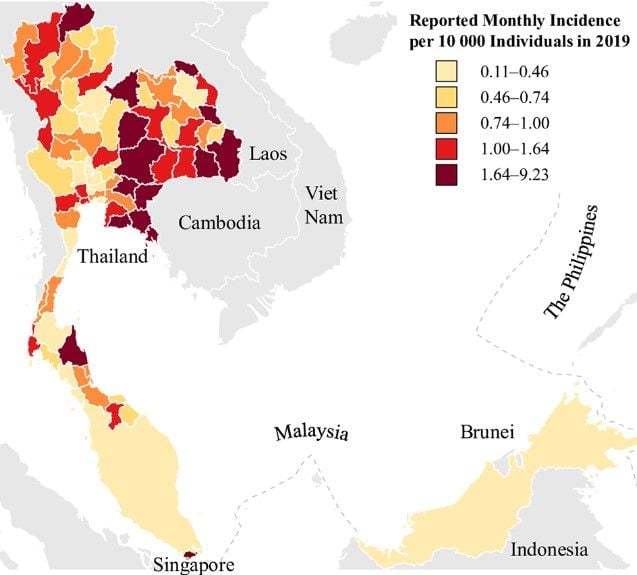 Reported dengue fever cases in 2020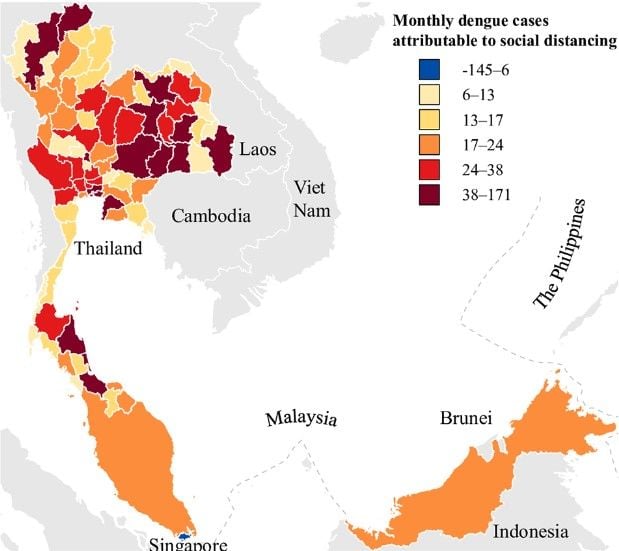 To read the full study click HERE.
Keep in contact with The Thaiger by following our
Facebook page
.
Never miss out on future posts by
following The Thaiger
.
Man arrested for allegedly driving with monitor lizards tied to his motorbike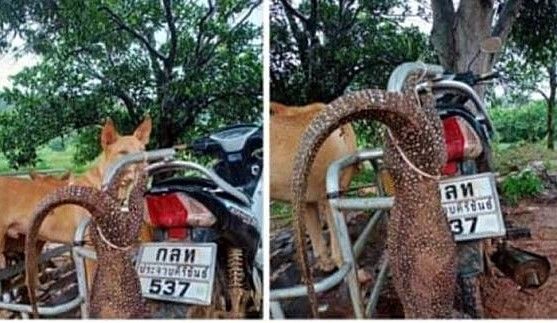 A man was arrested on animal abuse charges for allegedly catching water monitor lizards, tying them to his motorbike and driving around Prachuap Khri Khan, south of Phetchaburi province.
The man, who is identified as Chaowalit, posted photos on Facebook of lizards tied up to the back of his motorbike. One photo shows a large monitor lizard tied up to the back of the bike, hanging upside-down. Apparently, Chaowalit has been posting photos for about 4 months now on Facebook page on wildlife hunting.
Officials from the Kui Buri National Park were notified about the photos and a team of special unit officers were sent to Chaowalit's house to arrest him. He was charged with catching and harming protected wildlife as well as violating the Wild Animal Reservation Protection Act. If found guilty, he could face up to 10 years in prison and a fine up to 1 million baht.
SOURCE: Nation Thailand
Catch up with the latest daily "Thailand News Today" here on The Thaiger.
Keep in contact with The Thaiger by following our
Facebook page
.
Never miss out on future posts by
following The Thaiger
.