Phuket Gazette Thailand News: Six die in Deep South attacks; Suthep may meet top brass; New fish found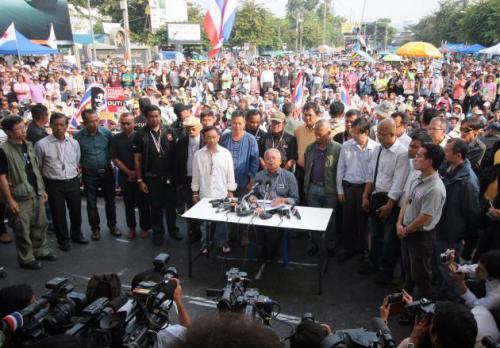 PHUKET MEDIA WATCH
– Thailand news compiled by Gazette editors for Phuket's international community
Six killed, 10 hurt in 2 attacks in South
The Nation / Phuket Gazette
PHUKET: Five soldiers were killed and 10 others injured – four seriously – in a bomb attack yesterday in Pattani's Kapho district, while a police officer was gunned down earlier in Yala's Muang district. Police investigators have put the two attacks down to the ongoing unrest in the region.
Up to 15 soldiers were travelling in a six-wheel truck from their base in Kapho district to take a break at the Army Region 4's Ingkayut Borihan camp in Nong Chik district as part of a five-vehicle convoy. However, when the convoy drove past Ban Makor School in Plong Hoy sub-district at noon, a bomb placed inside a 30-kilogram gas cylinder and buried under the road, exploded sending the six-wheeler crashing into a tree.
The deceased were identified as Phakin Phokinsirakul, Preecha Tohte, Apisak Or-ake, Natthawut Som-wong and Jakkrit Ubonjinda, all 22 years old and all holding the rank of Private. Ten others were injured, and the four seriously wounded were identified as Privates Piya-pong Inthanom, Withawat Rat-tanadilok Na Phuket, Ronnapop Loylong and Sonthaya Onnuan.
An informed source said this spot was risky as insurgents had previously launched similar attacks there
Police investigators suspect insurgency sympathisers had carried out this attack.
Earlier the authorities received a report that an unknown group had brought several home-made bombs into Kapho and Sai Buri districts.
Meanwhile, traffic policeman Pol Sub-Lieutenant Montree Saengmolee was shot dead in Yala's Muang district yesterday morning, police said.
The victim, who had survived an earlier attack, was driving to work at the Krong Penang Police Station via the Malayu Bangkok-Pong Yeurai bypass when two men on a motorbike opened fire at him at 7.54am. Montree died instantly and his attackers fled with his pistol and rifle. Police blamed separatists for this shooting.
At 3.45pm yesterday, an unknown group of armed men opened fire at two men – Jeh-usenf Awae, 25, and Russalan Ma-ae, 20 – while they were watching TV at home in Pattani's Yarang district. Around the same time, villager Lasi Panoh, 35, was shot and injured in Khok Pho district. Police are investigating to see if the shootings are related to insurgency.
Suthep says top brass ready to talk
The Nation / Phuket Gazette
PHUKET: Suthep Thaugsuban, secretary-general of the People's Democratic Reform Committee (PDRC), said last night he may meet with top military and police brass today as they had accepted his request, if the meeting is approved by the supreme commander, whom he also wants to meet.
The anti-government protest leader said he had, yesterday afternoon, requested to meet the supreme commander and commanders of the Army, Navy and Air Force as well as the commissioner-general of the National Police. In his speech last night, he said he had been trying to reach Supreme Commander General Tanasak Patimapragorn all day but in vain.
Suthep said he would wait until 8pm today and would not push for a meeting. He also cited his phone conversation with police chief General Adul Saengsingkaew, saying the police chief had agreed to meet him today though the venue and time had not been decided upon.
Also yesterday, Suthep said the PDRC planned to make its stance clear and propose solutions and objectives for political reform, and also give the five military and police officers a chance to ask about the PDRC's plans so they can decide whether to side with the general public and PDRC supporters.
The PDRC is also seeking a similar meeting, at an unspecified time and date, with representatives of the private sector, mainly professional regulatory bodies and civil society, to discuss its objectives and its stance on non-violence, peace, tolerance, openness and an unarmed campaign to free Thai politics of corruption and abuse of power.
Meanwhile, caretaker Prime Minister Yingluck Shinawatra said she was hoping the military would stay neutral politically and abide by His Majesty's speech on December 5 calling all sides to serve their duties. "If everything is run under rules and regulations, I believe all government officials will obey them," she added.
Army chief General Prayuth Chan-ocha has earlier called on all Thais to observe the rule of law and principles to bring an end to these perennial political conflicts, deputy Army spokesman Colonel Winthai Suvaree said.
"The best way is to find a path that everyone can move along together, bridge the political divide. In reality, people win some and lose some. We have to strike a balance and find a middle path that all sides can accept," Winthai quoted Prayuth as saying.
Prayuth is concerned that as civic groups and the public and private sectors are split over how to break through the current political impasse, they cannot strive towards a real solution if they fiercely believe in their own scenario.
"If this situation can be eased quickly, people can go back home and make a living as well as develop the country. The military will also carry out its duty," Prayuth was quoted as saying.
Generals Prayuth, Prawit Wongsuwan and Anupong Paochinda had not spoken to Suthep and saw no reason for dialogue as the military knows its own role, Winthai said.
Prayuth has been very cautious in his support to help tackle the country's political crisis by not injecting his personal opinions and urging all parties to avoid breaking the law and resorting to violence or confrontation, he added.
NACC to investigate backers of charter change draft
The Nation / Phuket Gazette
PHUKET: The National Anti-Corruption Commission (NACC) will meet today to consider the fate of the 312 members of the House and Senate who backed the draft legislation – since ruled by the Constitutional Court to be unconstitutional – to amend the charter in order to change the make-up of the Senate.
Vicha Mahakhun, an NACC commissioner, said yesterday the agency would open its first inquiry and launch an investigation process to find out whether these lawmakers had committed wrongful acts. Later, they will invite both complainants and defendants to testify.
He said the inquiry would take around one month, but he could not say whether the case would be finished before February 2, the day of the next election.
Commenting on the "People's Council" called for by anti-government protest leader Suthep Thaugsuban, Vicha said that this could be done through an executive decree and the caretaker government could be allowed to proceed with such a move as a possible way out of the political impasse. He said such a council would be responsible for political reform, but could not act as an alternative House of Representatives.
He disagreed with a proposal for a royally appointed prime minister, saying there was no law allowing such a move.
Asked whether caretaker Prime Minister Yingluck Shinawatra could step down, as demanded by the protesters, Vicha declined comment, but recalled that this had happened when Thaksin Shinawatra was in power. Thaksin had stepped down as caretaker prime minister, with Pol General Chidchai Vanasatidya appointed to perform prime ministerial duties
— Phuket Gazette Editors
Keep in contact with The Thaiger by following our
Facebook page
.
Never miss out on future posts by
following The Thaiger
.
Isaan woman finds her husband and 2 sons dead in well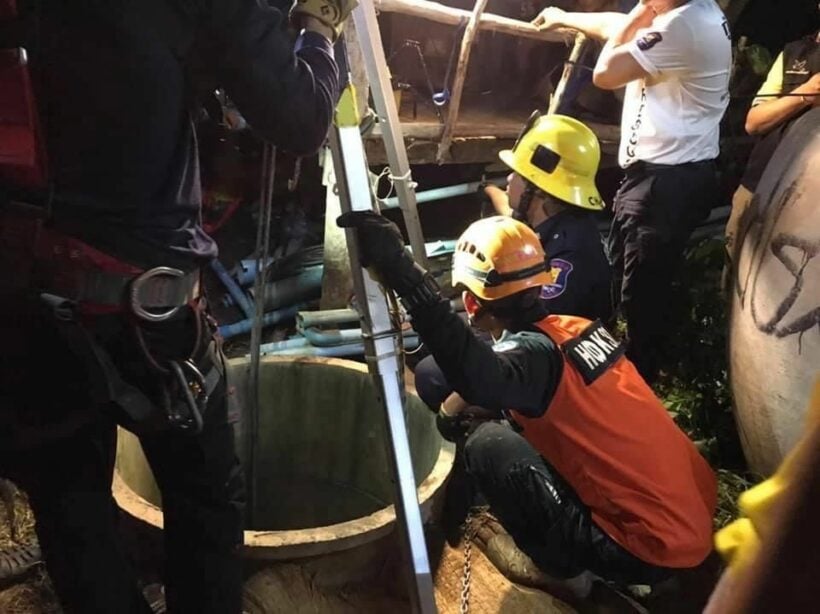 A woman found the bodies of her husband and 2 sons in the bottom of a well in the Isaan province Chaiyaphum. The father and his sons reportedly went to repair the family farm's well, but did not return.
56 year old Thong-in says her husband and sons went to repair the well in the morning. They didn't come back for lunch. When she went to check on them, she found them dead in the well.
Rescuers suspect the father, 56 year old Boonterm Buathong, and his 2 sons, 29 year old Chareonchat and 26 year old Preecha, drowned to death. The well is about a metre wide and 13 metre deep. Rescuers wore breathing apparatuses to dive to the bottom of the well to get the bodies.
SOURCE: Nation Thailand
Keep in contact with The Thaiger by following our
Facebook page
.
Never miss out on future posts by
following The Thaiger
.
Thailand News Today | Protesters face arrest | Phuket "in a coma"| September 22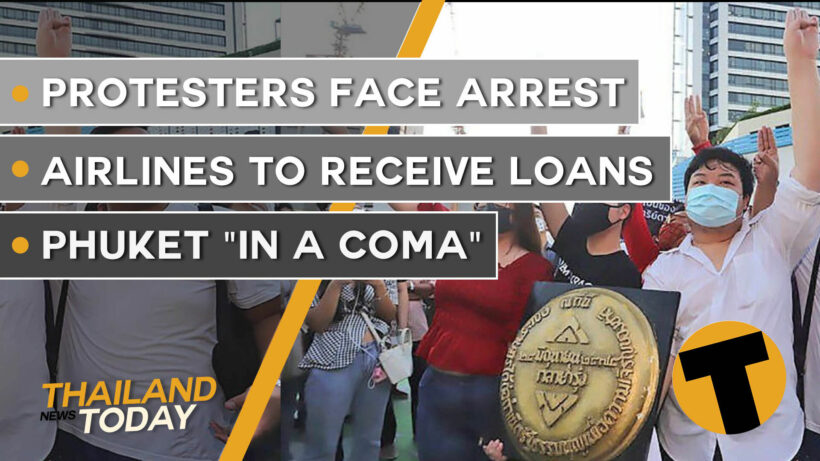 Thailand News Today with Tim Newton. Daily news from around Thailand.
Struggling airlines to get reprieve through small loans, extension to fuel tax cut
Airlines in Thailand are being offered a financial lifeline, as the Government Savings Bank announces soft loans for carriers left struggling as a result of the current Covid-19 'disruption'.
The GSB is offering the loans over a 60 month period, with an annual interest rate of 2%. The bank's chairman says the proposal will be put to Cabinet for approval.
Airlines have been left financially devastated by the fallout from the ongoing Covid-19 pandemic, with countries closing their borders, passenger numbers plummeting, and carriers forced to slash the number of flights on offer. The services available, including the food services, were also curtailed early on as a preventative measure but that restriction has since been lifted.
In a further effort to ease the financial crisis faced by Thai airlines, the Excise Department says it will extend the fuel tax cut for low-cost carriers by another 6 months from the end of this month.
Protest leaders face charges for violating Thailand's lèse majesté law and for installing the plaque
Leaders of the weekend's pro-democracy protest in Bangkok are facing charges for violating Thailand's lèse majesté laws and for installing a symbolic plaque at a "registered historical site". Police filed complaints to between 10 to 16 protesters.
It's unclear how many protesters will be charged, but a Royal Thai Police spokesperson says charges will be pressed against those who "pulled the strings." Under Thailand's lèse majesté law, it is illegal to insult or defame the Thai Monarch or royal family. Police say they will take the strongest legal actions possible against those who undermined the Monarchy, although earlier this year the Thai PM said that His Majesty had requested that such charges not be brought against Thai citizens.
Charges are also being brought against the protesters who installed a commemorative plaque in the forecourt of Sanam Luang, next to the Grand Palace. The Fine Arts Department and the Bangkok Metropolitan Administration have filed complaints with police over the installation of the plaque, saying the protesters broke the law by causing damage to an archaeological site.
Phuket's governor calls for help in restoring island's economy
The governor of Phuket has likened the southern province to a "patient in a coma", as he pleads for help to restore its devastated economy. The governor highlighted the economic crisis caused by the ongoing ban on international tourists. The island's international airport closed in April, cutting off the supply of international tourists, and cutting off the flow of international money coming into the island's tourist economy.
The latest figures show that Phuket has lost over 400 billion baht since the start of the Covid-19 pandemic. The island's economy is, either directly or indirectly, 90% reliant on a steady flow of international tourists, and has seen a massive tourist infrastructure boom over the past 20 years.
Governor Narong predicts the province will face similar hardship next year, and is calling on the government to organise conferences and other events that could attract more visitors to the province.
Sri Panwa Phuket getting social media flak after owner criticises pro-democracy protest leader
Meanwhile, the owner of the Sri Panwa Phuket resort is facing a social media storm after condemning the current pro-democracy movement and one of its main organisers. Taking to Instagram, Vorasit Issara, owner of the five-star Sri Panwa Phuket Resort, singles out the female protest leader saying "she should be in prison".
"This bullshit has got to stop. She is not Thai. Who is she working for?
Sharing a photo of Panusaya, he adds, "arrest this child." Vorasit incorrectly asserted that Panusaya wasn't Thai. In fact she was born in 1998 in Nonthaburi and IS a Thai citizen.
His post has since gone viral, prompting outrage from those who support the anti-government movement. A hashtag calling for a boycott of his Sri Panwa Phuket resort has taken off on Twitter, at a time when almost all hotels are battling for survival, especially on Phuket.
Myanmar's Covid-19 spike causes mass lockdowns as Thai authorities scramble to seal the border
Myanmar is currently suffering a wave of Covid-19, causing concern in Thailand as its western border authorities bump up security measures and patrols.
Burmese authorities have been introducing increasingly draconian restrictions to control the sudden spread of the virus over the past 4 weeks. Whilst the case load is still relatively small, the concerns are focussing on the porous western borders of Myanmar onto adjacent Bangladesh and India, as well as the spike in cases in the largest city Yangon.
Yangon is now under a very tight lockdown as the city is quickly turning into the country's hotspot of Covid-19.
There were 610 and 6 new deaths in the past 24 hours. Yesterday 671 new cases of Covid-10 were reported
Indonesia's economy shrinks for the first time in 22 years
Indonesia's economy will contract for the first time since the Asian financial crisis in 1997/1998.
Gross domestic product is forecast to decline over 1% this year according to the country's Finance Minister. He said…
Southeast Asia's largest economy is struggling to contain the coronavirus pandemic as the number of new cases each day continues to set records. The worsening outbreak prompted the renewal of social-distancing curbs in Jakarta, measures that had battered growth in the second quarter this year.
Keep in contact with The Thaiger by following our
Facebook page
.
Never miss out on future posts by
following The Thaiger
.
PM orders Thai police to collaborate with Interpol to bring Boss back to Thailand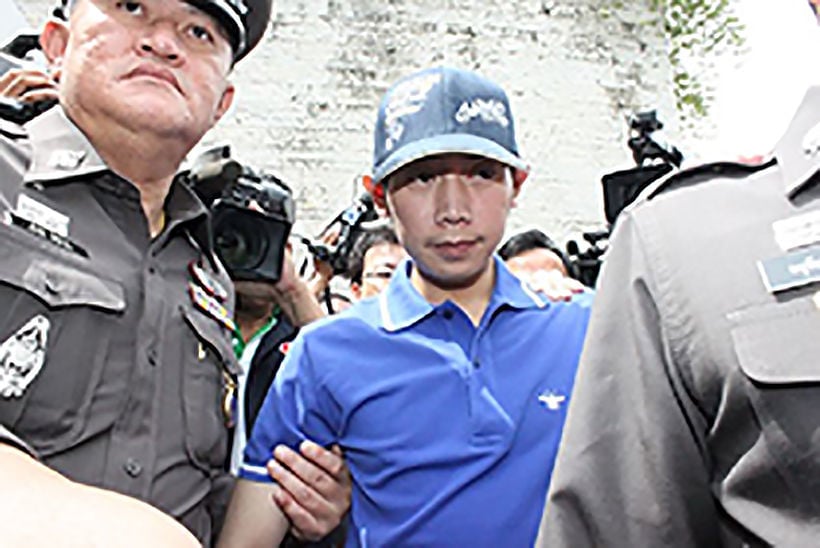 The Thai PM is ordering Thai police to work with Interpol, the International Criminal Police Organisation, to find Vorayuth "Boss" Yoovidhya and bring him back to Thailand for prosecution. The Red Bull heir has been on the run since 2017 and faces charges reckless driving causing death and using cocaine, charges which date back to the incident in 2012 in Bangkok.
In 2012, Boss allegedly sped his Ferrari down Sukhumvit Road in Thong Lor, running over and dragging a 47 year old police officer 100 metres down the road, killing him.
Prosecutors have now officially indicted Boss on the reckless driving causing death and drugs charges, the Office of the Attorney General announced last Friday. The recent indictment, more than 8 years after the fatal crash, follows public backlash after Boss's cases were dropped altogether in July by the deputy attorney general.
PM Prayut Chan-o-cha made a post on his Facebook page saying he ordered police to work with international authorities to find Boss and bring him back to Thailand for trial. He says a Red Notice has been issued and he expects an update by next week.
"I ask every officer to handle this matter correctly and effectively."
Boss, the son of the co-owner of the Red Bull energy drink empire, fled the country in 2017. His hearings were delayed 7 times. He reportedly packed up and fled to Singapore on his family's private jet just 2 days before he was due to face charges. Since then, Boss has been seen and photographed at his family home in London as well as at Red Bull events.
The story has caused ongoing rage in Thai social media with people using the cases as proof Thailand's warped justice system where wealth and power can help you bypass official investigations.
There has been no comment from the Yoovidhya family, Boss or his legal representation since last week's official prosecution.
SOURCES: Nation Thailand | Thai PBS
Keep in contact with The Thaiger by following our
Facebook page
.
Never miss out on future posts by
following The Thaiger
.