Phuket Gazette Thailand News: Six die in Deep South attacks; Suthep may meet top brass; New fish found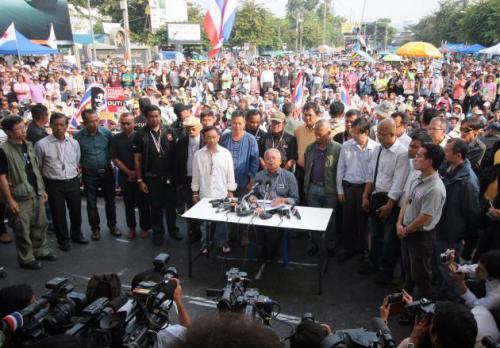 PHUKET MEDIA WATCH
– Thailand news compiled by Gazette editors for Phuket's international community
Six killed, 10 hurt in 2 attacks in South
The Nation / Phuket Gazette
PHUKET: Five soldiers were killed and 10 others injured – four seriously – in a bomb attack yesterday in Pattani's Kapho district, while a police officer was gunned down earlier in Yala's Muang district. Police investigators have put the two attacks down to the ongoing unrest in the region.
Up to 15 soldiers were travelling in a six-wheel truck from their base in Kapho district to take a break at the Army Region 4's Ingkayut Borihan camp in Nong Chik district as part of a five-vehicle convoy. However, when the convoy drove past Ban Makor School in Plong Hoy sub-district at noon, a bomb placed inside a 30-kilogram gas cylinder and buried under the road, exploded sending the six-wheeler crashing into a tree.
The deceased were identified as Phakin Phokinsirakul, Preecha Tohte, Apisak Or-ake, Natthawut Som-wong and Jakkrit Ubonjinda, all 22 years old and all holding the rank of Private. Ten others were injured, and the four seriously wounded were identified as Privates Piya-pong Inthanom, Withawat Rat-tanadilok Na Phuket, Ronnapop Loylong and Sonthaya Onnuan.
An informed source said this spot was risky as insurgents had previously launched similar attacks there
Police investigators suspect insurgency sympathisers had carried out this attack.
Earlier the authorities received a report that an unknown group had brought several home-made bombs into Kapho and Sai Buri districts.
Meanwhile, traffic policeman Pol Sub-Lieutenant Montree Saengmolee was shot dead in Yala's Muang district yesterday morning, police said.
The victim, who had survived an earlier attack, was driving to work at the Krong Penang Police Station via the Malayu Bangkok-Pong Yeurai bypass when two men on a motorbike opened fire at him at 7.54am. Montree died instantly and his attackers fled with his pistol and rifle. Police blamed separatists for this shooting.
At 3.45pm yesterday, an unknown group of armed men opened fire at two men – Jeh-usenf Awae, 25, and Russalan Ma-ae, 20 – while they were watching TV at home in Pattani's Yarang district. Around the same time, villager Lasi Panoh, 35, was shot and injured in Khok Pho district. Police are investigating to see if the shootings are related to insurgency.
Suthep says top brass ready to talk
The Nation / Phuket Gazette
PHUKET: Suthep Thaugsuban, secretary-general of the People's Democratic Reform Committee (PDRC), said last night he may meet with top military and police brass today as they had accepted his request, if the meeting is approved by the supreme commander, whom he also wants to meet.
The anti-government protest leader said he had, yesterday afternoon, requested to meet the supreme commander and commanders of the Army, Navy and Air Force as well as the commissioner-general of the National Police. In his speech last night, he said he had been trying to reach Supreme Commander General Tanasak Patimapragorn all day but in vain.
Suthep said he would wait until 8pm today and would not push for a meeting. He also cited his phone conversation with police chief General Adul Saengsingkaew, saying the police chief had agreed to meet him today though the venue and time had not been decided upon.
Also yesterday, Suthep said the PDRC planned to make its stance clear and propose solutions and objectives for political reform, and also give the five military and police officers a chance to ask about the PDRC's plans so they can decide whether to side with the general public and PDRC supporters.
The PDRC is also seeking a similar meeting, at an unspecified time and date, with representatives of the private sector, mainly professional regulatory bodies and civil society, to discuss its objectives and its stance on non-violence, peace, tolerance, openness and an unarmed campaign to free Thai politics of corruption and abuse of power.
Meanwhile, caretaker Prime Minister Yingluck Shinawatra said she was hoping the military would stay neutral politically and abide by His Majesty's speech on December 5 calling all sides to serve their duties. "If everything is run under rules and regulations, I believe all government officials will obey them," she added.
Army chief General Prayuth Chan-ocha has earlier called on all Thais to observe the rule of law and principles to bring an end to these perennial political conflicts, deputy Army spokesman Colonel Winthai Suvaree said.
"The best way is to find a path that everyone can move along together, bridge the political divide. In reality, people win some and lose some. We have to strike a balance and find a middle path that all sides can accept," Winthai quoted Prayuth as saying.
Prayuth is concerned that as civic groups and the public and private sectors are split over how to break through the current political impasse, they cannot strive towards a real solution if they fiercely believe in their own scenario.
"If this situation can be eased quickly, people can go back home and make a living as well as develop the country. The military will also carry out its duty," Prayuth was quoted as saying.
Generals Prayuth, Prawit Wongsuwan and Anupong Paochinda had not spoken to Suthep and saw no reason for dialogue as the military knows its own role, Winthai said.
Prayuth has been very cautious in his support to help tackle the country's political crisis by not injecting his personal opinions and urging all parties to avoid breaking the law and resorting to violence or confrontation, he added.
NACC to investigate backers of charter change draft
The Nation / Phuket Gazette
PHUKET: The National Anti-Corruption Commission (NACC) will meet today to consider the fate of the 312 members of the House and Senate who backed the draft legislation – since ruled by the Constitutional Court to be unconstitutional – to amend the charter in order to change the make-up of the Senate.
Vicha Mahakhun, an NACC commissioner, said yesterday the agency would open its first inquiry and launch an investigation process to find out whether these lawmakers had committed wrongful acts. Later, they will invite both complainants and defendants to testify.
He said the inquiry would take around one month, but he could not say whether the case would be finished before February 2, the day of the next election.
Commenting on the "People's Council" called for by anti-government protest leader Suthep Thaugsuban, Vicha said that this could be done through an executive decree and the caretaker government could be allowed to proceed with such a move as a possible way out of the political impasse. He said such a council would be responsible for political reform, but could not act as an alternative House of Representatives.
He disagreed with a proposal for a royally appointed prime minister, saying there was no law allowing such a move.
Asked whether caretaker Prime Minister Yingluck Shinawatra could step down, as demanded by the protesters, Vicha declined comment, but recalled that this had happened when Thaksin Shinawatra was in power. Thaksin had stepped down as caretaker prime minister, with Pol General Chidchai Vanasatidya appointed to perform prime ministerial duties
— Phuket Gazette Editors
Want more from the Thaiger family?
📱 Download our app on Android or iOS for instant updates on your mobile
📧 Subscribe to our daily email newsletter
👍 Like/Follow us on Facebook
🔔 Subscribe to or Join our YouTube channel for daily video updates
Poll: Work from home popular, reduces Covid-19, helps gov't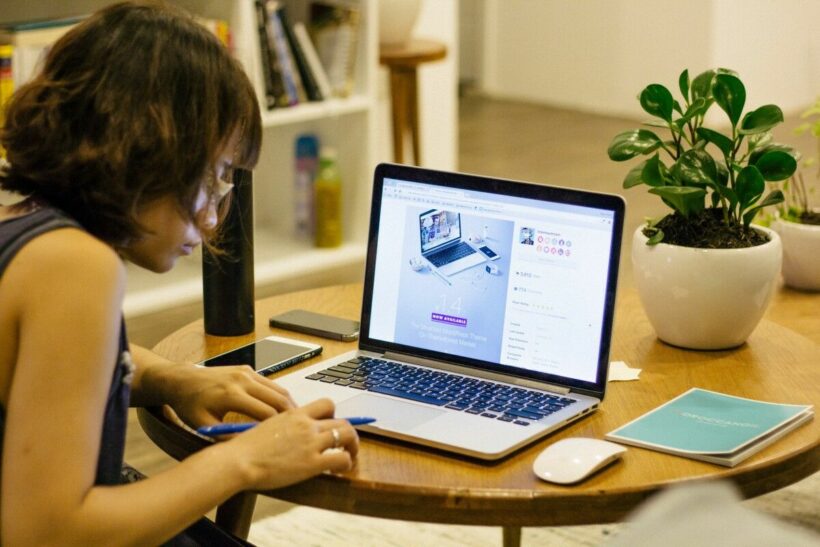 As far as strategies to reduce the risk of Covid-19 infections goes, work from home policies may be the most popular, far more liked than masks and lockdowns. In a recent poll by Suan Dusit Rajabhat University, 1,533 people in Thailand were asked about their opinions on working from home. The majority of responses were well in favour of it.
The Suan Dusit poll was conducted online and found that when asked about various opinions and attitudes towards working from home, nearly 75% of respondents believed that staying home to work made them feel safer and could prevent Covid-19 from spreading more. Nearly half also felt like working from home was a good way to cooperate with government policies regarding Covid-19.
Nearly 43% of those polled were working from home. Only about 23% of people never worked from home, while just under 35% of people worked in some combination of home and at their office or place of business. Just over 40% of respondents said they lacked the equipment at home that would allow them to work from home.
While people generally like to work from home, those surveyed did believe that there were pros and cons to it. 44% felt working from home gave them more personal time for themselves and more time with their families. 88% believed it had a positive effect on the Covid-19 pandemic and 70% loved how working from home reduced travel and commute costs. Over 60% viewed it as a way to help the government in their struggle against Covid-19.
On the downside, about 66% of those surveyed complained that they saw an increase in their household bills as their usage of water, electricity and internet went up. 62% had trouble without their normal work equipment and 46% said slow communication was an issue.
Oddly though, when asked which they preferred, only 18% completely favoured working from home, while double the amount preferred the office and 37% liked both equally. Just under 9% gave no opinion. Overall though, work from home as a Covid-19 fighting policy had a success rating of 70% by those polled.
SOURCE: Bangkok Post
Want more from the Thaiger family?
📱 Download our app on Android or iOS for instant updates on your mobile
📧 Subscribe to our daily email newsletter
👍 Like/Follow us on Facebook
🔔 Subscribe to or Join our YouTube channel for daily video updates
Covid UPDATE: 2,302 new infections and 24 deaths, provincial totals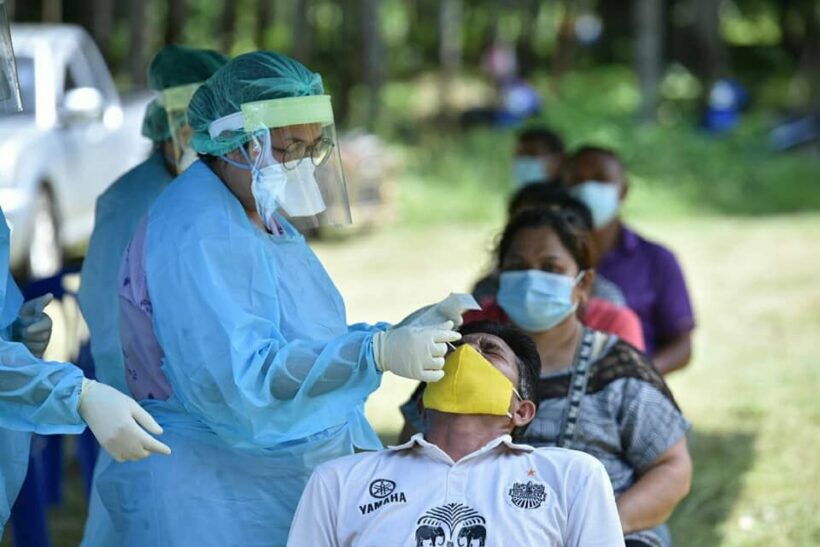 The CCSA have announced 2,302 new infections and 24 Covid-related deaths over the past 24 hours. There's now been a total of 101,447 infections and 589 deaths since the start of Thailand's tally on January 18, 2020. More than 64,000 are registered as 'recovered'. 35,055 people remain under treatment at public and field hospitals.
More news briefs on the Covid situation below.
Here are the provincial totals for Sunday as reported from the past 24 hours.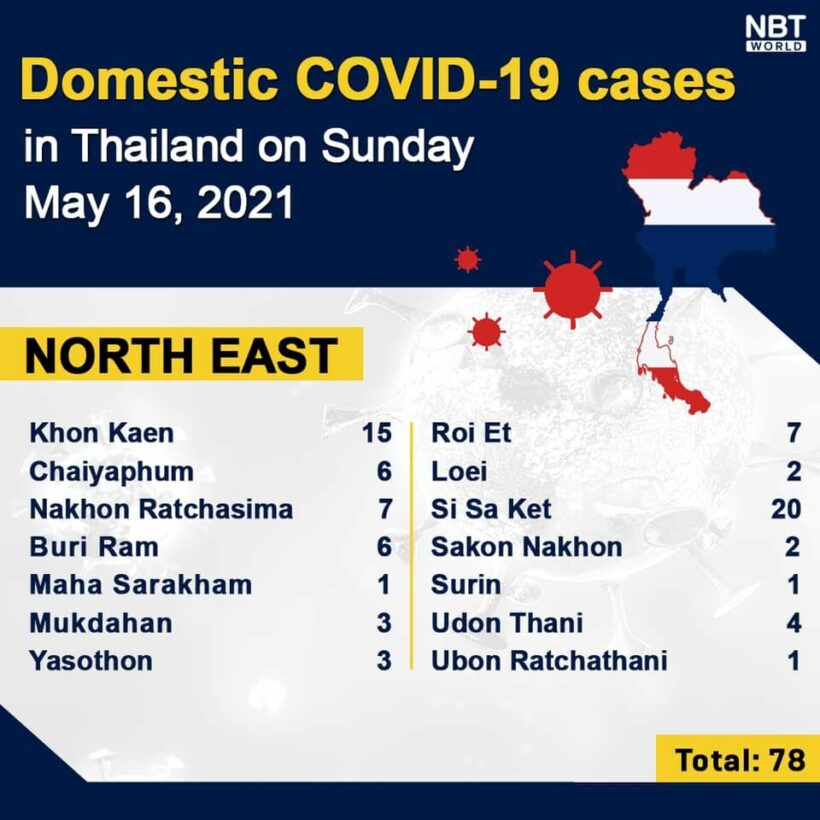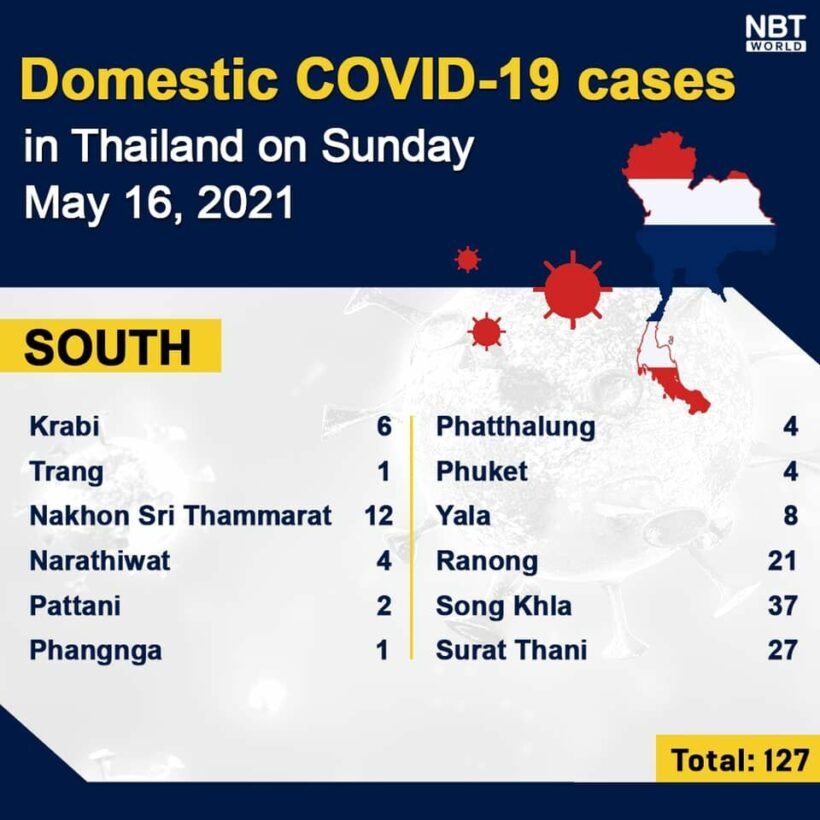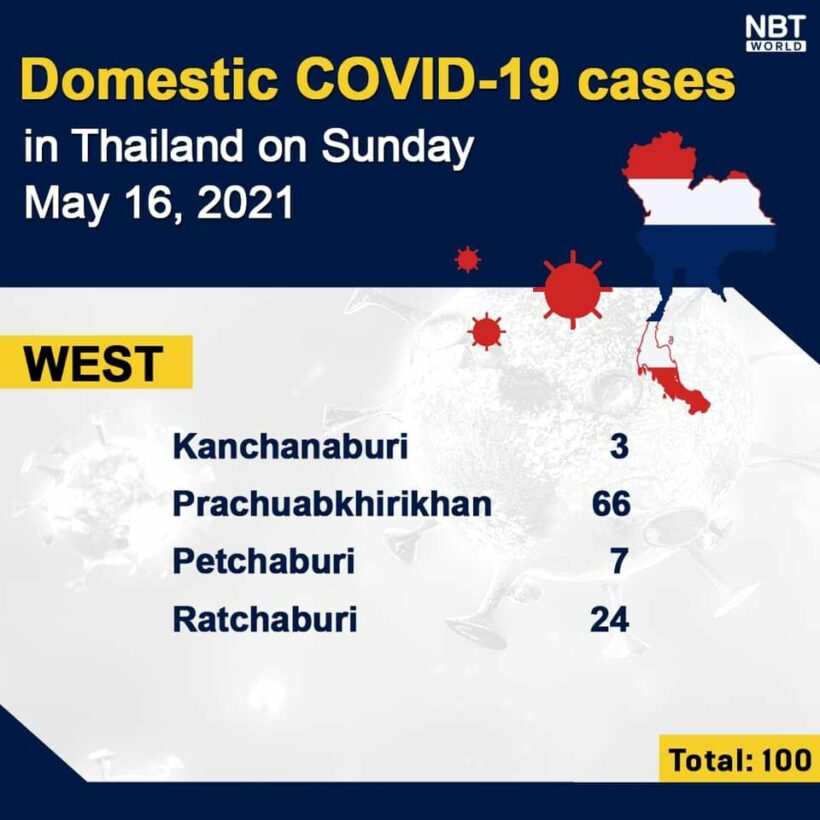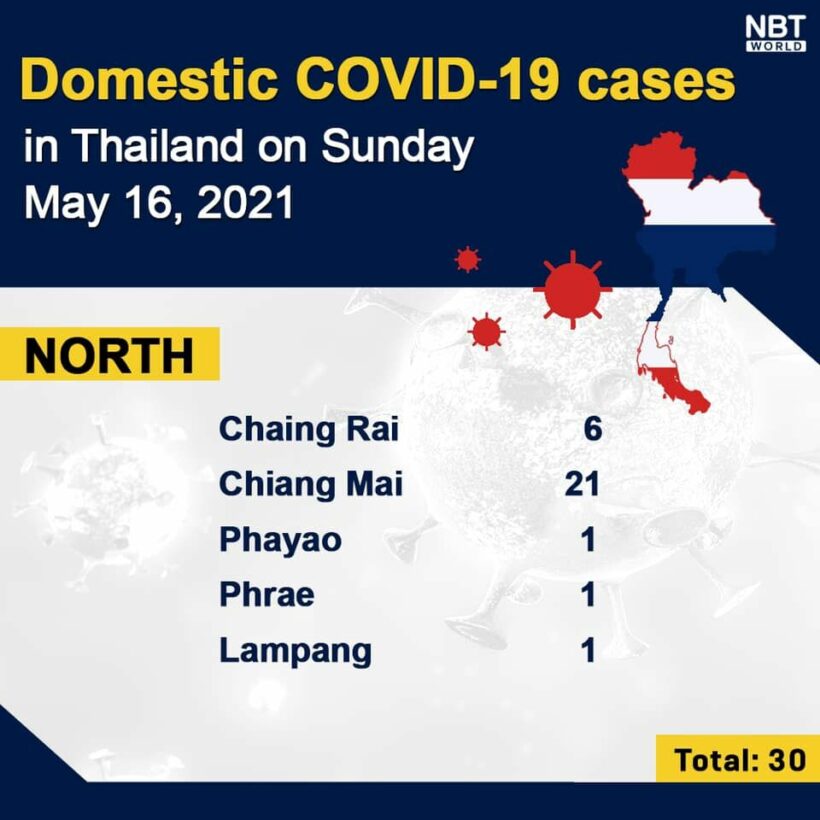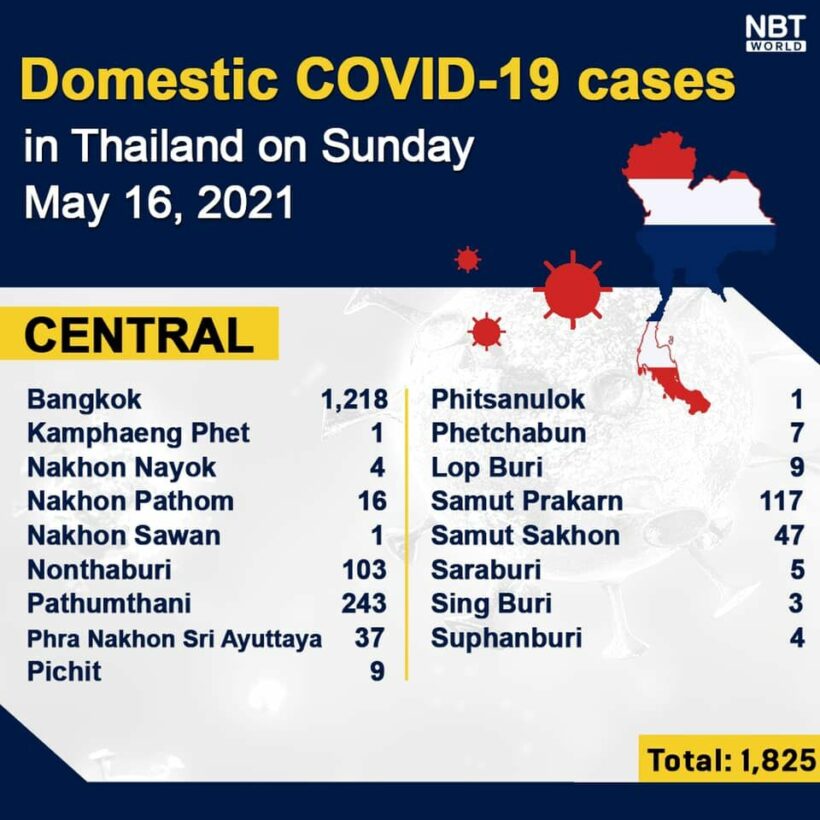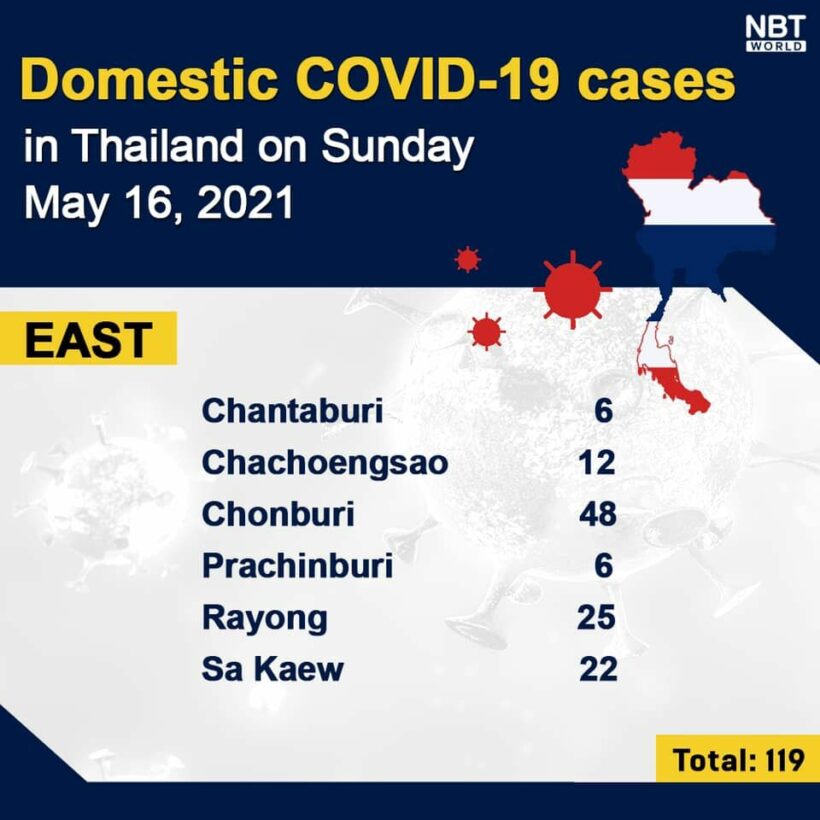 • A new study highlights the often maligned effectiveness of the Sinovac and AstraZeneca Covid-19 vaccine, showing they are both quite effective in boosting the immune system against the Coronavirus. The Center of Excellence in Clinical Virology of the Faculty of Medicine at Chulalongkorn University conducted the study that found that one month after the first shot of AstraZeneca, over 97% of people had developed immune responses. Results were not yet in for the second injection.
Three weeks after the first injection of the Sinovac vaccine, just under 66% of people had developed immune responses, but four weeks after the second injection, that number jumped to an impressive 99.49%.
Full report HERE.
• Indonesia is temporarily halting distribution of a single batch of AstraZeneca vaccine to check for "sterility and toxicity" The temporary action follows reports of a few adverse effects after immunisations.
The batch consists of 448,480 vaccine doses that arrived in the southeast Asian nation last month, part of a delivery of more than 3.85 million doses. Some of the doses have been distributed in part of the capital, Jakarta, and the province of North Sulawesi.
• Starting Monday, restaurants in Bangkok, Nonthaburi (immediately north of Bangkok), Pathum Thani, and Samut Prakan (south east of Bangkok) will be allowed to offer dine-in services at 25% of seating capacity until 9pm.
Restaurants in other 17 Red Zone provinces will be allowed to stay open until 11pm without seating limitations. Restaurants in the other Orange Zone provinces will be allowed to resume "normal operations", though alcoholic beverages may not be served anywhere across the country. In the Red Zones, schools can open as normal with permission from local and provincial authorities. In the Orange Zone schools can open without permission but under the latest rules.
• The Office of the PM has dismissed as false online rumours that Her Majesty the Queen was infected with Covid-19.
The office urged people to monitor Covid-19 news from a reliable channel, such as the Facebook page of the Centre for Covid-19 Situation Administration.
• Chonburi and Chiang Mai are being removed rom the dark red zone, or maximum control area, due to an improvement in the Covid situation in those 2 areas.
"If this proposal is approved by the prime minister, there would only be 4 provinces designated as dark red zone, namely Bangkok, Nonthaburi, Pathum Thani and Samut Prakan."
Chonburi, with only 33 new infections yesterday, will be moved to the orange zone, or medium control area, joining 16 other provinces… Kanchanaburi, Chachoengsao, Tak, Nakhon Pathom, Nakhon Si Thammarat, Narathiwat, Prachuab Khiri Khan, Ayutthaya, Phetchaburi, Yala, Ranong, Rayong, Ratchaburi, Samut Sakhon, Songkhla and Surat Thani.
Phuket was also downgraded into the Orange Zone category.
Want more from the Thaiger family?
📱 Download our app on Android or iOS for instant updates on your mobile
📧 Subscribe to our daily email newsletter
👍 Like/Follow us on Facebook
🔔 Subscribe to or Join our YouTube channel for daily video updates
Thailand's colour zones change from Monday – some restrictions ease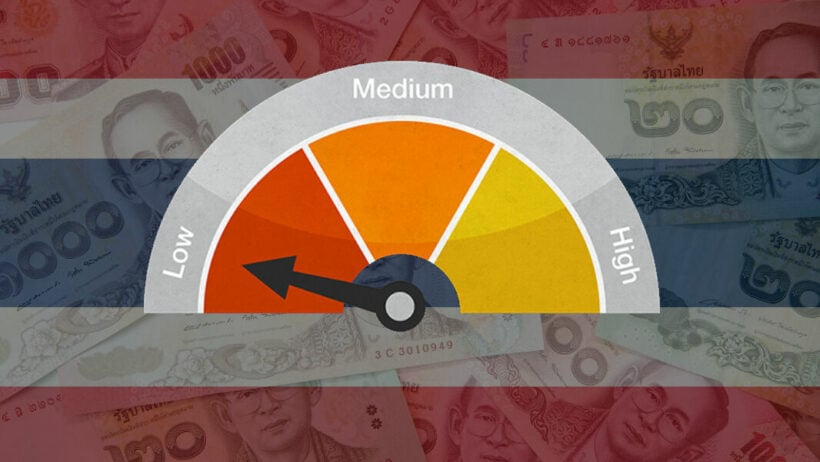 From tomorrow we'll see the resumption of limited dine-in services in restaurants located in the remaining 4 Dark Red zones of Bangkok, Nonthaburi, Pathum Thani and Samut Prakan.
Restaurants in these 4 provinces will now be able to resume dining on premises, until 9pm. But they can only seat 25% of their full capacity. So, a table for 4 can only seat 1 person, while takeaways can still be provided until 11pm. The serving of alcohol in these areas is still prohibited.
Schools and other educational institutions in Dark Red zones also remain prohibited from holding in-person classes and activities in their buildings.
Meanwhile, Chiang Mai and Chon Buri were removed from the list of Dark Red zones. Currently, there are 17 provinces considered Red zones, where dine-in services are permitted until 11pm, without the serving of alcohol. Phuket was downgraded to an Orange Zone.
Thailand still had no provinces categorised as Green or even Yellow yet, but hopefully, the downward trend continues. The zone layout now is: 4 Dark Red zones, 17 Red zones, 56 Orange zones for 77 provinces total.
The updated province colour-coded zones are…
DARK RED ZONE

Bangkok

 

Nonthaburi

Pathum Thani

 

Samat Prakan

RED ZONE

Ayutthaya Chonburi Chachoengsao Kanchanaburi Nakhon Pathom Nakhon Si Thammarat

Narathiwat Prachuap Khiri Khan Phetchaburi Ranong Rayong

Ratchaburi Samut Sakhon Songkhla Surat Thani Tak 

Yala

ORANGE ZONE

Amnat Charoen Ang Thong Bueng Kan Buriram Chai Nat Chaiyaphum Chanthaburi Chiang Mai Chiang Rai Chumphon Kalasin Kamphaeng Phet Khon Kaen Krabi Lampang Lamphun Loei Lopburi Mae Hong Son

Maha Sarakham Mukdahan Nakhon Nayok Nakhon Phanom Nakhon Ratchasima Nakhon Sawan Nan Nong Bua Lamphu Nong Kai Pattani Phang Nga Phatthalung Phayao Phetchabun Phichit Phitsanulok Phrae Phuket

Prachinburi Roi Et Sa Kaeo Sakon Nakhon Samut Songkram Saraburi Satun Sing Buri Sisaket Sukhothai Suphanburi Surin Trang Trat Ubon Ratchathani Udon Thani Uthai Thani Uttaradit Yasothon
There may still be some provincial-centric restrictions remaining. Keep up with your local media for the latest announcements.
SOURCE:PR Thai Government
Want more from the Thaiger family?
📱 Download our app on Android or iOS for instant updates on your mobile
📧 Subscribe to our daily email newsletter
👍 Like/Follow us on Facebook
🔔 Subscribe to or Join our YouTube channel for daily video updates