Phuket photographer revels in retro-pinup revival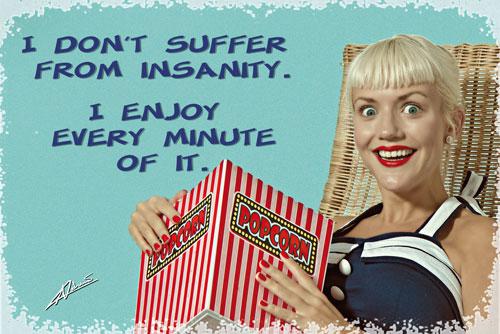 PHUKET: "You don't know what you want! Luigi know what you want!"
The Italian photographer holding his camera out to the side, his other hand gesturing – thumb pressed against the tips of his fingers as if he's plucking something out of the air and shaking it – is not Luigi.
It's Adriano Trapani of Phuket Paparazzi. Standing in front of him against his kitchen wall, speed lights setup around her, is Texan model Lindsay Mayfield, who volunteered to step away from her traditional glamour and high-fashion work to do a shoot for Adriano's most recent project: Darren Wotz-inspired retro pinups.
American style pinups, such as Esquire's Vargas girls, were racing across the Pacific in mass by WWII. But in the west, pinups have a history dating back to the 19th century, when burlesque performers and actresses would promote themselves with photo advertisements. With these images, the performers constructed their identities, often challenging conventions about the place and potential of women in the public sphere. Adriano is now adding to that history as he works with professional models, Phuket school teachers and anyone else with the right spark.
To keep with the tradition of challenging social norms, each photo in Adriano's collection has a sassy or borderline insane Darren Wotz-inspired quote scrawled across it:
"If you want breakfast in bed, sleep in the kitchen!" says one; "I don't need to control my anger. Everyone around me needs to control their habit of pissing me off," says another.
"It started as kind of an experiment and now it is starting to get into my blood, and it's getting better and better every time," Adriano says.
Electric swing is blasting from the living room and Lindsay, dressed in a 1960s red-and-white dress, is standing in front of the camera, the bowl of a glass of red wine gently cradled in her palm. Adriano calls out to her, she holds a smile as – snap, snap, snap – bursts the camera accompanied by speed lights.
"I'm glamour beauty," Lindsay admits. "This is my first smiling shot in my portfolio – it feels odd."
The professional makeup artists, Katherine Gabriela, Lindsay and Adriano crowd around the camera and flip through the photos.
"Bella!" says Katherine.
"The secret is to let the model participate. By letting them choose the quote, they can kind of start feeling it. I try to do the shoot in a friendly environment. Despite having a studio, I've done most of them here in the kitchen," Adriano says.
"Every time I do a photo shoot like this kind of thing, where everyone puts in their own ideas and creativity, it's almost like a play in the theater. Out of almost nothing you recreate something. It's almost magical," he says, hands carving up the air around him.
The "set" is a cozy western kitchen with an oven and a spice rack complete with oregano and red chilis hanging over the stove.
"Its prerogative is to be sexy, but not too revealing. Sometimes it's more if you see less… you have more to think about, instead of seeing it as if they're in the centerfold of Penthouse," he explains.
The catalyst for the project started far from Phuket, in Finland. Adriano was on a European tour and found himself thumbing through a collection of pinup postcards by Darren Wotz with quotes such as, "You say I'm a b*tch like it's a bad thing."
After making connections through a social network for models and photographers, Adriano stepped out of the 21st century.
"Both those Swedish models I shot at their homes – the very particular thing about these two models is that they are living pinups," Adriano says, recounting the birth of the project. "As in they go dressed up like that to their jobs. Their kitchens are vintage style, their clothing is vintage style, their make up, everything."
For Adriano, and perhaps any photographer, something so true to itself was the best environment to work in, to make it look and feel real. "Once I got back from this European tour, I started asking friends and teachers, some of them models, to take part."
Blending retro-style trends with Darren Wotz-style quotes that tap into some real attitude that leaves viewers wanting more, but not quite sure it's safe, Adriano's hunt continues in Phuket in the hopes of shooting at least another 15 to 35 pinups for the collection.
Keep checking our Lifestyle pages for the latest happenings across Phuket. Alternatively, join our Facebook fan page or follow us on Twitter.
— Isaac Stone Simonelli

Join the conversation and have your say on Thailand news published on The Thaiger.
Thaiger Talk is our new Thaiger Community where you can join the discussion on everything happening in Thailand right now.
Please note that articles are not posted to the forum instantly and can take up to 20 min before being visible. Click for more information and the Thaiger Talk Guidelines.