Phuket Gazette Thailand News: Rice rally violence alert; Police seek Lak Si gunmen, arrest Kwanchai shooter; EC petitions PM on new poll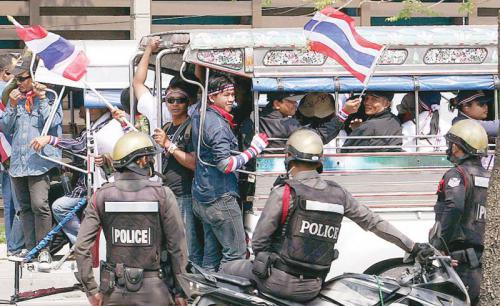 PHUKET MEDIA WATCH
– Thailand news compiled by Gazette editors for Phuket's international community
NSC warns of violence over rice rally
The Nation / Phuket Gazette
PHUKET: The National Security Council (NSC) yesterday warned of a possible escalation in violence as rice farmers link up with anti-government protesters to mount pressure on Prime Minister Yingluck Shinawatra and her crew to step down.
Thousands of farmers have vowed to rally today at the Office of the Permanent Secretary for Defence to demand not only that the government's rice-pledging scheme pay them, but also that the whole Cabinet step down to let others solve the problem for them.
Yingluck reportedly often works at this office instead of Government House after the anti-government People's Democratic Reform Committee (PDRC) sprang up and won solid support from Bangkok residents.
NSC secretary-general Paradorn Pattanatabut said flocks of farmers have now taken to the streets to seek overdue payment and the PDRC is apparently keen on wooing them to its side.
Some of the farmers have already shown up on PDRC stages in the past few days and some of them have petitioned the anti-graft body to investigate the controversial rice scheme and impeach the government.
The PDRC will today go on another fund-raising march to help the farmers' fight for their claim to payment after the first such drive last Friday.
The government's rice-pledging scheme now owes about Bt130 billion to over one million farmers. The repeatedly postponed payments have made many farmers desperate and others furious.
Protesting farmers have come from many provinces, including some seen as the Pheu Thai Party's strongholds.
Northern Farmers Network chairman Kittisak Rattanawaraha said more than 10,000 farmers from his zone have already headed to Bangkok to join the demonstration.
Hundreds of farmers were seen leaving Phitsanulok for Bangkok for the same cause.
"Violent incidents have often taken place at the PDRC rally site on Chaeng Wattana Road," Paradorn said.
This rally site is close to the Defence Permanent Secretary's Office, where the farmers will converge today.
Paradorn remained vague about whether Yingluck would meet with the farmers.
"If she does not come to the office, other ministers will directly talk to the farmers," he said.
Caretaker Commerce Minister Niwatthumrong Boonsongpaisan said he was ready to go to the farmers' rally site in front of the Commerce Ministry, where they have camped out for days already.
"In fact, they don't even need to come to the Defence Permanent Secretary's Office," he said.
The government is now planning to consult the Election Commission (EC) on the legality of using Bt1.2 billion from the central budget for the payment of interest to rice millers who agree to accept farmers' certificates in the rice-pledging scheme as mortgages for loans.
The government has been struggling for months to secure a bridge loan to continue financing the rice-pledging scheme.
After Yingluck dissolved the House of Representatives on December 9, her government is just a caretaker and needs EC approval on several issues.
Election Commissioner Somchai Srisuthiyakorn said on Facebook that there was no point in the government consulting the EC on the interest payment proposal because the Cabinet has not yet issued a resolution on the issue.
Nipon Poapongsakorn of the Thailand Development Research Institute suggested that the government ask the Council of State to approve a plan for the government to provide interest payments to commercial banks that agree to accept the farmers' certificates as loan collateral.
Caretaker Deputy Commerce Minister Yanyong Phuangrach said the ministry would release 1.2 million tonnes of rice from the government's stocks on Thursday in the hope that it would earn Bt10 billion to pay off farmers for the latest crop under the rice-pledging scheme, Nation Channel reported. Some 227,000 tonnes from 11 granaries in eight provinces would be offered through the Agricultural Futures Exchange of Thailand, of which 167,000 tonnes will be 5-per-cent white rice and the rest jasmine rice.
Some 460,000 tonnes will be sold through a general auction and the remaining 500,000 tonnes to millers.
Manus Kitprasert, president of the Thai Rice Millers Association, said he would circulate letters to members to inform them that the government has proposed to sell rice to them.
"We are ready to buy the rice from the government, but the rice we buy will be at the same prices as those set by the general bidding," he said.
Will the government be able to arrange a mortgage of farmers' rice-pledging certificates via rice millers? The mortgage is the latest proposed solution to the rice-pledging project's repeatedly postponed payments to farmers.
Government: The government has been struggling to find money to continue financing its rice-pledging project for months already. It now hopes that rice millers can help. If the plan goes ahead, farmers will be able to mortgage certificates they got for rice submitted under the scheme to millers and get money quickly. The government will pay interest for 'mortgage' funds using Bt1.2 billion from a central budget. Farmers will not get fully paid via this option, but will at least get some funds now and get the remaining portion later.
Due to its caretaker status, the current government cannot simply pull out money from the central budget. It would need to consult the Election Commission (EC) first.
EC commissioner Somchai Srisuthiyakorn:
• The government will need to determine first whether this is a budget request for an emergency and possible under laws. If yes, the Cabinet must issue a resolution to make a budget request before raising the matter with the EC.
• The EC will not grant any approval if there is no Cabinet resolution.
Police seek help identifying gunman involved in shooting at Lak Si
The Nation / Phuket Gazette
PHUKET: Three photos have been uploaded to the National Police spokesman's Facebook page showing the face of a man suspected of using a war weapon concealed by a plastic popcorn bag during the bloody clash involving anti-government protesters at the Lak Si intersection on February 1.
The police spokesman asked that anyone with information on this man send the details to police via a Facebook message.
According to the Erawan Emergency Medical Service Centre of the Bangkok Metropolitan Administration, seven people were wounded during the exchange of fire at Lak Si and one of them was still in hospital.
On Saturday, two people were hurt when an explosive was hurled into an anti-government rally site in the morning, reports said.
The local newspaper quoted police as saying they suspected the attack was carried out by opponents of the protesters trying to bring down the caretaker government of Prime Minister Yingluck Shinawatra.
The pre-dawn blast at the rally site at the Chaeng Wattana government complex north of Bangkok wounded a demonstrator and a security guard, according to police.
The attack raised tensions following the February 2 snap general election, which was boycotted by the opposition Democrat Party and blocked by anti-government groups in Bangkok and much of the South.
Meanwhile, a police source said the Udon Thani Court has approved arrest warrants for six more men
— Phuket Gazette Editors
Want more from the Thaiger family?
📱 Download our app on Android or iOS for instant updates on your mobile
📧 Subscribe to our daily email newsletter
👍 Like/Follow us on Facebook
🔔 Subscribe to or Join our YouTube channel for daily video updates
'Safe zone' in Thailand for refugees fleeing Myanmar violence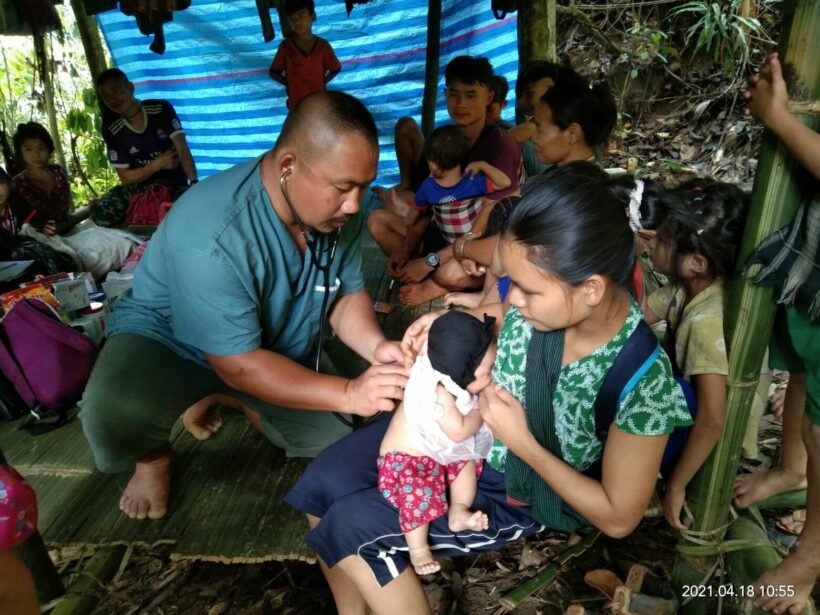 Due to the ongoing violence between the Myanmar military and ethnic troops, the Thai military has set up a "safe zone" for thousands of refugees in Mae Hong Son near the Salween River, the natural border between Thailand and Myanmar.
The prominent armed wing of the Karen National Union has openly supported the anti-coup movement in Myanmar, leading to clashes with the military junta. Recently, the Karen National Liberation Army reported took over a military outpost near the Thai border. Those just across the Salween River in Thailand said they could hear the gunshots and explosions.
Defence Ministry spokesperson Kongcheep Tantravanich says shelter and humanitarian assistance are being provided for around 2,200 people who have fled Myanmar.
Kongcheep says the "safe zone" is under tight security and only those authorised can enter. There are strict health and disease control measures are in place to prevent the spread of Covid-19.
His statement comes after the local civil rights group People of Salween River Basin Network called on the Thai government not to push refugees back, claiming that Thai soldiers had been ordered to tell the refugees to return to their home country due to a potential negative impact with border trade.
They say the Myanmar military has been carrying out airstrikes on Karen army bases and many Karen villagers fear for their safety.
Mae Hong Son governor, Sitthichai Jindaluang, also told a United Nations representative last week that refugees have been given shelter and assistance.
SOURCE: Bangkok Post
Want more from the Thaiger family?
📱 Download our app on Android or iOS for instant updates on your mobile
📧 Subscribe to our daily email newsletter
👍 Like/Follow us on Facebook
🔔 Subscribe to or Join our YouTube channel for daily video updates
Covid UPDATE: 1,630 new cases and 22 deaths, provincial totals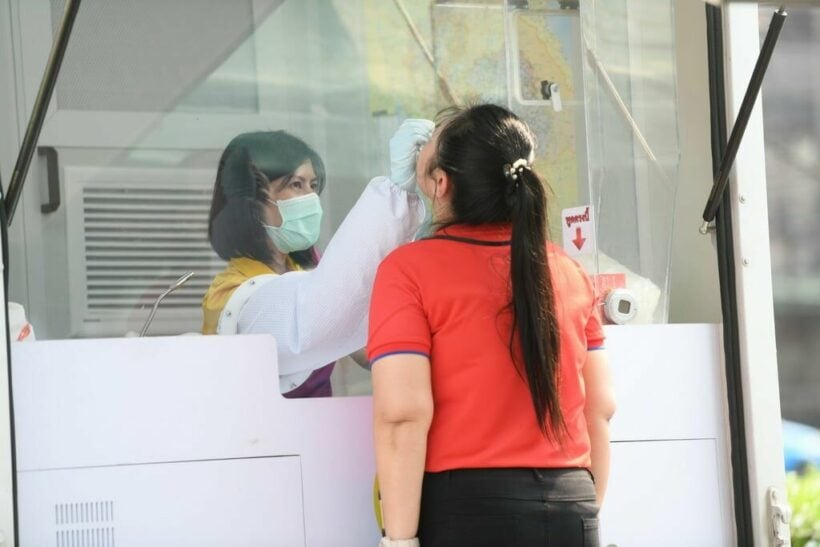 1,630 new Covid-19 cases and 22 coronavirus-related deaths were reported today in the Centre for Covid-19 Situation Administration's daily briefing. There are now 29,376 active Covid-19 cases. Since the start of the pandemic last year, the CCSA has reported 85,005 Covid-19 cases and 421 Covid-related deaths.
Out of the 22 deaths, most of the patients had chronic illnesses. Many contracted the virus from family members or close friends.
Most of the new cases were detected in Bangkok, particularly in districts with crowded communities and markets. While cases in Bangkok continue to be high, CCSA spokesperson Natapanu Nopakun says the number of new cases in most other provinces in Thailand is decreasing.
Health officials are rolling out proactive case finding campaigns in several high-risk communities, testing 9,000 to 10,000 per day, Nopakun says, adding that officials are working to provide the appropriate treatment as quickly as possible.
Those who test positive for Covid-19 and are asymptomatic must stay at an official field hospital for 14 days and then self-isolate at home for another 14 days.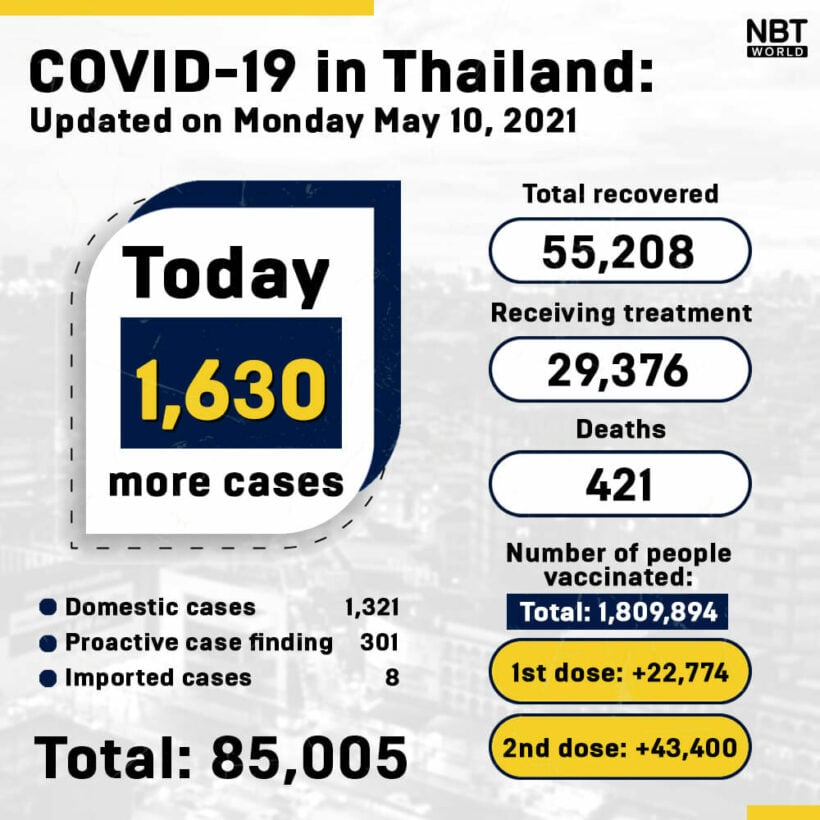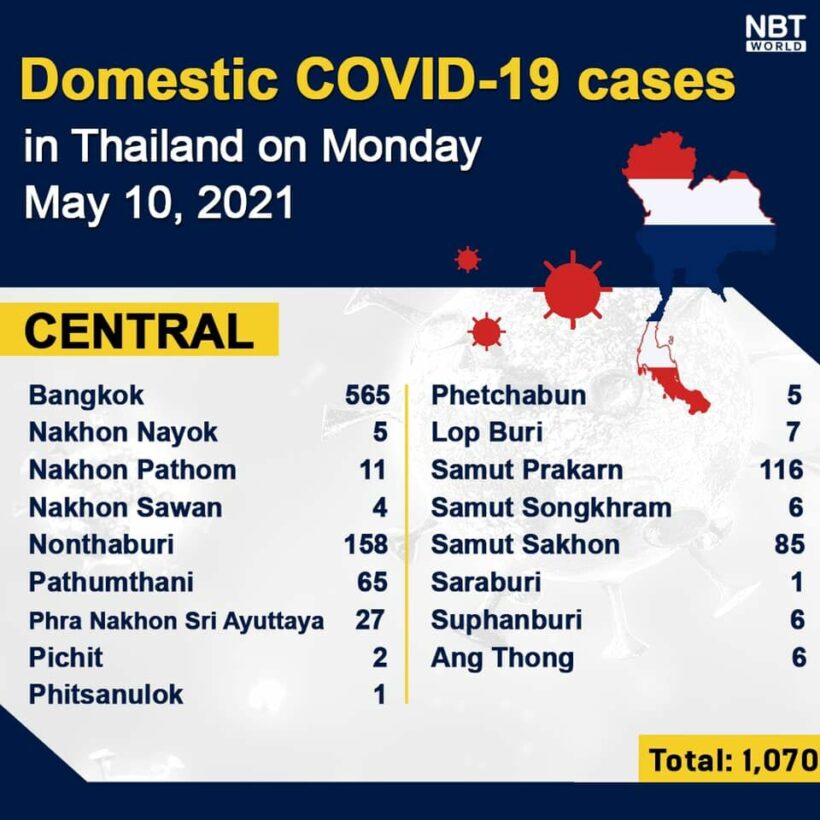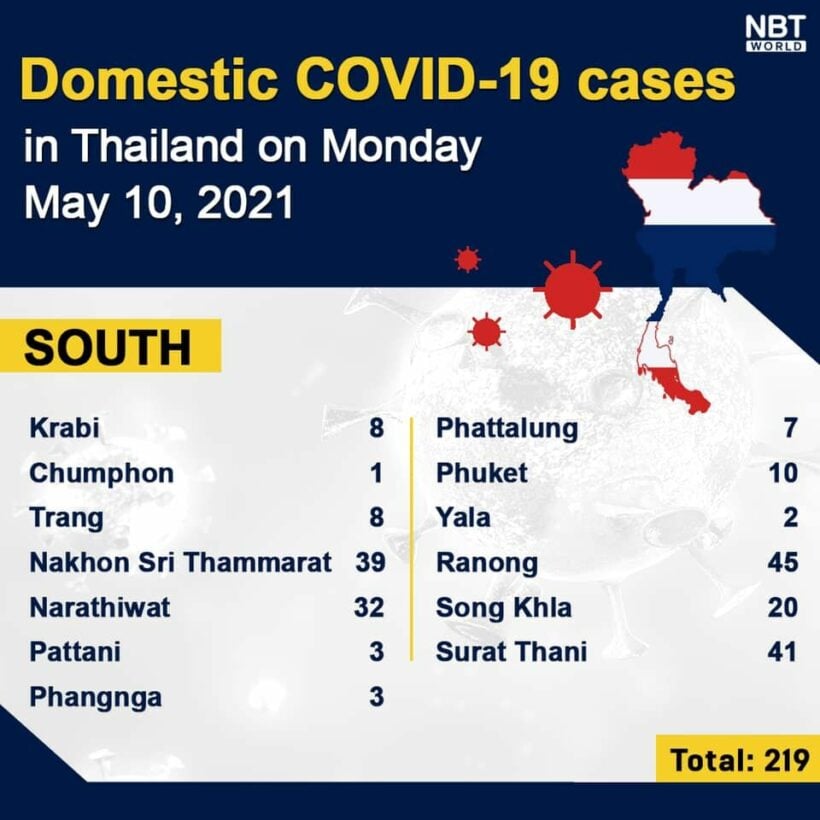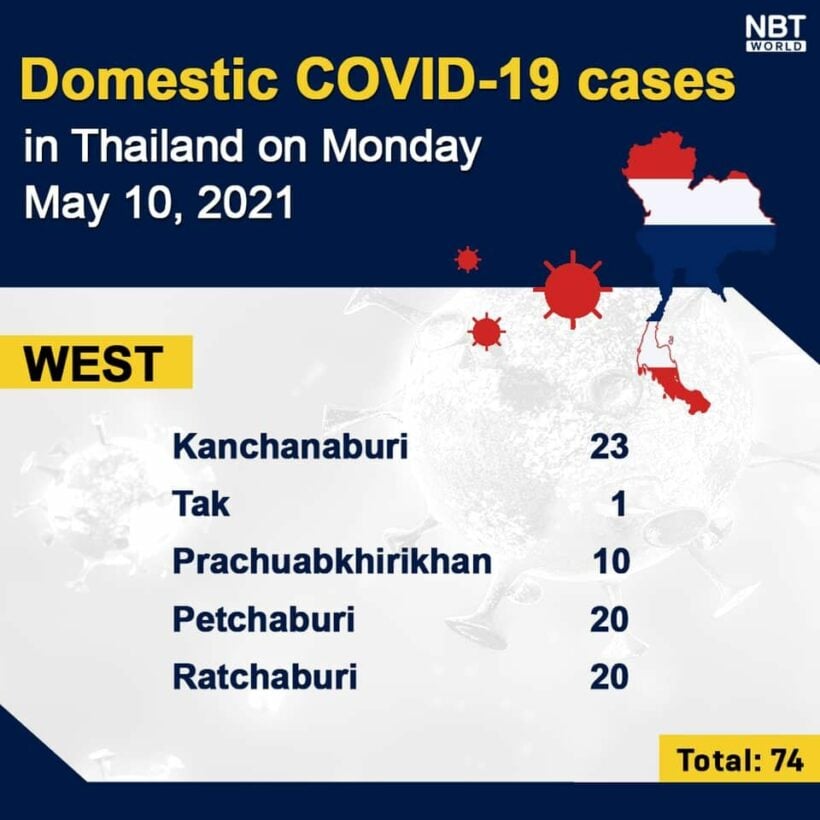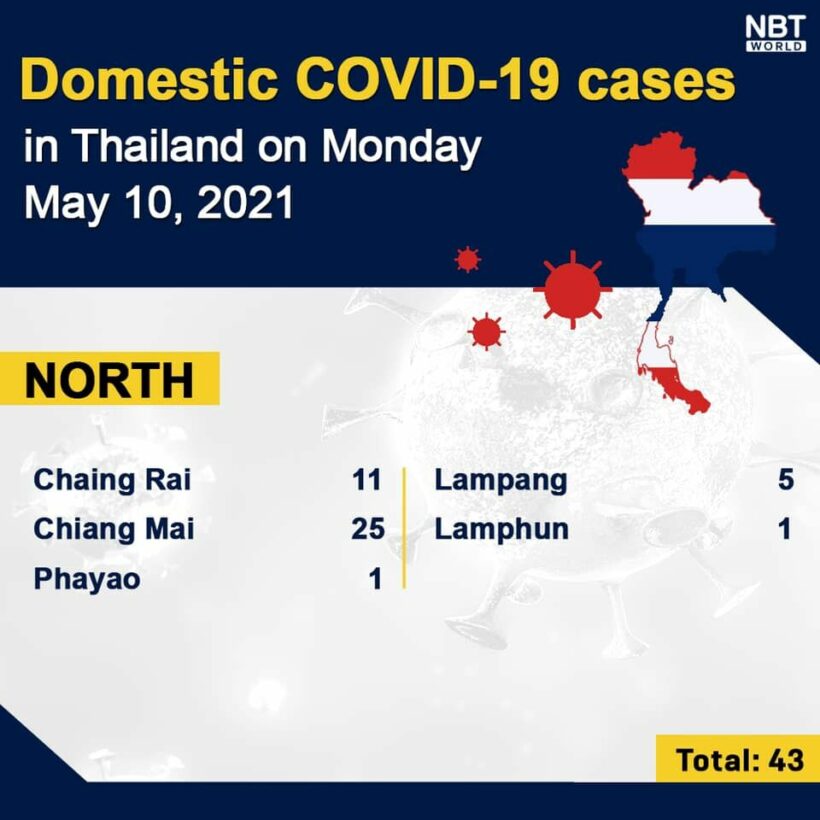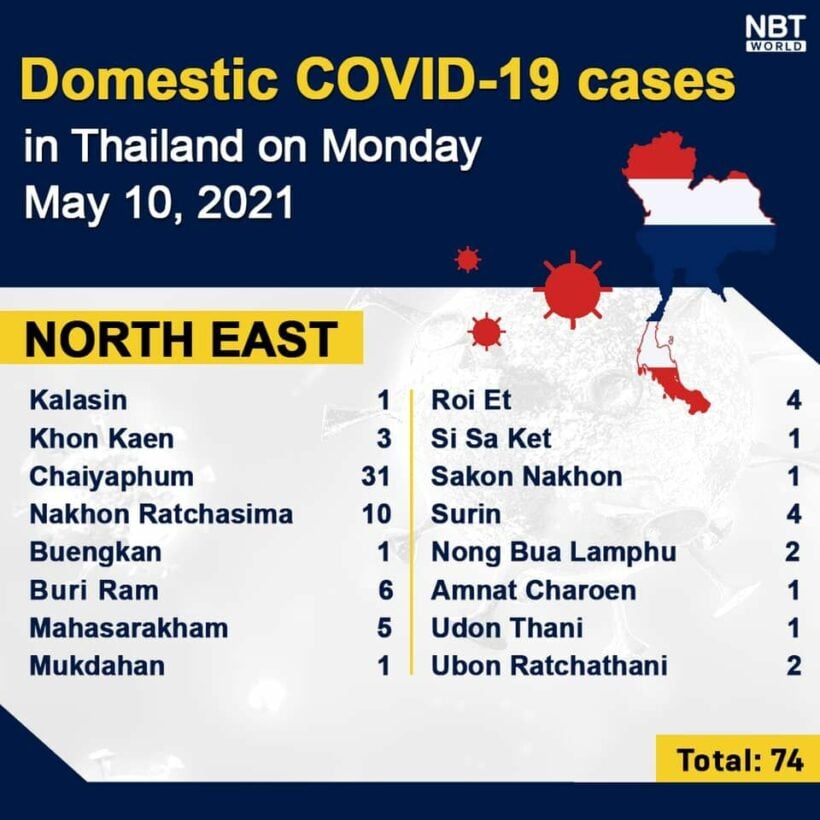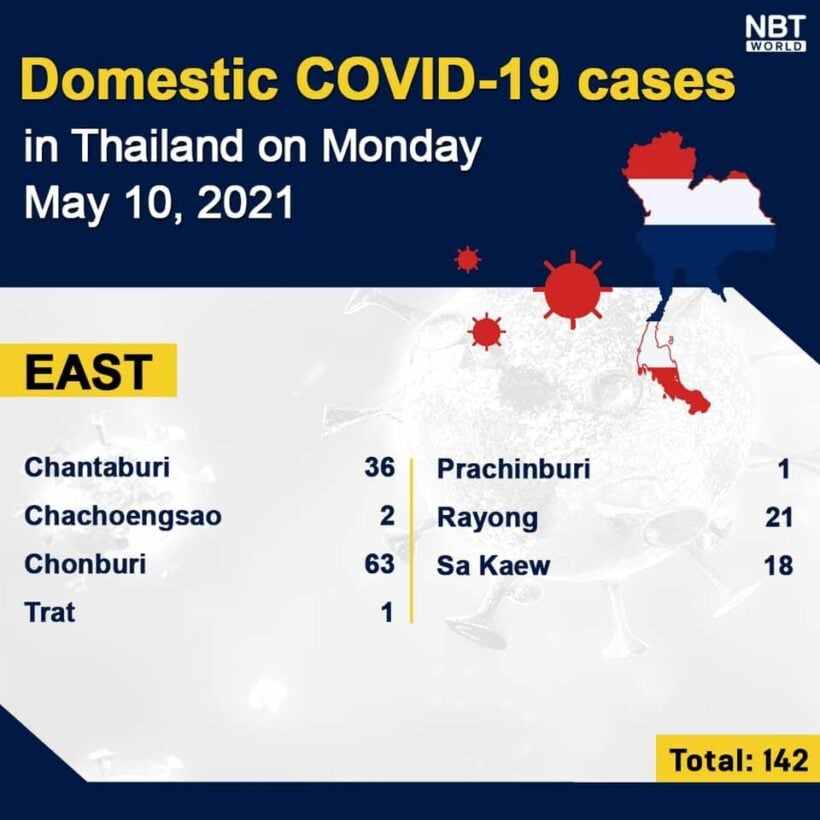 Want more from the Thaiger family?
📱 Download our app on Android or iOS for instant updates on your mobile
📧 Subscribe to our daily email newsletter
👍 Like/Follow us on Facebook
🔔 Subscribe to or Join our YouTube channel for daily video updates
Thailand donates cash, equipment to Laos to help combat Covid-19 outbreak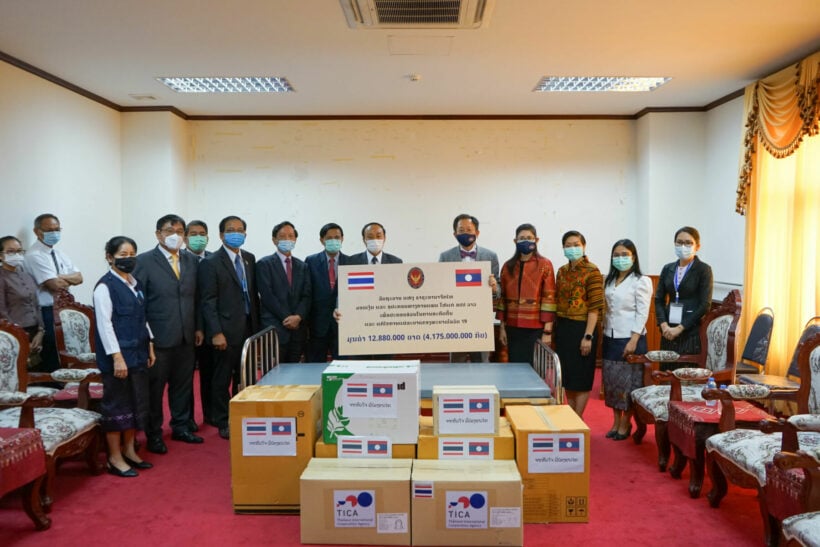 With Laos, just north of Thailand, under lockdown measures to control a spike of Covid-19 infections, the Royal Thai Embassy to Laos helping the country combat the outbreak and has donated cash and materials valued altogether at more than 16 million baht.
While cases have remained low in Laos since the start of the pandemic last year with active cases typically under 10, there was a spike in cases in mid-April and active cases are now at 1,302. The country reported its first coronavirus-related death yesterday.
Donations from Thailand help supply mobile biosafety labs to conduct swab Covid-19 testing and beds for Covid-19 patients as well as protective equipment such including 50,000 medical masks and more than 2,000 Personal Protective Equipment, or PPE, outfits.
An order of supplies valued at 8.5 million baht is set to be delivered by the end of the month. That order will have 2,000 more PPE outfits, Covid-19 test equipment, DNA/RNA extraction kits, and 2,500 test kits. Other equipment provided by Thailand include a defibrillator, patient monitoring machine, infrared thermometers, oxygen regulators, and pulse oximeters.
SOURCE: Nation Thailand
Want more from the Thaiger family?
📱 Download our app on Android or iOS for instant updates on your mobile
📧 Subscribe to our daily email newsletter
👍 Like/Follow us on Facebook
🔔 Subscribe to or Join our YouTube channel for daily video updates