Phuket Gazette Thailand News: Rice contamination fears grow; Floating parade marks Buddhist Lent; Sadao named in Deep South ceasefire; Ramkhamhaeng bombers in court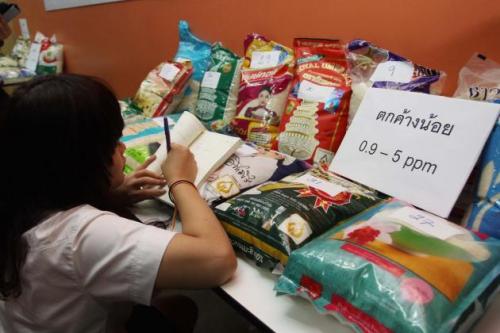 PHUKET MEDIA WATCH
– Thailand news compiled by Gazette editors for Phuket's international community
Govt urged to inspect rice for contamination
The Nation / Phuket Gazette
PHUKET: A consumer watchdog is calling on the government to inspect packaged rice after random tests found several samples to be tainted with high levels of methyl bromide, which is used to kill rice-eating bugs.
Meanwhile, three state agencies – the Agriculture Department, the Medical Sciences Department and the Food and Drug Administration (FDA) – said they found no contamination in tests they conducted earlier.
Saree Ongsomwang, secretary-general for the Foundation for Consumers, said her agency had teamed up with the Bio Thai Foundation to collect 46 random samples of packaged rice sold under 36 brands to test for chemical substances, including methyl bromide, organophosphate, carbamate compounds and fungicide.
All samples, collected between June 19 and 27 from supermarkets, retail shops and department stores, were tested at an independent laboratory.
Tests found that 12 of the 46 samples were free of contamination, but traces of methyl bromide were found in 34 samples, of which one sample was found to have exceeded the safe level with 67.4 milligram per kilogram of the chemical. As per the United Nations' Food and Agriculture Organisation (FAO) codex, levels of methyl bromide in food should not exceed 50mg per kg.
"We do not intend to damage anybody's reputation. We just want to raise public awareness on the safety of packaged rice and urge related agencies to boost the standards," Saree said.
Meanwhile, Niphon Popattanachai, director-general of the Medical Sciences Department, said he had instructed officials to inspect the brands found to have been contaminated and check if these products have been registered with the FDA.
"People should not panic over the report as the contamination is still within safe limits," he said.
Previously, the department teamed up with the FDA to conduct tests on 54 samples of packaged rice and found very small traces of methyl bromide and no sign of any other related pesticides.
Separately, the Agriculture Department tested 10 brands of rice and found no contamination.
A representative of the packaged rice brand that was found to have high levels of methyl bromide said his firm would recall all tainted products from the market, but wanted the Foundation for Consumers to provide them with more details such as lot numbers. He said he would conduct further investigation.
"No related agencies have said anything about the health impacts of consuming rice with high levels of methyl bromide," he said, adding that he was not thinking of filing a lawsuit against the foundation yet.
Concern over Sadao's link with far South
The Nation / Phuket Gazette
PHUKET: Concern is growing among the business sector in the South about a Barisan Revolusi Nasional (BRN) statement that includes Sadao district in Songkhla in a temporary ceasefire for the terror-plagued region. The statement is a threat to Sadao's vibrant economy, the Songkhla Chamber of Commerce said.
Democrat Party deputy leader Thaworn Senneam yesterday urged Prime Minister Yingluck Shinawatra as well as National Security Council Secretary-general Lt General Paradorn Pattanatabutr to officially deny that Sadao is a part of the violence-ravaged zone. "From 2004 until now, Sadao has never seen any unrest," the Democrat said.
Somporn Siriporananon, who chairs the Songkhla Chamber of Commerce, said the recent BRN statement had already had some psychological effects.
"The private sector, in particular investors, is worried. If Sadao becomes a part of the unrest zone, the business framework and guidelines may have to change," he said.
Somporn said he therefore supported the call for the government to announce firmly that Sadao is by no means part of the zone of unrest. "Without a clear stance from the authorities, problems will arise," he warned.
According to Thai authorities, the unrest only affects Pattani, Yala, Narathiwat, and four districts in Songkhla – Chana, Thepha, Na Thawi and Saba Yoi.
BRN, which has had several rounds of talks with Thai officials, announced a ceasefire plan for Ramadan. While the announcement was welcomed, several figures were concerned about its inclusion of Sadao.
According to Thaworn, Sadao attracts about 2 million tourists each year. Imports and exports via this border town are in the tune of about Bt500 billion. "I ask why Thai authorities have kept silent for many days – the BRN statement came out last Friday," Thaworn said.
Paradorn yesterday tried to play down concerns about the inclusion of Sadao, explaining that a number of Thais would return from Malaysia to Sadao during the Ramadan – that was why the BRN included Sadao in the ceasefire plan. "BRN wants peace for Sadao too," he said.
Deputy PM Pracha Promnog, who oversees security affairs, said he would need more time to discuss the matter with relevant officials before deciding whether the government should issue a letter of protest over BRN's inclusion of Sadao.
With the start of Ramadan, unrest in the South looks to have subsided.
"During the first six days of the Ramadan, only one violent incident erupted and the two victims sustained minor injuries. The situation was much better than the same period in recent years," Pracha said.
However, Yala saw three shootings on Monday and yesterday. Two victims died and the other sustained injuries. "We are investigating these cases," Yala police chief Maj-General Phira Boonliang said.
Parade of floating candles marks Buddhist Lent
The Nation / Phuket Gazette
PHUKET: Ladchado, a small community in Ayutthaya province, marks the arrival of Vassa, the Buddhist Lent on Monday with a modest yet spectacular candle festival on Monday that sees the candles carried to temples in a long and colourful procession of boats..
"Like many things in Ladchado, the candle festival is celebrated along the waterway. Boats and canals play a major role in our lives," says an official from Ladchado Administration Office. "Imagine hundreds of small sampans and other boats, decorated with flowers and colourful parasols bobbing in the water as they emerge from the far side of canal."
Tucked away in Phak Hai district, Ladchado is about 40 kilometres west of downtown Ayutthaya. Named after the canal that links Ayutthaya and Suphan Buri, the old community dates back to the 16th century, when the Ayutthaya Kingdom ruled over the Chao Phraya Basin and the Central Plain. Ladchado had to wait until the 21st Century before it drew attention from outsiders, although two early episodes of the popular Boonchu movies were shot in the area.
The peaceful lifestyle, remote setting as well as the old, charming marketplace of Ladchado are gradually becoming known among weekenders, who come to the community to get away from the stress of city life and take advantage of the home-stay facilities offered by the villagers.
With amateur lensmen uploading spectacular photos to the Internet, Ladchado has also become known as one of the best places to see the candle festival.
Together with other Buddhist communities across the country, Ladchado will celebrate the candle f
— Phuket Gazette Editors
Keep in contact with The Thaiger by following our
Facebook page
.
Thailand road toll: 554 dead this month, 11,462 this year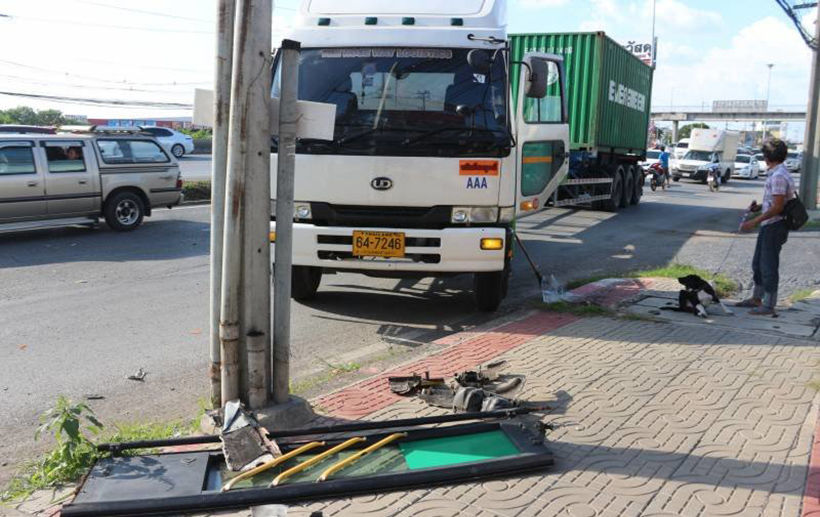 PHOTO: U-Turn crash in Bangkok – Daily News
Daily news reports fatalities at the scene of accidents yesterday claimed the lives of 21 people. Yesterday was a busy day on Thailand's roads at the end of a long weekend.
They say the numbers reported are only those that die at the scene. In reality, when hospital deaths and all regions report their stats, the figures end up much higher.
So far this October 554 have died at the scene of accidents resulting in a yearly total nationwide of 11,462. Thailand is recognised by the World Health Organisation as the fifth highest road toll in the world, per capita.
Figures are reported daily by Daily News who highlight the need to be vigilant at U-turns in their story about this air-conditioned bus (above)on Route 29 that collided with the back of a container truck.
Seven passengers on the bus were injured in the accident on Pahonyothin Road near the Kesri 5 housing estate in Klong 1, Klong Luang district north of Bangkok. The truck driver was trying to execute a U-turn at the time.
SOURCE: Daily News | ThaiVisa
Keep in contact with The Thaiger by following our
Facebook page
.
Thailand's swift response to the 'fall armyworm' pest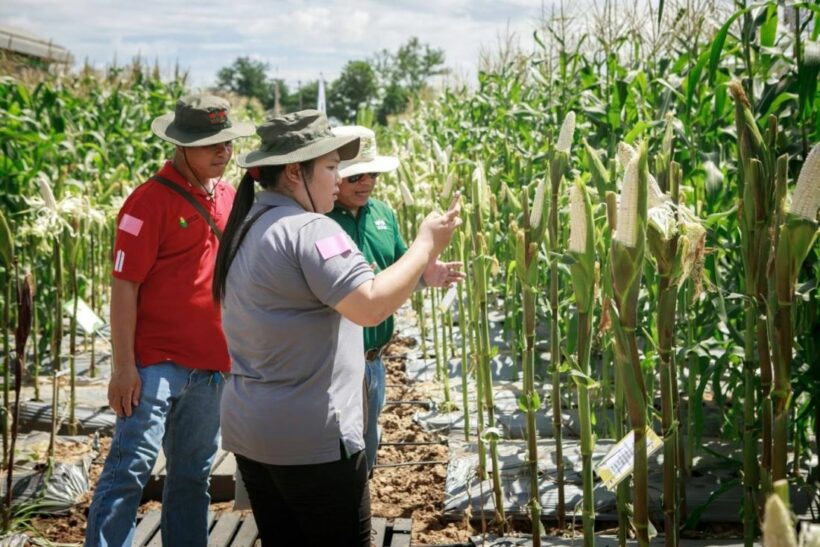 OPINION: Somsak Samanwong – Regional Technical Educator for APAC, Corteva Agriscience. PHOTO: East-East Seed
In Thailand, corn is an indispensable staple crop, used as an important source of feed for a thriving poultry and livestock industry. About 1.04 million hectares of our land is used to produce corn, with this year's yields estimated at a record high of 5.3 million tonnes.
As Thailand becomes increasingly recognised as a major world food exporter, our reliance on corn is growing to meet consumer demand for meat, both locally and globally – we are currently the third largest chicken exporter in the world. For many of us, it comes as a surprise that this ordinary but versatile crop is intrinsic in fuelling our status as the "kitchen of the world".
A small but powerful threat
However, this established position and the very growth of our food economy is currently under siege from the rise of fall armyworm, a pest so damaging that it can destroy corn crops overnight. The fall armyworm is an insect native to the Americas, where it has caused significant damage for decades. With a zealous appetite for corn, the pest quickly began to ravage crops in the Africa region following its arrival in 2016, causing losses of $13.3 billion.
Fall armyworm started moving closer to home, spreading across Yemen, India, Bangladesh, Sri Lanka and Myanmar, before reaching Thailand in December 2018. Since then, around 50 corn-growing provinces have been infested, particularly in the west of Thailand.
Fall armyworm infestations can result in yield losses for corn of up to 50%, which can have devastating implications – for those whose livelihoods rely on their crops, but also for the poultry and other meat production industries whose success and expansion heavily depend on their produce.
What makes fall armyworm so challenging to control is its high reproductive capacity and long migration distances. The pest has been known to migrate up to 1500 km3, slightly more than the distance from Kuala Lumpur to Bangkok, covering up to 100 km per night. Couple this ability to travel with rapid reproduction – four generations of fall armyworm can be observed in a single corn crop – and you have a devastating mix.
Recognising the tremendous impact of fall armyworm on the nation's farmers and our food security, the Thai authorities and key stakeholders across the agriculture industry have come together, uniting efforts to equip our farmers with the tools they need to help manage the spread of fall armyworm. By applying our learnings with fall armyworm in response to future threats, we can help to ensure our farmers are empowered and our nation's food supplies – for Thailand and for the rest of the world – are protected.
Taking swift and decisive action
Thailand's Department of Agriculture responded to the first FAO warning of fall armyworm in India by setting up a surveillance program to monitor corn growing states along the shared border with Myanmar. During this time, informative materials about fall armyworm and the ongoing surveillance program were shared with relevant agencies, universities, and most importantly, corn farmers.
Establishing communication between the authorities and those on the ground was and remains an important focus, and a telephone hotline and Line account were set up so that farmers are able to report potential infestations. As a previously unseen pest in Thailand, setting up infrastructure to monitor crops in the recognition of fall armyworm was pivotal to aiding a quick response.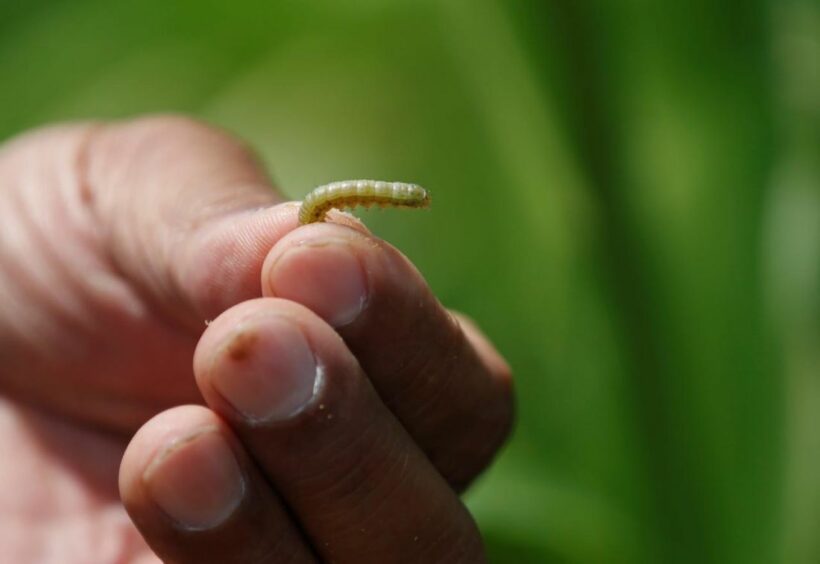 Imparting knowledge through educational efforts
Knowledge-sharing between the authorities, academic experts, farmers and industry is crucial in the fight against threats like fall armyworm. In November 2018, an educational programme for Thailand's authorities developed with the Insecticide Resistance Action Committee (IRAC) by CropLife Asia helped to provide senior agricultural and food industry leaders with in-depth information about fall armyworm and its habits.
By sharing knowledge of the pest between the government and affected industries, accurate and up-to-date information could spread across the country almost as quickly as fall armyworm itself.
Farmers remain at the heart of agriculture, and thus, in-field education is of paramount importance to safeguard crops.
Through a series of training programmes and the provision of educational materials, farmers were educated on and empowered to adopt an Integrated Pest Management (IPM) approach, as recommended by the World Trade Organisation on Sanitary and Phytosanitary Measures, to control and prevent the spread of fall armyworm. IPM combines pre-emptive treatments, scouting, monitoring and targeted treatments to protect the health of corn crops from seed to plant, and, in turn, to protect Thailand's food security.
Equipping farmers with the necessary tools
In adopting an IPM approach against fall armyworm, it is our role as agriscience experts to ensure farmers have access to safe, effective and greener solutions to control its physical spread. And, through the development of innovative technologies, solutions are available to provide farmers with long-lasting control of fall armyworm, whilst being environmentally safe to use.
Amparar®, Corteva Agriscience's foliar spray, contains the active ingredient Spinetoram and has been recommended for use in corn in Thailand to help protect corn crops against fall armyworm. It controls the insects in two ways – through ingestion and contact by the pest, providing a quick knock-down for lasting control. Amparar® has been awarded the prestigious Presidential Green Chemistry Challenge Award for its positive environmental profile and margin of safety towards beneficial insects. It is recommended by the Thai authorities as the top crop protection product for managing fall armyworm.
Our fight against fall armyworm has brought to light the invaluable role of corn in the development of Thailand as global provider of food. Perhaps even more importantly, it has helped to demonstrate how much can be achieved when public and private sectors work together in response to those that threaten our food security. We must continue to activate and engage all stakeholders – from farmers, governments, industry and academia – to ensure that, whatever the next threat to our "kitchen of the world", we remain poised for action to protect it.
Keep in contact with The Thaiger by following our
Facebook page
.
The world's fastest growing tourist destinations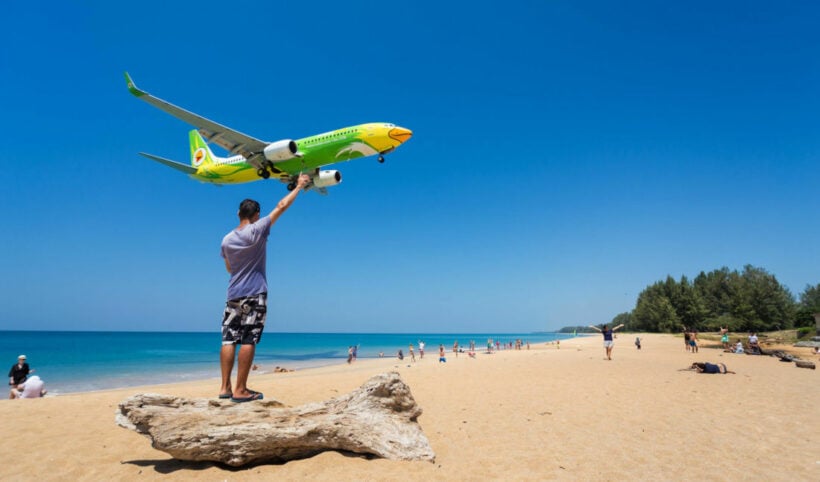 PHOTO: Hello Phuket – destined for huge tourist growth in the next six years – fodors.com
In 2018, international tourist arrival traffic grew by 6% to reach a total of 1.4 billion world tourists, according to research by UNWTO World Tourism Barometer. And there's a lot more to come with international travel predicted to increase by a massive 35% over the next six years to 2025.
But where is all that extra traffic going to go? Which destinations are quiet now that might be swarming with tourists in the years to come? Two destinations in Thailand are set for a prosperous future, according to the data. Whilst almost all the growth is excepted to be to Asian destinations, an under-visited resource for world tourism so far.
Euromonitor data has been used to simulate tourist growth models and reveal the fastest growing projected visitor arrivals in major cities and destinations around the world for 2025, compared to arrival figures in 2018.
In Thailand, Phuket's tourist traffic is poised to increase up to 85% in the next six years, from nearly 12 million arrivals in 2018 to over 22 million in 2025. Bangkok is predicted to see the 8th most prolific rise in tourist traffic, with arrivals in Bangkok set to swell an additional 68% during the same period. Doha, the capital of Qatar, is set to explode with 104% increase in traffic over the next six years.
The data also predicts that both Bangkok and Phuket will rebound big time in 2020, Phuket in particular with a growth of around 20% for the next year, accord to the data from TravelSupermarket.com.
By 2025 the data predicts that Bangkok will be the world's #1 tourist destination, a position it's held before in recent years. The Thai capital will be followed by Singapore, Dubai, Phuket and Kuala Lumpur, making South East Asia the world's emerging tourism hotspot.
Some of the world's favourites – New York, Paris, London – will continue to grow their tourist numbers but not at the rate of most Asian destinations.
You can read the full list HERE.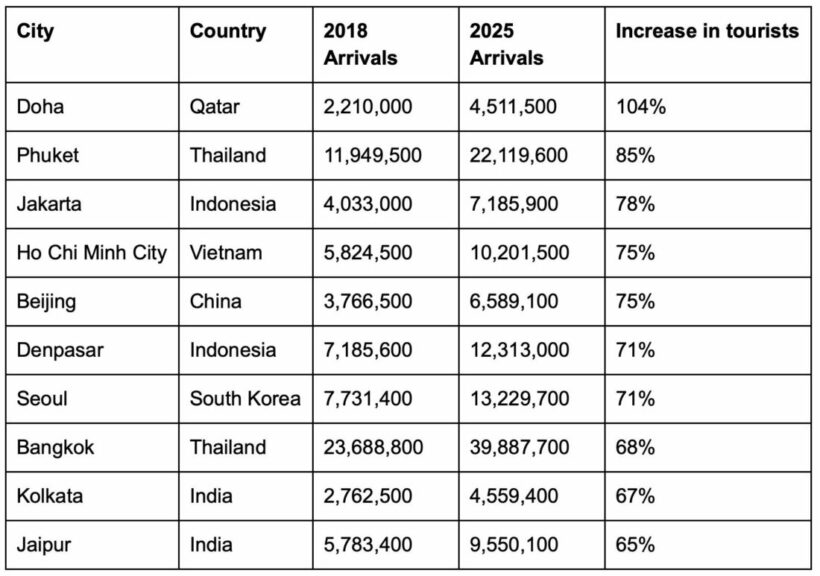 Stats compiled by travelsupermarket.com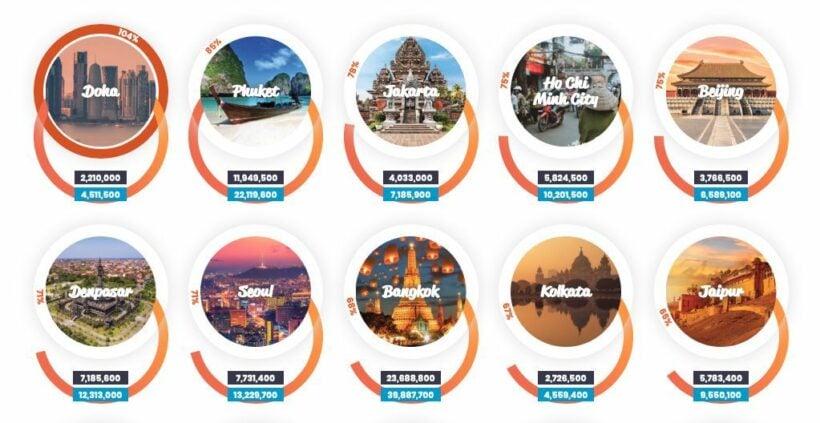 Stats compiled by travelsupermarket.com
Keep in contact with The Thaiger by following our
Facebook page
.