Phuket Gazette Thailand News: Rice contamination fears grow; Floating parade marks Buddhist Lent; Sadao named in Deep South ceasefire; Ramkhamhaeng bombers in court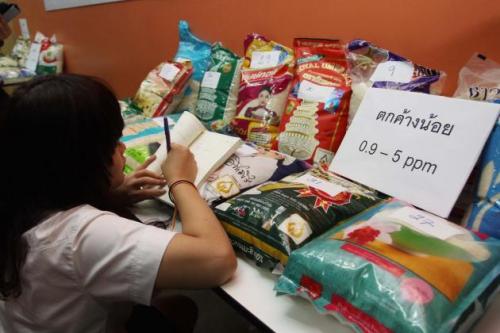 PHUKET MEDIA WATCH
– Thailand news compiled by Gazette editors for Phuket's international community
Govt urged to inspect rice for contamination
The Nation / Phuket Gazette
PHUKET: A consumer watchdog is calling on the government to inspect packaged rice after random tests found several samples to be tainted with high levels of methyl bromide, which is used to kill rice-eating bugs.
Meanwhile, three state agencies – the Agriculture Department, the Medical Sciences Department and the Food and Drug Administration (FDA) – said they found no contamination in tests they conducted earlier.
Saree Ongsomwang, secretary-general for the Foundation for Consumers, said her agency had teamed up with the Bio Thai Foundation to collect 46 random samples of packaged rice sold under 36 brands to test for chemical substances, including methyl bromide, organophosphate, carbamate compounds and fungicide.
All samples, collected between June 19 and 27 from supermarkets, retail shops and department stores, were tested at an independent laboratory.
Tests found that 12 of the 46 samples were free of contamination, but traces of methyl bromide were found in 34 samples, of which one sample was found to have exceeded the safe level with 67.4 milligram per kilogram of the chemical. As per the United Nations' Food and Agriculture Organisation (FAO) codex, levels of methyl bromide in food should not exceed 50mg per kg.
"We do not intend to damage anybody's reputation. We just want to raise public awareness on the safety of packaged rice and urge related agencies to boost the standards," Saree said.
Meanwhile, Niphon Popattanachai, director-general of the Medical Sciences Department, said he had instructed officials to inspect the brands found to have been contaminated and check if these products have been registered with the FDA.
"People should not panic over the report as the contamination is still within safe limits," he said.
Previously, the department teamed up with the FDA to conduct tests on 54 samples of packaged rice and found very small traces of methyl bromide and no sign of any other related pesticides.
Separately, the Agriculture Department tested 10 brands of rice and found no contamination.
A representative of the packaged rice brand that was found to have high levels of methyl bromide said his firm would recall all tainted products from the market, but wanted the Foundation for Consumers to provide them with more details such as lot numbers. He said he would conduct further investigation.
"No related agencies have said anything about the health impacts of consuming rice with high levels of methyl bromide," he said, adding that he was not thinking of filing a lawsuit against the foundation yet.
Concern over Sadao's link with far South
The Nation / Phuket Gazette
PHUKET: Concern is growing among the business sector in the South about a Barisan Revolusi Nasional (BRN) statement that includes Sadao district in Songkhla in a temporary ceasefire for the terror-plagued region. The statement is a threat to Sadao's vibrant economy, the Songkhla Chamber of Commerce said.
Democrat Party deputy leader Thaworn Senneam yesterday urged Prime Minister Yingluck Shinawatra as well as National Security Council Secretary-general Lt General Paradorn Pattanatabutr to officially deny that Sadao is a part of the violence-ravaged zone. "From 2004 until now, Sadao has never seen any unrest," the Democrat said.
Somporn Siriporananon, who chairs the Songkhla Chamber of Commerce, said the recent BRN statement had already had some psychological effects.
"The private sector, in particular investors, is worried. If Sadao becomes a part of the unrest zone, the business framework and guidelines may have to change," he said.
Somporn said he therefore supported the call for the government to announce firmly that Sadao is by no means part of the zone of unrest. "Without a clear stance from the authorities, problems will arise," he warned.
According to Thai authorities, the unrest only affects Pattani, Yala, Narathiwat, and four districts in Songkhla – Chana, Thepha, Na Thawi and Saba Yoi.
BRN, which has had several rounds of talks with Thai officials, announced a ceasefire plan for Ramadan. While the announcement was welcomed, several figures were concerned about its inclusion of Sadao.
According to Thaworn, Sadao attracts about 2 million tourists each year. Imports and exports via this border town are in the tune of about Bt500 billion. "I ask why Thai authorities have kept silent for many days – the BRN statement came out last Friday," Thaworn said.
Paradorn yesterday tried to play down concerns about the inclusion of Sadao, explaining that a number of Thais would return from Malaysia to Sadao during the Ramadan – that was why the BRN included Sadao in the ceasefire plan. "BRN wants peace for Sadao too," he said.
Deputy PM Pracha Promnog, who oversees security affairs, said he would need more time to discuss the matter with relevant officials before deciding whether the government should issue a letter of protest over BRN's inclusion of Sadao.
With the start of Ramadan, unrest in the South looks to have subsided.
"During the first six days of the Ramadan, only one violent incident erupted and the two victims sustained minor injuries. The situation was much better than the same period in recent years," Pracha said.
However, Yala saw three shootings on Monday and yesterday. Two victims died and the other sustained injuries. "We are investigating these cases," Yala police chief Maj-General Phira Boonliang said.
Parade of floating candles marks Buddhist Lent
The Nation / Phuket Gazette
PHUKET: Ladchado, a small community in Ayutthaya province, marks the arrival of Vassa, the Buddhist Lent on Monday with a modest yet spectacular candle festival on Monday that sees the candles carried to temples in a long and colourful procession of boats..
"Like many things in Ladchado, the candle festival is celebrated along the waterway. Boats and canals play a major role in our lives," says an official from Ladchado Administration Office. "Imagine hundreds of small sampans and other boats, decorated with flowers and colourful parasols bobbing in the water as they emerge from the far side of canal."
Tucked away in Phak Hai district, Ladchado is about 40 kilometres west of downtown Ayutthaya. Named after the canal that links Ayutthaya and Suphan Buri, the old community dates back to the 16th century, when the Ayutthaya Kingdom ruled over the Chao Phraya Basin and the Central Plain. Ladchado had to wait until the 21st Century before it drew attention from outsiders, although two early episodes of the popular Boonchu movies were shot in the area.
The peaceful lifestyle, remote setting as well as the old, charming marketplace of Ladchado are gradually becoming known among weekenders, who come to the community to get away from the stress of city life and take advantage of the home-stay facilities offered by the villagers.
With amateur lensmen uploading spectacular photos to the Internet, Ladchado has also become known as one of the best places to see the candle festival.
Together with other Buddhist communities across the country, Ladchado will celebrate the candle f
— Phuket Gazette Editors
Want more from the Thaiger family?
📱 Download our app on Android or iOS for instant updates on your mobile
📧 Subscribe to our daily email newsletter
👍 Like/Follow us on Facebook
🔔 Subscribe to or Join our YouTube channel for daily video updates
Thailand Consumer Confidence Index hits record low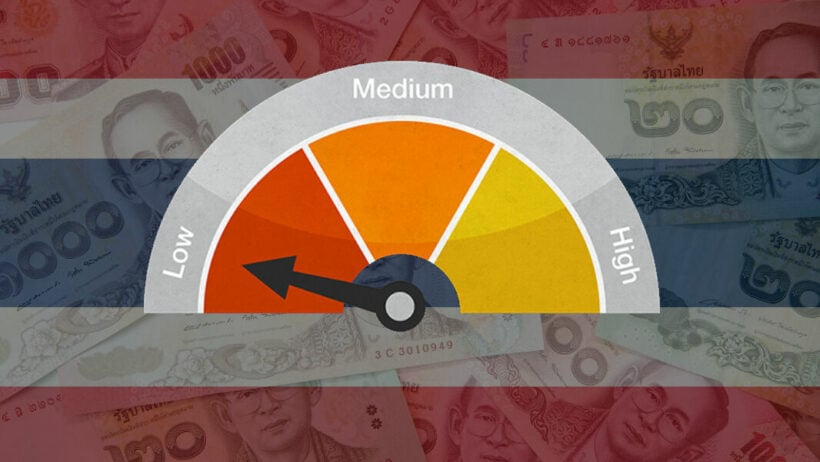 The University of the Thai Chamber of Commerce has reported that the Consumer Confidence Index has hit another new record low of 46.0 in April. The Covid-19 global pandemic has had a devastating effect on the economy and consumer confidence has fallen frequently to the lowest points that it has seen since 1998.
The president of the UTTC believes that consumers generally don't feel like there has been much of a recovery for the economy since the global pandemic began and without a stimulating event to motivate economic growth, the index is expected to continue to fall further. The university estimated that if the third wave of Covid-19 continues past the end of May the economy can expect to lose 400 to 600 billion baht.
The UTTC president stressed that the government should hasten to step up relief measures and make sure they continue relief and economic stimulus throughout the pandemic to avoid economic catastrophe. He predicted that the economy and the Consumer Confidence Index will continue on a downward slope without any hope of improvement until the vaccine rollout gets well underway towards herd immunity, and new Covid-19 infections are decreased dramatically.
Today saw another 2,101 new Covid-19 infections and 17 deaths in Thailand. Vaccination efforts are continually being stepped up, but still remain woefully slow.
The Consumer Confidence Index first started falling last year, with a drop below the previous record low in 1998 in April of 2020, when it fell to 47.2. A few months later, by July of last year, it had recovered significantly, climbing back over 50. But by March of this year, the index had fallen again to 48.5. With April's tumble of 2.5 points, the Consumer Confidence Index pushes once again to a new record low.
SOURCE: Thai Business News
Want more from the Thaiger family?
📱 Download our app on Android or iOS for instant updates on your mobile
📧 Subscribe to our daily email newsletter
👍 Like/Follow us on Facebook
🔔 Subscribe to or Join our YouTube channel for daily video updates
Thailand searches for cow vaccine for lumpy skin disease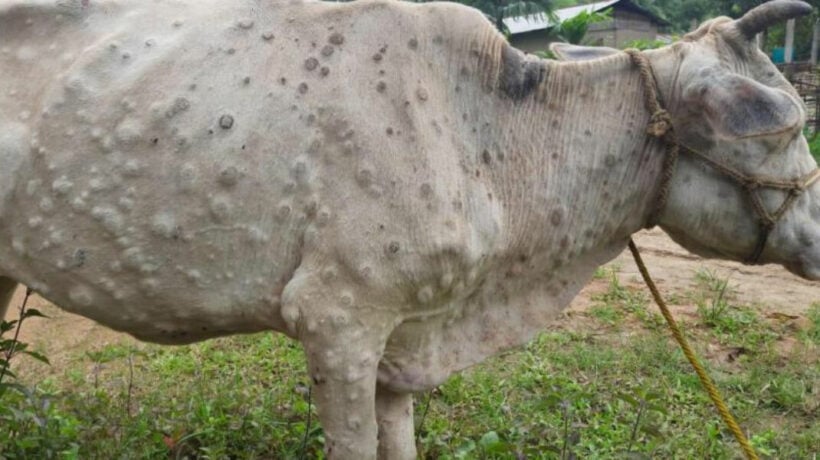 Move over Covid-19 there's a new disease sweeping the country as Thailand's cow population is afflicted with a lumpy skin disease. The Department of Livestock Development is now working on procuring vaccines from overseas manufacturers to import and treat the cattle population in Thailand. The lumpy skin is caused by pustules that are the most visible symptom, perhaps more detectable than other bovine signs such as drooling, loss of appetite and drowsiness.
The cow disease is spreading in the North, Northeast, and Central Plains area of Thailand and has been found in 18 provinces total. First identified in Roi Et, it has now spread in Chiang Rai, Kalasin, Kanchanaburi, Khon Kaen, Maha Sarakham, Nakhon Pathom, and Nakhon Phanom. The first case of the lumpy skin disease was reported in Don Daeng village last month and on April 9th officials reported it to the World Organisation for Animal Health.
The lumpy skin disease is found in cow pens and spread through flies, ticks, and mosquitoes, but the DLD says not to panic, it is not transmissible to humans. The department is distributing important information about symptoms and how the disease spreads to breeders and farmers in the area. They're requiring the breeders to monitor their cattle closely and have imposed measures to control the disease in heavy hit areas.
To prevent the spread of disease in livestock, traders are being requested to not buy and sell cattle within 50 km from disease-stricken regions. And for farmers caring for cattle, the DLD recommends spraying insecticide in all areas to prevent transmission via insects. Finally, in case the cattle were jealous of traveling humans, the DLD is advising farmers to prevent disease spread by isolating any new cow that comes into their farms with a 28-day bovine quarantine where they should be kept under nets to keep insects away.
SOURCE: Bangkok Post
Want more from the Thaiger family?
📱 Download our app on Android or iOS for instant updates on your mobile
📧 Subscribe to our daily email newsletter
👍 Like/Follow us on Facebook
🔔 Subscribe to or Join our YouTube channel for daily video updates
Covid-19 third wave cuts Thai domestic flights predictions by 38%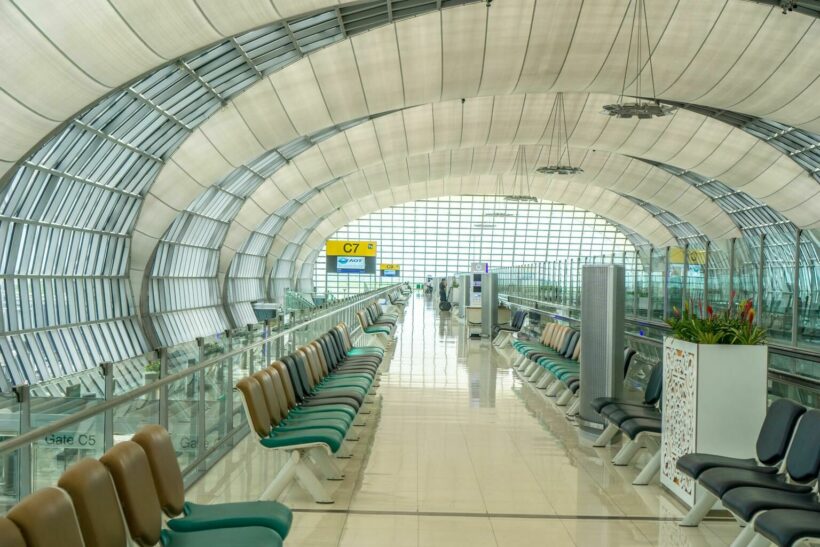 The Aeronautical Radio of Thailand is predicting a 38% drop in travel by domestic flights due to the effect of the third wave of Covid-19. Aerothai is a department under the Ministry of Transport that provides aeronautical communication and air traffic control in Thailand. With Covid-19 experiencing a rapid spread beginning in April and not yet under control, infections across all of Thailand's 77 provinces are projected to drastically hamper local travel until at least September.
The fiscal year, beginning last October, was originally predicted to have almost 519,000 domestic flight. But Aerothai has now reduced those figures down 38% to just over 323,000 flights in Thailand. The executive vice president for operations of Aerothai said that by the second half of April domestic flights had been severely reduced despite remaining relatively stable in early April.
The Civil Aviation Authority has also added increased restrictions on the way passengers are carried, adding another layer of difficulty for the domestic airlines who have slashed their schedules after having a bumper Songkran holiday period and were looking forward to better times ahead.
Flight reductions were a result of attempts to reduce and contain the spread of Covid-19 by implementing strict travel and safety measures. While domestic travel was strongly affected by Thailand's second wave of Covid-19 at the beginning of 2021, the current wave is much worse and Aerothai predicts domestic flights will reach their lowest point by the end of May.
An expectation of recovery beginning next month hinges on international flights starting to slowly creep back into Thailand. The Civil Aviation Authority of Thailand has loosened the restrictions for international travel in preparation for the government's plan to relaunch the tourism industry in key hotspots of Thailand like Phuket and Koh Samui in July. Aerothai is hoping that by August domestic flights will return to the levels seen at the end of 2020 before the second wave of Covid-19, with about 1,095 daily flights.
Aerothai has been tracking flight statistics since it was founded in 1948 by a group of airlines with the approval of the Royal Thai Government. In 1963 the government took on a majority stake in the company from the founding airlines and converted it to a state enterprise operating under the Ministry of Transport.
SOURCE: Bangkok Post
Want more from the Thaiger family?
📱 Download our app on Android or iOS for instant updates on your mobile
📧 Subscribe to our daily email newsletter
👍 Like/Follow us on Facebook
🔔 Subscribe to or Join our YouTube channel for daily video updates