Phuket Gazette Thailand News: Restraint urged on Preah Vihear ruling; 10 hurt as train derails; Fundraiser for typhoon victims; Realty growth continues despite woes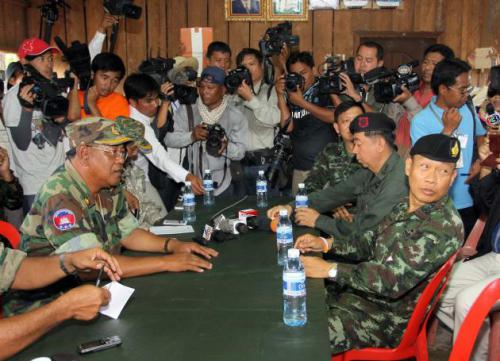 PHUKET MEDIA WATCH
– Thailand news compiled by Gazette editors for Phuket's international community
Govt urges restraint on Preah Vihear ruling
The Nation / Phuket Gazette
PHUKET: The government and military have held back on making definitive comments on the Preah Vihear case, waiting to see what transpires from a meeting with their Cambodian counterparts.
As villagers living along the border cheered and welcomed the restoration of peace after the International Court of Justice's verdict, heavy discussion took place on Facebook. Some calculated the loss of land to Cambodia after the World Court's verdict on the promontory of the Hindu temple. A few postings were about the 4.6-square-kilometre disputed area, which will be jointly developed by Thailand and Cambodia.
The court on Monday ruled that the vicinity of the Preah Vihear Temple in accordance with the Annex I map was under the sovereignty of Cambodia. The territory in question does not correspond to the disputed 4.6 square kilometres, and its exact dimensions remain unclear.
Yesterday, Prime Minister Yingluck Shinawatra and Deputy Defence Minister General Yuthasak Sasiprapha pleaded that Thai citizens first think about Thai-Cambodian relations rather than the disadvantages inherent in the verdict, while urging politicians not to use this for political gain.
The Thai-Cambodian joint committee will convene as soon as possible, Yingluck said after the Cabinet meeting yesterday. Foreign Minister Surapong Tovichakchaikul will hold talks with his Cambodian counterpart and when they are ready, the committee will meet. For now, soldiers are guarding their posts until the joint committee reaches an agreement.
PM Yingluck brushed aside the question of how long it would take to find out how much land Thailand would lose to Cambodia under the redefined promontory.
Regarding foreign media reports that Thailand had lost land to Cambodia, she said it was not a matter of win or lose, but this was a win-win ruling for both countries. "Two neighbours live together without a fight or violence. This should be what all want," she said.
Army chief General Prayuth Chan-ocha said Thailand had not lost its land, as the "small area" that the court ruled on was not yet specified. He said that while all were free to comment on the verdict, people should be careful, with the knowledge that one bad word could provoke a war.
"Soldiers are fully deployed to the South and disaster relief … We can't afford another fight."
Late on Monday, Cambodian Deputy Prime Minister Hor Namhong told reporters in The Hague: "We could say we both win the judgement. By asking the court to interpret the 1962 judgement, Cambodia has only one will – to settle the dispute with Thailand peacefully and to have Thailand stay as a good neighbour. We are close to each other, we cannot stay away," he said.
Surapong and Yuthasak arrived in Bangkok from the Netherlands yesterday, while Virachai Plasai, Thai ambassador to The Hague, will return today. Led by PM Yingluck, all of them will testify before Parliament today and take questions from MPs and senators.
Saying the translation and interpretation of the verdict was under way, Surapong said it was important that all Thais had a single message, for the peace of both nations. He noted that this understanding would facilitate Thai-land's stand at the joint committee meeting.
"These [efforts] are to allow both countries to move forward. We must preserve our relations with Cambodia, as our co-existence will be forever. People of both nations are happy with the verdict," he said.
Professor Chaiwat Khamchoo of Chulalongkorn University's faculty of political science urged that Thais to maintain unity and not drag the Preah Vihear issue into politics. He said the case went to the court again because it was politicised at home. The university on Friday will host a seminar on the ruling, with Ambassador Virachai as a speaker.
10 hurt as train derails in Udon Thani
The Nation / Phuket Gazette
PHUKET: A train with 50 passengers on board derailed in Udon Thani's Muang district yesterday morning, injuring 10 passengers.
Three carriages of the Bangkok-Nong Khai train ran off the track in Moo Mon sub-district at 5.30am, with one carriage plunging into a ditch. The train departed Bangkok at 6.20pm Monday.
Among the injured, eight were passengers while two were railway employees. Udon Thani Train Station chief Sukhum Suwancharoen said the train reached Udon Thani at 5.10am, before derailing while heading towards Nong Khai.
While railway officials were investigating the scene to determine the cause of the derailment, the passengers were taken by bus to Nong Khai Station 50km away.
Fundraiser for Haiyan victims organised
The Nation / Phuket Gazette
PHUKET: The government will hold a special event Wednesday to raise funds for the survivors of Typhoon Haiyan, Government Spokesman Teerat Ratanasevi said Tuesday.
The event will be broadcast via NBT and Radio Station of Thailand at 8.30pm. He encouraged all people to donate.
Phillipines was hit by the super typhoon last Friday. One of the strongest tropical storms on record, Haiyan tore through the centre of the archipelago killing an estimated 10,000 people in one city alone and destroying homes, roads and bridges.
Recent reports indicate that 9.8 million Filipinos have been affected.
Realty growth continues despite political woes
The Nation / Phuket Gazette
PHUKET: The political conflict has not yet thrown a wet blanket on the real estate industry as residential demand is still sizzling, according to Pruksa Real Estate Plc.
"The property market continues to grow at 5 per cent in the last quarter of this year thanks to the high demand in the market in the first nine months," Thongma Vijitpongpun, CEO of the leading residential developer, said yesterday.
However, if the political unrest tends to take a long time and affects the economy, that will have an impact on the market next year, he said.
"We have to take time to forecast and set our strategy for next year by monitoring the country's political situation for whether it will be a short-term or long-term conflict. If long term that will impact our business estimates for next year. If not, we will maintain our growth. Right now we cannot say what our business plan will be next year," he said.
However, the company is studying issuing debentures worth Bt6 billion-Bt7 billion next year to prepare for expansion, said Edward Cooper, chief financial and risk officer.
The company aims to maintain financial sustainability and control its cost of funds at not over 4 per cent. Its cost of funds is presently only 3.7 per cent – lower than other property firms in the market.
The company has revised its presales target for this year from Bt35.42 billion to Bt39 billion-Bt41 billion and its revenue target from Bt33.97 billion to Bt36 billion-Bt37 billion after realising presales of Bt36.92 billion in the first 10 months and revenue of Bt25.26 billion in the first nine months, which is up 35 per cent from the same period of last year.<
— Phuket Gazette Editors
Keep in contact with The Thaiger by following our
Facebook page
.
Finance Ministry approves stimulus package to spur tourism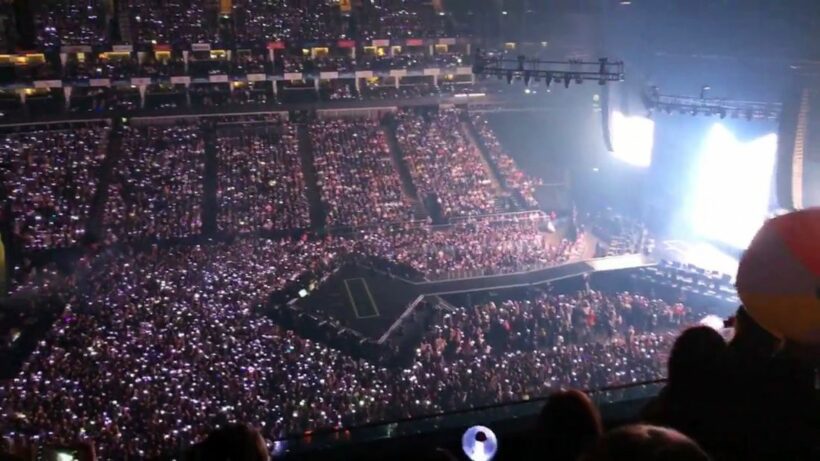 PHOTO: Among other things, the TAT are organising some big concerts over the last three months of 2019. Some of the 50,000 that attended the BTS 'Love Yourself' stadium concert in Bangkok in April 2019.
The Finance Ministry has now approved a stimulus package for the last three months of the year to boost Thailand's tourism sector. The aim is achieve a 3% growth rate.
The Thai Tourism and Sports permanent secretary Chote Trachu says the purpose is to increase the total tourist arrivals for the second half of the year to 20 million, with the aim to reach the year-start projections of more than 40 million tourists to Thailand for 2019.
Tourist arrivals for the first eight months of the year totalled 26.5 million, generating 1.3 trillion baht of revenue, according to official figures from the Ministry of Tourism and Sport. For the remaining four months of the year, Mr. Chote said there would likely be another 13 million tourist arrivals, with expected revenue of 750 billion baht.
Tourism Authority of Thailand governor Yutthasak Supasorn says that events have been planned to boost tourism for the final months of 2019 including World Cannabis Festival, Super GT, a Tour de France cycling competition and concerts featuring famous bands such as Tomorrow Land and EDC.
Meanwhile, last Thursday, the World Bank slashed Thailand's economic growth projection for 2019 to 2.7%, down from an earlier 3.5%, because of the contraction of the country's exports.
In its latest "East Asia and Pacific Economic Update", the World Bank said today the 2.7% GDP forecast for Thailand is the lowest among ASEAN's developing countries. The Washington-based institution also cut Thailand's GDP growth forecast for 2020 to 2.9% from 3.6%.
The World Bank's report attributes the lower GDP growth outlook to an export slump in the first half of the year, the global economic slowdown and fallout from the US-China trade tensions. The World Bank also says "the Bank of Thailand has limited scope to tackle the baht's strength, but the currency's climb is a sign of investor confidence in the country's economic fundamentals".
SOURCE: Thai PBS World
Keep in contact with The Thaiger by following our
Facebook page
.
Thailand's growth forecasts for the rest of 2019 slashed again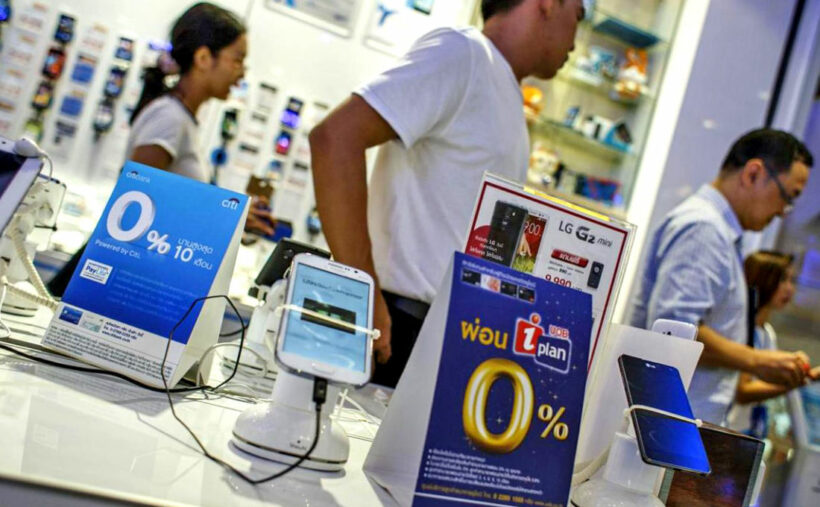 Following their most recent meeting, the Joint Standing Committee on Commerce, Industry and Banking has announced Thailand's economic growth this year has been revised downward to between 2.7 – 3.0% from the previous projection of 2.9 – 3.3%.
It has also revised down its prediction of this year's exports to between minus 2 – 0%.
The committee says the revised export outlook reflects uncertainties in the economies of major countries, the prolonged US-China trade war and the strong baht. They added that the economic indicators in July and August suggest possible softening of economic growth in the third quarter, due to the slowing global economy, US-China trade war and the strength of the baht.
The committee estimates that the floods in north-east and central Thailand will cost the economy between 20 – 25 billion baht.
It has estimated that the government's economic stimulus "Eat, Shop, Spend" campaign, which has proved popular with Thais, will inject 20 – 30 billion baht into the economy. The committee says it hopes to see additional new monetary and fiscal measures from the government to boost the economy.
Earlier this week the Kasikorn Research Centre revised downward its economic growth forecasts for 2019 from 3.1 – 2.8%, while predicting that the economy may grow at less than 3% next year amid numerous negative factors.
SOURCE: The Nation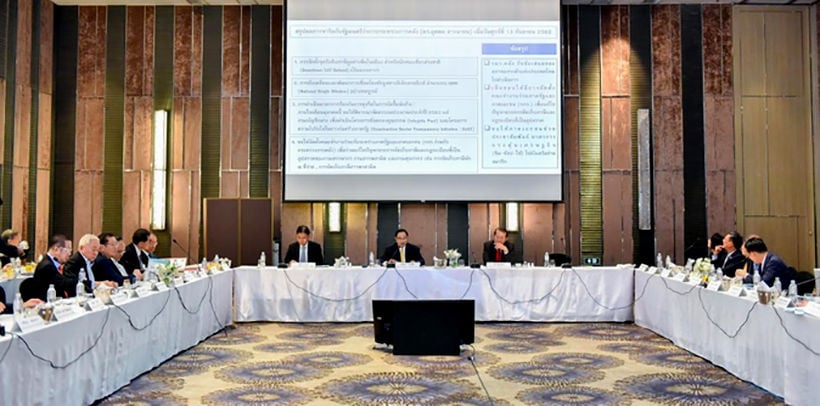 PHOTO: The Nation
Keep in contact with The Thaiger by following our
Facebook page
.
King Bhumibol Adulyadej – an enduring legacy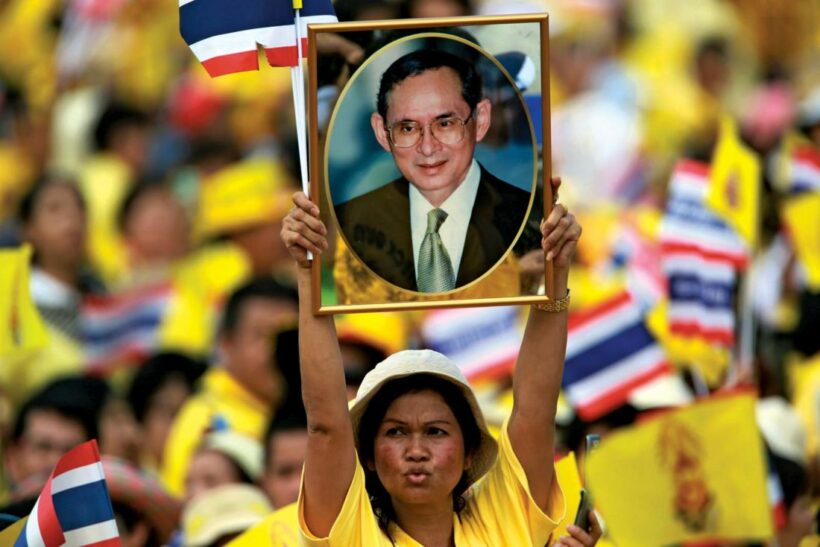 His Majesty King Bhumibol Adulyadej (December 5, 1927 – October 13, 2016) was Thailand's monarch for just over 70 years. At the time of his passing in 2016, King Bhumibol was world's longest-serving head of state and the longest-reigning monarch in Thai history. Amongst his many other gifts, he was was revered as a calming and compassionate influence overseeing Thailand's stormy political history in the second half of the 20th century.
He was the ninth king of the Chakri dynasty and is also referred to as Rama IX.
Bhumibol's early days
Bhumibol Adulyadej was born on December 5, 1927, in Massachusetts, USA. As the second son born to his parents, and because his birth took place outside of Thailand, young Bhumibol was never expected to ascend Thailand's throne. His reign came about only after his older brother's mysterious death.
His father, Prince Mahidol Adulyadej, was studying for a public health certificate at Harvard University. His mother, Princess Srinagarindra, was studying nursing at the same time.
When Bhumibol was one a year old the family returned to Thailand, where his father took up an internship in a hospital in Chiang Mai. Prince Mahidol died of kidney and liver failure in September 1929.
Thailand's democratic revolution
In 1932, a coalition of military officers and civil servants staged a bloodless coup against King Rama VII. The Revolution of 1932 ended the Chakri dynasty's absolute rule and created a Thai constitutional monarchy. Princess Srinagarindra took her two young sons and daughter to Switzerland a year later where the children were placed in Swiss schools for their early education.
In March 1935, King Rama VII abdicated leaving his 9 year old nephew, Bhumibol Adulyadej's older brother Ananda Mahidol as Thailand's new monarch. But the child-king and his siblings remained in Switzerland due to his young age and nascent political developments in Thailand. Two regents ruled the kingdom in his name. Ananda returned to Thailand in 1938 but his brother Bhumibol continued his schooling in Switzerland until 1945 .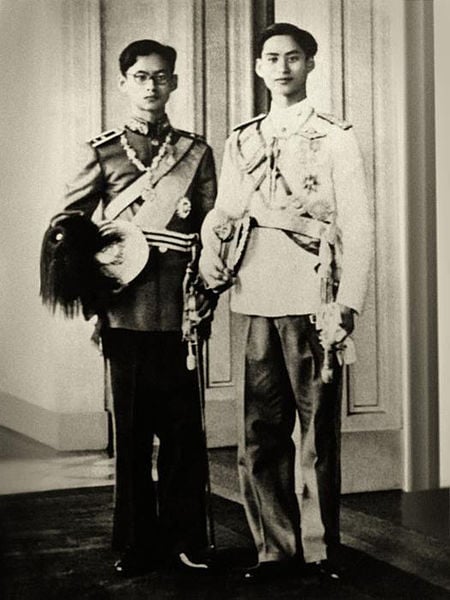 PHOTO: King Mahidol Adulyadej and his younger brother Bhumibol Adulyadej
On June 9, 1946, the young King Mahidol was killed in his palace bedroom from a single gunshot wound to the head. Two royal pages and the king's personal secretary were convicted of assassination and executed although controversy still swirls around the incident.
Bhumibol returned to the University of Lausanne in Switzerland to complete his degree and his uncle was appointed Regent, ruling in his place in Thailand.
Marriage to Queen Sirikit
The young King Bhumibol met the daughter of the Thai ambassador to France, a student named Mom Rajawongse Sirikit Kiriyakara, during a visit to Paris. Adulyadej and Sirikit began a courtship some time in 1946.
In October 1948, Adulyadej crashed into a truck and was seriously injured, losing his right eye and suffering back injuries. Sirikit spent a lot of time nursing and entertaining the convalescing king. King Bhumibol's mother encouraged Sirikit to transfer to a school in Lausanne so that she could continue her studies and spend more time with the young King.
Adulyadej and Sirikit were married in Bangkok on April 28, 1950. She was 17 and he was 22 years old. The king was officially crowned a week later and became King Bhumibol Adulyadej.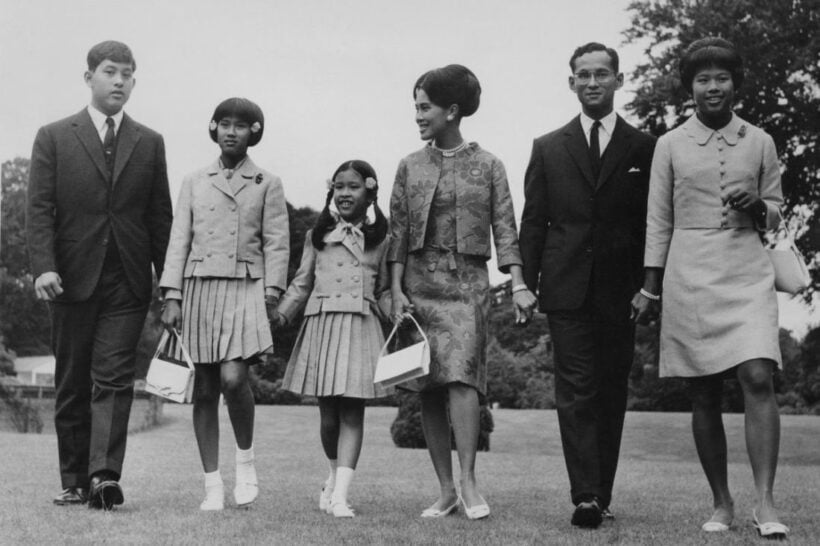 PHOTO: King Bhumibol Adulyadej, Queen Sirikit and his four children (a young Prince Maha Vajiralongkorn on the left)
Half a century of military dictatorships
In the early days of his reign Thailand was ruled by a military dictator, Plaek Pibulsonggram, until 1957. Then the first of a series of coups, which would dog the Kingdom for the second half of the 20th century, removed him from office. The King declared martial law ending with a new military dictatorship formed under a trusted ally of King Bhumibol, Sarit Dhanarajata.
During the next phase of his rule the young King would revive many abandoned Chakri traditions, including the need for subjects and staff to kowtow – bowing and keeping their head below the monarch. He also started to make public appearances around the Kingdom – an activity which would become a hallmark of his reign, significantly reviving the prestige of the Thai monarchy and staying of the royal family.
Coups took place in 1963, 1977, 1980, 1981, 1985, and 1991 (and more in the 21st century). Although King Bhumibol worked hard to remain above politics, he refused to support the 1981 and 1985 coups, and was seen as a settling influence in the swirling political events.
Democratic governments
When a military coup leader was selected as PM in May 1992, huge protests broke out around Thailand. Known as 'Black May', the demonstrations turned into riots. Fearing a civil war, Kong Bhumibol called the coup and opposition leaders to a televised audience at the palace.
Adulyadej pressured the coup leader to resign. New elections were called and a civilian government was elected. This intervention was the beginning of civilian-led democracy that has continued, with a few military interruptions, to this day, most notably the intervention of the military in a coup in 2014 when the National Committee for Peace and Order seized power.
King Bhumibol's image as an advocate for the Thai people, reluctantly intervening in the political fray to protect his subjects, became an enduring legacy.
Death
Since 2006, King Bhumibol suffered a number of health issues and was hospitalised frequently. He died at the Siriraj hospital in Bangkok on October 16, 2016. Crown prince Maha Vajiralongkorn became the 10th King of the Chakri Dynasty, and his official coronation was held between May 4-6, 2019.
Although Bhumibol was never intended to be Thailand's king, he is lovingly remembered as a successful and beloved Thai monarch, who helped calm successive political turbulence over the seven decades of his reign.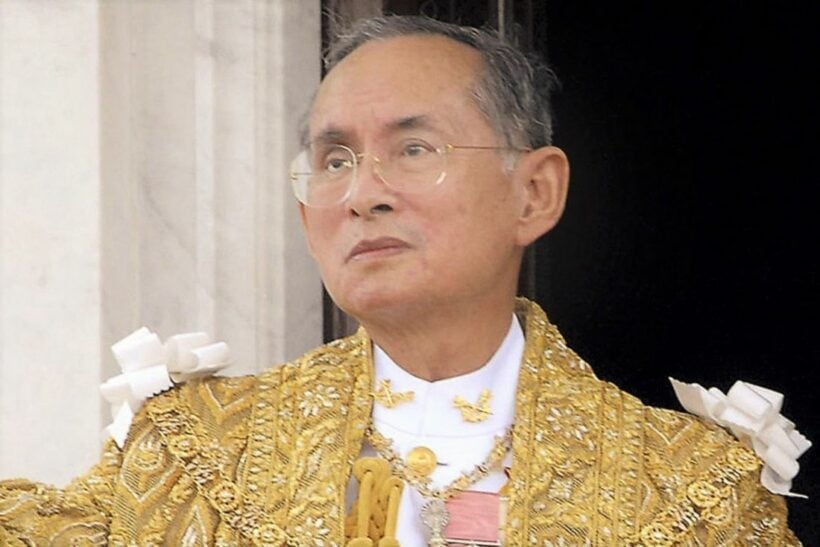 Keep in contact with The Thaiger by following our
Facebook page
.