Phuket Gazette Thailand News: Protection for shark and manta; Tiger and elephant poaching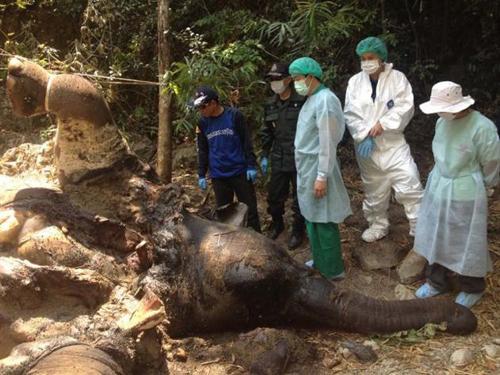 PHUKET MEDIA WATCH
– Thailand news compiled by Gazette editors for Phuket's international community
Five shark species and manta ray to get protection
Phuket Gazette / The Nation
PHUKET: After being killed in unlimited numbers for decades, five shark species and the manta ray have won the protection of the world's wildlife and plants summit, prompting countries to regulate trade in their products.
Yesterday, the five shark species – including the oceanic white-tip, scalloped hammerhead, great hammerhead, smooth hammerhead, and porbeagle shark – and the manta ray were classified under Appendix II of the Convention on International Trade in Endangered Species of Wild Fauna and Flora (CITES.)
The 16th Conference of the Parties (CoP 16) to CITES is being held until March 14 in Bangkok. The proposal to protect the oceanic white-tip shark was submitted by Brazil, Colombia and the US. The proposal to include the scalloped hammerhead, great hammerhead and smooth hammerhead sharks was submitted by Brazil, Colombia, Costa Rica, Denmark, Ecuador, Honduras and Mexico
A proposal to protect the porbeagle shark, put forward by Brazil, Comoros, Croatia, Denmark and Egypt, won 93 votes, while 39 were against it and eight abstained.
The proposal to save the oceanic white-tip shark got the backing of 92 nations, 42 were against and eight abstained. Three species of hammerhead sharks got the support of 91 nations, 39 were against and eight abstained.
The proposal for manta ray, submitted by Brazil, Colombia and Ecuador. Protection for the ceja river stingray has been sought by Colombia, won 96 votes, while 23 against, and 7 abstained.
The meeting also adopted the proposal to list freshwater sawfish in the top protection under the Appendix 1.
A delegate from Japan, which opposed the proposal and asked the meeting to vote in a secret ballot, said the oceanic white-tip shark should not be listed under the CITES's protection and urged for better regional and local fishery management.
Meanwhile, representatives from Thailand said there was not enough data about the shark population and asked for more scientific evidence before making a conservation decision.
Brazil supported the proposal to list the oceanic white-tip shark in Appendix II, saying the listing would mean sustainable compliance by regional fisheries management organizations.
Scientists estimate that 1.3 million to 2.7 million scalloped and smooth hammerheads and 250,000 to 1.3 million oceanic white-tip sharks are killed annually to meet the demand for shark fins.
According to PEW, Hong Kong alone represents about 50 per cent of global trade. The trade data from the Census and Statistics Department of Hong Kong estimates that 83 countries exported more than 10.3 million kilograms of shark-fin products to Hong Kong in 2011.
The shark species currently listed on CITES Appendices are the white shark Carcharodon carcharias, whale shark Rhincodon typus and basking shark Cetorhinus maximus, all three listed in Appendix II.
In addition, at CoP14 it was decided to include all species of sawfish (family Pristidae) in Appendix I, with the exception of Pristis microdon, which is included in Appendix II
Thailand is now stepping forward to lobby the world's wildlife and plant summit to support its efforts to renew the proposal to downgrade protection for the Siamese Crocodile and allow it to be traded, but with controls.
The move came after Thailand last week failed to get support from the representatives of 129 nations to back Thailand to delist the Siamese and saltwater crocodile from Appendix I to Appendix II so the Kingdom can continue exporting crocodile products.
"We will ask the plenary meeting to consider our proposal to downgrade the Siamese Crocodile from Appendix I to Appendix II again. We need 10 more countries to back our proposal and pass a two-thirds majority," Fishery Department's director general Wimol Jantrarotai said.
Delegates from the department will inform the conference on Wednesday of its proposals. However, it needs a third of the participants to support Thailand to win support.
"We will tell them that Thailand has no problem with illegal killing and trafficking of the forest crocodile. In fact, we have had only one case of illegal killing and trading in forest crocodiles," he said.
To date, Thailand has 200 Siamese crocodiles living in national parks, while some 200,000 Siamese and 20,000 saltwater crocs are being bred in 800 crocodile farms.
Crocodile skin, meat and related products earns the country about Bt4 billion a year.
In a related issue, Thailand's proposal to list the Siamese Rosewood under Appendix II will be considered by the members today.
Mother tusker shot, calf missing
Phuket Gazette / The Nation
PHUKET: An autopsy on a elephant found shot dead in Kaeng Krachan National Park in Phetchaburi revealed a rifle bullet in her skull and that she recently gave birth, leading authorities to think she was killed so poachers could abduct her calf.
National Parks, Wildlife and Plant Conservation department chief Manopat Huamuangkaew visited the park yesterday and was briefed by park chief Chaiwat Limlikhitaksorn. Manopat also visited the scene where the elephant was found.
The autopsy found one rifle bullet and that the elephant had given birth in the past six months. An examination of her teeth determined she was 13 to 15 years old.
Wildlife authorities were collecting more evidence. The elephant's remains will be burned and sifted in a bid to find bullet fragments.
Chaiwat said he thought the baby elephant may still be in the Kaeng Krachan area and that he ordered forest officials to set up more checkpoints in a bid to catch anyone transporting the stolen calf.
He also asked the Army's "phraya seu" special task force to block routes to Myanmar.
Provincial Police Region 7 chief Hanpol Nitwibuk called for a meeting of investigators into the case. He said they were checking if officials were involved in the crime.
If so, they would face severe punishment. Police would look into all suspects with links to the illegal wildlife trade.
Assistant national police chief Jaramporn Suramanee and a team of specialists flew by helicopter to the park on Sunday to investigate.
Elephants were shot dead in the park last year, leading to suspicion park officials may be involved.
World Bank urges action against tiger poaching
Phuket Gazette / The Nation
PHUKET: The World Bank is pressing Thailand to tighten its control over illegal poaching and trading in wildlife after finding that the country is a hub of the illicit tiger trade.
"We will ask the Thai prime minister and her government to take serious action against tiger poachers as she seemed interested in this subject, and with her leadership this could be achieved," Keshav Varma, director of the World Bank's Global Tiger Initiative, said yesterday.
A recent study by Traffic and World Wildlife Fund (WWF) showed that Thailand was the most significant location for the interdiction of the live tiger trade, followed by Laos, Indonesia and Vietnam.
"Given the low population estimates for wild tigers in Thailand, Laos and Vietnam combined wit
— Phuket Gazette Editors
Thailand News

Join the conversation and have your say on Thailand news published on The Thaiger.
Thaiger Talk is our new Thaiger Community where you can join the discussion on everything happening in Thailand right now.
Please note that articles are not posted to the forum instantly and can take up to 20 min before being visible. Click for more information and the Thaiger Talk Guidelines.