Thailand
Phuket Gazette Thailand News: Programmer denies hacking; River basins protection; Bearly love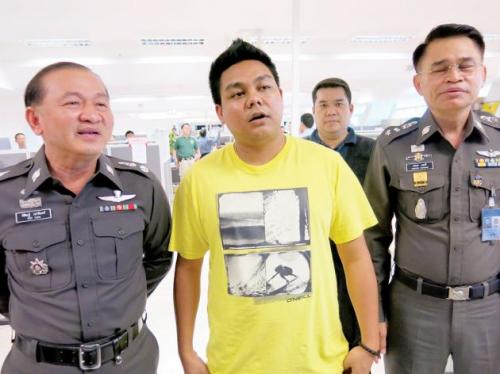 PHUKET MEDIA WATCH
– Thailand news compiled by Gazette editors for Phuket's international community
Programmer denies any part
The Nation / Phuket Gazette
PHUKET: A man who turned himself in to police yesterday denied having anything to do with hacking into the PM's Office website or posting rude remarks about Prime Minister Yingluck Shinawatra.
Meanwhile, the "Unlimited Hack Team", which was mentioned in the hacking, posted a message on Facebook yesterday saying that Narongrit Suksarn, aka "Lek Window 98 SE", was not a member of the group and that it had no part in the hacking. The message said "only mad people" would mention them in an attack like this.
'Framed by enemies'
The 29-year-old computer programmer said he had reported to the Crime Suppression Division of the National Police in order to prove his innocence. He said he been framed by his enemies, citing a previous conflict with the "Unlimited Hack Team", which challenged him to hack into their website and he succeeded in doing so.
He said he was reporting to the police in order to provide them with tips on identifying the real hacker. Narongrit went on to explain that though most hackers camouflaged themselves, they do leave behind certain clues that can be traced. The most important thing, he said, is to understand the method used to hack the system and then to follow up on this lead.
"There has been some talk in hackers' circles about another job being completed. Hackers regularly break into different websites, be it government or private, such as the Channel 3 website that was hacked earlier. However, I insist that I have nothing to do with this attack," he said.
Police said that Narongrit was not being treated as a suspect at present and no charges have been brought against him.
He has just been "invited" to meet the officers and provide them with leads, they said.
However, Narongrit's home has been searched and his personal computer confiscated to check on all digital traces. Police are also keeping a close eye on 20 other hackers.
Police said they believed that using one hacker to catch another will eventually bear fruit, adding that the culprit could get up to five years in prison and a fine of no more than Bt100,000 under the Computer Crimes Act.
In a related development, Deputy Prime Minister Chalerm Yoobamrung said nobody should come to any conclusions yet about whether or not the attack is politically motivated.
He also promised to inform the public right away if there are any new developments.
River basins could lose protection
The Nation / Phuket Gazette
PHUKET: Plans by the Office of Natural Resources and Environmental Policy and Planning (ONEP) to seek the removal of certain river basins from a list of protected areas has worried environmental advocates, who view the move as a bid to relax the legal requirements for participants in the government's Bt350-billion water-management mega-project.
ONEP said recently it would ask the government to de-list those river basins protected by a Cabinet resolution, due to a "lack of clarity" on designated boundaries for protected areas.
However, environmental advocates say they are concerned the de-listing will open the floodgates for construction projects under the government's mega-project scheme.
The mega-project construction plan has attracted only a small number of bidders, as many prospective participants are concerned about the environmental impact assessment (EIA) requirements.
ONEP secretary-general Santi Boonprakrab said he had proposed the government amend the Cabinet resolution issued on November 3, 2009, and remove from the list the protected basins of large rivers.
Among those rivers proposed for de-listing are the Ping, Wang, Yom, Nan, Songkhram, Kwae Noi, Kwae Yai, Lam Plai Mat, Lower Chao Phraya and Bang Pakong.
Santi said ONEP wanted to de-list the river basins because his agency was keen to make the boundaries of protected areas clearer before listing them again.
Under the Cabinet resolution, any construction project built in a protected area is subject to an EIA study, or an environmental health impact assessment.
To date, about 47 national river basins have been listed as protected areas under the Cabinet resolution of 2009.
Hannarong Yaowalers, president of the Foundation for Integrated Water Management, said he was worried the removal of protected river basins would allow the Bt350-billion mega-project to go ahead with no restrictions. Without existing measures of screening, there could be adverse impacts on the environment and natural resources, as well as the local people's health, he added.
"If the government agrees to amend this Cabinet resolution and remove the basins from protection, that means we will have no way of assessing the environmental and biological conditions in local areas," he said.
He suggested ONEP use another measure to designate the boundaries of protected basins instead of removing them from the protection list.
However, ONEP's Santi insists the de-listing is not aimed at relaxing rules for the mega-project. "Although protection under the Cabinet resolution is lifted, there are other laws that can protect the river basins," he said.
The National River Basin Management Sub-Committee will study Santi's proposal on May 23.
Lin Ping to seek mate in China, then return
The Nation / Phuket Gazette
PHUKET: Lin Ping, the only giant panda born in Thailand, will head to China to choose her mate before returning for a 15-year-long stay with her new companion.
"Thanks to the close ties between the two countries and discussions between the leaders, China has agreed to let Lin Ping grow up in Thailand," Foreign Minister Surapong Towichukchaikul said yesterday.
He said this was a special exemption, because without it Lin Ping would have to return to China.
This superstar panda was born to Chuang Chuang and Lin Hui, who have also been lent to Thailand by the Chinese government. The panda family has been living at the Chiang Mai Zoo, proving to be a powerful magnet for tourists.
Lin Ping's parents came to Thailand in 2003 under a 10-year contract and were scheduled to return to China in October.
"But now China has agreed to let the pair stay in Thailand until Lin Ping returns with her mate," Surapong said.
Lin Ping is set to leave Thailand on October 12 to prepare for the mating season, which runs from February to May.
"China has promised to do what it can to find a suitable mate for Lin Ping and send them both back to Thailand within a year," the foreign minister said.
China has been charging US$250,000 (Bt7.5 million) per year for each giant panda lent to Thailand. This annual fee will rise to $500,000 per animal once Chuang Chuang's and Lin Hui's stay is extended. When Lin Ping returns with her mate, the fee will rise to $1 million per panda.
"The Natural Resources and Environment Ministry has agreed to the increase," Surapong said.
— Phuket Gazette Editors