Phuket Gazette Thailand News: Press freedom failing in Asia; Isolated schools get merge pass; 11 dead in capsize off Ranong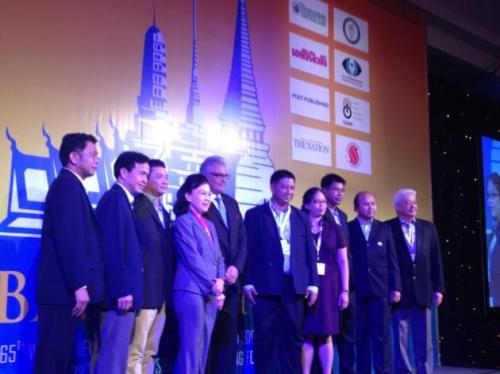 PHUKET MEDIA WATCH
– Thailand news compiled by Gazette editors for Phuket's international community
Newpaper chiefs confer on challenges facing industry
The Nation / Phuket Gazette
PHUKET: Global newspaper chiefs are here in Bangkok to confer on the big challenges that face the industry, which include poor press freedom and financial struggles.
At the International roundtable entitled 'The New Media Landscape and its Press Freedom Challenges" yesterday, the audience was told that Southeast Asia is still a "sad story" when it comes to press freedom while a number of African countries pose serious challenges for working journalists.
Though Thailand, the Philippines and Indonesia are regarded as more free when it comes to press freedom in the Southeast Asian region, these countries have their own challenges such as the lese majeste law in Thailand, the killings of journalists in Indonesia and the Philippines and the controlling of the Internet through laws such as Computer Crimes Act in Thailand and the Philippines, said Gayatri Venkitesuwaren, executive director of the Bangkok-based Southeast Asian Press Alliance (SEAPA).
From the African continent, Ferrial Haffajee, editor of City Press in South Africa, said problems ranged from jailing of journalists in Ethiopia to the state of emergency in Nigeria. In the Democratic Republic of Congo, said Haffajee, the country has become a no-go zone for journalists and other countries in the continent including North and South Sudan, Zimbabwe and Somalia are difficult for journalists to operate in.
Kavi Chongkittavorn, columnist at The Nation and chairman of the roundtable, said press freedom in Southeast Asia still has a lot of problems, including the lese majeste law in Thailand. The region, he said, is like a Disneyland of political systems due to the wide range of governance methods.
The event was part of the four-day 65th anniversary of the World Newspaper Congress. The annual summit meeting of the world's newspapers and news publishers, organised by the World Association of Newspapers and News Publishers (WAN-IFRA), ends on Wednesday.
The congress started with a roundtable discussion on digital media, where panellists agreed that newspapers across the world would need to go digital, encompassing websites, smart phones and tablets to meet the needs of the consumers. Through the digital platforms, they can seek revenue from online subscription and advertising.
Stig Nordqvist, an executive director for Publishing & Digital, WAN-IFRA, said that the consumption of news will soon be as big on mobile as on laptop and PC, while print circulation and advertisement is rapidly decreasing in mature markets. Supporting this is a change in consumer behaviour as well as structural change in advertising strategy to cover new media.
Media publishers without healthy online business are extremely weak, and increasing the digital focus is key for building business. Nordqvist said that leading publishers are now heading to generate more than 50 per cent of revenue from digital platforms. For this, newspapers need a proper data management system to manage and balance their customers and advertisers.
Anders Berglund of Schibsted Media group Sweden urged news organisations to adopt the real-time bidding (RTB) model, as this will be the next big thing for online media. RTB is an automated process that allows online bids and purchases by media buyers.
Isolated schools may not have to merge
The Nation / Phuket Gazette
PHUKET: The Education Ministry will provide further assistance to small schools that are unable to merge with larger ones, due to their isolated locations, said Education Minister Phongthep Thepkanjana, following recent discussions with locals in Chiang Rai's Muang district.
During his visit to the province he paid a visit to a small school – a branch of Pha Khwang Witthaya School – which provides education for up to 39 students. Despite having only 39 students, the school will not be merged as it serves students in an isolated mountainous area, said Phongthep, who talked with locals and discussed ways to keep the school open.
The school's administrators revealed that they lacked the resources, but stressed it was crucial to keep it open for the students.
"The Education Ministry will provide the school with more resources for the sake of the students. The school will be equipped with a satellite for distance learning and temporary teachers will be assigned to teach subjects with which local teachers are not so familiar. Locals will also take part in passing on their wisdom – such as weaving and basketry – so that students can apply them in their working lives," Phongthep said.
Responding to opposition against the school-merging policy, Phongthep insisted that it was to improve the quality of education and was not just aimed at closing down small and inefficient schools.
However, he said those schools that could not be merged due to their isolation, would receive assistance from the ministry in the form of educational planning and temporary teachers, who would travel to the schools to teach subjects like mathematics and English.
Surajate Palee, director of Pha Khwang Witthaya School, said one of its school branches – Khwae Wuadam – was in a mountainous area where the Karen and Lahu tribes lived. He said it was too isolated for students to travel to another school and the parents were also too poor to pay for their children to attend schools further away.
Lerphong Phornphininworakij, acting director of the Khwae Wuadam branch, said its teachers had to teach students in combined classes with Prathom 5 (Grade 5) and Prathom 6 (Grade 6) studying mathematics together.
Prathom 5 students often had to wait until Prathom 6 students finished their more advanced lessons before joining the class. This, he said, meant that the teaching process was much slower than in schools with proper resources. As a result, the school's national test scores were well below the national average, he said.
Naji Ja-nga, 48, a mother, said the school branch helped provide her child with some education. She did not want it to be closed down and said the ministry should instead provide it with more teachers, books and equipment.
Nako Waku, a grandma of a student at the school, said she did not want her niece, still in primary education, to have to travel far as she was still too young.
11 bodies found floating off Ranong
The Nation / Phuket Gazette
PHUKET: Eleven bodies of people believed to be from Myanmar's Koh Song province were found floating off Ranong province yesterday.
Police were investigating the gruesome findings. After first finding10 bodies, they then found one more off Koh Chang in Ranong's Muang district.
Police suspect they were among dozens of people from Myanmar whose boat capsized and sank on May 31 as they were travelling from Koh Song.
Thirty-eight people from the boat survived and were detained by Thai authorities for illegal entry, as they had no travel documents.
— Phuket Gazette Editors
Keep in contact with The Thaiger by following our
Facebook page
.
Never miss out on future posts by
following The Thaiger
.
Protesters suing Thai PM, police and officials over State of Emergency in October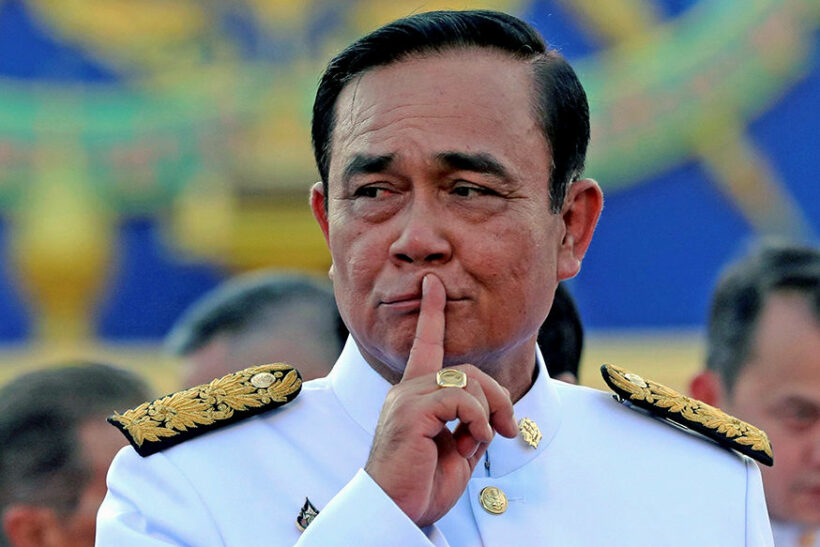 Protesters and human rights lawyers are officially suing the Thai PM, a deputy PM and other members of the government and police for 3.5 million baht in damages. The lawsuits cover the declaration of a state of emergency that was imposed for a week during October following a major protest where a royal motorcade drove into the path of a protest near the Democracy Monument in Bangkok.
Police claim that protesters "blocked" the path of the royal motorcade, but video of the incident shows the protesters were gesturing at the yellowRolls Royce and yelling at the occupants as it passed by, without obstruction. Her Majesty the Queen and the King's youngest son were in the vehicle at the time.
There are seven complainants, each demanding 500,000 baht in compensation.
The State of Emergency was announced for Bangkok on October 15, at 4am in the morning following the protest.
Representatives of the Human Rights Lawyers Association filed the lawsuit with the Civil Court yesterday. It lawsuit also targeted the Prime Minister's Office, national police officials and the Royal Thai Police Office.
Nuengruethai Kijakansuparoek, of the lawyers' association, claims the declaration violated rights to freedom of politics, transport and expression of opinion. The Association also warns that there are more lawsuits on the way.
"The closure of electric train service was ordered, some demonstrators were arrested and some people were affected by tear gas, and people were unable to voice their political opinions."
yesterday some 5,000 gathered at the Lad Phrao intersection in an "anti coup picnic" to enjoy food, including Isaan dishes, with protest leaders speaking and musicians keeping the crowd entertained. Protest organisers said it was "a rehearsal protest against coups".
Protesters handed the "flock" of yellow inflatable ducks over the heads, of the crowd "to represent the military passing over the people" to by-pass democratic rule and be the defacto government of Thailand. An inflatable Santa also made his way into the festivities for no apparent reason (well, Christmas is approaching).
Yesterdays rally was just 2 days after another gathering outside the Siam Commercial Bank HQ, where HM the King is the largest single shareholder in Thailand's oldest bank, founded in 1907.
Today's rally will start at the Imperial World Samrong shopping centre, south of central Bangkok, and march to Bang Na intersection. Then tomorrow protesters plan to hold another rally in front of the . Imperial World Samrong shopping centre.
Keep in contact with The Thaiger by following our
Facebook page
.
Never miss out on future posts by
following The Thaiger
.
"Bad Students" protest group urges pupils to ditch their uniforms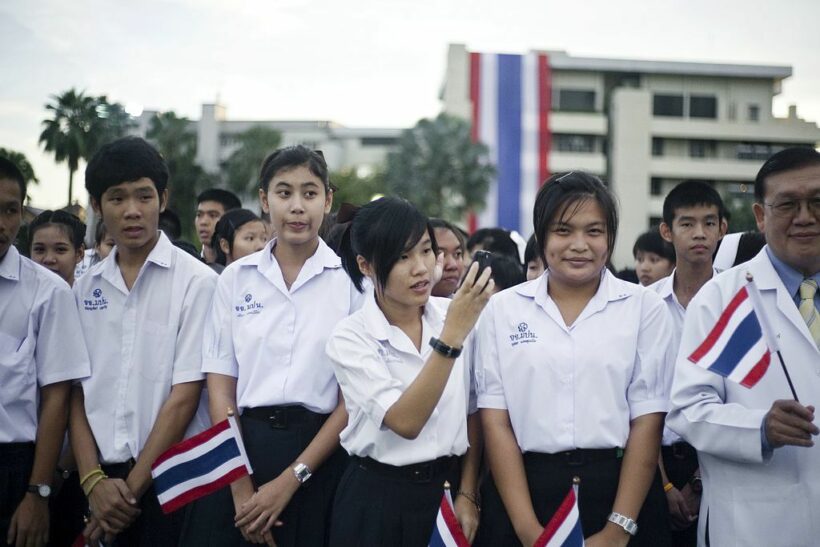 School students are being urged to ditch their uniforms and wear their own clothes from the start of the new term next week. The "Bad Students" protest group has posted an appeal on Twitter, calling on students to wear what they want.
"Finally, we can discard the obsolete uniforms and have the freedom to wear personal clothes. To all students, throw away those uniforms on December 1, and dress the way you prefer to go to school – #saygoodbyetouniforms."
According to a Bangkok Post report, the call has also been taken up by fellow activists in the north-eastern province of Khon Kaen. The Pakee Students KKC group took to Facebook to urge students to ditch their uniforms.
"We would like to invite all students to wear your preferred outfits to school. This is meant to question whether school uniforms are that important. Will teachers not allow us to attend class just because we don't wear uniforms? Why go to school if the principals and teachers are more interested in uniforms than schooling? If students cannot afford to buy uniforms, does this mean having no rights to attend class? Let's try and see if wearing outfits of our choice can reduce inequality. If there are 10 students wearing their preferred clothes, they may be punished. But if all students at a school do so, just imagine the changes this will bring."
Since anti-government protests began in mid-July, students have been railing against the Education Ministry, as well as the wider administration of PM Prayut Chan-o-cha. Amid claims of bullying, sexual harassment, and physical abuse in schools around the country, students have slammed Education Minister, Nataphol Teepsuwan, for his refusal to reform the system.
Meanwhile, Amporn Pinasa from the Office of Basic Education Commission says students refusing to wear their uniforms are in breach of school regulations. She adds that rules are there for a reason and that not everyone in society gets what they want. She points out that, rather than creating disparity, uniforms are more likely to foster a sense of equality among students.
"Wearing school uniforms will not have any direct impact on learning but it has its merits. Actually, wearing uniforms does help reduce inequality. If students wear their preferred personal clothes, it will lead to some students wanting to get the same expensive clothes as their more affluent friends, even though their parents are not as well off."
SOURCE: Bangkok Post
Keep in contact with The Thaiger by following our
Facebook page
.
Never miss out on future posts by
following The Thaiger
.
Health Ministry teams up with Agoda to offer quarantine hotel packages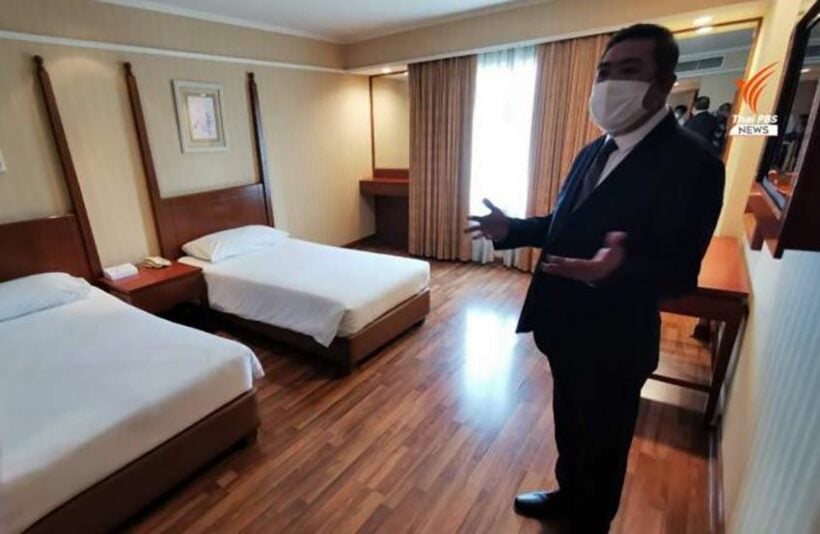 Anyone planning a visit or a return to Thailand can now book their quarantine stay through Agoda, following a deal between the Public Health Ministry and the hotel booking platform. Deputy Public Health Minister Satit Pitutecha announced the agreement yesterday, at a launch event at the Mövenpick Hotel BDMS Wellness Resort in Bangkok, in the company of Tares Krassanairawiwong from the Department of Health Service Support, and Agoda CEO, John Brown.
Agoda was founded in Phuket, Thailand in 1998 but now has its head offices in Singapore.
Sathit says 37 hotels offering alternative state quarantine and alternative local state quarantine have already joined the first phase of the scheme. And, with the possibility of the quarantine period being reduced from 14 days to 10 for some arrivals, he's urging more properties to sign up.
"Thailand has a better track record in virus containment, but as long as other countries are still facing the spread of the virus, preventive measures, including quarantine under the ministry's supervision, remain necessary and that means more ASQ facilities as well."
The Agoda booking platform allows people coming to Thailand to choose and book their quarantine package and is available in 39 languages with around-the-clock support. Brown has thanked the Health Ministry for the initiative, saying it will prove helpful for those planning to visit or return to the Kingdom.
Meanwhile, Tares says Thailand's 113 ASQ-approved hotels are expected to attract around 30,000 tourists and generate over 1 billion baht for the economy.
Booking.com now also has some ASQ hotels in its inventory.
SOURCE: Nation Thailand | Bangkok Post
Keep in contact with The Thaiger by following our
Facebook page
.
Never miss out on future posts by
following The Thaiger
.