Phuket Gazette Thailand News: Prem mediator plan falters; Songkran toll hits 204; Police chief wants proactive officers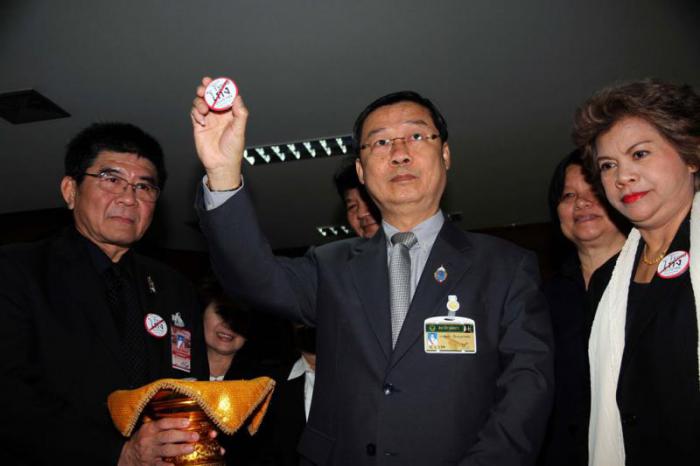 PHUKET MEDIA WATCH
– Thailand news compiled by Gazette editors for Phuket's international community
Toll hits 204 as revellers start returning
The Nation / Phuket Gazette
PHUKET: As large numbers of people yesterday started to travel back to work from the Songkran holidays – and many others continued to enjoy water splashing in their home towns – the Road Safety Centre said the first four days of Songkran had seen 2,027 road accidents, which claimed 204 lives and injured 2,142 people. Chaiyaphum remained the only province with no road accidents this Songkran. Caretaker Deputy Education Minister Sermsak Pongpanit, in his capacity as the centre's chairman, announced yesterday that the first four days of Songkran (April 11-14) saw the number of accidents and injuries rise by 130 and 122, respectively, from last year, while the number of deaths fell by 15.
Nakhon Ratchasima has seen the most deaths (11), while Nakhon Si Thammarat has seen the most accidents (75) and the most injuries (82). So far, 12 provinces have seen no road fatalities – Mae Hong Son, Chaiyaphum, Yasothon, Amnat Charoen, Chai Nat, Nakhon Nayok, Phetchaburi, Lop Buri, Angthong, Narathiwat, Phang Nga and Yala.
On Monday alone, there were 488 accidents killing 43 people and injuring 502 others, Sermsak said. Drunk driving remains the major cause, at 43.03 per cent, followed by speeding at 22.34 per cent, he said. Most accidents involved motorcycles (78.23 per cent), followed by pickup trucks (12.30 per cent). Officials at 2,274 checkpoints arrested and fined 111,797 traffic-law violators, most of whom were bikers failing to wear helmets (36,511 cases) and those failing to present a driver's licence (33,310 cases).
Disaster Prevention and Mitigation Department chief Chatchai Phormlert said the number of road-accident deaths had dropped significantly from the previous Songkran thanks to cooperation from all sides. He urged travellers to plan their return journeys well, to rest fully, and to check the condition of their vehicles thoroughly before travelling. He urged drivers to pull over and rest every two hours or every 150 kilometres.
In a separate event, Public Health permanent secretary Narong Sahamethaphat urged youngsters not to make prank calls to the ministry's 1669 hotline, as doing so could have deadly consequences, by blocking access to callers in need of life-saving help. Narong, who inspected a Nakhon Sawan hospital and an Ayutthaya hospital to check their emergency medical-care preparedness, said there were 40-50 prank calls a day, which was about 50 per cent of all calls made daily to the hotline.
Meanwhile, the Phuket land-transport office imposed a 30-day suspension of driver's licences for public-transport drivers who test positive for drugs, and will fine such drivers' companies Bt5,000. The office's expert official,
Jaturong Kaewkasi, said the office, police and provincial officials had set up checkpoints to conduct urine tests for drug abuse by public-transport drivers. From April 11-14, they imposed such punishments on two bus drivers and one van driver who tested positive for drugs. This was a hefty drop from the previous Songkran's 27 cases.
In related news, a Loei-Nakhon Ratchasima-Rayong bus overturned yesterday in Sara Buri's Kaeng Khoi district resulting in 38 injuries – one of them serious. The bus crashed into a roadside home and an electric pole, causing a blackout in the area. The unnamed bus driver initially told police that he lost control of the vehicle while trying to handle a curve on a slippery road amid rainfall.
Gen Prem 'mediator' plan falters
The Nation / Phuket Gazette
PHUKET: A proposal to have Privy Council President Prem Tinsulanonda take on a mediator's role in order to resolve the political impasse may not get off the ground due to lukewarm support.
A close aide yesterday quoted General Prem as saying that the proposal to have him act as a mediator to resolve the political crisis was born of good intentions.
Lt Gen Pitsanu Phuttha-wong, chief of the Office of the General Prem Tinsulanonda Statesman Foundation, said Prem had learned about the proposal from the media, but did not make any specific comments on the issue. However, the aide said, the statesman believes that the group proposing the idea – like other groups – has good intentions and hopes to bring peace to the country.
A group of former senior bureaucrats called Rattha Bukkon or Man of the State, led by former supreme commander Saiyud Kerdphol, proposed that talks be brokered between leaders in all sectors to draft a covenant under Royal command on how the country should be ruled at times of crisis.
Saiyud stressed that the person playing the mediator's role could not exercise the King's power under the Constitution's Article 7.
Article 7 states: "Whenever no provision under this Constitution is applicable to any case, it shall be decided in accordance with the constitutional practice in the democratic regime of the government with the King as Head of State."
The real intention of Saiyud's proposal is under doubt as it could be considered unconstitutional.
Pheu Thai Party spokesman Prompong Nopparit yesterday rejected the proposal, saying it appeared to offer a shortcut for certain political groups that had joined hands with old "elitists" with the intention of toppling this government and setting up a new one without listening to the public majority.
"Their real intention is crystal clear. They are no different from the anti-government People's Democratic Reform Committee of Suthep Thaugsuban," Prompong said at a press conference.
Democrat Party leader Abhisit Vejjajiva, meanwhile, declined to comment on the proposal, saying he did not believe Article 7 could be applied until the country enters a political vacuum – in other words, it is not applicable for as long as a caretaker PM is in power.

Election talks
Abhisit said his party would definitely dispatch high-level representatives to discuss holding a new election with the Election Commission next Tuesday. The Democrats had earlier set conditions, saying they would only participate if the discussions were broadcast live and if Pheu Thai sent party leaders to attend.
Noppadon Pattama, a legal adviser to former prime minister Thaksin Shinawatra, said the Pheu Thai Party would have authorised officials attend the discussion and would set no conditions because it believes holding an election is the best solution for the country.
Meanwhile, Chanyuth Heng-trakul, leader of the United Front for Democracy against Dictatorship (UDD) in the East, said his group was ready to offer caretaker Prime Minister Yingluck Shinawatra support by converging on the Constitutional Court the day it issues a verdict on the Thawil Pliensri case. In this case, Yingluck is accused of violating the Constitution in relation to the transfer of Thawil from his post as secretary-general of the National Security Council.
Yingluck has until Friday to submit her defence statement, but it is not certain if she will seek to extend the deadline.
Meanwhile, Chanyuth said his group would hold a peaceful and unarmed demonstration to protect democracy. "UDD members will pour in from across the country. Bangkok will come under siege because only 2 million protesters are needed to paralyse the capital," he sai
— Phuket Gazette Editors
Keep in contact with The Thaiger by following our
Facebook page
.
Never miss out on future posts by
following The Thaiger
.
Facebook, Twitter may face charges for allegedly allowing lèse majesté content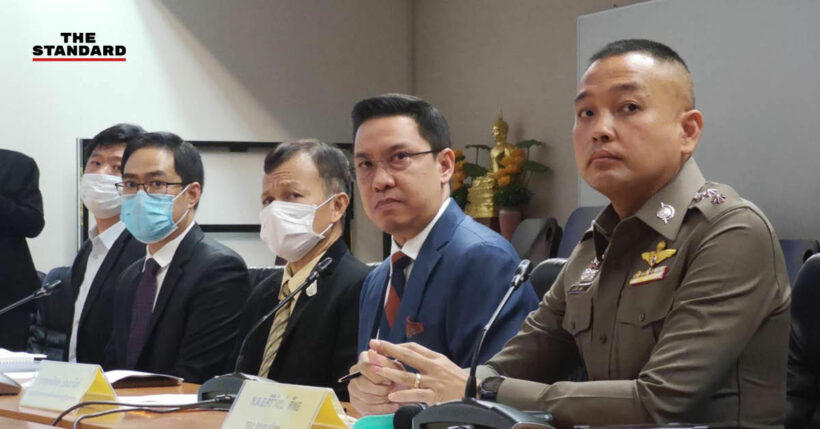 Facebook and Twitter could face charges for failing to block so called lèse majesté posts that allegedly violate Thailand's Computer Crime Act. The Ministry of Digital Economy and Society says the social media platforms were warned about Thailand's laws regarding content that insults the Thai Monarchy or threatens national security and peace, but failed to remove all the illegal posts.
Letters were sent out to the operators of Facebook, Twitter and YouTube giving them 15 days to take down the illegal posts or charges would be pressed, according to Minister of Digital Economy and Society Buddhipongse Punnakanta. Since not all the posts were removed, the ministry has asked the Technology Crime Suppression Police to step in and prosecute the social media platforms.
The Thai government has been using the blunt tool of "shooting the messenger" in its battle against content deemed disrespectful of the Thai Monarchy under its lèse majesté laws.
"It is the first time in Thailand that the (computer crime) law is exercised to prosecute the service providers. Charges will go to the parent company of all the organisations. The police will use Thai laws because the offences happened in Thailand. I believe the police can do it."
The minister says Facebook was told to take down 661 posts, but they only removed 225. Twitter was told to remove 69 posts, he says, but only took down 5. YouTube was told to remove 289 posts and all of them were blocked. Social media platforms that violate the Computer Crime Act could face an up to 200,000 baht fine per illegal post and a daily fine of up to 5,000 until the content is removed.
Buddhipongse filed the complaint which also cited nearly 1,000 social media posts that allegedly violate the act. They say the posts offending the Thai Monarchy were made during the pro-democracy protest in Bangkok last weekend.
SOURCE: Bangkok Post
Catch up with the latest daily "Thailand News Today" here on The Thaiger.
Keep in contact with The Thaiger by following our
Facebook page
.
Never miss out on future posts by
following The Thaiger
.
Thailand News Today | Visa amnesty, sealing Burmese border, Thai airways creditors | September 24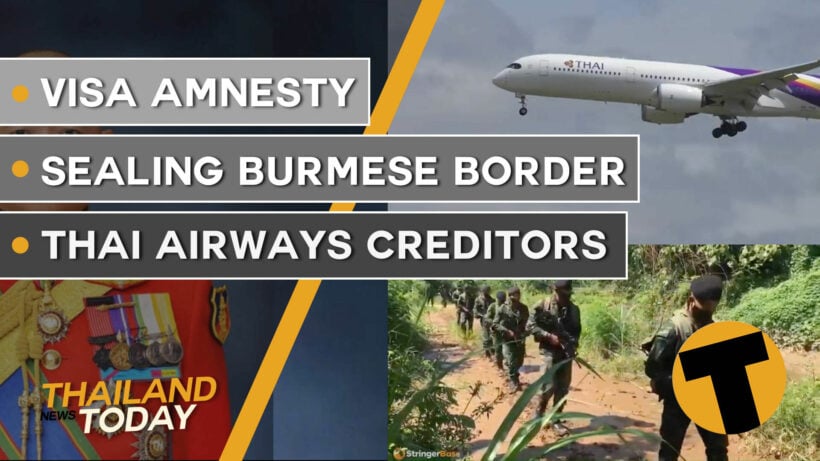 Latest update for September 26 deadline of visa amnesty.
Deadline set for THAI creditors
A date has now been set for creditors to recover their money from Thai Airways. Applications for debt repayment through corporate bonds started yesterday. Applications filed by private individuals are being received at the Securities and Exchange Commission office in Bangkok. The deadline for applications is November 2. It's ben reported that there are some 10 million creditors. The airline's total debt stands at 352.4 billion baht.
Thailand seals its 2,000 kilometre border with Myanmar
Thailand's Department of Disease Control remains on alert, and patrols increased along the Thai/Myanmar border, as Thailand's western neighbour continues to register a spike in new Covid 19 cases. Between 430 and 670 people each day, over the past 4 days, have tested positive for Covid-19. The DDC's director-general says that Thai "business operators should stop hiring foreign workers, especially Burmese people, to help prevent a second wave of Covid-19 infections in Thailand." Myanmar's number of confirmed cases has now reached 7,177 with 129 Burmese succumbing to the virus at this stage. Yesterday the four national papers suspended circulation, waiting out the sudden surge of cases. In some border districts, police have placed barbed wire along the leaky jungle border to deter people from crossing the 2,000 kilometre-long border illegally.
Deputy PM says "Big Joke" transfer not necessarily unlawful
Deputy PM Wissanu Krea-ngam says former immigration chief, Surachate Hakparn, shouldn't assume his transfer to an inactive post in the PM's Office was unlawful. Surachate, known by the nickname "Big Joke" headed up Thailand's Immigration Bureau until he was unceremoniously side-lined by the PM, Prayut Chan-o-cha early last year. It's understood he is now planning to sue the PM, claiming that the lack of any investigation against him shows there were no grounds for the transfer. For his part, Deputy PM Wissanu says Surachate has the right to sue the PM if he so wishes but shouldn't assume his transfer is similar to that of the former National Security Council chief, who was transferred under former PM Yingluck Shinawatra in 2011. That transfer was subsequently deemed unlawful by the Supreme Administrative Court. Wissanu doesn't rule out the possibility of Surachate being re-instated. For his part, Surachate claims his petitions to the PM have fallen on deaf ears.
New army chief declares he'll protect Thailand's monarchy and restore peace
Thailand's new army chief says he pledges to restore peace and protect the country's monarchy. In a ceremony formerly saying farewell to retiring generals, incoming army chief Narongphan Jitkaewtae (jit-gow-tear) said he would restore peace and be loyal to the Thai Monarchy. His statement comes at a time when many people are speaking out against Thailand's military-run government, and calling for changes to the constitution (voted for by referendum in 2017). He said… "Protecting the monarchy with absolute loyalty and supporting the government to resolve national problems and working to advance the country are tasks for which the generals deserve the honour."
Thailand's Social Security Office forced to explain investment in Sri Panwa Phuket Resort trust fund
The Social Security Office, a department under the direction of Thailand's Ministry of Labour, is being asked to explain its investment in the trust fund of Phuket's Sri Panwa Phuket Resort. The demand comes as members of the opposition and political activists call for an investigation into the property's ownership of the land. The owner of Sri Panwa Phuket, Vorasit Issara, has faced flak online recently, with his property attracting multiple negative reviews as a consequence, after he criticised one of the student anti-government protest leaders. Thai PBS World reports that the Civil Society for State Welfare is calling on the SSO to clarify its investment in the Sri Panwa Hospitality Real Estate Investment Trust, thought to be worth around 500 million baht. Meanwhile, review site Tripadvisor has had to suspend reviews for the Sri Panwa resort, as the travel review website has been flooded with negative reviews.
Bangkok officials issue advice to motorists to avoid parliament area due to protest
Bangkok motorists have been told avoid the roads around Thailand's new parliament building today, with a political rally taking place there as we speak. The rally was announced by anti-government protesters at the end of their weekend demonstration. The Metropolitan Police Bureau advise drivers to avoid Kiak Kai Road, in front of the parliament building, as well as a number of other roads in the vicinity. The Thaiger will bring you some of the latest vision from the protest this afternoon which you can watch on our Facebook page with a full report on tomorrow's Thailand News Today.
Keep in contact with The Thaiger by following our
Facebook page
.
Never miss out on future posts by
following The Thaiger
.
982 lèse majesté social media posts cited in police complaint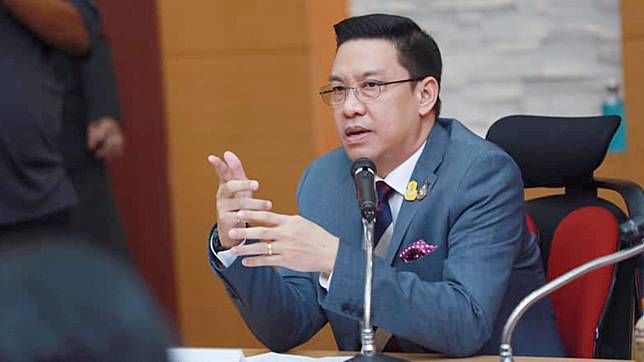 Nearly 1,000 so called lèse majesté posts on social media have been cited in a police complaint for allegedly violating Thailand's Computer Crime Act, some allegedly criticising and insulting the Thai Monarchy. The complaints were filed by Digital Economy and Society Minister Buddhipongse Punnakanta.
The police report says the social media posts were shared during the pro-democracy protest over the weekend. Altogether, 982 social media posts allegedly violate Thailand's Computer Crime Act. The ministry has also applied for a warrant to block content on Facebook, YouTube and Twitter at violate the act.
In Thailand, lèse majesté (insulting the monarch) is criminalised by Section 112 of the Thai Criminal Code… Since 2018, there have been no known new (lèse majesté) cases, but the authorities have invoked other laws, such as the Computer Crimes Act and sedition laws, to deal with perceived damages and insults to the monarchy. – Wikipedia
The complaints and subsequent legal threats, are a rear-guard action by a government and officialdom rattled by the number of protesters and by the extent of their demands, touching on the culturally taboo topic of Thailand's revered monarchy. Another protest is on today at the front of the Thai parliament in Bangkok.
Out of the 982 posts, 661 were on Facebook, 289 were on YouTube, 69 were on Twitter and 5 were on other websites. Buddhipongse says 2 Facebook posts and 3 Instagram posts violate an Article 14 in the Computer Crime Act which regards posts that many cause damage to the country's national security or cause a public panic. Those who violate Article 14 face up to 5 years in prison and an up to 100,000 baht.
Social media platforms could also face charges for violating the act's Article 27 for failing to comply with orders from the court to take down the posts. They could face a fine up to 200,000 baht and a daily fine of 5,000 until the posts are taken down.
Other posts allegedly violate the act's Article 20 which prohibits the spread of information online that might have an impact on national security, or that might be contradictory to the peace. The Nation Thailand says each post that violates Article 20 could face a 200,000 baht fine.
Click HERE to read an unofficial English translation of the Computer Crime Act.
SOURCE: Nation Thailand
Catch up with the latest daily "Thailand News Today" here on The Thaiger.
Keep in contact with The Thaiger by following our
Facebook page
.
Never miss out on future posts by
following The Thaiger
.