Thailand
Phuket Gazette Thailand News: Prem mediator plan falters; Songkran toll hits 204; Police chief wants proactive officers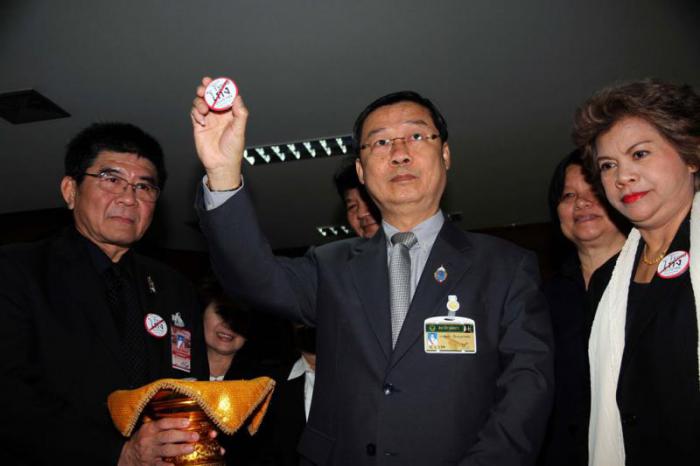 PHUKET MEDIA WATCH
– Thailand news compiled by Gazette editors for Phuket's international community
Toll hits 204 as revellers start returning
The Nation / Phuket Gazette
PHUKET: As large numbers of people yesterday started to travel back to work from the Songkran holidays – and many others continued to enjoy water splashing in their home towns – the Road Safety Centre said the first four days of Songkran had seen 2,027 road accidents, which claimed 204 lives and injured 2,142 people. Chaiyaphum remained the only province with no road accidents this Songkran. Caretaker Deputy Education Minister Sermsak Pongpanit, in his capacity as the centre's chairman, announced yesterday that the first four days of Songkran (April 11-14) saw the number of accidents and injuries rise by 130 and 122, respectively, from last year, while the number of deaths fell by 15.
Nakhon Ratchasima has seen the most deaths (11), while Nakhon Si Thammarat has seen the most accidents (75) and the most injuries (82). So far, 12 provinces have seen no road fatalities – Mae Hong Son, Chaiyaphum, Yasothon, Amnat Charoen, Chai Nat, Nakhon Nayok, Phetchaburi, Lop Buri, Angthong, Narathiwat, Phang Nga and Yala.
On Monday alone, there were 488 accidents killing 43 people and injuring 502 others, Sermsak said. Drunk driving remains the major cause, at 43.03 per cent, followed by speeding at 22.34 per cent, he said. Most accidents involved motorcycles (78.23 per cent), followed by pickup trucks (12.30 per cent). Officials at 2,274 checkpoints arrested and fined 111,797 traffic-law violators, most of whom were bikers failing to wear helmets (36,511 cases) and those failing to present a driver's licence (33,310 cases).
Disaster Prevention and Mitigation Department chief Chatchai Phormlert said the number of road-accident deaths had dropped significantly from the previous Songkran thanks to cooperation from all sides. He urged travellers to plan their return journeys well, to rest fully, and to check the condition of their vehicles thoroughly before travelling. He urged drivers to pull over and rest every two hours or every 150 kilometres.
In a separate event, Public Health permanent secretary Narong Sahamethaphat urged youngsters not to make prank calls to the ministry's 1669 hotline, as doing so could have deadly consequences, by blocking access to callers in need of life-saving help. Narong, who inspected a Nakhon Sawan hospital and an Ayutthaya hospital to check their emergency medical-care preparedness, said there were 40-50 prank calls a day, which was about 50 per cent of all calls made daily to the hotline.
Meanwhile, the Phuket land-transport office imposed a 30-day suspension of driver's licences for public-transport drivers who test positive for drugs, and will fine such drivers' companies Bt5,000. The office's expert official,
Jaturong Kaewkasi, said the office, police and provincial officials had set up checkpoints to conduct urine tests for drug abuse by public-transport drivers. From April 11-14, they imposed such punishments on two bus drivers and one van driver who tested positive for drugs. This was a hefty drop from the previous Songkran's 27 cases.
In related news, a Loei-Nakhon Ratchasima-Rayong bus overturned yesterday in Sara Buri's Kaeng Khoi district resulting in 38 injuries – one of them serious. The bus crashed into a roadside home and an electric pole, causing a blackout in the area. The unnamed bus driver initially told police that he lost control of the vehicle while trying to handle a curve on a slippery road amid rainfall.
Gen Prem 'mediator' plan falters
The Nation / Phuket Gazette
PHUKET: A proposal to have Privy Council President Prem Tinsulanonda take on a mediator's role in order to resolve the political impasse may not get off the ground due to lukewarm support.
A close aide yesterday quoted General Prem as saying that the proposal to have him act as a mediator to resolve the political crisis was born of good intentions.
Lt Gen Pitsanu Phuttha-wong, chief of the Office of the General Prem Tinsulanonda Statesman Foundation, said Prem had learned about the proposal from the media, but did not make any specific comments on the issue. However, the aide said, the statesman believes that the group proposing the idea – like other groups – has good intentions and hopes to bring peace to the country.
A group of former senior bureaucrats called Rattha Bukkon or Man of the State, led by former supreme commander Saiyud Kerdphol, proposed that talks be brokered between leaders in all sectors to draft a covenant under Royal command on how the country should be ruled at times of crisis.
Saiyud stressed that the person playing the mediator's role could not exercise the King's power under the Constitution's Article 7.
Article 7 states: "Whenever no provision under this Constitution is applicable to any case, it shall be decided in accordance with the constitutional practice in the democratic regime of the government with the King as Head of State."
The real intention of Saiyud's proposal is under doubt as it could be considered unconstitutional.
Pheu Thai Party spokesman Prompong Nopparit yesterday rejected the proposal, saying it appeared to offer a shortcut for certain political groups that had joined hands with old "elitists" with the intention of toppling this government and setting up a new one without listening to the public majority.
"Their real intention is crystal clear. They are no different from the anti-government People's Democratic Reform Committee of Suthep Thaugsuban," Prompong said at a press conference.
Democrat Party leader Abhisit Vejjajiva, meanwhile, declined to comment on the proposal, saying he did not believe Article 7 could be applied until the country enters a political vacuum – in other words, it is not applicable for as long as a caretaker PM is in power.

Election talks
Abhisit said his party would definitely dispatch high-level representatives to discuss holding a new election with the Election Commission next Tuesday. The Democrats had earlier set conditions, saying they would only participate if the discussions were broadcast live and if Pheu Thai sent party leaders to attend.
Noppadon Pattama, a legal adviser to former prime minister Thaksin Shinawatra, said the Pheu Thai Party would have authorised officials attend the discussion and would set no conditions because it believes holding an election is the best solution for the country.
Meanwhile, Chanyuth Heng-trakul, leader of the United Front for Democracy against Dictatorship (UDD) in the East, said his group was ready to offer caretaker Prime Minister Yingluck Shinawatra support by converging on the Constitutional Court the day it issues a verdict on the Thawil Pliensri case. In this case, Yingluck is accused of violating the Constitution in relation to the transfer of Thawil from his post as secretary-general of the National Security Council.
Yingluck has until Friday to submit her defence statement, but it is not certain if she will seek to extend the deadline.
Meanwhile, Chanyuth said his group would hold a peaceful and unarmed demonstration to protect democracy. "UDD members will pour in from across the country. Bangkok will come under siege because only 2 million protesters are needed to paralyse the capital," he sai
— Phuket Gazette Editors