Phuket Gazette Thailand News: PDRC ponders blocking advance polls; Public gatherings banned; Red shirts marshall; Kwanchai recovering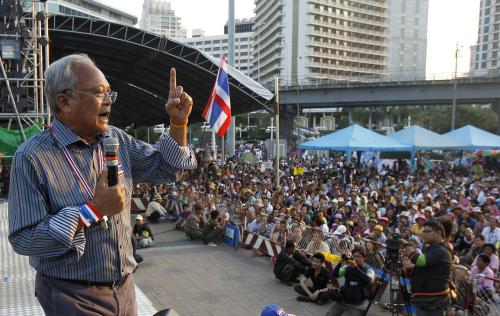 PHUKET MEDIA WATCH
– Thailand news compiled by Gazette editors for Phuket's international community
PDRC plans to block advance voting
The Nation / Phuket Gazette
PHUKET: The anti-government protesters will try to disrupt advance voting for the February 2 election in Bangkok on Sunday, an informed source said yesterday.
Leaders of the People's Democratic Reform Committee (PDRC) will decide today whether they should block the roads leading to the polling stations or besiege the polling stations, making it impossible for voters to cast their ballots, a PDRC source said.
"The decision on one of the two choices will be made [today]. The operation will definitely take place on Sunday," the source said.
This PDRC "operation" will be implemented mainly in Bangkok, according to the source, who added that protesters in the provinces might also try to disrupt advance voting locally.
A venue for advance voting – mostly district offices – has been designated in each of the capital's 50 districts.
The Constitutional Court will rule today on whether the election will be held on February 2, and on whether any government agencies or the Election Commission (EC) have the authority to set a new date, amid the caretaker government's continued strong push for the poll to be held as scheduled.
The court decided yesterday to take the EC's petition into its consideration and will make a ruling today. It must act quickly because advance polling is due to take place on Sunday.
The Constitutional Court has jurisdiction to rule on these issues, as two state authorities are in conflict.
The EC has proposed that the election be rescheduled for May, as it cannot make voting go smoothly because of the anti-government protests in Bangkok and some other provinces, especially in the South. The government disagrees and insists the election must be held on the original schedule, saying the Constitution does not allow for a new date or delay.
To push its case, the caretaker government has asked the Centre for Maintaining Peace and Order (CMPO) to cooperate with the poll agency to keep order during advance voting on Sunday, PM's secretary-general Suranand Vejjajiva said after a special meeting of the Cabinet yesterday.
A state of emergency was imposed in Bangkok and its outskirts on Wednesday. The government set up the CMPO to take care of the situation.
In a related development, caretaker Prime Minister and Defence Minister Yingluck Shinawatra yesterday told the military's top brass at a Defence Council meeting to instruct their subordinates to exercise their voting rights, Defence Ministry spokesman Colonel Thanathip Sawangsaeng said.
Election commissioner Somchai Srisuthiyakorn said he feared that after the poll, lawsuits would be filed seeking its nullification because voting will fail to be held on the same day nationwide, as required by the law.
Currently, there are no candidates registered in 28 constituencies in the South.
Public gatherings banned
The Nation / Phuket Gazette
PHUKET: Curfew not to be imposed; dissemination of news to come under the scanner; Chalerm says authorities will now focus on arresting the protest leaders
Under the emergency decree invoked on Wednesday, the caretaker government yesterday banned public gatherings of five or more people and the distribution of news in a manner that threatened national security, but stopped short of imposing curfew at night.
Those measures were among the six published in the Royal Gazette following the declaration of a 60-day state of emergency in Bangkok, Nonthaburi and parts of Pathum Thani and Samut Prakan.
The announcement, signed by caretaker Prime Minister Yingluck Shinawatra, also authorised the government's Centre for Maintaining Peace and Order (CMPO) to prohibit the use of transport in certain areas and the use of certain buildings, as well as the evacuation of people from certain places or areas.
Now that the state of emergency is in place, authorities will focus on arresting the leaders of the anti-government movement in a bid to end their rally that has gone on for more than 80 days, Labour Minister Chalerm Yoobamrung, who heads the CMPO, said.
Authorities are allowed to detain them for 30 days under the emergency law, he said.
There would be no violence against the protesters and there would be no operation to disperse the street demonstrations, he said.
"The government wants peace to be restored," he said.
The CMPO was considering arresting all the leaders of the People's Democratic Reform Committee in the hope of resolving the protest crisis and ending the demonstrations within 60 days, he said.
People providing financial support to the protest movement might face legal action, as their identities were known, he said, adding he might ask the Anti Money Laundering Office to investigate.
PM meets military top brass
Yingluck, who is also the defence minister, urged the Armed Forces to take good care of their weapons and ensure they would not be stolen during this time of high political tensions, said Colonel Thanathip Sawangsaeng, spokesman for the Defence Ministry.
Yingluck chaired a meeting of the Defence Council at the Air Force headquarters with Deputy Defence Minister General Yuthasak Sasiprapha, Permanent Secretary for Defence General Nipat Thonglek, Supreme Commander General General Thanasak Patimaprakorn, Army chief General Prayuth Chan-ocha, Navy chief Admiral Narong Pipatanasai, Air Force chief ACM Prajin Juntong and other senior brass.
The meeting discussed the military's scope of authority in enforcing the emergency decree and its role in helping police keep order at night, according to a source. The military leaders were told to help monitor against more bomb attacks and warned to be careful when making public statements.
Defence Council meetings are usually held at the Defence Ministry, but as it has often been laid siege to by protesters yesterday's meeting was moved.
Air Force chief Prajin said the caretaker prime minister could use the Air Force HQ as a meeting venue once in a while, but it would be inconvenient for the CMPO to use the office as its command centre because it is both an air base and an airport governed by many security rules.
There had been speculation that the CMPO would want to relocate from the Defence Ministry to the Air Force HQ after the protesters surrounded the ministry on Wednesday, forcing the CMPO to cancel its meeting.
Pol Maj-General Chanthawit Ramasut, the deputy commissioner of Metropolitan Police, said the police will set up 23 security checkpoints around the protest sites in Bangkok to prevent any smuggling in of weapons or violent incidents.
State of emergency measures
1. No gatherings of five or more people in areas marked out by the CMPO are allowed. People can only gather for legal demonstrations and elections. Actions inciting disorder are banned.
2. News reports and distribution of newspapers and other publications carrying distorted information or facts that might cause panic, affect peace and order or good morals are not allowed.
3. At the order of the CMPO chief, the use of public transport routes and vehicles for other purposes is prohibited.
4. The use of public buildings and areas, as well as entering specific places is prohibited under the orders of the CMPO chief.
— Phuket Gazette Editors
Keep in contact with The Thaiger by following our
Facebook page
.
Never miss out on future posts by
following The Thaiger
.
News of American sued over bad Koh Chang hotel review has everyone talking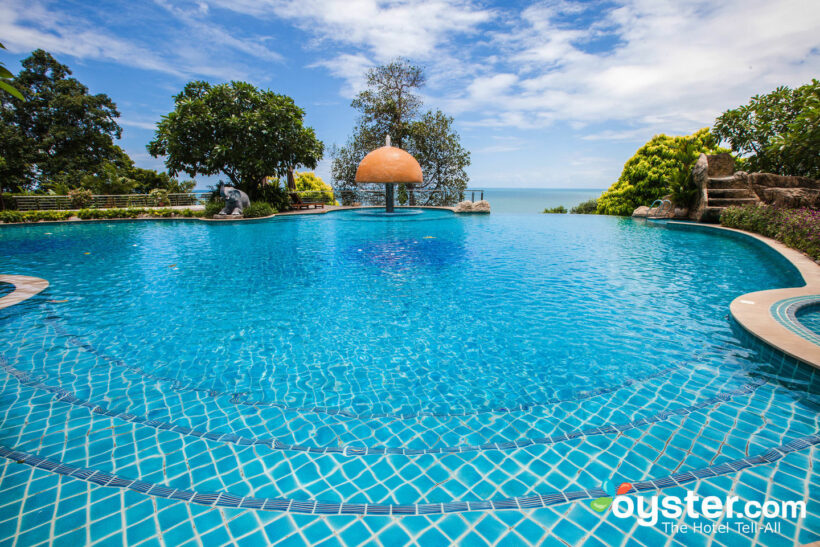 After news hit of an American being arrested and sued for defamation over leaving a bad review about a Koh Chang hotel on TripAdvisor, many are taking to the internet to voice their opinions on the issue. The Sea View Resort owners say it tried in vain to negotiated with Wesley Barnes after he posted the reviews, but he continued to post completely untrue comments.
The owners released a five-page statement after the news of it suing the American gained widespread attention. You can read their response HERE. Then, Barnes submitted his own response detailing the situation which was also published online.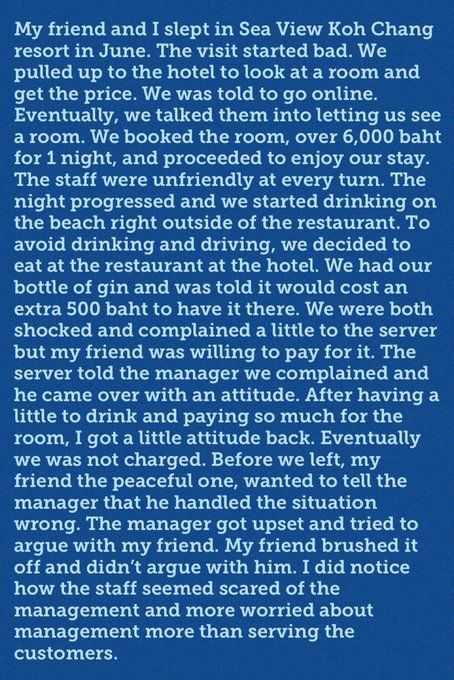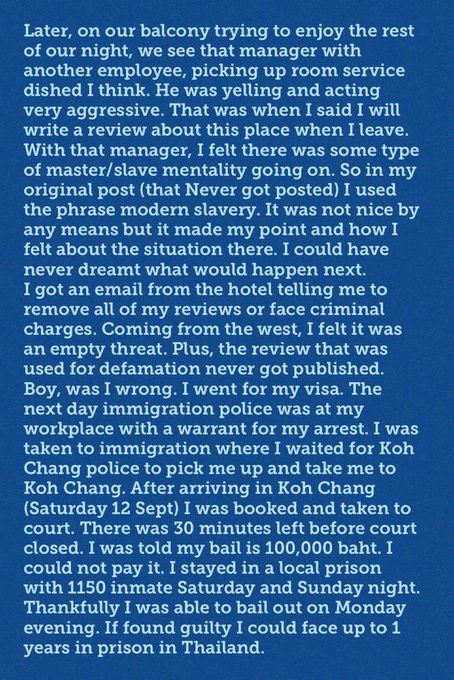 Now, the story has gained even more attention as netizens have begun posting their opinions on the controversial issue of Thailand's defamation laws. Below, are some of those posts on The Thaiger's Facebook page.
"Can someone clarify for me Thailand's position on people leaving honest bad reviews as my girlfriend says it's fine to leave a bad review of a business and it's not defamation if honest of course? I have heard people say that you simply can't leave bad honest reviews at all here but that sounds ridiculous. The thing about many Thais is that they think they're beyond reproach. They can't accept criticism because it's not aligned with their grandiose self-image. Many also have a torrid time when it comes to ownership of their own actions and decision making."
"OMG! He is arrested for a review.?! I know of an expat in Malaysia that wrote a bad review about a Thai-owned resort in Penang and he was sued as well. Be careful with what you share in that neck of the woods."
"It's one thing to leave a bad review but to throw in "modern slavery" remarks escalates to thai defamation law. He shouldn't be arrested for his comments but you need to respect the country laws no matter how crazy they seem compared to your own country. This press is going to negatively affect the business way more than that review would have done though."
"The owner should have settled with the review platforms privately and move on. I would hardly hold up Trip Advisor as a beacon of truth, however some people write extremely personal and vindictive comments that go beyond a review, in an attempt to gain product or refunds in return, this is an absolute fact, and hopefully this might make people think before they start writing reviews that are not exactly honest, I have read stories critical of the General Managers because they didn't contact the guests, some really petty reviews by rather petty people."
If Barnes is indeed found to be guilty of defamation, he could spend up to 2 years in prison and pay up to a 200,000 baht fine.
SOURCE: Chiang Rai Times
Keep in contact with The Thaiger by following our
Facebook page
.
Never miss out on future posts by
following The Thaiger
.
Phuket police arrest 6 after finding large amounts of methamphetamine in raid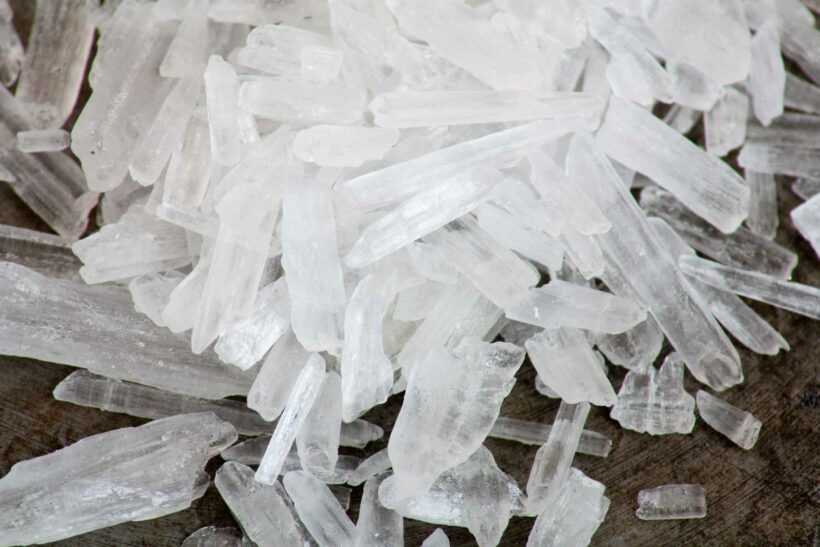 Phuket Provincial Police have arrested 6 people after finding large amounts of methamphetamine and other drugs during a raid. One suspect alone allegedly had 7.6 kilograms of crystal meth (ya ice) and over 12,500 methamphetamine pills (ya bah). 29 year old Surasak 'Bank' Wijit and 27 year old Panida 'Mei' Saeyang were arrested at an apartment car park in Soi Lookkaew, Moo 6, Rassada, in eastern Phuket, after they were found in possession of the drugs.
Police also found 2 mobile phones and a red Honda PCX, registered in Phuket, as evidence. Both suspects have been charged with posessing a Category 1 drug with the intent to sell.
Other suspects arrested at the same time include 36 year old from Chiang Rai, 42 year old Sarawut 'An' Srichanon, from Ranong and 31 year old Pornthep 'Iew' Thepchampa, who were charged with the same crimes in Chalong after police found more drugs in their possession. 33 year old Kamon 'Kung' Sae-ngow, was arrested as well after police found kratom juice and leaves at a house in Rassada. He was taken to Phuket City Police station and was charged with a Category 5 drug possession.
SOURCE:The Phuket News
Keep in contact with The Thaiger by following our
Facebook page
.
Never miss out on future posts by
following The Thaiger
.
Phuket Muay Thai fighter is the first Thai national to compete in UFC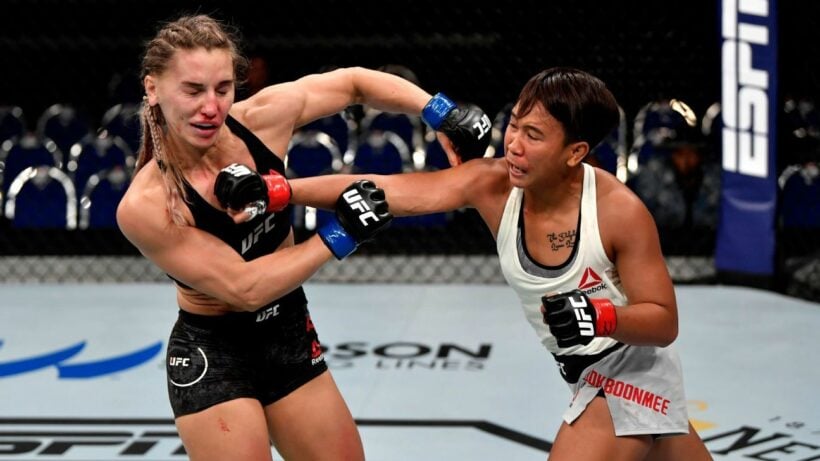 The upcoming Ultimate Fighting Championship Fight Night event in Abu Dhabi will feature Thailand's only national marking her third fight with the UFC, the world's largest mixed martial arts competition. 24 year old Loma Lookboonme, from Burirram in northeastern Thailand, will fight in the event on October 3, 2020.
Loma is a Muay Thai fighter who has adapted her MMA skills to fight in the UFC where she currently trains at the Tiger Muay Thai gym in Phuket. Loma qualified for the national team at the age of 19 and has fought in over 12 nations worldwide. She currently trains 6 days a week starting daily at 6:30am with a 3 kilometre run. In the UFC, she will be competing against China's Angela Lee who is the undisputed champion of the 52 kilogram fist weight category.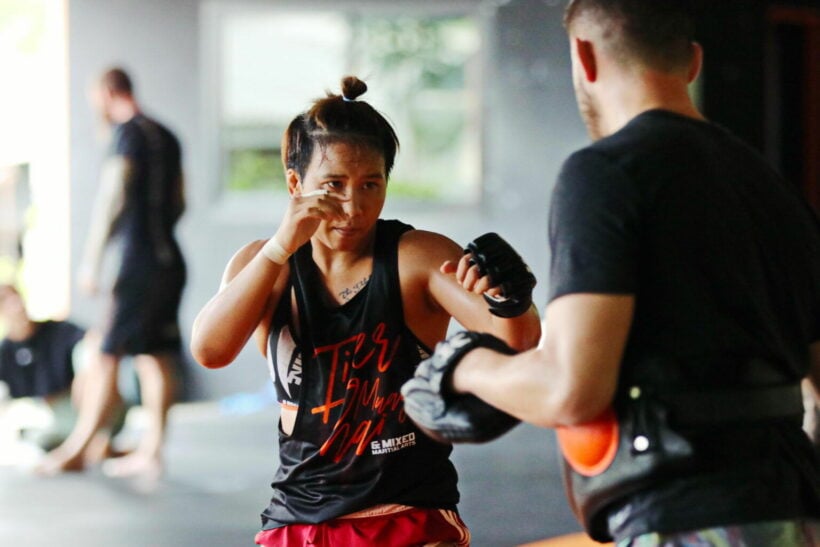 Loma's parents are former Muay Thai fighters and her 2 sisters currently compete as well. She reportedly started training at 8 years old after being inspired by her father, whom she describes as her "hero."
Like most Thais in such fighting sports, Muay Thai offers a way to rise out of poverty-and fighting for the UFC can be financially lucrative. But Loma says her only Thai sponsor is the gym where she trains, with the rest of her sponsors being from foreign brands. She says she is trying to get more Thai sponsors but feels that maybe she needs to win the UFC first before Thai brands notice her.
Loma lost her last fight and says her new opponent gives her nothing to lose. She says her goal is to get into the Top 10, but is not sure when it will happen. Loma says for now, it would be good to fight against someone in the Top 10 to help her prepare for her future.
FULL INTERVIEW: Thisrupt.co
Keep in contact with The Thaiger by following our
Facebook page
.
Never miss out on future posts by
following The Thaiger
.