Phuket Gazette Thailand News: Operation Valentine a success says CMPO; Rice farmers told to take out loans to ease distress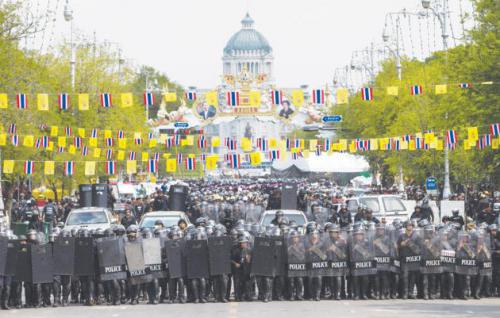 PHUKET MEDIA WATCH
– Thailand news compiled by Gazette editors for Phuket's international community
Chalerm vows non-stop campaign to clear sites
Phuket Gazette / Reuters
PHUKET: The man in charge of the government's Centre for Maintaining Peace and Order (CMPO) yesterday vowed to step up the operation to evict anti-government protesters, while the protest groups remained defiant about continuing their street rallies.
Labour Minister Chalerm Yoobamrung, the CMPO director, said that yesterday's Operation Valentine to reclaim the areas occupied by protesters had shown that the police were well prepared to raid the protest sites any time they liked.
"Anywhere we go, we could seize it all – but we don't want to do it [forcefully]," he said, adding that caretaker Prime Minister Yingluck Shinawatra had advised against the use of force for fear of bloodshed.
"After this, we will do it non-stop until everything is finished," Mr Chalerm said. "We will reclaim the areas outside Government House. Whether it's three days or seven days, we will have to enter the compound."
However, he added that the protesters would not be dispersed, although the police would be ready to arrest Suthep Thaugsuban, if they had a chance to do so.
"It's a success to retake some blocked roads and Government House. There are some roads in front of Government House that protesters are still occupying, and we don't want to enter that area because we want to avoid a clash," Mr Chalerm said.
He also claimed weapons and drugs had been found during yesterday's operation, which ran counter to the protest leaders' claim that the anti-government rally was peaceful.
Akanat Promphan, spokesman for the anti-government People's Democratic Reform Committee (PDRC), described the police operation as a failure, adding that it was simply aimed at pleasing the "big boss". He was alluding to former prime minister Thaksin Shinawatra, who is believed by his opponents to be pulling the strings behind the government.
Mr Akanat said many of the police officers taking part in the operation had been armed with rifles. He showed pictures of those officers to reporters during a media briefing.
The spokesman said that the PDRC would continue its protest and would resist in a "civilized and non-violent way" any attempt to break it up. He also dismissed the CMPO claim the protesters were armed.
Some protest leaders claimed weapons had been planted at their rally site after the demonstrators left. During Operation Valentine, several hundred riot police removed barriers, sandbags and tents outside Government House and the Government Complex on Chaeng Wattana Road. However, they later retreated from Chaeng Wattana to avoid clashes with demonstrators who returned to the site, according to a live broadcast on the satellite-based Bluesky Channel TV station.
Two people were injured in yesterday's operation and were admitted to hospital for treatment, according to the Erawan Medical Centre of the Bangkok Metropolitan Administration.
It was the authorities' first attempt to reclaim the protest sites since demonstrators began their "Bangkok Shutdown" rally on January 13. Police said later in the day that "the real thing" would take place today, when they would again attempt to reclaim the Chaeng Wattana site, which is headed by Buddhist monk Phra Buddha Issara.
Provincial Police Region 1 chief Pol Lt-General Naret Nanthachot said eight companies of riot-control police would be deployed to reclaim the Government Complex today.
If anti-government protesters resorted to arms to counter the operation, he said special task-force teams would be deployed to protect riot-control officers.
He added that the police had moved to reclaim government premises because of rising complaints from people whose livelihoods had been adversely affected by blockaded roads.
He also said that the police had failed to get protest leader Phra Buddha Issara to enter talks yesterday, but that they would make a second attempt to do so today.
Meanwhile, five suspects were arrested yesterday. They included Bunrom Moolma, charged with carrying a communications radio; Natetip Chaiyan, charged with possessing narcotics and Worawut Saengthong, charged with carrying a gun, bullets and amphetamines.
Of the other two – unidentified men – one was apprehended for allegedly hurling a tear-gas canister into police ranks during the crowd-control operation.
The operation faced no resistance from protesters at the Government House and Chaeng Wattana sites. The highest tension was at the latter rally site, when columns of police moved towards the protesters but stopped about 100 metres from them.
Remaining calm, the protesters started praying while others asked police why they had to try to disperse the protest on Makha Bucha Day, which is a major Buddhist holiday.
Reporters observing the police operation noted that it appeared the police and the protesters had colluded about yesterday's operation. To some observers, it seemed to be merely "for show".
They noted that police moved in at the Government House protest site shortly after protesters had left the venue. Moments after police left the area, the protesters returned to the site.
However, senior CMPO figure and Department of Special Investigation (DSI) director-general Tarit Pengdith dismissed reports that police and protest leaders had secretly made an agreement so that there would be no confrontation.
He said that Operation Valentine had not been intended to disperse anti-government protesters, but to apprehend rally leaders who the police have arrest warrants for.
Rally security guards could be arrested if they resisted, he added.
Mr Tarit claimed that the operation had proceeded peacefully, with the suspects and security guards abandoning the sites.
"Police inspections at the sites found many illegal objects such as weapons, drugs and bomb elements. Operations will continue at the proper time to crack down on the suspects," he said.
Farmers can get normal loans too: BAAC exec
Phuket Gazette / Reuters
PHUKET: Farmers awaiting payment for rice submitted to the government pledging scheme could get loans of up to 100,000 baht to help them avoid difficulty and prevent them turning to loan sharks, according to the Bank for Agriculture and Agricultural Co-operatives.
The loans are not related to the rice scheme, but just part of the bank's normal services.
Meanwhile, the Mental Health Department has sent teams of psychologists to visit the homes of eight farmers who reportedly took their own lives over lack of payment for rice sold to the pledging scheme. The department expected to learn more about the farmers' deaths by Monday.
BAAC executives yesterday presented the family of farmer Boonma Sa-thong-uan, who on Tuesday hanged herself in Kamphaeng Phet's Klong Lan district, with 30,000 baht in assistance money.
Bank public relations and communications director Peerapong Kamchuen and other executives attended the funeral yesterday for Mrs Boonma, who reportedly committed suicide after having suffering severe stress due to the months-long overdue payment from the rice-pledging scheme. Mrs Boonma's cremation will be held today.
Mr Peerapong said that the BAAC had a debt-restructuring interest-reducing project that would help Mrs Boonma's husband Chalerm Sa-thong-uan, who also has a loan with the bank. It would give him
— Phuket Gazette Editors
Keep in contact with The Thaiger by following our
Facebook page
.
Never miss out on future posts by
following The Thaiger
.
Ministry of Labour, CP Foods to hire 8,000 graduates to help reduce unemployment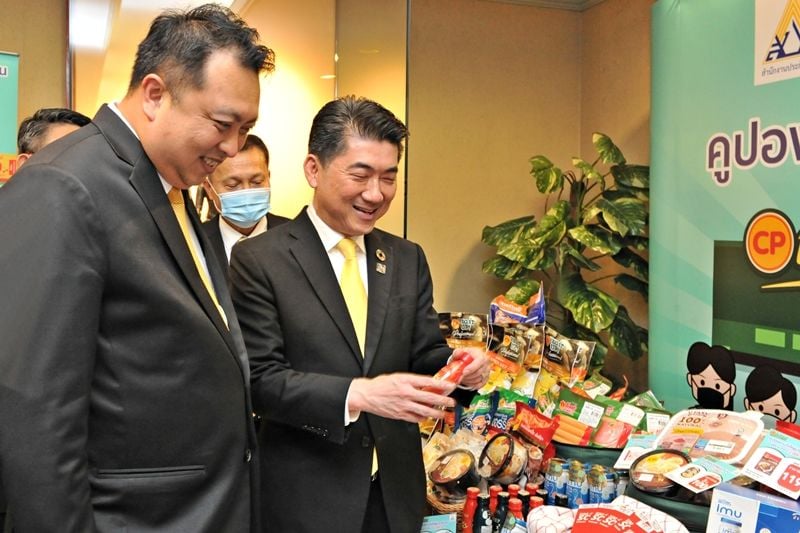 To help reduce unemployment and boost the economy after the pandemic, 8,000 graduates will be hired by the company Charoen Pokphand Foods, known as CP Foods. Thailand's Ministry of Labour recently signed a memorandum of agreement with the company.
4,000 of those jobs will be in Bangkok and metropolitan areas while the other 4,000 more in the upcountry. The job offers vary from positions in the computer science field to positions in the culinary industry.
Labour Minister Suchart Chomklin says the government has a policy to unite all sectors of the society to revive the economy from the coronavirus crisis that caused job cuts, leaving many unemployed, especially new graduates.
He adds that CP Foods has been constantly supporting the government in Covid-19 relief effort since the beginning of the outbreak. This post Covid-19 collaboration will create stability for people at all levels and build more small and medium sized enterprise, or SME, owners that are the foundation of Thai economy.
There's also a discount coupon giveaway from CP Foods and the minister says it will help reduce cost of living for people who are eligible for social security benefits.
CEO of CP Foods Prasit Boondoungprasert says CP Foods is managed in line with the parent group CP Group's policy, to solve the Thailand's unemployment problem, particularly for new graduates, by creating job opportunities and job security. He says it's an "engine for economic revival."
CP Foods will also provide a business opportunity for SME franchises like FiveStar and STAR Coffee, which need a small budget and small space to kick off.
The company will also offer training courses with experts to guide them to start up the business. It expects to create 4,500 franchise owners nationwide.
CP Foods will have a book at the Job Expo Thailand 2020 this Saturday until Monday at the Bangkok International Trade & Exhibition Centres, or BITEC. Those interested can click HERE for more information.
To learn more about starting a FiveStar franchise click HERE and for a STAR Coffee franchise click HERE.
Keep in contact with The Thaiger by following our
Facebook page
.
Never miss out on future posts by
following The Thaiger
.
Empire strikes back: Thai royalists oppose constitution changes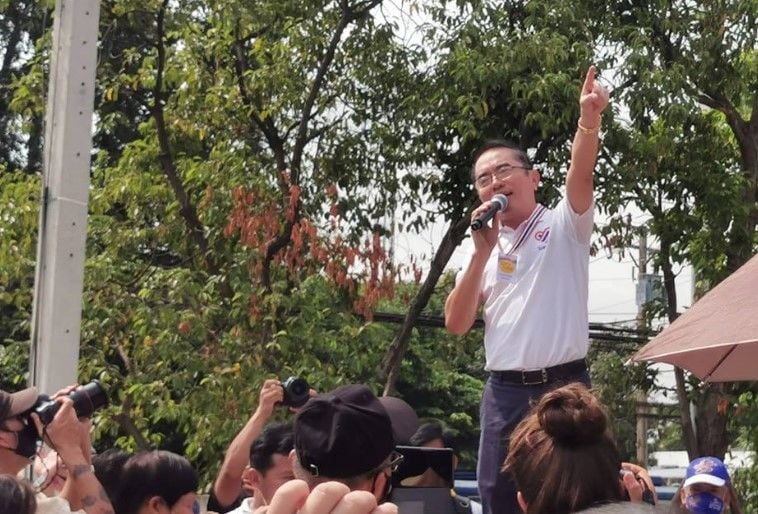 Just after proposed constitutional amendments, backed by pro-democracy supporters, were submitted to the Thai parliament, the Thai Pakdee royalist group filed a petition with 130,000 signatures saying they are against making changes to the constitution.
Pro-democracy activists have been demanding a rewrite of the Thai constitution at protests over the past few months. The nonprofit organisation Internet Law Reform Dialogue, known as iLaw, drafted amendments including one that would require all senators and local administrators to be elected. Currently Thailand's entire Senate is hand-picked by the ruling party. More than 100,000 people back the proposed changes.
"There's no need to make changes", according to Former Democrat MP and leader of Thai Pakdee Warong Dechgitvigrom. He says the 2017 Constitution was approved by 16.8 million people (Thailand's population is 69.4 million).
"Redoing the process would cost 15 billion baht in taxpayer money. On top of that, it would require 2 referenda and a general election."
According to Thai PBS, 84 of the 250 senators need to be on board to move forward with revisions to the constitution. At the moment, around 60 of them are in favour of constitutional amendments while 100 oppose any changes and the rest are undecided. But Senators against the amendments might change their minds, according to Senate whip Sangsit Phiriyarangsan. He says he believes more senators will be in favour of making some amendments after hearing debates in parliament.
SOURCES: Thai PBS
Keep in contact with The Thaiger by following our
Facebook page
.
Never miss out on future posts by
following The Thaiger
.
Thailand News Today | Surachet sues, The Nude Panda | September 23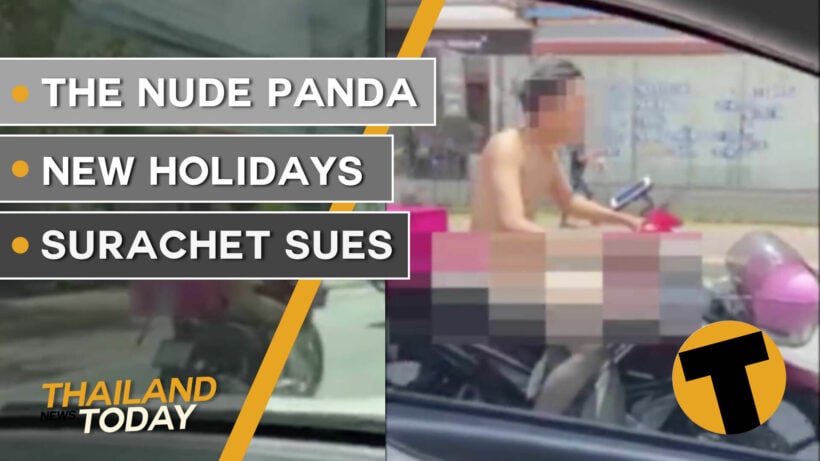 Daily TV News from The Thaiger
Former immigration chief, "Big Joke" suing Thai PM over transfer
The former head of Thai Immigration, and poster boy for Thai officialdom, Surachet Hakparn, is taking legal action against Thai PM Prayut Chan-o-cha, after the PM had him unceremoniously transferred to an inactive post last year.
Surachet, commonly known by the nickname "Big Joke", (a nickname given to him by Thai media) accuses the PM of transferring him without just cause and has been petitioning for a review of the decision ever since.
At the time there was no reason given for the high-profile head of Thailand's Immigration to be 'side-lined' to desk duties at the PM's office.
Surachet's lawyer says that in the 1 year and 5 months since his client's transfer, there has been "no investigation launched against him" and that he should immediately re-instated.
At the height of his fame, in 2017 and 2018, Surachet's face was everywhere in daily media reports, often seen with hordes of foreigners his team had 'rounded up' in immigration crackdowns around the country.
But at some point, he appears to have stepped on the wrong toes, calling into question procurement practices at the Immigration Bureau, amid plans to spend billions on smart cars and the airports biometrics system. Surachet was dumped and sidelined… the purchases went ahead.
4 Thai banks to be investigated for "suspicious transfers" after FinCEN files report
4 Thai banks are being investigated after an international money laundering report said the Thai banks had "suspicious financial transactions." The report found 92 "suspicious" transactions in and out of Thailand totalling to $9,558,752 USD received in Thailand and $31,750,000 USD sent out.
Files were allegedly leaked from the US Financial Crimes Enforcement Network.The FinCEN Files report"reveals the role of global banks in industrial scale money laundering," citing a total of $2 trillion USD in suspicious global transactions from 1997 to 2017.
The Thai Anti-Money Laundering Office plans to investigate Kasikorn Bank, Bangkok Bank, Krungthai Bank and the Export Import Bank of Thailand. But he says the information from the international report needs to be verified first.
Thai sex workers push for prostitution decriminalisation
Prostitution could become further decriminalised in Thailand. A petition is being passed around calling on the government to stop arresting and fining sex workers.
The Empower Foundation, which supports sex worker, is trying to collect 10,000 signatures before they send it to parliament. Also known as the Centre for Sex Workers' Protection, Empower is a non-profit organisation in Thailand that supports sex workers by offering free classes in language, health, law and pre-college education, as well as individual counselling.
"Prostitution is not illegal in Thailand, although many activities associated with it are… like brothels, soliciting, pimping and causing a public nuisance etc. Still the underground industry is estimated to be worth US$6.4 billion a year.
Activists say prostitution laws do little to protect sex workers. Fines and arrests for soliciting sex, have pushed some sex workers into poverty, most of them being women. Thailand is estimated to have up to 200,000 sex workers, many of them now unemployed with no recourse to unemployment benefits or official help during the pandemic.
Thai cabinet adds 2 more 4-day long weekends
A holiday-led economic recovery. That appears to be a part of the government's agenda following yesterday's meeting of the Thai cabinet. 2 new holiday weekends have been created, one in November, one in December.
In both cases the extended weekends will be 4 days each, adding the Thursdays and Fridays before the weekend. Given the exodus of foreigner this week, there will be fewer of the 'stranded' expats and foreign visitors to add to the economic tally of the additional holidays.
So, put it in your diaries…
• November 19-22
• December 10-13
Nude Panda: naked food delivery man hit with 500 baht fine
A man working as a food delivery driver in the southern province of Songkhla, has been filmed riding his motorbike totally naked. The 24 year old later handed himself in to police, explaining that he'd taken his clothes off due to "a personal problem".
The nature of the problem is not known, and police let the man go with a 500 baht fine.
A video was posted on social media, showing the naked young man hurtling along on his motorbike, which had a food delivery bag on the back. The video has now been deleted. According to a motorbike taxi driver witness, the man parked his bike in front of a local temple, removed his clothes, then got back on the bike and drove off.
Social media response was mixed with most just inquisitive about his motives to ride "commando" with little protection, actually no protection at all.
Keep in contact with The Thaiger by following our
Facebook page
.
Never miss out on future posts by
following The Thaiger
.