Thailand
Phuket Gazette Thailand News: Operation Valentine a success says CMPO; Rice farmers told to take out loans to ease distress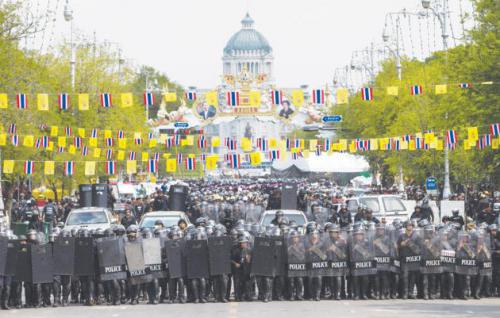 PHUKET MEDIA WATCH
– Thailand news compiled by Gazette editors for Phuket's international community
Chalerm vows non-stop campaign to clear sites
Phuket Gazette / Reuters
PHUKET: The man in charge of the government's Centre for Maintaining Peace and Order (CMPO) yesterday vowed to step up the operation to evict anti-government protesters, while the protest groups remained defiant about continuing their street rallies.
Labour Minister Chalerm Yoobamrung, the CMPO director, said that yesterday's Operation Valentine to reclaim the areas occupied by protesters had shown that the police were well prepared to raid the protest sites any time they liked.
"Anywhere we go, we could seize it all – but we don't want to do it [forcefully]," he said, adding that caretaker Prime Minister Yingluck Shinawatra had advised against the use of force for fear of bloodshed.
"After this, we will do it non-stop until everything is finished," Mr Chalerm said. "We will reclaim the areas outside Government House. Whether it's three days or seven days, we will have to enter the compound."
However, he added that the protesters would not be dispersed, although the police would be ready to arrest Suthep Thaugsuban, if they had a chance to do so.
"It's a success to retake some blocked roads and Government House. There are some roads in front of Government House that protesters are still occupying, and we don't want to enter that area because we want to avoid a clash," Mr Chalerm said.
He also claimed weapons and drugs had been found during yesterday's operation, which ran counter to the protest leaders' claim that the anti-government rally was peaceful.
Akanat Promphan, spokesman for the anti-government People's Democratic Reform Committee (PDRC), described the police operation as a failure, adding that it was simply aimed at pleasing the "big boss". He was alluding to former prime minister Thaksin Shinawatra, who is believed by his opponents to be pulling the strings behind the government.
Mr Akanat said many of the police officers taking part in the operation had been armed with rifles. He showed pictures of those officers to reporters during a media briefing.
The spokesman said that the PDRC would continue its protest and would resist in a "civilized and non-violent way" any attempt to break it up. He also dismissed the CMPO claim the protesters were armed.
Some protest leaders claimed weapons had been planted at their rally site after the demonstrators left. During Operation Valentine, several hundred riot police removed barriers, sandbags and tents outside Government House and the Government Complex on Chaeng Wattana Road. However, they later retreated from Chaeng Wattana to avoid clashes with demonstrators who returned to the site, according to a live broadcast on the satellite-based Bluesky Channel TV station.
Two people were injured in yesterday's operation and were admitted to hospital for treatment, according to the Erawan Medical Centre of the Bangkok Metropolitan Administration.
It was the authorities' first attempt to reclaim the protest sites since demonstrators began their "Bangkok Shutdown" rally on January 13. Police said later in the day that "the real thing" would take place today, when they would again attempt to reclaim the Chaeng Wattana site, which is headed by Buddhist monk Phra Buddha Issara.
Provincial Police Region 1 chief Pol Lt-General Naret Nanthachot said eight companies of riot-control police would be deployed to reclaim the Government Complex today.
If anti-government protesters resorted to arms to counter the operation, he said special task-force teams would be deployed to protect riot-control officers.
He added that the police had moved to reclaim government premises because of rising complaints from people whose livelihoods had been adversely affected by blockaded roads.
He also said that the police had failed to get protest leader Phra Buddha Issara to enter talks yesterday, but that they would make a second attempt to do so today.
Meanwhile, five suspects were arrested yesterday. They included Bunrom Moolma, charged with carrying a communications radio; Natetip Chaiyan, charged with possessing narcotics and Worawut Saengthong, charged with carrying a gun, bullets and amphetamines.
Of the other two – unidentified men – one was apprehended for allegedly hurling a tear-gas canister into police ranks during the crowd-control operation.
The operation faced no resistance from protesters at the Government House and Chaeng Wattana sites. The highest tension was at the latter rally site, when columns of police moved towards the protesters but stopped about 100 metres from them.
Remaining calm, the protesters started praying while others asked police why they had to try to disperse the protest on Makha Bucha Day, which is a major Buddhist holiday.
Reporters observing the police operation noted that it appeared the police and the protesters had colluded about yesterday's operation. To some observers, it seemed to be merely "for show".
They noted that police moved in at the Government House protest site shortly after protesters had left the venue. Moments after police left the area, the protesters returned to the site.
However, senior CMPO figure and Department of Special Investigation (DSI) director-general Tarit Pengdith dismissed reports that police and protest leaders had secretly made an agreement so that there would be no confrontation.
He said that Operation Valentine had not been intended to disperse anti-government protesters, but to apprehend rally leaders who the police have arrest warrants for.
Rally security guards could be arrested if they resisted, he added.
Mr Tarit claimed that the operation had proceeded peacefully, with the suspects and security guards abandoning the sites.
"Police inspections at the sites found many illegal objects such as weapons, drugs and bomb elements. Operations will continue at the proper time to crack down on the suspects," he said.
Farmers can get normal loans too: BAAC exec
Phuket Gazette / Reuters
PHUKET: Farmers awaiting payment for rice submitted to the government pledging scheme could get loans of up to 100,000 baht to help them avoid difficulty and prevent them turning to loan sharks, according to the Bank for Agriculture and Agricultural Co-operatives.
The loans are not related to the rice scheme, but just part of the bank's normal services.
Meanwhile, the Mental Health Department has sent teams of psychologists to visit the homes of eight farmers who reportedly took their own lives over lack of payment for rice sold to the pledging scheme. The department expected to learn more about the farmers' deaths by Monday.
BAAC executives yesterday presented the family of farmer Boonma Sa-thong-uan, who on Tuesday hanged herself in Kamphaeng Phet's Klong Lan district, with 30,000 baht in assistance money.
Bank public relations and communications director Peerapong Kamchuen and other executives attended the funeral yesterday for Mrs Boonma, who reportedly committed suicide after having suffering severe stress due to the months-long overdue payment from the rice-pledging scheme. Mrs Boonma's cremation will be held today.
Mr Peerapong said that the BAAC had a debt-restructuring interest-reducing project that would help Mrs Boonma's husband Chalerm Sa-thong-uan, who also has a loan with the bank. It would give him
— Phuket Gazette Editors