Phuket Gazette Thailand News: Marriage could end conflict; True, CTH battle for TV top spot; Haircut changes raise eyebrows
PHUKET MEDIA WATCH
– Thailand news compiled by Gazette editors for Phuket's international community
Will this marriage end conflicts?
The Nation / Phuket Gazette
PHUKET: Chayapa Wongsawat and Lynal Nam, an official attached to the Office of the Cambodian Cabinet, will be tying the knot at Plaza Athenee in Bangkok tomorrow.
Lynal is the son of Uan Wanlee and tycoon Seang Nam, who is also a key member of the ruling Cambodian People's Party (CPP), a Siem Reap MP and Hun Sen's close aide.
The love story began when Chayapa's mum, Yaowapa, met and became close friends with Lynal's mother Uan.
"One day, when my wife was in Cambodia for business, she spoke to Chayapa on Skype. This was when Madam Uan saw our daughter and introduced her to her son. Since then the two began speaking to each other regularly," Somchai recounted.
The bond became even stronger when, on a visit to Thailand with his mother, Lynal decided to take a side trip to Chiang Mai to meet Chayapa in person.
After that, Lynal started visiting Thailand frequently, especially since many of his relatives have been seeking medical treatment in Thai hospitals. He also met Chayapa's family when they visited Cambodia for business.
After two years of friendship, Lynal's parents decided to ask Somchai if their son could marry Chayapa.
Somchai said that initially he rejected the marriage proposal because his daughter was preparing to sit for an exam to become a public prosecutor. However, he conceded when asked again because his would-be son-in-law was a decent man from a good family and his daughter was confident in their love.
Thaksin will not be attending the wedding or wishing the bride and groom well over Skype, Somchai said, adding that the ousted former PM had already blessed the couple in person earlier.
True, CTH battle for TV top spot
The Nation / Phuket Gazette
PHUKET: The battle for the 5-billion-baht pay-TV market is heating up with the two major operators, TrueVisions and CTH, launching new strategies to woo more subscribers.
About 4.1 million households subscribed to cable TV services last year, making up 20 per cent of the 22 million total households in Thailand, according to market research company Nielsen (Thailand).
TrueVisions, the current market leader, is turning its focus to the mass market, offering new affordable packages as a part of its key strategy to retain existing customers after losing the rights to broadcast English Premier League (EPL) football for the next three seasons.
CTH, formerly known as Cable Thai Holdings PLC, is spending over Bt200 million to introduce its new logo and brand image and a series of marketing campaigns throughout this year to build consumer confidence. CTH, the new national player, recently beat TrueVisions by snapping up the broadcasting rights of the EPL over the next three seasons.
The two major players held separate press events yesterday at Bangkok venues close to each other.
Apart from CTH, newcomers are eyeing a bigger share of this business, namely GMM Z and RS. This will intensify the fierce competition in the more-than Bt5.24-billion pay-TV market this year, according to the Cable and Satellite Broadcasting Association of Asia (CASBAA).
CASBAA is an industry-based advocacy group dedicated to the promotion of multi-channel TV via cable, satellite, broadband and wireless video networks across the Asia-Pacific region.
To emphasise this point, TrueVisions yesterday staged a mega-event, "Visions Ahead Magenta Night Party", to thank more than 1,000 business partners and other associates from around the world.
At the 20-million-baht event, the company also launched two new packages: Super Knowledge, with 116 channels at Bt590 per month, and Super Sport with 95 channels at Bt495 per month.
Anat Mekpaiboonvatana, managing director of TrueVisions, said both packages would be gap-fillers, placed between the premium Platinum and Gold packages and the low-end Knowledge package. The Premium package price starts at Bt1,568 per month while the Knowledge package goes for Bt299 per month.
TrueVisions expected to lure a total of more than 100,000 new subscribers to each of the new packages.
"TrueVisions is always the king of content, namely movies, sports, knowledge and variety entertainment," Anat said.
Apart from quality contents, True Visions says that its competitive strength also comes from package, high-definition (HD) technology, service and special privileges.
Ong-ard Prapakamol, chief commercial officer of TrueVisions, said that in the second half of this year, the company allocated an extra marketing budget of Bt200 million on top of the regular marketing budget of Bt400 million. This extra budget will be used for marketing activities and promotions to attract new customers and to retain existing subscribers after the current season of the EPL comes to an end this month.
The company estimates its churn rate – a measure of subscriber loss – will see just a single-digit drop after the loss of the EPL. Currently, TrueVisions has about 2 million viewers. Of those, 800,000 are pay-subscribers and the remainder are free viewers.
CTH yesterday unveiled its new logo as part of its plan to create digital broadband services and related services such as home-shopping, market research and data services via its platform within the next two years. After that, the company plans to expanding its fibre-optic infrastructure network across the country, a project that should be completed in three years.
The advanced fibre-optic cable network will allow cable-TV operators to offer a wide range of services through cable lines, including Web-based services such as Internet protocol television (iPTV) on top of improved-definition programmes.
Under this development, the company aimed to generate Bt100 billion in revenue within the next two years, Kittsanan Ngampathipong, CTH chief executive officer, said yesterday
On June 21, CTH will launch its full service, providing 140 channels including 34 high-definition (HD) channels, to allow customers to watch 380 live EPL soccer matches during the new season.
"I believe that the content that CTH has on hand is the best choice for our target audience," the CEO said.
The services will be available via its 170 local cable-TV operators. In three years, the company expects to have 7 million subscribers, compared to 2.5 million this year.
Kittsanan added that his company would spend more than Bt200 million on marketing campaigns to promote its brand and packages.
The company is also investing more than Bt300 million in five studios for in-house TV production and broadcasting.
CTH became one of the country's major cable-TV operators after Wichai Thongtang, a former lawyer of ex-prime minister Thaksin Shinawatra, acquired a stake in the company in partnership with a Thai Rath executive.
Of CTH's shares, 30 per cent are owned by local cable TV operators, 25 per cent are Wichai's and 25 per cent are held by Vachara Vacharaphol, CEO of Trend VG3, a subsidiary of the company that publishes the Thai Rath daily newspaper. CTH said it welcomes new investors to hold the remaining stakes.
CTH secured audio and visual broadcasting rights of the EPL for territory in Thailand, Cambodia and Laos for three seasons from this year. This is considered "killer" sports content.
— Phuket Gazette Editors
Keep in contact with The Thaiger by following our
Facebook page
.
Thailand road toll: 554 dead this month, 11,462 this year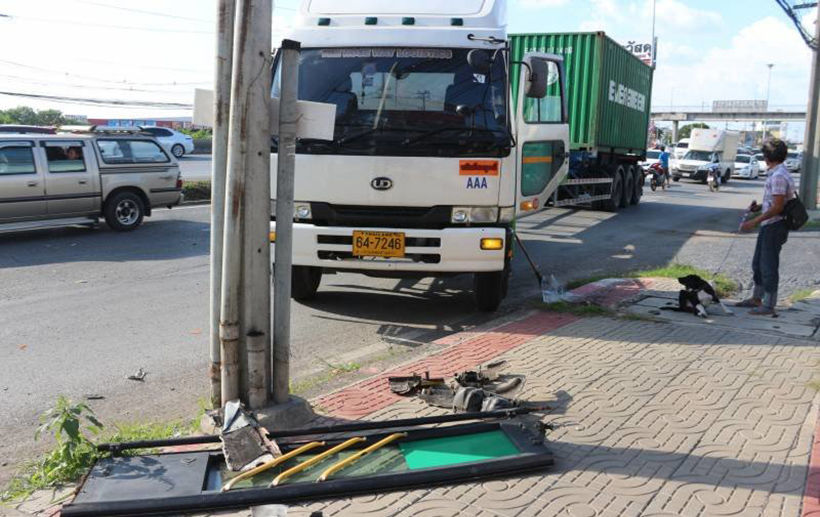 PHOTO: U-Turn crash in Bangkok – Daily News
Daily news reports fatalities at the scene of accidents yesterday claimed the lives of 21 people. Yesterday was a busy day on Thailand's roads at the end of a long weekend.
They say the numbers reported are only those that die at the scene. In reality, when hospital deaths and all regions report their stats, the figures end up much higher.
So far this October 554 have died at the scene of accidents resulting in a yearly total nationwide of 11,462. Thailand is recognised by the World Health Organisation as the fifth highest road toll in the world, per capita.
Figures are reported daily by Daily News who highlight the need to be vigilant at U-turns in their story about this air-conditioned bus (above)on Route 29 that collided with the back of a container truck.
Seven passengers on the bus were injured in the accident on Pahonyothin Road near the Kesri 5 housing estate in Klong 1, Klong Luang district north of Bangkok. The truck driver was trying to execute a U-turn at the time.
SOURCE: Daily News | ThaiVisa
Keep in contact with The Thaiger by following our
Facebook page
.
Thailand's swift response to the 'fall armyworm' pest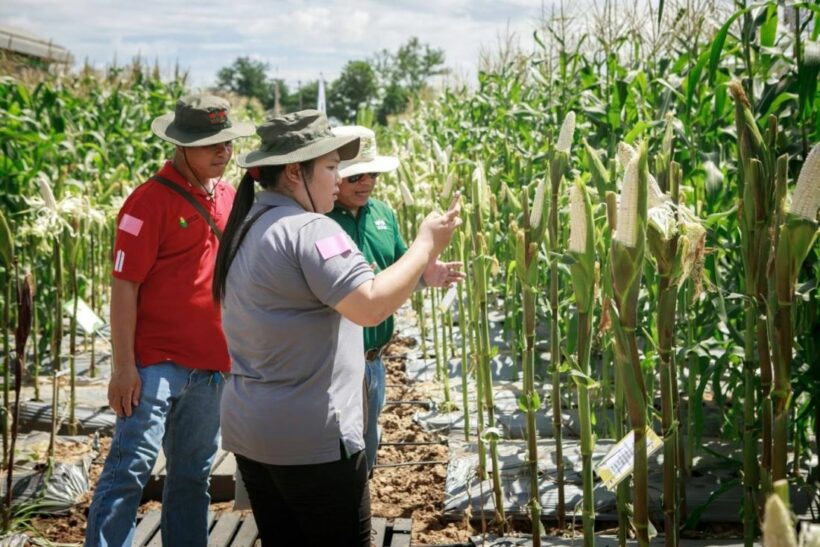 OPINION: Somsak Samanwong – Regional Technical Educator for APAC, Corteva Agriscience. PHOTO: East-East Seed
In Thailand, corn is an indispensable staple crop, used as an important source of feed for a thriving poultry and livestock industry. About 1.04 million hectares of our land is used to produce corn, with this year's yields estimated at a record high of 5.3 million tonnes.
As Thailand becomes increasingly recognised as a major world food exporter, our reliance on corn is growing to meet consumer demand for meat, both locally and globally – we are currently the third largest chicken exporter in the world. For many of us, it comes as a surprise that this ordinary but versatile crop is intrinsic in fuelling our status as the "kitchen of the world".
A small but powerful threat
However, this established position and the very growth of our food economy is currently under siege from the rise of fall armyworm, a pest so damaging that it can destroy corn crops overnight. The fall armyworm is an insect native to the Americas, where it has caused significant damage for decades. With a zealous appetite for corn, the pest quickly began to ravage crops in the Africa region following its arrival in 2016, causing losses of $13.3 billion.
Fall armyworm started moving closer to home, spreading across Yemen, India, Bangladesh, Sri Lanka and Myanmar, before reaching Thailand in December 2018. Since then, around 50 corn-growing provinces have been infested, particularly in the west of Thailand.
Fall armyworm infestations can result in yield losses for corn of up to 50%, which can have devastating implications – for those whose livelihoods rely on their crops, but also for the poultry and other meat production industries whose success and expansion heavily depend on their produce.
What makes fall armyworm so challenging to control is its high reproductive capacity and long migration distances. The pest has been known to migrate up to 1500 km3, slightly more than the distance from Kuala Lumpur to Bangkok, covering up to 100 km per night. Couple this ability to travel with rapid reproduction – four generations of fall armyworm can be observed in a single corn crop – and you have a devastating mix.
Recognising the tremendous impact of fall armyworm on the nation's farmers and our food security, the Thai authorities and key stakeholders across the agriculture industry have come together, uniting efforts to equip our farmers with the tools they need to help manage the spread of fall armyworm. By applying our learnings with fall armyworm in response to future threats, we can help to ensure our farmers are empowered and our nation's food supplies – for Thailand and for the rest of the world – are protected.
Taking swift and decisive action
Thailand's Department of Agriculture responded to the first FAO warning of fall armyworm in India by setting up a surveillance program to monitor corn growing states along the shared border with Myanmar. During this time, informative materials about fall armyworm and the ongoing surveillance program were shared with relevant agencies, universities, and most importantly, corn farmers.
Establishing communication between the authorities and those on the ground was and remains an important focus, and a telephone hotline and Line account were set up so that farmers are able to report potential infestations. As a previously unseen pest in Thailand, setting up infrastructure to monitor crops in the recognition of fall armyworm was pivotal to aiding a quick response.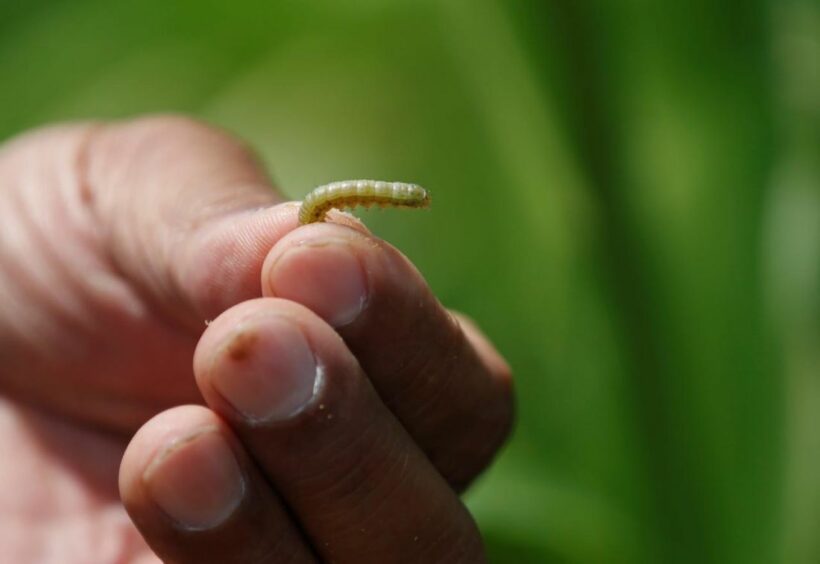 Imparting knowledge through educational efforts
Knowledge-sharing between the authorities, academic experts, farmers and industry is crucial in the fight against threats like fall armyworm. In November 2018, an educational programme for Thailand's authorities developed with the Insecticide Resistance Action Committee (IRAC) by CropLife Asia helped to provide senior agricultural and food industry leaders with in-depth information about fall armyworm and its habits.
By sharing knowledge of the pest between the government and affected industries, accurate and up-to-date information could spread across the country almost as quickly as fall armyworm itself.
Farmers remain at the heart of agriculture, and thus, in-field education is of paramount importance to safeguard crops.
Through a series of training programmes and the provision of educational materials, farmers were educated on and empowered to adopt an Integrated Pest Management (IPM) approach, as recommended by the World Trade Organisation on Sanitary and Phytosanitary Measures, to control and prevent the spread of fall armyworm. IPM combines pre-emptive treatments, scouting, monitoring and targeted treatments to protect the health of corn crops from seed to plant, and, in turn, to protect Thailand's food security.
Equipping farmers with the necessary tools
In adopting an IPM approach against fall armyworm, it is our role as agriscience experts to ensure farmers have access to safe, effective and greener solutions to control its physical spread. And, through the development of innovative technologies, solutions are available to provide farmers with long-lasting control of fall armyworm, whilst being environmentally safe to use.
Amparar®, Corteva Agriscience's foliar spray, contains the active ingredient Spinetoram and has been recommended for use in corn in Thailand to help protect corn crops against fall armyworm. It controls the insects in two ways – through ingestion and contact by the pest, providing a quick knock-down for lasting control. Amparar® has been awarded the prestigious Presidential Green Chemistry Challenge Award for its positive environmental profile and margin of safety towards beneficial insects. It is recommended by the Thai authorities as the top crop protection product for managing fall armyworm.
Our fight against fall armyworm has brought to light the invaluable role of corn in the development of Thailand as global provider of food. Perhaps even more importantly, it has helped to demonstrate how much can be achieved when public and private sectors work together in response to those that threaten our food security. We must continue to activate and engage all stakeholders – from farmers, governments, industry and academia – to ensure that, whatever the next threat to our "kitchen of the world", we remain poised for action to protect it.
Keep in contact with The Thaiger by following our
Facebook page
.
The world's fastest growing tourist destinations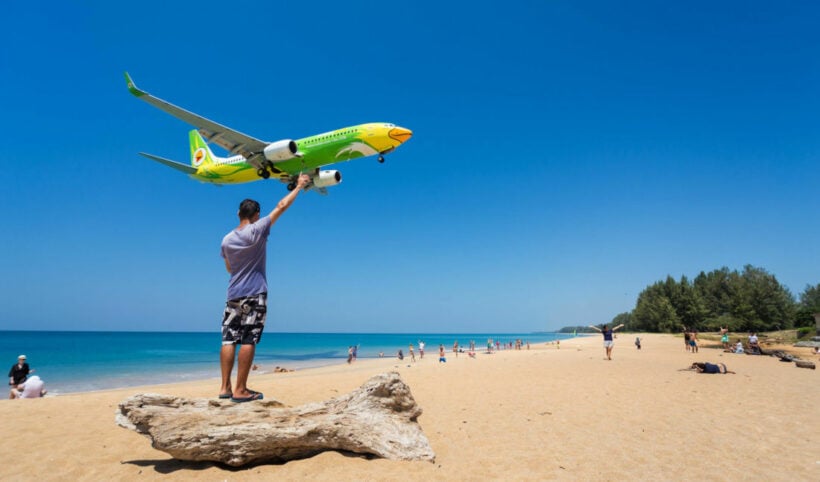 PHOTO: Hello Phuket – destined for huge tourist growth in the next six years – fodors.com
In 2018, international tourist arrival traffic grew by 6% to reach a total of 1.4 billion world tourists, according to research by UNWTO World Tourism Barometer. And there's a lot more to come with international travel predicted to increase by a massive 35% over the next six years to 2025.
But where is all that extra traffic going to go? Which destinations are quiet now that might be swarming with tourists in the years to come? Two destinations in Thailand are set for a prosperous future, according to the data. Whilst almost all the growth is excepted to be to Asian destinations, an under-visited resource for world tourism so far.
Euromonitor data has been used to simulate tourist growth models and reveal the fastest growing projected visitor arrivals in major cities and destinations around the world for 2025, compared to arrival figures in 2018.
In Thailand, Phuket's tourist traffic is poised to increase up to 85% in the next six years, from nearly 12 million arrivals in 2018 to over 22 million in 2025. Bangkok is predicted to see the 8th most prolific rise in tourist traffic, with arrivals in Bangkok set to swell an additional 68% during the same period. Doha, the capital of Qatar, is set to explode with 104% increase in traffic over the next six years.
The data also predicts that both Bangkok and Phuket will rebound big time in 2020, Phuket in particular with a growth of around 20% for the next year, accord to the data from TravelSupermarket.com.
By 2025 the data predicts that Bangkok will be the world's #1 tourist destination, a position it's held before in recent years. The Thai capital will be followed by Singapore, Dubai, Phuket and Kuala Lumpur, making South East Asia the world's emerging tourism hotspot.
Some of the world's favourites – New York, Paris, London – will continue to grow their tourist numbers but not at the rate of most Asian destinations.
You can read the full list HERE.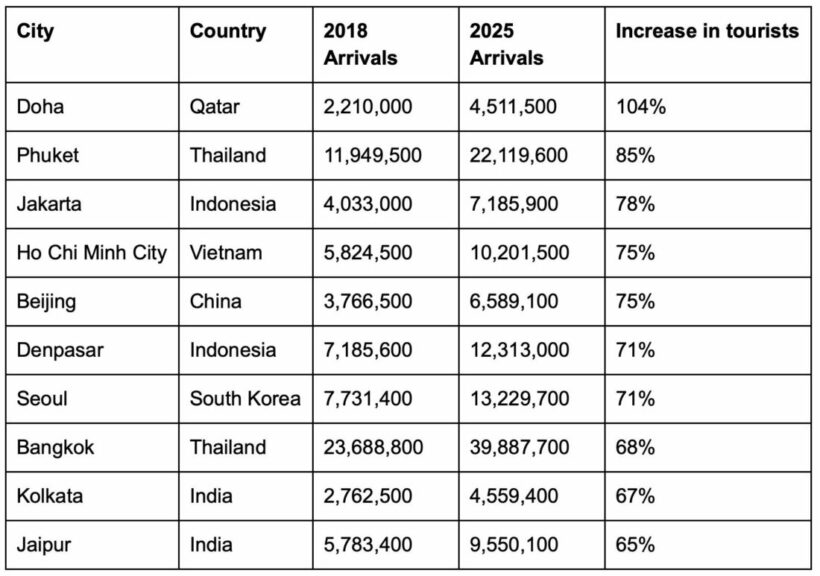 Stats compiled by travelsupermarket.com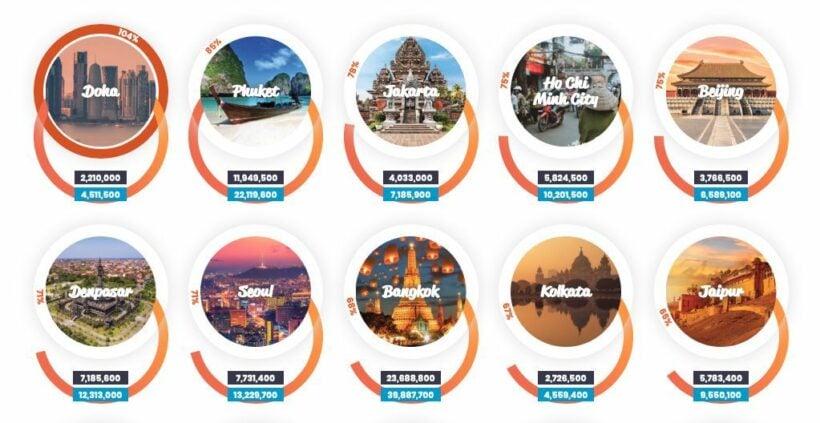 Stats compiled by travelsupermarket.com
Keep in contact with The Thaiger by following our
Facebook page
.