Phuket On The Menu: The Art of food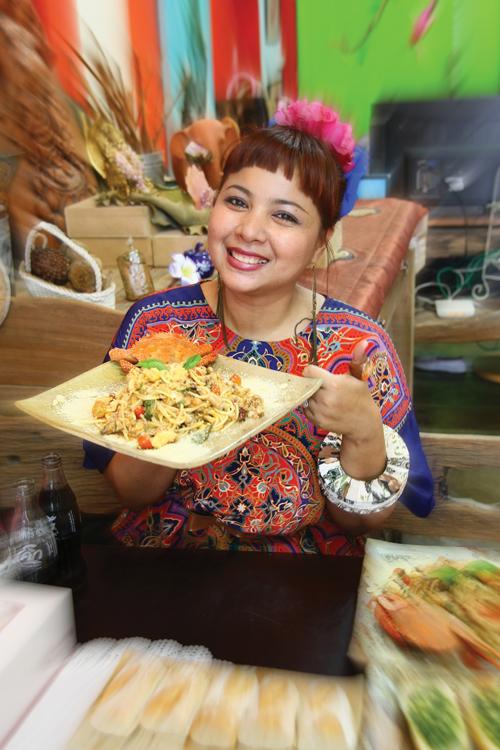 PHUKET: When checking in on Facebook one often comes across photographs of food; meals about to be consumed at restaurants and in homes. With the advent of 'smart phones' it seems everyone now has a camera ready to snap a shot of their dinner or their cat, or even their cat's dinner.
Among my Facebook friends is local artist Jayda Ponlid who posts photos of food regularly, interspersed with images of her artwork. These photos show large quantities of food being prepared and while finding out why this was so, I became a regular visitor to her 'Kitchen of Love'.
Jayda, is a very popular and very active person and uses the social network to inform her 2,300-plus followers of her daily activities.
So when her fiance, Thiwa Wa Singha, lovingly cooked traditional Thai specialties for her, using only the freshest and most authentic ingredients, she posted photos of these offerings online. Immediately some of her friends and fans wanted the recipes and even asked if she could send some of the beautifully prepared food to them to taste.
When one particularly well-heeled fan in Bangkok pleaded that she share this food, stating that money was no object, Jayda looked into the possibilities of sending food to the capital and decided to treat this as an art project. Her first dish, a pineapple fried rice, was flown to the capital for 1,000 baht a box, including delivery.
A year on, their 'Kitchen of Love' now sends out orders all over Thailand. Her regular clients include famous Thai movie and TV stars, singers and even royalty, but Jayda insists that she does not do this only for money and limits the orders to 29 people a day which is the maximum amount Jayda and her fiance can cope with, in order to add the magic ingredient that has people ordering weeks in advance. That ingredient is love.
"When my fiance started cooking for me I enjoyed it so much that I pretended I couldn't cook. He is an artist like myself and each dish was made with such feeling that eventually I had to own up that I also knew how to cook and then cooked for him." said Jayda.
Between them they now have 85 recipes and each time they cook they put all their heart and creativity into the meals, with music in the background and a few dance moves thrown in for measure.
"My mother taught me how to cook when I was very young; it was always a happy time. She used to sing while cooking and explained to me how she imagined how happy people would be when they tasted her food. Maybe these are old fashioned values, but nowadays people just don't take the time to prepare delicious food and eat together as a family" explains Jayda as she places three huge plates of their 'crab meat spaghetti' on the table in front of us. The generous portions are delicious and packed with huge chunks of crab – more than I have ever had at any traditional restaurant.
Jayda notices my delight and explains that in order to get 25 kilos of crab meat she needs to buy 100 kilos of fresh crab at auction and hires sea gypsies to carefully decorticate the fragile meat. It is this attention to detail and the fact that she is at the fresh market at 4am that I am now tasting and I begin to understand why they limit orders to 29. Given the hours and quality ingredients that go into each dish, prices (which range from 650 to 1,500 baht a dish) are very reasonable.
Phuket customers must make their order online before midnight on Thursday and collect the still-warm prepared food on Friday between 5-10pm. I have done this a few times and have run into a few local celebs, including the owner of a famous five-star resort, arriving at the same time.
Customers from the rest of Thailand get their orders in from Monday to Wednesday and through a complex system of delivery – involving airplanes, motorcycles and dry ice – receive their 'food parcel' at home as can be seen by the photos of happy recipients on her Facebook page.
What started out as a three-week art project has now turned into a thriving business, yet Jayda still finds time to take care of her eight dogs; three kids; art gallery and teaching projects.
And her personal favorite dish? "That would have to be our Andaman Salad because of the colors and taste. In with the multi-colored salad leaves are crab meat, fish, shrimp, seaweed, oysters, shrimp roe and lemon. A feast for the eyes and the palate and a real taste of Phuket." she enthuses.
As for future projects Jayda and her fiance have a couple of exhibitions coming up in Bangkok and Taiwan, then plan to instate an intimate single table concept in their own garden where a bespoke romantic evening meal is prepared while the pampered guests chat among the rose bushes knowing that they are the only patrons that evening receiving 100 per cent attention.
Such an evening can only be found at the unique and aptly named 'Kitchen of Love'.

For more information visit Jayda's Facebook page, or call her on 089 289 8852.
Keep checking our Phuket Lifestyle and events calendar pages for the latest happenings across the island. Join our Facebook fan page or follow us at @PhuketGazette .


— Marc Mulloy
Keep in contact with The Thaiger by following our
Facebook page
.
Out of 37 countries, Thailand has the worst pension system, says Bloomberg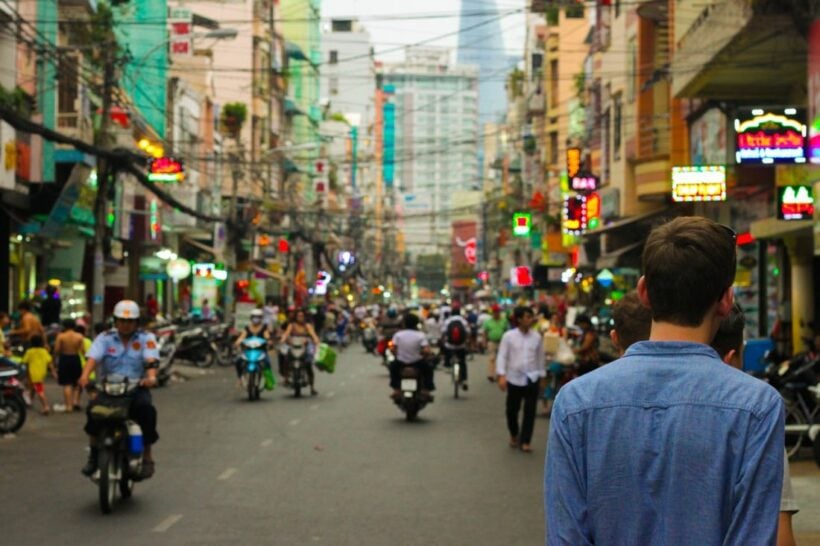 Thai Residents reports that on Sunday, Bloomberg published an article on the world's best pension systems, using information gathered from the 2019 Melbourne Mercer Global Pensions Index.
The survey looked at the pension systems of 37 countries with metrics including employee rights, savings, the number of homeowners, growth of assets, and growth of the economy. The purpose of the analysis was to determine what was needed to improve state pension systems and to gauge the level of confidence citizens had in their state pension system.
The Netherlands and Denmark were found to have the world's best state pensions, with Australia, Finland, Sweden, Norway, Singapore, New Zealand, Canada, and Chile next. Out of all 37 countries, Thailand finished last, with what the report described as an extremely ineffective and ambiguous system.
"Thailand was in the bottom slot and should introduce a minimum level of mandatory retirement savings and increase support for the poorest."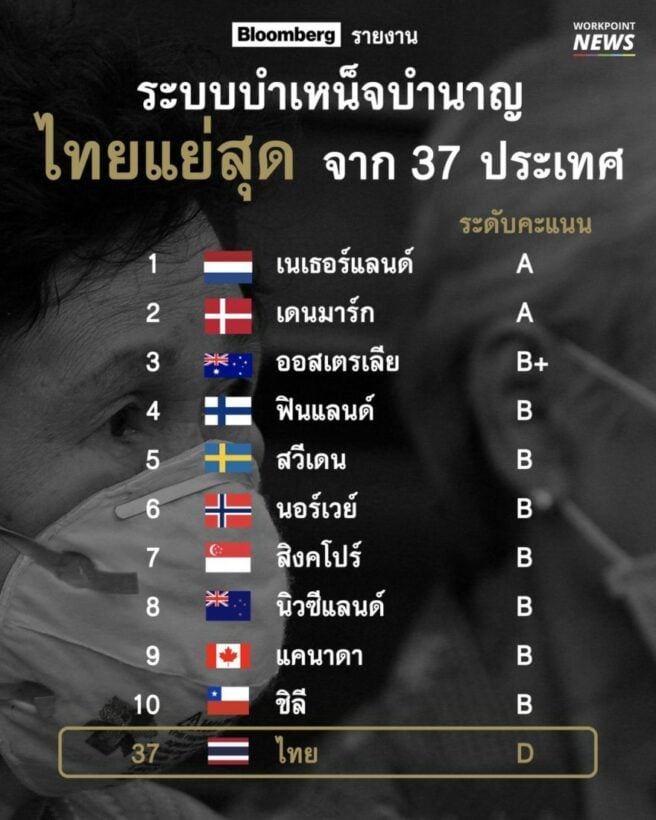 Photo: WorkpointNews
Thai Residents states that only those employed within the government system in Thailand are eligible for a pension based on salary. For most Thai citizens, pension amounts vary from 600 baht to 1,000 baht a month, depending on the recipient's age.
A report carried out by The Securities and Exchange Commission (SEC) advises Thai citizens to have at least 4 million baht saved by the time they retire, but Thai Residents reports that 60% of Thai retirees have less than 1 million baht in savings, with one in three citizens who have reached retirement age are forced to continue working in order to survive.
SOURCE: thairesidents.com
Keep in contact with The Thaiger by following our
Facebook page
.
Tax on salt content being considered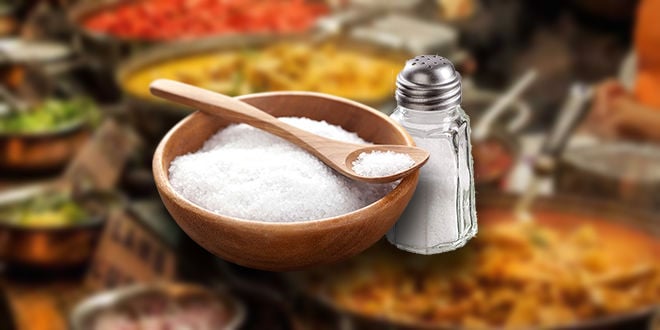 The Excise Department is considering imposing a tax on the salt content of food to encourage food producers to reduce the sodium content of snacks, instant noodles and seasoning cubes.
The director of the Office of Tax Planning said that the department is discussing a limit on the amount of sodium food can contain, in line with the standard set by the World Health Organization (WHO), which is 2,000 milligrams of salt per day.
In reality, Thai people consume an average of 1,000 milligrams per meal, making their daily intake well above WHO guidelines, according to the director.
He said any tax imposed would be at a level which would encourage food producers to reduce the sodium in their processed food without being punitive, adding that the proposal isn't intended to generate more tax revenue, but to help protect the health of consumers. Excessive sodium in the diet can lead to high blood pressure and kidney disease.
Fish sauce, soy sauce and salt would not be taxed.
SOURCE: thaipbsworld.com
Keep in contact with The Thaiger by following our
Facebook page
.
Water shortage warnings in 22 provinces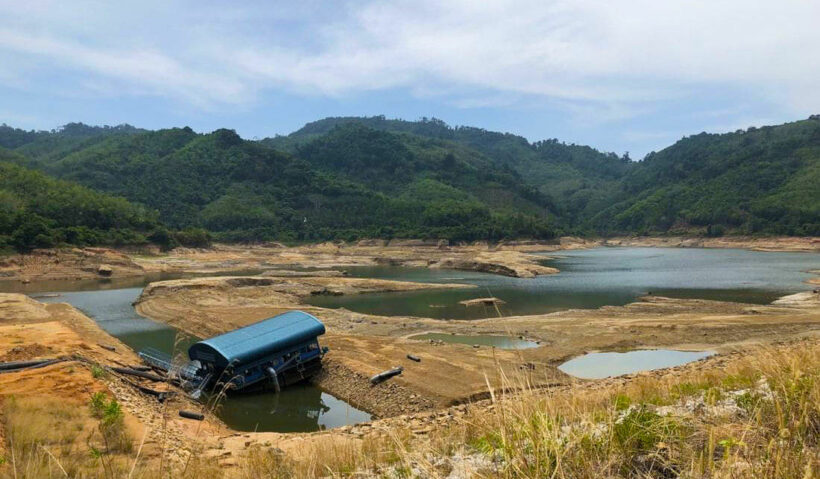 People living in 22 Thai provinces are being warned to prepare for shortages of drinking water during the upcoming dry season, due to start on November 1st.
The warning was issued by the National Water Resources Office, citing low levels in reservoirs, which are the main sources for tap water production waterworks in 22 provinces.
Areas at risk identified by the office are in northern, north-eastern, eastern and southern provinces.
Measures have been adopted by agencies charged with dealing with water shortages. including dredging water channels to allow greater volumes of water to flow into reservoirs, drilling underground wells, enlarging storage ponds and the purchase of water to supply to those in urgent need.
The Royal Irrigation Department has announced that people should use water sparingly.
There are currently about 6 billion cubic metres of usable water in reservoirs in the affected provinces, with 5 billion cubic metres reserved for consumption and ecological preservation, leaving only 1 billion cubic metres for use in agriculture.
This means farmers in the Chao Phraya river basin may not be able to grow a second crop of rice this year.
SOURCE: thaipbsworld.com
Keep in contact with The Thaiger by following our
Facebook page
.