Phuket Gazette Thailand News: Leaning tower condemned; Thaksin tweets; Natural Fruit human rights under fire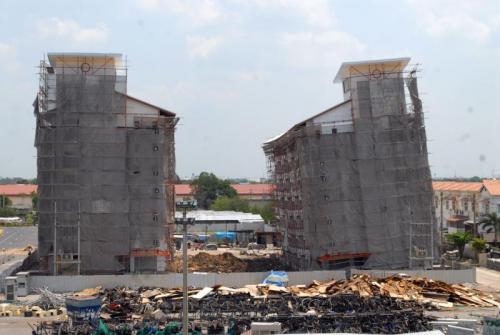 PHUKET MEDIA WATCH
– Thailand news compiled by Gazette editors for Phuket's international community
Tilting building near Bangkok urged demolished
The Nation / Phuket Gazette
PHUKET: A seven-storey apartment building under construction at the back of Zeer department store north of Bangkok has been declared off limits, after it tilted and was inspected by local administrators.

Public works officials with Khu Khot Municipality in Pathum Thani, who have jurisdiction over the site, said details about the land owner and firm constructing the building will be announced later.

Construction stopped on Sunday night after a verbal warning by public works officials, and owners living by the building filed a complaint with police. Thanes Weerasiri, head of Engineering Institute of Thailand under HM's Patronage, said the building has tilted at six degrees, and should be demolished, or heightened and rebuilt.

The tilting was caused by the foundation not being solid enough, and the stakes unable to manage the total weight. Heightening of the building could cost the project owner the same amount of money needed to demolish and rebuild it.

"Personally I think it should be demolished and rebuilt," he said. Building had continued until recently, before the inclination became visible on Sunday night, but workers have since been evacuated. Signboards showing details of the project, including its owner, have been removed since the news emerged, except for one notice about the construction firm: Choke Charoen Co Ltd.

The construction continued for more than a year, and it has been extended once, public works chief Nares Srimuang said. He said a civil engineer would soon determine if the builders violated regulations or implemented beyond the conditions originally requested.


I'm still alive, Thaksin tweets
The Nation / Phuket Gazette
PHUKET: After being away from Twitter for over a year, fugitive former premier Thaksin Shinawatra chose April Fool's Day yesterday to come back – to rebut rumours he had died in an accident in Dubai and to say he will soon post articles on Facebook to share stories he thinks interesting.
"Hello Thailand! Sawasdee krub, my dear Thai brothers and sisters. I have been away for a long time, I'm back here to greet you again as I received phone calls from my family since the morning. They told me there were rumours that I might have died in an accident in Dubai. Then many of the red shirts and people who were concerned also called me. Here please allow me to tweet and clarify that I am doing fine. There was no such accident as [in] the fabricated story. It's April 1, April Fools' Day," he posted.
Thaksin's last tweet before this was on November 1, 2011 when he posted a message about rehabilitation after the flood.
Meanwhile, Thaksin's son Panthongtae posted on Facebook that his dad had returned to Thailand and had registered to run in Chiang Mai MP by-election.
Panthongtae said his joke was a reaction to rumours spread by anti-Thaksin groups about his dad having an accident.
Full-year inflation rate put at under 3.4%
The Nation / Phuket Gazette
PHUKET: The Commerce Ministry is confident inflation this year will not surge beyond 3.4 per cent as goods prices are expected to remain calm, leaving breathing room for a cut in the policy interest rate to curb the baht's appreciation.
"The situation next year should not be tense because most goods prices will be unchanged, as the cost of production is stable. Market competition will also help control the cost of living this year," permanent secretary Vatchari Vimooktayon said yesterday.
The year-on-year rise in the Consumer Price Index slowed last month to 2.69 per cent from 3.23 per cent in February.
Month on month, inflation was 0.07 per cent, mainly on higher food prices.
Last quarter, the CPI climbed 3.09 per cent year on year. The inflation rate is projected to stay at 3.1 per cent this quarter.
Inflation should come under the ministry's forecast of 2.8-3.4 per cent this year on expected stable goods prices, lower fuel costs and the extension of the government's cost-of-living relief measures to September, Vatchari said.
Whether the government decides to lower the policy rate will depend on the Monetary Policy Committee, but inflation is not a factor to worry about, she said.
The ministry's 2013 inflation projection assumes an exchange rate of Bt28.5-Bt32.5 against the US dollar and an average Dubai crude-oil price of US$100-$120 per barrel.
The slide in the CPI was mainly due to the decline in the non-food-and-beverage index of 0.04 per cent, while the food-and-beverage index rose 2.80 per cent, mainly on the increase in the prices of vegetables and fruit as the country enters the drought season.
Of the basket of goods used to calculate the March CPI, 161 products increased in price, 77 decreased and 212 products were unchanged.
Core inflation last month was 1.23 per cent year on year and down 0.01 per cent month on month.
Core inflation in the first quarter was 1.47 per cent year on year, well within the Bank of Thailand's target band of 0.5-3 per cent.
Natural Fruit takes human rights activist to court
The Nation / Phuket Gazette
PHUKET: The vice president of canned-pineapple and juice-concentrate producer Natural Fruit yesterday maintained the company had suffered Bt300 million in lost orders since British human-rights defender and labour activist Andy Hall this year accused the firm of several labour violations.
Hall alleged that the company had engaged in the hiring of child labour, paid less than the minimum wage and physically abused workers, among other violations.
Kachin Komneryawanich insisted none of the allegations was true and said the firm's legal representatives had filed both libel and criminal charges under the Computer Crimes Act against Hall. The Criminal Court conducted a preliminary examination of the charges yesterday.
Natural Fruit is seeking Bt300 million in damages and Hall, if found guilty, could be jailed for up to seven years.
Meanwhile, Helsinki-based human-rights monitor Finnwatch, which jointly conducted research into Natural Fruit with Hall, issued a statement yesterday calling the legal move against him "an attack" against a human-rights defender and freedom of expression.
The statement claimed that the workers, some of whom it said were undocumented migrants, "reported poor working conditions, unlawfully low wages, confiscation of official documents, use of child labour and excessive overtime".
Finnwatch added in its statement that interviews with employees had been recorded and could be verified.
As neither Hall nor any of his legal representatives was present at the Criminal Court yesterday, the court told the plaintiff's lawyer, Somsak Torugsa, to check with the Immigration Office as to whether Hall was still in the Kingdom.
If Hall, a former researcher at Mahidol University, had left Thailand, then a court notification would be sent to his home address in the United Kingdom, said Somsak.
He called on Hall to show up and fight the case to prove his in
— Phuket Gazette Editors
Keep in contact with The Thaiger by following our
Facebook page
.
Never miss out on future posts by
following The Thaiger
.
Isaan woman finds her husband and 2 sons dead in well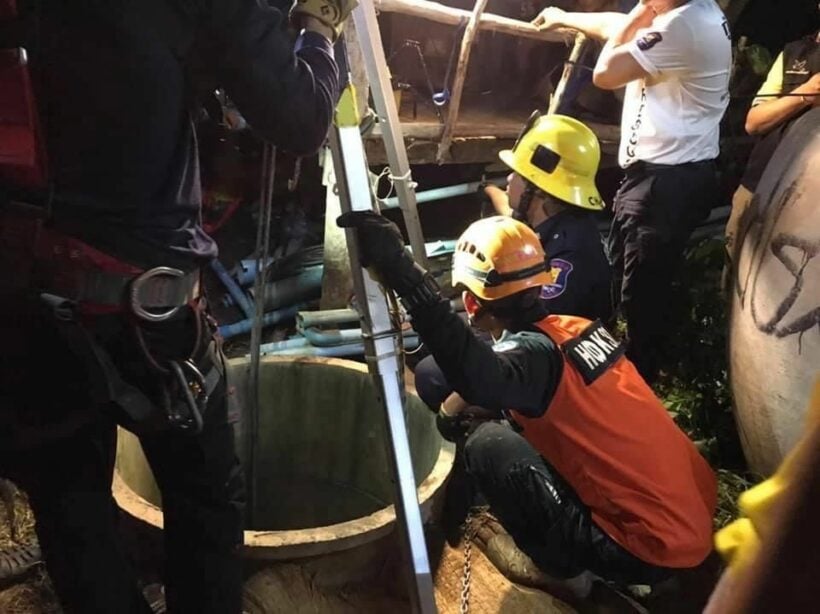 A woman found the bodies of her husband and 2 sons in the bottom of a well in the Isaan province Chaiyaphum. The father and his sons reportedly went to repair the family farm's well, but did not return.
56 year old Thong-in says her husband and sons went to repair the well in the morning. They didn't come back for lunch. When she went to check on them, she found them dead in the well.
Rescuers suspect the father, 56 year old Boonterm Buathong, and his 2 sons, 29 year old Chareonchat and 26 year old Preecha, drowned to death. The well is about a metre wide and 13 metre deep. Rescuers wore breathing apparatuses to dive to the bottom of the well to get the bodies.
SOURCE: Nation Thailand
Keep in contact with The Thaiger by following our
Facebook page
.
Never miss out on future posts by
following The Thaiger
.
Thailand News Today | Protesters face arrest | Phuket "in a coma"| September 22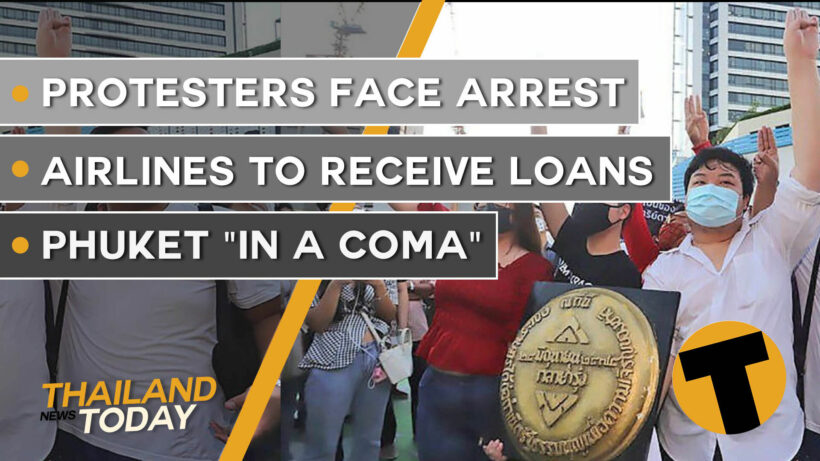 Thailand News Today with Tim Newton. Daily news from around Thailand.
Struggling airlines to get reprieve through small loans, extension to fuel tax cut
Airlines in Thailand are being offered a financial lifeline, as the Government Savings Bank announces soft loans for carriers left struggling as a result of the current Covid-19 'disruption'.
The GSB is offering the loans over a 60 month period, with an annual interest rate of 2%. The bank's chairman says the proposal will be put to Cabinet for approval.
Airlines have been left financially devastated by the fallout from the ongoing Covid-19 pandemic, with countries closing their borders, passenger numbers plummeting, and carriers forced to slash the number of flights on offer. The services available, including the food services, were also curtailed early on as a preventative measure but that restriction has since been lifted.
In a further effort to ease the financial crisis faced by Thai airlines, the Excise Department says it will extend the fuel tax cut for low-cost carriers by another 6 months from the end of this month.
Protest leaders face charges for violating Thailand's lèse majesté law and for installing the plaque
Leaders of the weekend's pro-democracy protest in Bangkok are facing charges for violating Thailand's lèse majesté laws and for installing a symbolic plaque at a "registered historical site". Police filed complaints to between 10 to 16 protesters.
It's unclear how many protesters will be charged, but a Royal Thai Police spokesperson says charges will be pressed against those who "pulled the strings." Under Thailand's lèse majesté law, it is illegal to insult or defame the Thai Monarch or royal family. Police say they will take the strongest legal actions possible against those who undermined the Monarchy, although earlier this year the Thai PM said that His Majesty had requested that such charges not be brought against Thai citizens.
Charges are also being brought against the protesters who installed a commemorative plaque in the forecourt of Sanam Luang, next to the Grand Palace. The Fine Arts Department and the Bangkok Metropolitan Administration have filed complaints with police over the installation of the plaque, saying the protesters broke the law by causing damage to an archaeological site.
Phuket's governor calls for help in restoring island's economy
The governor of Phuket has likened the southern province to a "patient in a coma", as he pleads for help to restore its devastated economy. The governor highlighted the economic crisis caused by the ongoing ban on international tourists. The island's international airport closed in April, cutting off the supply of international tourists, and cutting off the flow of international money coming into the island's tourist economy.
The latest figures show that Phuket has lost over 400 billion baht since the start of the Covid-19 pandemic. The island's economy is, either directly or indirectly, 90% reliant on a steady flow of international tourists, and has seen a massive tourist infrastructure boom over the past 20 years.
Governor Narong predicts the province will face similar hardship next year, and is calling on the government to organise conferences and other events that could attract more visitors to the province.
Sri Panwa Phuket getting social media flak after owner criticises pro-democracy protest leader
Meanwhile, the owner of the Sri Panwa Phuket resort is facing a social media storm after condemning the current pro-democracy movement and one of its main organisers. Taking to Instagram, Vorasit Issara, owner of the five-star Sri Panwa Phuket Resort, singles out the female protest leader saying "she should be in prison".
"This bullshit has got to stop. She is not Thai. Who is she working for?
Sharing a photo of Panusaya, he adds, "arrest this child." Vorasit incorrectly asserted that Panusaya wasn't Thai. In fact she was born in 1998 in Nonthaburi and IS a Thai citizen.
His post has since gone viral, prompting outrage from those who support the anti-government movement. A hashtag calling for a boycott of his Sri Panwa Phuket resort has taken off on Twitter, at a time when almost all hotels are battling for survival, especially on Phuket.
Myanmar's Covid-19 spike causes mass lockdowns as Thai authorities scramble to seal the border
Myanmar is currently suffering a wave of Covid-19, causing concern in Thailand as its western border authorities bump up security measures and patrols.
Burmese authorities have been introducing increasingly draconian restrictions to control the sudden spread of the virus over the past 4 weeks. Whilst the case load is still relatively small, the concerns are focussing on the porous western borders of Myanmar onto adjacent Bangladesh and India, as well as the spike in cases in the largest city Yangon.
Yangon is now under a very tight lockdown as the city is quickly turning into the country's hotspot of Covid-19.
There were 610 and 6 new deaths in the past 24 hours. Yesterday 671 new cases of Covid-10 were reported
Indonesia's economy shrinks for the first time in 22 years
Indonesia's economy will contract for the first time since the Asian financial crisis in 1997/1998.
Gross domestic product is forecast to decline over 1% this year according to the country's Finance Minister. He said…
Southeast Asia's largest economy is struggling to contain the coronavirus pandemic as the number of new cases each day continues to set records. The worsening outbreak prompted the renewal of social-distancing curbs in Jakarta, measures that had battered growth in the second quarter this year.
Keep in contact with The Thaiger by following our
Facebook page
.
Never miss out on future posts by
following The Thaiger
.
PM orders Thai police to collaborate with Interpol to bring Boss back to Thailand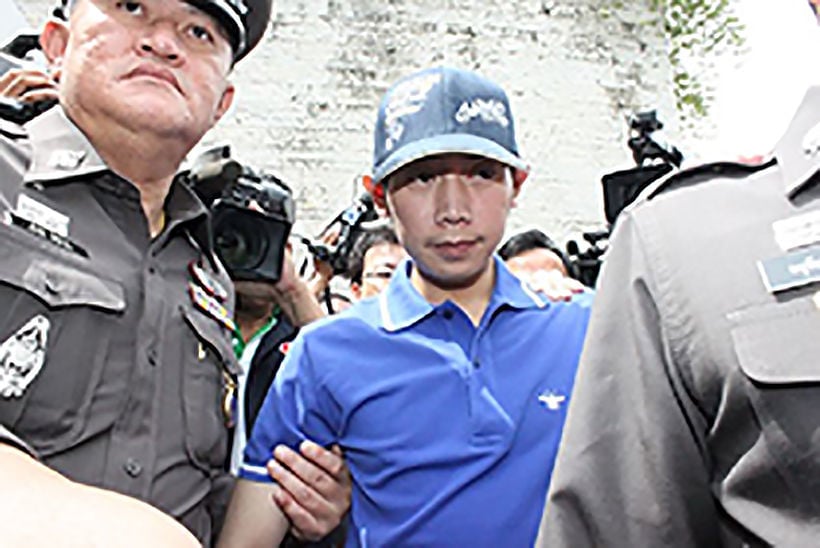 The Thai PM is ordering Thai police to work with Interpol, the International Criminal Police Organisation, to find Vorayuth "Boss" Yoovidhya and bring him back to Thailand for prosecution. The Red Bull heir has been on the run since 2017 and faces charges reckless driving causing death and using cocaine, charges which date back to the incident in 2012 in Bangkok.
In 2012, Boss allegedly sped his Ferrari down Sukhumvit Road in Thong Lor, running over and dragging a 47 year old police officer 100 metres down the road, killing him.
Prosecutors have now officially indicted Boss on the reckless driving causing death and drugs charges, the Office of the Attorney General announced last Friday. The recent indictment, more than 8 years after the fatal crash, follows public backlash after Boss's cases were dropped altogether in July by the deputy attorney general.
PM Prayut Chan-o-cha made a post on his Facebook page saying he ordered police to work with international authorities to find Boss and bring him back to Thailand for trial. He says a Red Notice has been issued and he expects an update by next week.
"I ask every officer to handle this matter correctly and effectively."
Boss, the son of the co-owner of the Red Bull energy drink empire, fled the country in 2017. His hearings were delayed 7 times. He reportedly packed up and fled to Singapore on his family's private jet just 2 days before he was due to face charges. Since then, Boss has been seen and photographed at his family home in London as well as at Red Bull events.
The story has caused ongoing rage in Thai social media with people using the cases as proof Thailand's warped justice system where wealth and power can help you bypass official investigations.
There has been no comment from the Yoovidhya family, Boss or his legal representation since last week's official prosecution.
SOURCES: Nation Thailand | Thai PBS
Keep in contact with The Thaiger by following our
Facebook page
.
Never miss out on future posts by
following The Thaiger
.