Phuket Gazette Thailand News: Govt won't budge on rubber; Porn in Parliament; People power fights corruption; Floods in Trang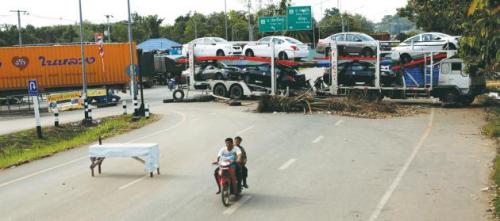 PHUKET MEDIA WATCH
– Thailand news compiled by Gazette editors for Phuket's international community
Govt refuses to budge in talks
The Nation/ Phuket Gazette
PHUKET: Government representatives and protesting farmers failed to agree yesterday on the subsidy for rubber prices.
The government side, led by Deputy Prime Minister Pracha Promnog and Finance Minister Kittiratt Na-Ranong, remained firm about a price of Bt90 a kilogram of rubber while the rubber growers called for Bt100. The farmers' representatives later cut their requested price to Bt95 but the government officials turned down their demand.
The two sides met at the Twin Lotus Hotel in Nakhon Si Thammarat. Members of the government-appointed committee to solve the rubber price problem also were present during yesterday's talks.
The rubber growers also demanded that the government offer compensation after a protester was killed and many others injured during recent police crackdowns, according to Amnuay Yutitham, one of the rubber growers' representatives at yesterday's talks.
Government representatives were firm also on a subsidy of Bt1,260 for fertiliser cost for every rai of rubber plantations. However, the growers said such a measure would only go to owners of rubber plantations, and not small-time planters.
Thawat Boonfuang, the PM's deputy secretary general, said Bt90 a kilogram was the highest the government could go. And that amount would cause a big fiscal burden for the state, he said.
Amnuay, after consulting with other representatives, responded that both sides should meet "half way", demanding that the subsidised price should be Bt95.
After the latest round of talks failed, the rubber growers decided to hold another large rally on September 14.
Groups of rubber farmers were still protesting at many locations in southern provinces yesterday, blocking some sections of roads.
Royal Thai Police spokesman Maj-General Piya Uthayo said hundreds of protesters still blocked roads in Nakhon Si Thammarat and Trang in the South, plus Ubon Ratchathani in the Northeast yesterday.
He said 24 policemen were injured, two of them seriously, during the clash with protesters in Prachuap Khiri Khan, adding that three media cars were also burnt. Twelve protesters were arrested – eight of them men and four women, he said.
Police also had evidence that Capt Songklod Chuenchuphol, an outspoken member of the anti-government movement, was present during the turmoil in Prachuap, according to the police spokesman. He added that the investigators were considering getting a warrant to arrest him.
'Teargas not used'
The authorities yesterday rejected an allegation that they used teargas during a clash with protesting rubber growers on Thursday night in Prachuap Khiri Khan.
Pracha said he closely followed the situation and he insisted that police did not use teargas against the protesters. He questioned the credibility of photos of teargas use shown by an opposition MP.
However, protest leader Santad Dejkerd, who is a rubber grower in Prachuap Khiri Khan, said teargas was used during the police crackdown. He added that firecrackers were also thrown at the protesters.
Prime Minister Yingluck Shinawatra yesterday met representatives from the private sector at Government House to discuss the low price for rubber.
Yingluck called on the rubber growers to take part in talks with government representatives in a bid to resolve differences over the subsidy. "We do not want to see violence, which may bring negative impacts to businesses and tourism in the South," she said.
Federation of Thai Industries president Payungsak Chartsuthiphol said during the meeting with the PM he foresaw the price of rubber rising in the fourth quarter this year, when there would be higher demand for natural rubber.
Opposition leader Abhisit Vejjajiva yesterday expressed concern over the protest by rubber farmers. He called on the government to "adapt its stance in order to better respond to the protesters' demand".
PM mulls Rubber City
MCOT / Phuket Gazette
PHUKET: Prime Minister Yingluck Shinawatra yesterday floated the idea of a "Rubber City" for Thailand as a long-term idea to help shore up falling rubber prices.
Chairing the Joint Public-Private Committee (JPPC) meeting, she said the Board of Investment (BoI) would be ready to offer promotional investment privileges for the development of the rubber industry in Thailand.
"Manufacturers of rubber products can be located at a single industrial estate to create a "Rubber City," she said. "Research on rubber by the National Science and Technology Development Agency could be utilised by the private sector."
The JPPC meeting was attended by economic ministers and local rubber manufacturers.
Deputy Commerce Minister Yanyong Puangrach said rubber prices have dropped to the lowest level at Bt60/kg and surged to Bt75-76/kg while smoked rubber sheets are Bt80/kg and exported rubber at Bt95/kg.
When the global economy gains strength in Q3 and Q4, rubber prices will be higher, he said.
Industry Minister Prasert Boonchaisuk said Thailand produces 3 million tonnes of rubber but local consumption is only 500,000 tonnes, adding that the private sector would be encouraged to invest more in rubber-related industry.
Several investors have applied for BoI promotional privileges – a move which should increase rubber consumption to 800,000-900,000 tonnes next year and a million tonnes in 2015, he said.
Transport Minister Chatchart Sithiphan said asphalt would be used to pave roads nationwide and the government's planned Bt2 trillion infrastructure development would .
Porn in Parliament adds to outrage
The Nation / Phuket Gazette
PHUKET: Pornographic photos, chair throwing, and fights – you can see it all in the Thai Parliament these days.
In a Senate meeting yesterday, an elected senator was caught on camera using his mobile phone to view pornographic photos. He was caught on the camera zooming in on some photos of a woman with her genital area visible.
Last month, Pheu Thai MP for Nong Khai Pongpan Sunthornchai was caught viewing photos of barely dressed women on his iPad during a parliamentary debate. He later claimed he accidentally clicked on a link that downloaded the images.
Opposition and Democrat Party leader Abhisit Vejjajiva pleaded yesterday for people not to get bored with politics, after one of his MPs threw a chair in the parliamentary chamber.
"The public should know and understand what the root cause of the conflict is. As an MP, Shane [Thaugsuban] felt frustrated to be barred from speaking, so he got angry. We try to exercise our rights within the limit," Abhisit said.
During a House meeting on a motion sought by Democrat MPs on the low prices for agricultural produce on Thursday night, a Democrat MP told the chamber that police were dispersing rubber protesters in Prachuap Khiri Khan, but the Pheu Thai Party tried to end the debate.
Democrat MP from Surat Thani Shane Thaugsuban got angry, saying there were still plenty of farmers suffering from low prices for their goods, who the government should have listened to. Suddenly, Shane lifted a chair and threw it over the desk in front of him. Then he threw
— Phuket Gazette Editors
Keep in contact with The Thaiger by following our
Facebook page
.
Points deduction system for drivers to be introduced mid-December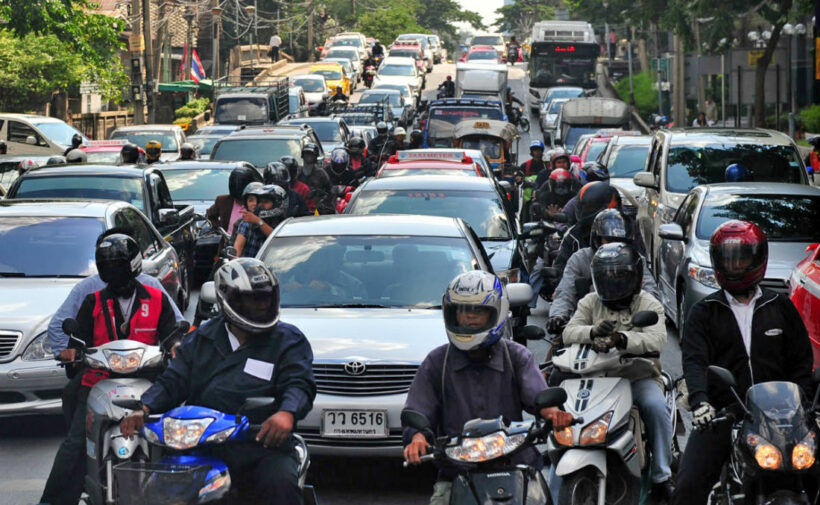 The point deduction system, for traffic and road infringements, is tentatively scheduled for activation for motorists and motorcyclists in mid-December. It is hoped that the system will help reduce road fatalities and injuries on Thai roads.
The deputy commander of Highways Police Command says that every licensed driver will be given an allocation of 12 points. Each time the driver commits a traffic law violation, points will be deducted. When there are no points left, the driver's license will be suspended for 90 days, after which the driver or motorcyclist will have to undergo training administered by the Land Transport Department to get their licence back, and another 12 points.
Those who don't attend the training, however, will have their licence returned after 90 days, but with only 8 points.
Points to be deducted differ, depending on the offence. Offences are divided into four categories:
• One point deduction
Using a cell-phone while driving; exceeding the speed limit; not wearing crash helmets for motorcyclists; not wearing seat belts; not giving way to emergency vehicles, riding on the sidewalk and not stopping for pedestrians on zebra crossings.
• Two points deduction
Running a red light; driving on the wrong side of the road; reckless driving; driving while his/her license is suspended and drunk driving.
• Three points deduction
Organising or promoting street racing without permission; hit-and run; driving while under the influence of narcotics; driving while under the influence of alcohol exceeding 150mg per ml.
• Four points deduction
Driving under the influence of alcohol exceeding 200mg per ml, drunk driving in a way which may cause serious injuries or death to the other people; driving in a manner disregarding the safety of the other people or causing trouble to other people.
SOURCE: Thai PBS World
Keep in contact with The Thaiger by following our
Facebook page
.
Opposition hits out at government's military spending in 2020 budget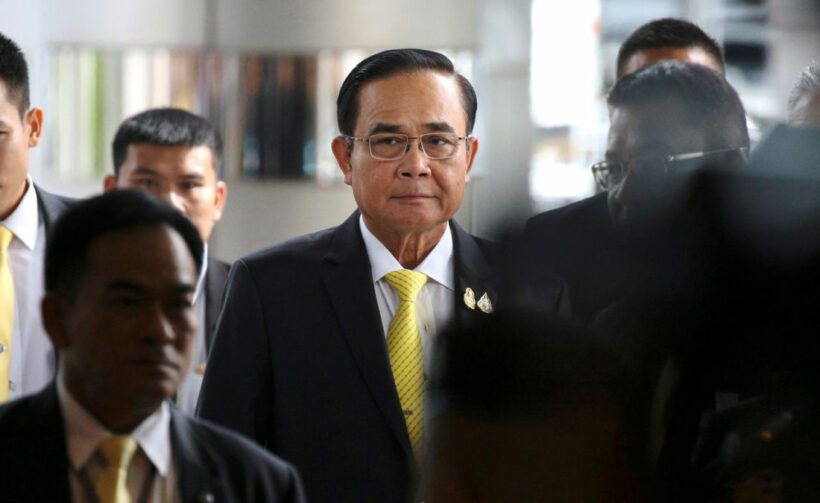 PHOTO: Reuters | The Business Times
The opposition is accusing the government of being more concerned with military arms than the daily struggles of Thai citizens. During a debate in Parliament on the budget bill, the government was accused of caring more about the growth in military spending than citizens' financial woes.
The opposition levied the attack after PM General Prayut Chan-o-cha delivered the 3.2 trillion baht bill to the House of Representatives. The debate on the 2020 budget is expected to continue for two more days and if approved by Parliament, the bill will come into force early next year.
The PM says the budget aligns with the "20 year strategy" to improve the living standards of the nation's citizens while growing the economy, but opponents accuse him of making defence spending a priority.
The leader of the opposition, Sompong Amornvivat, claims that in the five years the PM has been in power, total spending has hit 14.3 trillion baht, with loans of 2.2 trillion baht, without any significant growth in the economy. He accuses the government of spending more than 6 billion baht on defence, with the Interior Ministry getting 25 billion baht more than last year.
It's also understood that the government has also put 518.8 billion baht aside, which it can spend as it wishes, without the consent of Parliament.
The government's tourism stimulus plan, whereby domestic tourists would be given cash incentives, also came under fire as Sompong declared it a waste of money that would do nothing to boost productivity.
The subject of the PM's oath-taking fiasco reared its head again, as the leader of the Seree Ruam Thai Party, Pol General Sereepisut Temiyavej declared the PM and his government unfit to rule or propose a budget bill as a result of it.
Anudit Nakorntab from the Pheu Thai party said the government should postpone unnecessary spending on military arms while the country's citizens battle economic hardship, accusing the previous junta-led administration of also prioritising the military in its spending.
SOURCE: The Nation
Keep in contact with The Thaiger by following our
Facebook page
.
Academics warn of high cost of Thai ban on agri-chemicals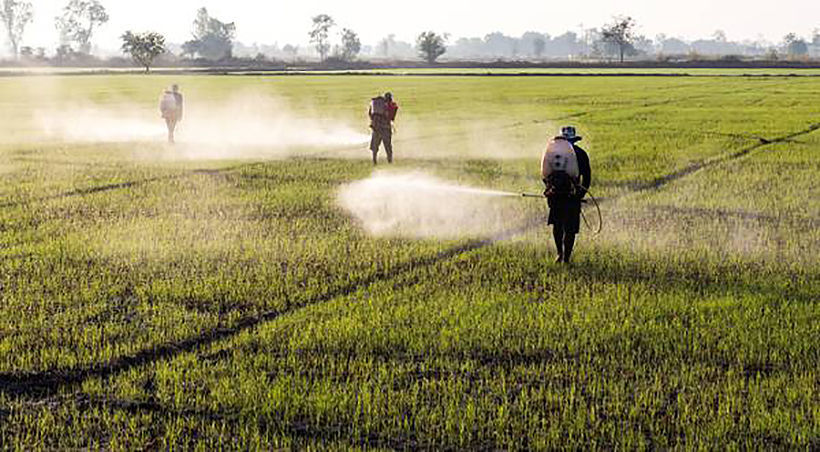 The chairman of the Thai Sugarcane Farmers Association, Thongkam Cheongklad, says a ban on the weed-killer paraquat would have a severe impact on production costs. Academics and Thai sugarcane farmers have also expressed their concern over the ban, saying it could cost the industry up to 570 billion baht.
The Nation reports that up to 1.2 million people working in the sugarcane industry are understood to be against the ban, saying the proposed paraquat substitute is both expensive and ineffective.
The president of the Thailand Society of Sugarcane Technologists, Kitti Choonhawong, says Thailand has approximately 11 million rai dedicated to sugarcane plantations, generating about 300 billion baht a year.
He claims that a ban on agri-chemicals may lower sugar production, which in turn would affect sugar factories and cause the export market to lose as much as 94.6 billion baht. Thailand is currently the world's second biggest sugar exporter, behind Brazil.
A research director from the Thailand Development Institute says the ban could ultimately mean the country is not allowed to produce enough food, unless chemical fertilisers are still allowed if chemical pesticides are banned.
Viroj Na Ranong says production costs will still rise however, along with labour costs, adding that the government needs to do its homework.
"The government has to implement measures based on research, not on social trends and politics."
It's understood that The National Hazardous Substances Committee will meet on October 27 to decide if a ban on three chemicals currently used in farming will go ahead. The substances involved are paraquat, glyphosate and chlorpyrifos and the proposal is for them to be banned from December 1.
SOURCE: The Nation
Keep in contact with The Thaiger by following our
Facebook page
.