Phuket Gazette Thailand News: Gold rush as prices plummet; Illegal resorts slash forests; Thaksin passport questioned; MPs drive LGBT rights bill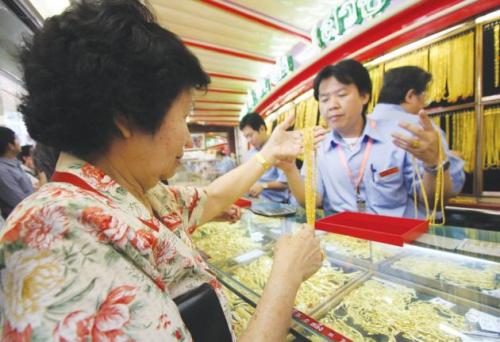 PHUKET MEDIA WATCH
– Thailand news compiled by Gazette editors for Phuket's international community
New gold rush as prices plummet
The Nation / Phuket Gazette
PHUKET: Savers nationwide are flocking to gold shops, enticed by the falling price of the precious metal, which yesterday tumbled to a 34-month low amid fears of an end to the US quantitative easing policy.
Gold bar fell below Bt18,000 per baht weight for the first time since April 2010.
Wisawa Wisawachaiwat, the owner of Jongluck Gold Shop in Phitsanulok, said the recent plunge had sparked new interest among small savers. "The prices have fallen to the lowest in years and they are expecting huge profits once the prices climb up again," he said. Some clients took home gold bars worth 50-100 in baht weight.
The precious metal yesterday extended the decline to a 34-month low amid speculation that the US Federal Reserve will reduce stimulus with economic data beating estimates. Held as a safe bet against inflation, gold lost value as unprecedented money printing by central banks around the world failed to spur inflation.
A lack of accelerating inflation and concerns about the strength of the global economy is also hurting silver, platinum and palladium, which are used more in industry.
Bullion has slid 28 per cent this year, set for the biggest annual drop since 1981, after rallying for the past 12 years. About US$62.4 billion was wiped off the value of precious metals exchange-traded product holdings this year as some investors lost faith in them as a store of value.
While gold bullion slid to $1,180.50 an ounce early yesterday in Singapore, the lowest since August 2010, gold prices in Thailand followed the move. Local gold prices were adjusted 15 times yesterday in line with global volatility. At 5pm, gold bar was sold at Bt17,850 while ornaments were at Bt18,250 per baht weight.
Local gold price averaged Bt17,493.18 in April, 2010, when global prices averaged $1,145.72 per ounce and when the baht was at 32.29 to the US dollar.
Jitti Tangsitpakdi, president of Gold Traders' Association of Thailand, believed that gold prices could decline further but would not fall below $1,100 per ounce. Cheap prices should spur new demand and the local prices could be cheaper if the baht does not weaken further against the US dollar.
Christin Tuxen, a senior analyst at Danske Bank in Copenhagen, who sees gold at $1,000 in three months, said: "The current environment is a fundamentally poisonous one for the yellow metal. Rising yields are upping the opportunity cost of holding gold, the initiation of a fundamental dollar up-trend weighs, inflation expectations are in decline as the commodities super-cycle wears off, and many tail risks have been sidelined."
Investors sold 583.2 tonnes of gold this year.
"There're still people who are interested in gold but because prices have fallen so much and so rapidly, they'll wait for some stabilisation," said Alexandra Knight, an economist at National Australia Bank. "There's definitely been a loss of confidence in gold and that's seen in the ETF liquidations."
Legalising illegal resorts 'will endanger' Thai forests
The Nation / Phuket Gazette
PHUKET: Thailand will lose its forests in less than a decade if the government continues turning illegal resort operators inside national parks into legal tenants, the Seub Nakhasathien Foundation warned yesterday.
"If our forests remain open for lease, then they will come to an end," the foundation's chairperson Rataya Chantian told a seminar.
Held by Kasetsart University's Faculty of Forestry, the seminar addressed conflicts between development and conservation policies and on whether resorts encroaching into national parks should be dismantled or allowed to stay open through a new legal framework.
"Some people in society are concerned about policies that are geared towards the use of forestland more than ever before," Kwanchai Duangsathaporn said in his capacity as deputy director of the faculty's Forest Research Centre.
Speaking at the same seminar, Nakhon Ratchasima Tourism Association's president Samer Jindapong said resorts promoted tourism and generated income for locals, adding that when the government cracked down on illegal resorts in the Wang Nam Kheow National Park, the local economy suffered badly.
"When those resorts were dismantled, farmers had to go somewhere else to sell their fruits.
"Many people lost their jobs and had to find new employment. More than 60 students had to quit school in order to relocate with their parents," Samer said.
Asst Prof Wanchai Arunpraparut, dean of the faculty, said that though these illegal resorts boosted tourism and the local economy, their presence ran against the country's principle of forest conservation.
Annop Chaipornthanarat, an academic at the Forest Department, said the government should have clear-cut policies.
"I don't want to see confusing policies," he said.
Not long after the crackdown on illegal resorts in the Wang Nam Kheow National Park was carried out, relevant authorities have talked about making these resort operators legal tenants.
Reshuffle of Cabinet based on 'suitability', says Yingluck
The Nation / Phuket Gazette
PHUKET: Prime Minister Yingluck Shinawatra yesterday cited "suitability" as the reason for her latest Cabinet reshuffle.
"I stick to the principle of suitability," she said. "The government has run the country for almost two years, so it is reasonable to expect a Cabinet reshuffle."
Deputy Government Spokesman Pakdiharn Himathongkham said that among the new Cabinet appointees were "capable people" who had served as government ministers in the government of Yingluck's elder brother Thaksin Shinawatra. He said their participation in the current government would help boost its efficiency. "It's like giving a 'magic touch' to the new Cabinet," he added.
In response to a remark by opposition leader Abhisit Vejjajiva that the prime minister should stop Thaksin's influence in government affairs, Pakdiharn said it appeared the Democrat Party leader was "envious".
Another Deputy Government Spokesperson, Sunisa Lertpakawat, also countered Democrat Party criticism of the potential Cabinet line-up yesterday. She said it was merely based on media speculation and not on the official Cabinet line-up, which would be endorsed by His Majesty the King.
Sunisa also rejected allegations by the Democrats that the prime minister would double as defence minister in a bid to interfere with the military's transfers of senior commanders in the armed forces. She said the Defence Ministry Administration Act, issued by the post-coup government in 2008, prevents politicians from interfering with transfers of high-ranking military officials.
Deputy Interior Minister Chatt Kuldiloke, who is likely to be replaced in the latest Cabinet shake-up, said yesterday that he would take a long rest. A retired police commander, he pointed out that he had been serving the country for many years. He turned 70 this year.
Phongthep given another 30 days to explain Thaksin passport issue
'Safe zone' in Thailand for refugees fleeing Myanmar violence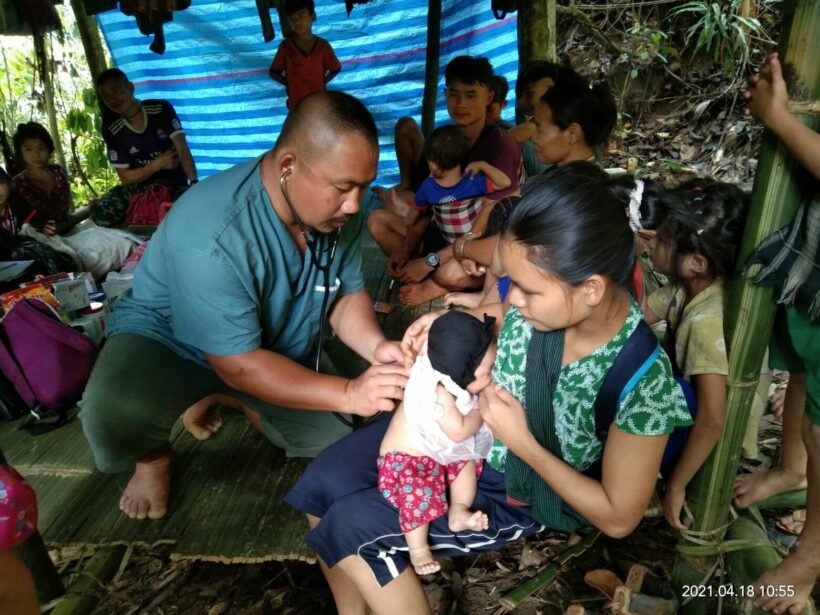 Due to the ongoing violence between the Myanmar military and ethnic troops, the Thai military has set up a "safe zone" for thousands of refugees in Mae Hong Son near the Salween River, the natural border between Thailand and Myanmar.
The prominent armed wing of the Karen National Union has openly supported the anti-coup movement in Myanmar, leading to clashes with the military junta. Recently, the Karen National Liberation Army reported took over a military outpost near the Thai border. Those just across the Salween River in Thailand said they could hear the gunshots and explosions.
Defence Ministry spokesperson Kongcheep Tantravanich says shelter and humanitarian assistance are being provided for around 2,200 people who have fled Myanmar.
Kongcheep says the "safe zone" is under tight security and only those authorised can enter. There are strict health and disease control measures are in place to prevent the spread of Covid-19.
His statement comes after the local civil rights group People of Salween River Basin Network called on the Thai government not to push refugees back, claiming that Thai soldiers had been ordered to tell the refugees to return to their home country due to a potential negative impact with border trade.
They say the Myanmar military has been carrying out airstrikes on Karen army bases and many Karen villagers fear for their safety.
Mae Hong Son governor, Sitthichai Jindaluang, also told a United Nations representative last week that refugees have been given shelter and assistance.
SOURCE: Bangkok Post
Want more from the Thaiger family?
📱 Download our app on Android or iOS for instant updates on your mobile
📧 Subscribe to our daily email newsletter
👍 Like/Follow us on Facebook
🔔 Subscribe to or Join our YouTube channel for daily video updates
Covid UPDATE: 1,630 new cases and 22 deaths, provincial totals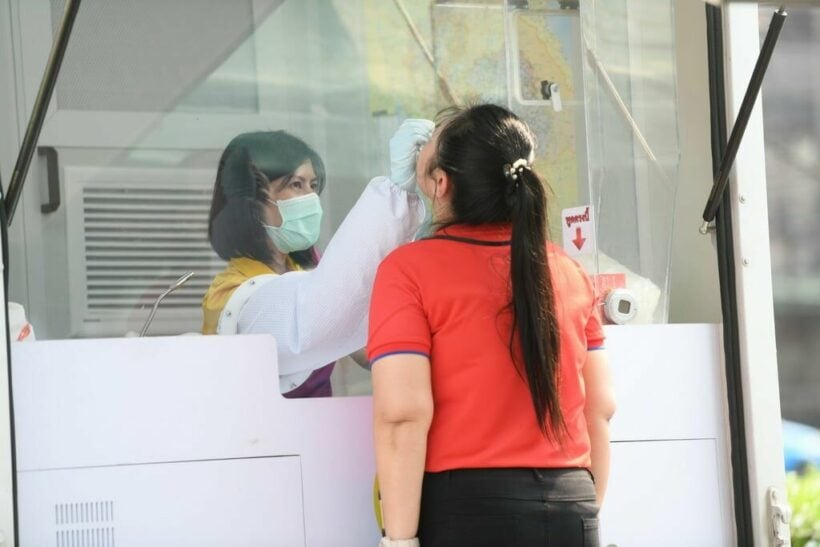 1,630 new Covid-19 cases and 22 coronavirus-related deaths were reported today in the Centre for Covid-19 Situation Administration's daily briefing. There are now 29,376 active Covid-19 cases. Since the start of the pandemic last year, the CCSA has reported 85,005 Covid-19 cases and 421 Covid-related deaths.
Out of the 22 deaths, most of the patients had chronic illnesses. Many contracted the virus from family members or close friends.
Most of the new cases were detected in Bangkok, particularly in districts with crowded communities and markets. While cases in Bangkok continue to be high, CCSA spokesperson Natapanu Nopakun says the number of new cases in most other provinces in Thailand is decreasing.
Health officials are rolling out proactive case finding campaigns in several high-risk communities, testing 9,000 to 10,000 per day, Nopakun says, adding that officials are working to provide the appropriate treatment as quickly as possible.
Those who test positive for Covid-19 and are asymptomatic must stay at an official field hospital for 14 days and then self-isolate at home for another 14 days.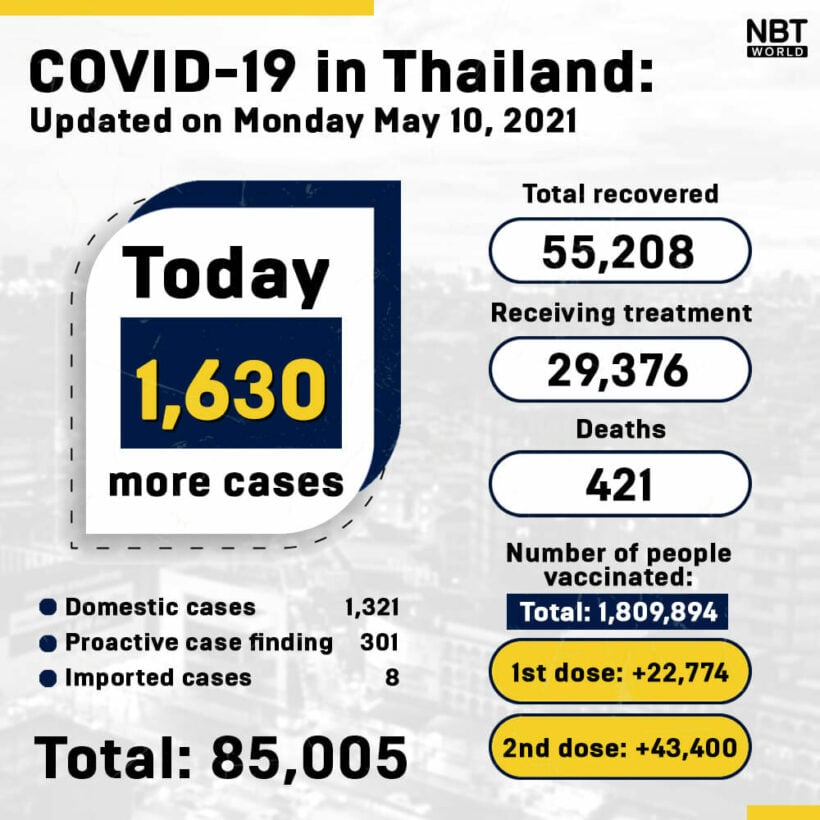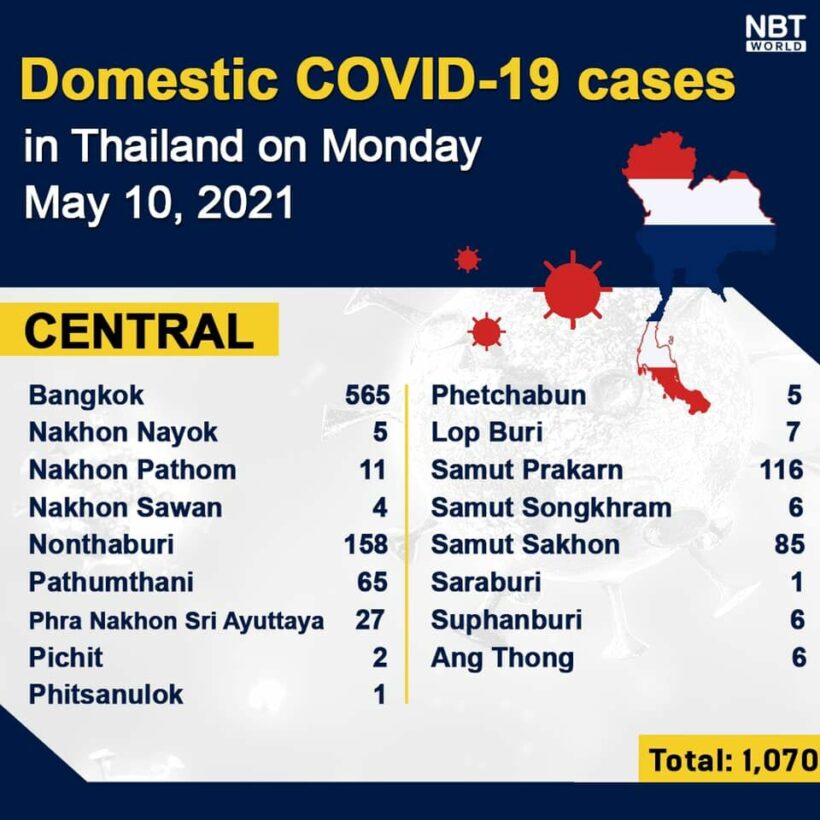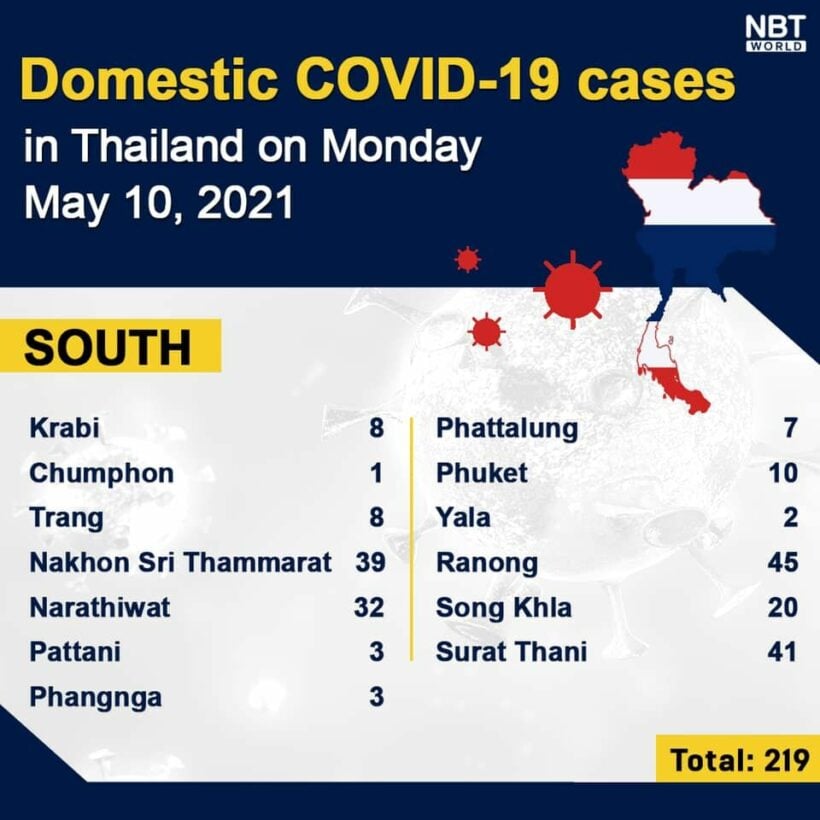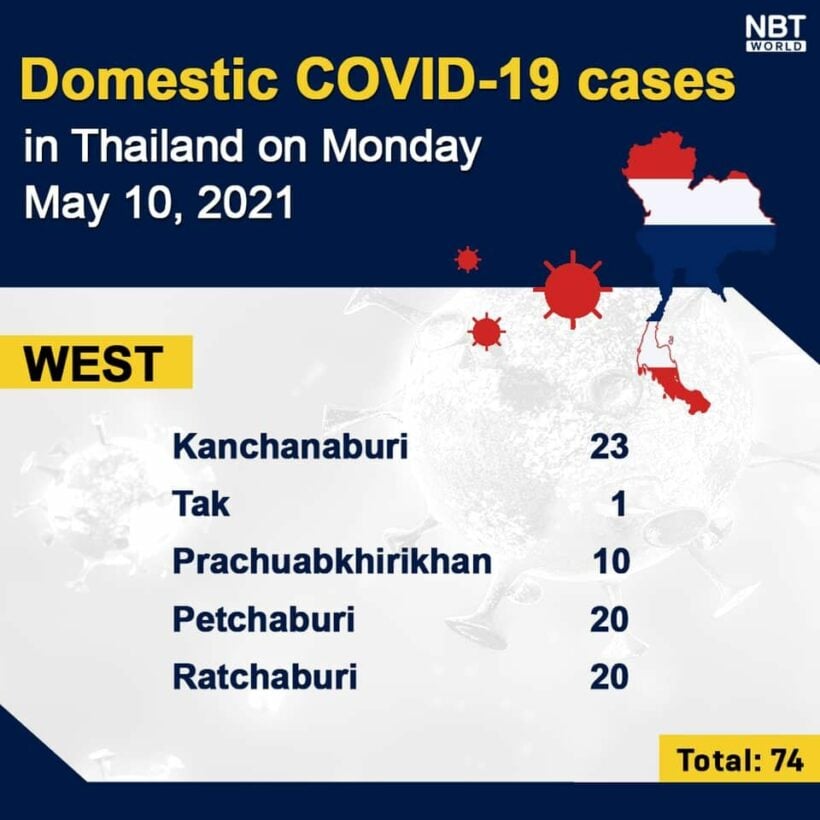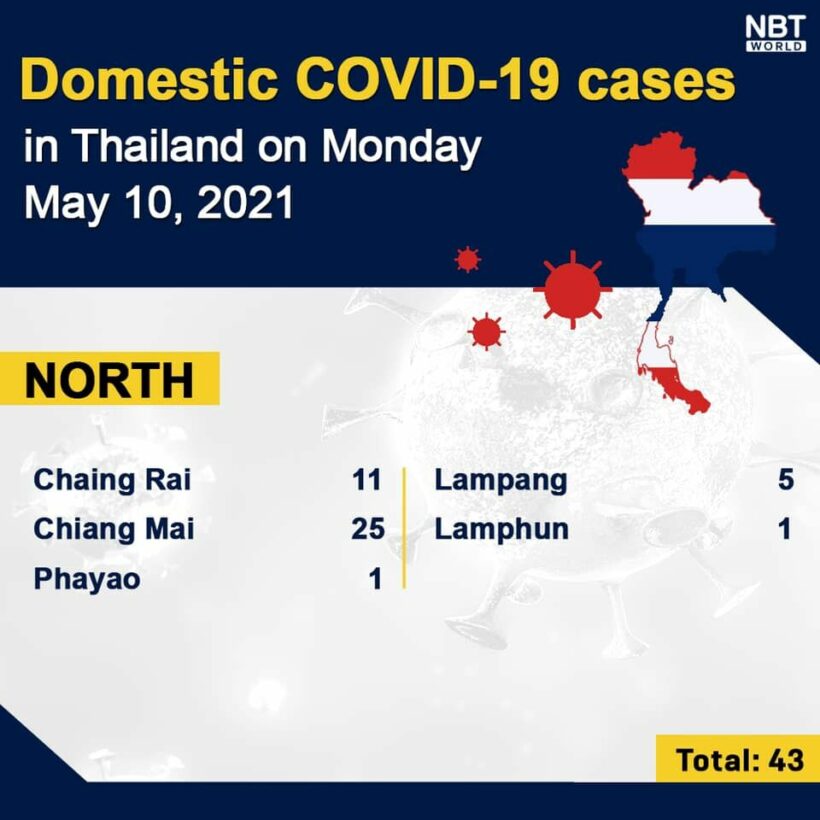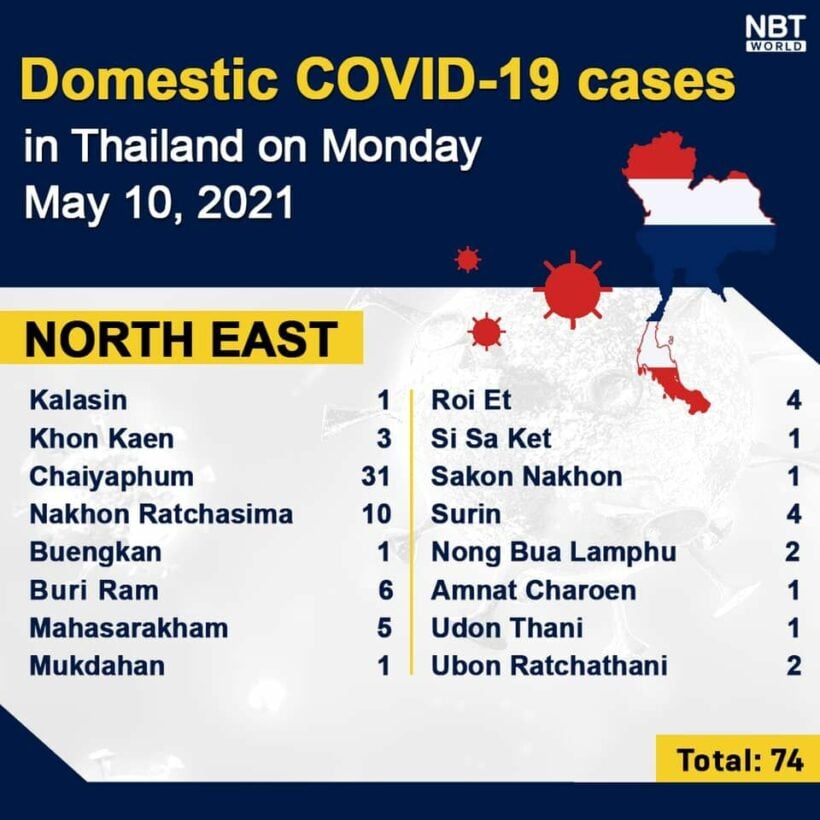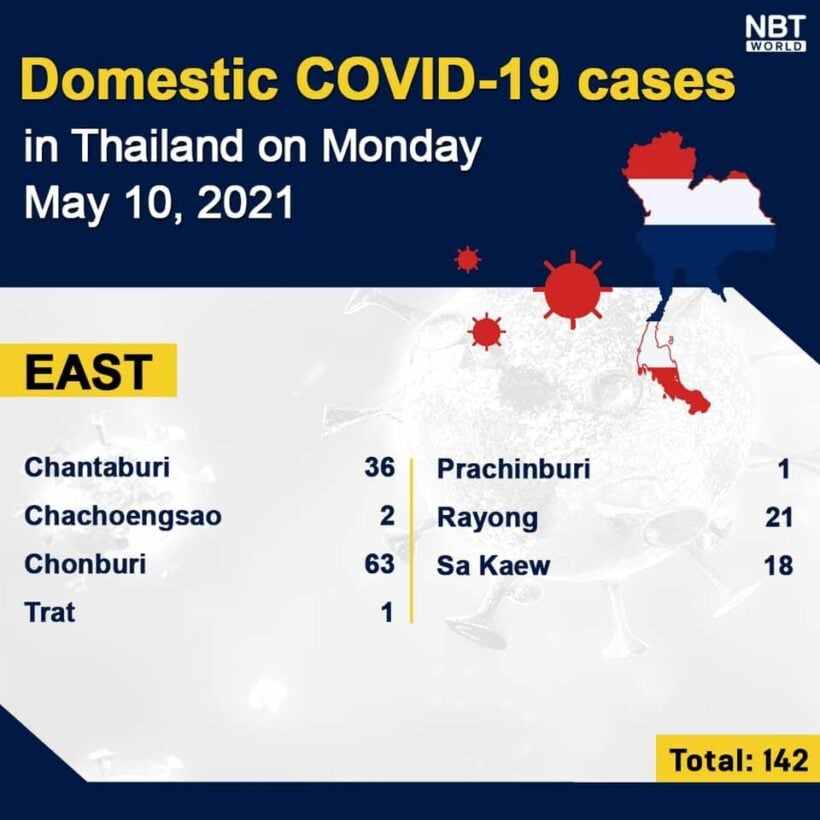 Want more from the Thaiger family?
📱 Download our app on Android or iOS for instant updates on your mobile
📧 Subscribe to our daily email newsletter
👍 Like/Follow us on Facebook
🔔 Subscribe to or Join our YouTube channel for daily video updates
Thailand donates cash, equipment to Laos to help combat Covid-19 outbreak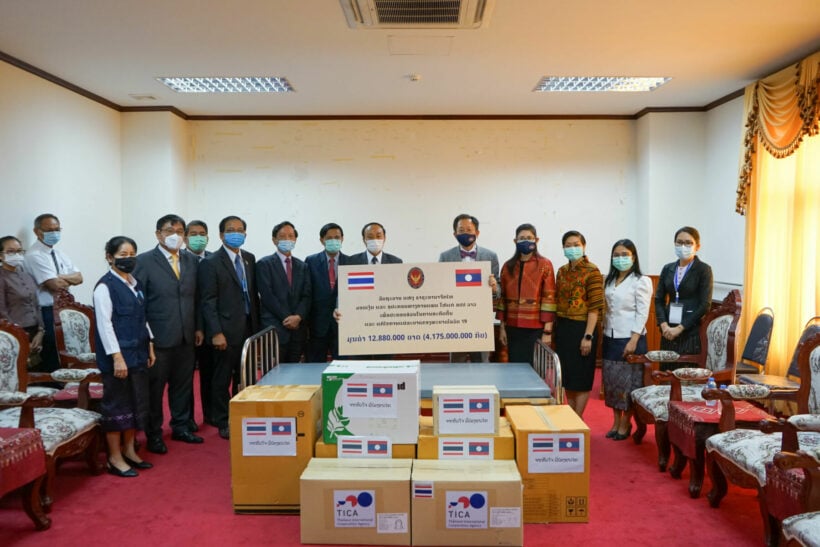 With Laos, just north of Thailand, under lockdown measures to control a spike of Covid-19 infections, the Royal Thai Embassy to Laos helping the country combat the outbreak and has donated cash and materials valued altogether at more than 16 million baht.
While cases have remained low in Laos since the start of the pandemic last year with active cases typically under 10, there was a spike in cases in mid-April and active cases are now at 1,302. The country reported its first coronavirus-related death yesterday.
Donations from Thailand help supply mobile biosafety labs to conduct swab Covid-19 testing and beds for Covid-19 patients as well as protective equipment such including 50,000 medical masks and more than 2,000 Personal Protective Equipment, or PPE, outfits.
An order of supplies valued at 8.5 million baht is set to be delivered by the end of the month. That order will have 2,000 more PPE outfits, Covid-19 test equipment, DNA/RNA extraction kits, and 2,500 test kits. Other equipment provided by Thailand include a defibrillator, patient monitoring machine, infrared thermometers, oxygen regulators, and pulse oximeters.
SOURCE: Nation Thailand
Want more from the Thaiger family?
📱 Download our app on Android or iOS for instant updates on your mobile
📧 Subscribe to our daily email newsletter
👍 Like/Follow us on Facebook
🔔 Subscribe to or Join our YouTube channel for daily video updates