Thailand
Phuket Gazette Thailand News: Draconian IS Act to be lifted; Pollsters puzzle; Worawi confident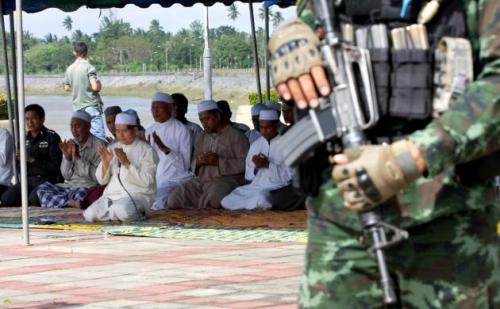 PHUKET MEDIA WATCH
– Thailand news compiled by Gazette editors for Phuket's international community
ISA to be lifted in five southern districts
Phuket Gazette / The Nation
PHUKET: To bolster dealings in the South between authorities and insurgent groups, the draconian Internal Security Act will be revoked in five districts in three provinces and replaced by the softer emergency decree, the National Security Council's Paradorn Pattanathabut announced yesterday.
The areas designated are Kapho district in Pattani, Betong and Kabang districts in Yala, and Waeng and Sukhirin districts in Narathiwat.
The decision was made based on a recommendation by the Southern Border Provinces Administrative Centre (SBPAC).
The period of the current ISA in the South expires on March 19 – and this NSC decision will be submitted to the Cabinet for approval next Tuesday.
Paradorn said he would go to Malaysia in the next two weeks to set the agenda, jointly with Malaysian authorities, for talks with four insurgent representatives.
Asked about what influence the representatives would have on active insurgents, Paradorn said the Barisan Revolusi Nasional Coordinate had several components and the first steps would mainly involve talks with its leadership.
As efforts to sort out the Islamic separatism continue, violence in the region also continued, with a defense volunteer shot dead in Narathiwat's Rue Soh district, likely by insurgents. Marohsi Yaning was gunned down in an ambush while riding a motorcycle. He worked with a security outpost in Bacho district.
SBPAC director Thawee Sodsong called on local residents to take part in coming open discussions to be held throughout the strife-torn region, to create "better understanding between people with different thoughts". He said the Foreign Ministry would handle any issues or efforts involving the next steps where foreign relations were relevant. He did not elaborate.
Defense Minister Sukampol Suwannathat said talks with the BRN Coordinate were the first step toward a non-violent solution, but conditions must not violate Thailand's constitution. He was asked whether one of the four insurgent representatives appeared in a television program made possible five years ago by former Army chief Chettha Thanajaro. Sukampol said people who raised this issue were the same old people who wanted to hinder progress.
Appointed Senator Khamnoon Sitthisamarn called on the government to hold a House session for parliamentarians to make inquiries about the talks, authorized under the Constitution's Article 179, about important state affairs. Another appointed Senator, Jate Siratharanont, said he welcomed the talks but secret deals leading to peace with insurgents should have been held before the talks were made public.
A member of a former national committee on peace solutions in the South, Hammadsomboon Bualuang, called for optimism on the violence issue. It was the outcome of the process, rather than the belief over whether these four people actually represented the insurgency, that was important, he said.
Citing peace solutions in other countries, he said most processes were time-consuming and the issue in Thailand might take 15 years, with violence expected to continue along the way.
Pollsters puzzle over how they got predictions wrong
Phuket Gazette / The Nation
PHUKET: Pollsters yesterday defended themselves against critics attacking their credibility, academic merit and neutrality after most came up with inaccurate poll results that forecast Pheu Thai Party candidate Pongsapat Pongcharoen would beat Democrat Sukhumbhand Paribatra.
Most pollsters, except the Nida Poll, gave wrong projections from both pre-election and exit polls over who would be the winner in the governor's race.
Bansomdej poll chief Sing Singkachorn also pointed out error margins, saying that according to academic statistics, exit polls carry an error margin, and the exit poll of the Sunday governor election had an error margin of 2 per cent.
In reality, the margin of the scores between Sukhumbhand and Pongsapat was 1.5 per cent.
Blame put on lack of time
He blamed time restrictions as the cause of error, saying the fact that exit polls collected data for only half of the day could result in inaccurate projections.
He said if pollsters used advanced technology so they could collect data longer, they might be able to reduce errors.
Nida poll chief Suwicha Pao-aree said the inaccurate exit poll results was a result of technical errors and not intentional.
First, the pollsters collected data for only the half-day, since they needed time to process the information.
Second, respondents did not give truthful answers because they did not trust the poll. He said this could be solved by avoiding face-to-face surveying and adopting phone-call surveys.
He said to restore public faith, pollsters who made wrong projections must review their methods and find out what went wrong.
Bangkok poll chief Kittisak Promrat defended his agency's neutrality and the academic merit of its polls during the Bangkok governor's race.
He said there were several factors that affected the accuracy of the poll, from the current political division to different cultures and norms.
He said he noticed that Pheu Thai Party supporters were more confident in expressing their political opinions, while the Democrat supporters were not so expressive.
Worawi confident of getting Asia's backing to become soccer chief
Phuket Gazette / The Nation
PHUKET: Football Association of Thailand president Worawi Makudi is confident of securing the 24 members' votes he needs in order to become head of the Asian Football Confederation in May.
Having secured backing from 11 members of the ASEAN Football Federation to run for Asian football president in the May 2 election, Worawi is convinced he can secure a majority vote to take over the post left vacant following the lifetime ban given to previous incumbent Mohamed bin Hammam.
"At the moment, I have 11 votes from the AFF nations plus another from Australia. Now, I'll seek support from other countries. I think I can get more than 24 of the 46 votes, which would be enough to win the post," said the Thai FA boss, who also sits on Fifa's powerful 24-man executive committee.
"I have had initial talks with other countries. They all promised to support me so I feel relieved and confident that I will become the new AFC president."
Among those Worawi has approached for their backing are South Asian members.
But South Asia's regional body revealed last week it had yet to decide on who to back in the poll for the AFC post, which is currently held by China's Zhang Jilong in a caretaker capacity.
"He called me and we had a chat," South Asian Football Federation president Kazi Salahuddin told Reuters, without revealing details of his discussion with the Thai FA boss.
"We will have to see which way the wind blows. We have not yet decided who to support. We'll have to see the final list and think what would be good for South Asian football. The election is in May, so we have some time before that. Maybe we'll have a meeting in mid-April where we'll decide."
— Phuket Gazette Editors