Phuket Gazette Thailand News: Court orders hearings on B350bn water plan; Yingluck tipped for Defence; Rice farmers urged to hold; Minister misses the bus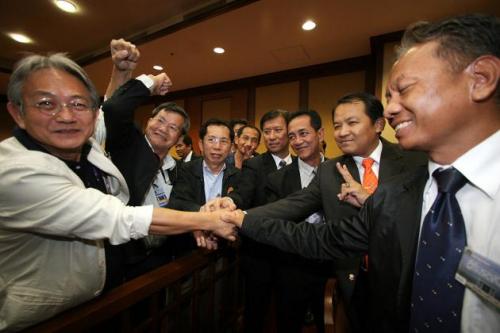 PHUKET MEDIA WATCH
– Thailand news compiled by Gazette editors for Phuket's international community
Court orders studies on water plan
The Nation / Phuket Gazette
PHUKET: The government is mobilising legal advice on how to unlock projects under the Bt350-billion water-management scheme after the Central Administrative Court yesterday ordered complete environmental and health impact assessment reports on projects likely to harm the environment or communities.
PM's Office Ministry permanent secretary Tongthong Chandrangsu said that after discussions with its legal team today, the government would be able to tell private companies that won bids under the scheme, as well as the general public, how it will proceed with the investment. An option to appeal will also be discussed.
"The court's order that public hearings be conducted is what the government intends to do. On the EIAs and HEIAs, we will need to look into legal technicalities thoroughly before making the next move," he said. "As far as I know, not all projects would be affected, as some can proceed without the reports."
Environmental impact assessments (EIAs) and health impact assessment (HEIAs) summarise approved measures to prevent and mitigate impacts on the environment and communities.
The court yesterday ordered the government to conduct EIAs and HEIAs before signing contracts with the winning bidders in its Bt350-billion water- and flood-management scheme. The government originally planned to sign the contracts in September.
The Stop Global Warming Association, which brought the case to the court, will today file a petition with the National Anti-Corruption Commission (NACC) against Yingluck and Tongthong for violating the Constitution in their implementation of the water mega-project.
"The court clearly said the government failed to comply with the Constitution's Articles 57 (2) and 67 (2), which require the government to conduct EIAs and HEIAs before implementing its scheme. The projects will have severe impacts on local people and communities," association president Srisuwan Janya said after the verdict was read.
"Yingluck and her PM's Office permanent secretary must take responsibility for this mistake," he added.
Srisuwan said yesterday if the government appeals to case to the Supreme Administrative Court, he would ask the court to issue an injunction ordering it to follow the lower court's verdict, such as by completing public hearings and EIA and HEIA reports first.
K-water TV report cut for safety
The Nation / Phuket Gazette
PHUKET: TV Channel 5 director-general Chatchai Sarikalaya yesterday explained the on-air suspension of "Hardcore News" programme's report on Wednesday evening about Korea Water Resources Corp (K-water)'s alleged shaky financial situation.
He said not running the report was a precaution because the news item remained unclear and could lead to lawsuits.
Meanwhile a K-water executive, flying directly from South Korea, would clarify this afternoon about the company's financial status following concern over its capacity to run two of the government's mega-water projects, worth a total of Bt160 billion.
Channel 5's General Chatchai explained that the 6pm programme's airing of the news report was suddenly cut off by commercials. It returned only after the report ended, prompting criticism on the Internet and social networks. Viewers suspected K-water was backed by some influential persons and the report criticising it might have been cut following an outsider's intervention.
Chatchai insisted the news editor decided to suspend it on-air, saying there was no intervention by any other individual. He said he learned about this suspension at 8pm that day.
No interference
"I confirm 100 per cent that there was no intervention or order. I talked with the editor for the programme and the editor admitted a mistake of hurriedly publishing the report when they should have checked it first. I instructed the editor to take this as a lesson to prevent future mistakes.
"The Channel 5 news should be accurate and credible," he said,adding that Army chief General Prayuth Chan-ocha later instructed the station to make sure news presentations were credible.
"It was fortunate that we suspended it in time," he said.
Meanwhile, the Office of the National Water and Flood Management Policy acting chief Supoj Tovichakchaikul yesterday defended K-water, saying it was qualified for the government's mega-water projects. He said K-water was a state enterprise with the South Korean government holding a 100 per cent stake. The South Korean Embassy certified its qualification.
Supoj said firms eligible to join the bidding had to have 10 years' experience in construction, worth at least Bt30 billion. K-water had handled construction worth 682.8 billion, was ranked at A1 by Moody's Investors and at A level by Standard and Poor's. It had Bt650 billion in capital and earned Bt176 billion, he said. Supoj said he was consulting a legal team about what to do next about the TV programme.
This move followed a previous comment by Hyung Cheol Yum from the Federation for Environmental Movements that K-water was under the scrutiny of the South Korean National Audit and Prosecution agency and did not have the experience to operate a mega-project of this complexity.
As a picture of former prime minister Thaksin Shinawatra visiting K-water went viral, leading to criticism K-water had influential help to get the job, Supoj said the bidders had to go through procedures and selection based on ideas and works, not politics.
Yingluck tipped to double up as minister of defence
The Nation / Phuket Gazette
PHUKET: Media speculation is rife that Prime Minister Yingluck Shinawatra will double as defence minister after the widely expected Cabinet reshuffle.
If the speculation is correct, Yingluck will make history as the country's first female defence minister – the 60th overall – although three former civilian prime ministers have doubled as defence minister: Chuan Leekpai, Samak Sundaravej and Somchai Wongsawat.
During his administration, Chuan needed to consolidate his power because his government did not enjoy strong ties with the military. Samak and Somchai also doubled as defence minister with the same goal of keeping undercurrents of resistance to the ruling party under control, while preventing any rivalry with the powerful military.
The plan to have Yingluck double as defence minister dates back to the end of last year, but the move has met with resistance from the military, which fears she may not understand its culture and needs.
However, over the past two years Yingluck has proven that she can work well with the military, especially with Army chief General Prayuth Chan-ocha.
The plan for Yingluck to double as defence minister could provide the "big boss", former premier Thaksin Shinawatra, with a way out, as many military members of the Pheu Thai Party have been jockeying for power and queuing up to meet him, especially when he recently visited Singapore.
Reports had it that party strategists wanted Prayuth to leave his post to become defence minister so that he can serve as a link to help bring about reconciliation. The big boss and the prime minister ag
— Phuket Gazette Editors
Keep in contact with The Thaiger by following our
Facebook page
.
Thai app will ease expat immigration woes and make 90 day reporting simple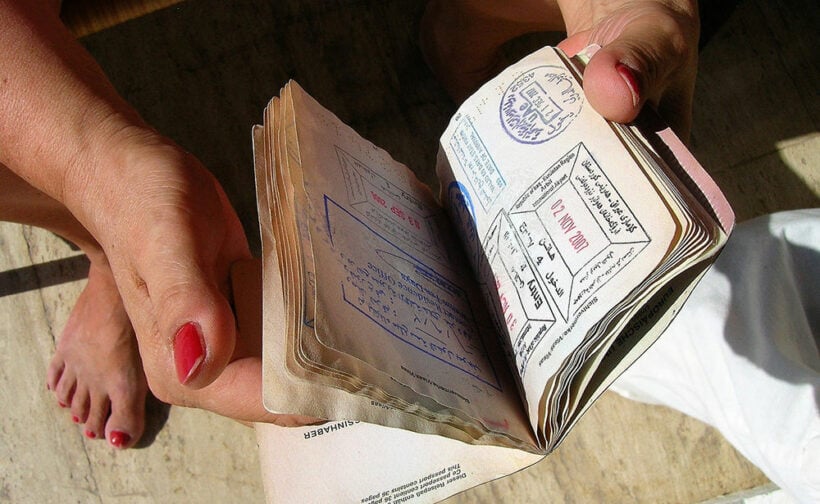 The "OSS Foreigner" app is coming, and you will be able to use it for 90 day reporting, according to the Secretary-General at the office of the PM.
Dr Kobsak Pootrakool says the planned app can be used for all immigration reporting, including 90 day reports, adding that typing in the required data and uploading a selfie will accomplish the same result as filling out paperwork at the local immigration office but without having to make the trip there.
Dr Kobsak has been given responsibility for sorting out the TM30 debate and says the immigration app, called OSS Foreigner, is nearly complete and should make all those who live and work in Thailand feel more welcome and make compliance easier and more convenient.
The TM30 form, and its companion, the TM28, have been a source of expat displeasure over the past five months since the immigration department decided to enforce a little-used 1979 law that required foreigners to report their whereabouts if they had stayed overnight at an address different from their registered address.
This latest move comes as part of a wider program to make Thai public services more efficient, with Dr Kobsak making the announcement while outlining plans for all Thai government departments to embrace digital technology by as early as 2022. Meanwhile, the Deputy PM Somkid Jatusripitak is championing a programme to improve Thai public services for both Thai citizens and foreigners.
"The government's new approach to IT and digital technology is designed to deliver a smarter, easier service as part of the Thailand 4.0 economic model."
SOURCE: The Pattaya News
Keep in contact with The Thaiger by following our
Facebook page
.
Karaoke premises raided in central Thailand, 3 underage sex workers rescued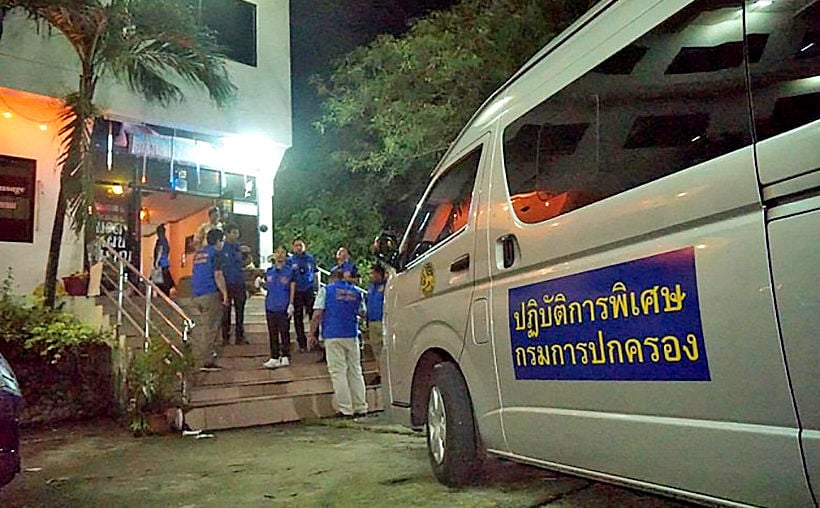 The Nation reports that 3 underage sex workers have been rescued after raids on a karaoke restaurant and a karaoke massage parlour in Ang Thong, central Thailand.
The raids were confirmed at a press conference held by Ronnarong Thipsiri, Head of the Department of Provincial Administration's investigation and suppression division, along with Sakda Bandasak, sheriff of Ang Thong's Muang district. Ronnarong alleges both premises were using the underage girls as prostitutes.
"We collaborated with Damrong Dhama Centre and anti-human trafficking organisations and learnt that two karaoke joints in Ang Thong were employing underage sex workers. These were the Chil Chil Karaoke on Highway No. 3064, Pa Ngiew sub district of Muang district, and Jittra Karaoke on the ground floor of a hotel in Muang district."
During the raids, police identified 6 sex workers offering services to a group of customers. Four of the girls were Thai and two were from Laos. Three were under the age of 18, with the youngest being 15 years old. A large number of used condoms were also found.
Somjit Phetwijit and Aphirom Pheungpracha, the owners of Chil Chil Karaoke and Jittra Karaoke respectively were arrested and charged with human trafficking, solicitation of prostitution, prostitution of an underage person, and opening an entertainment facility without a licence.
A 17 year old girl from Jittra Karaoke told the press she was hired to sit and drink with clients and was paid 50 baht each time a client ordered a drink.
"Clients can buy sex for 1,500 baht a time or pay 3,500 baht for a whole night. They can either use massage rooms in the back or bring the girls to other hotels of their choice."
SOURCE: The Nation
Keep in contact with The Thaiger by following our
Facebook page
.
Singha grabs a 90% stake in Thailand's Santa Fe restaurant chain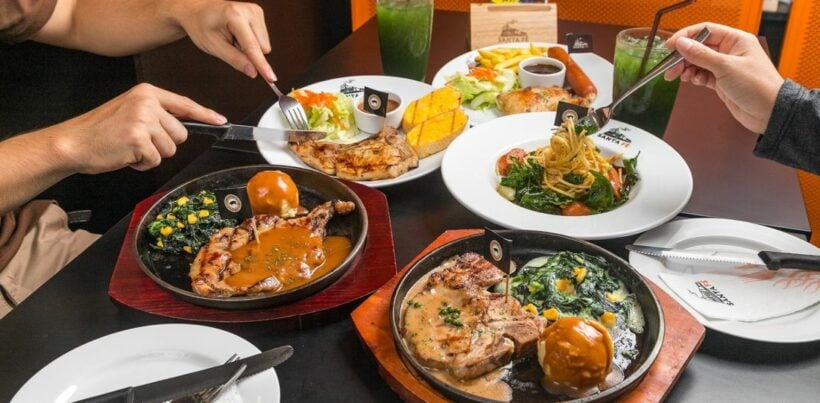 (…or is that a 90% 'steak'?)
PHOTOS: Wongnai
DealStreetAsia, an investor news site reporting on Asian business, confirms that Singha Corporation has purchased a majority stake in the Thai restaurant chain, Santa Fe. It's understood that Singha purchased the shares held by Lakeshore Capital for approximately US$50 million or 1.53 billion baht, giving it a 90% stake in the chain seen in most Thai shopping centres.
The Nation reports that Singha will now oversee over 110 restaurants across Thailand in one of the country's biggest food industry deals of the year. The company first turned its attention to the food industry two years ago, launching Food Factors Company under the Boon Rawd Brewery group.
WongnaiFood Factors aims to make 5 billion baht over 3 years under the stewardship of Piti Bhirombhakdi. The company has an ambitious long-term target of 10 billion baht a year, along with plans to be listed on the stock exchange.
The Santa Fe chain was established in 2003 by Surachai Charn-Anudet's KT Restaurant Company, with the aim of becoming a major competitor to Sizzler, the American chain brought to Thailand by Minor Food.
SOURCE: The Nation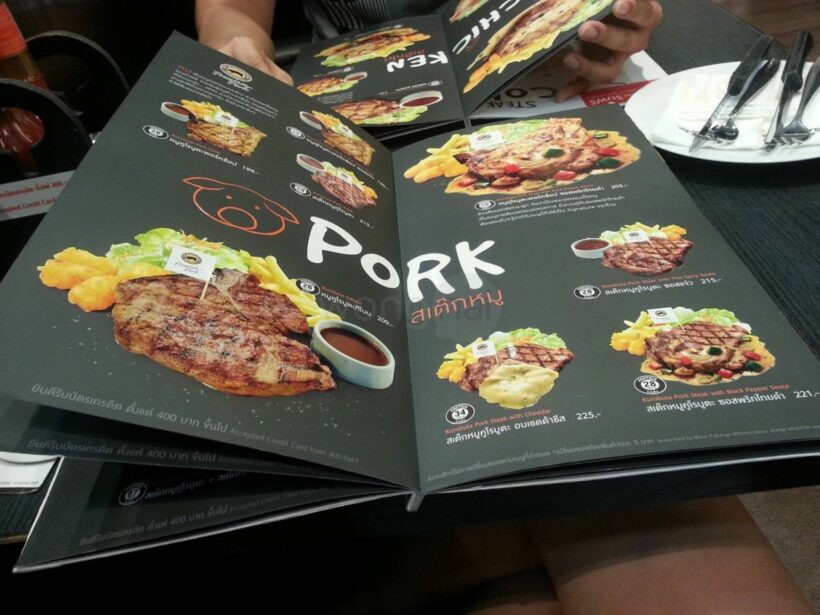 Keep in contact with The Thaiger by following our
Facebook page
.