Thailand
Phuket Gazette Thailand News: Businessman murdered; Drug dealer wanted by FBI arrested; F1 in Phuket; Size not important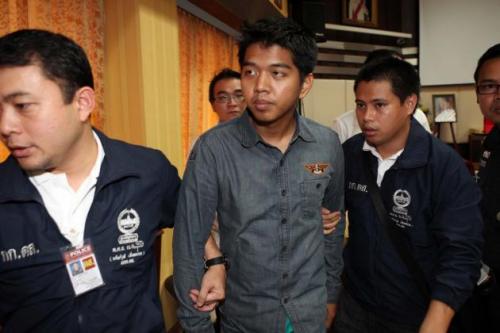 PHUKET MEDIA WATCH
– Thailand news compiled by Gazette editors for Phuket's international community
Driver admits killing Ekkayuth, police say
The Nation / Phuket Gazette
PHUKET: The chauffeur of missing businessman Ekkayuth Anchanbutr admitted to his murder last night, former police spokesman Pol Lt General Prawut Thavornsiri said on his Twitter account.
Two other suspects who allegedly helped Santiparb Pengduang are on the run, the sources said, without providing details on each person's role or how the murder took place. The known motive so far – as per Santiparb's confession – is that Ekkayuth fired his girlfriend. The suspect also allegedly cashed in a 5-million-baht cheque that was signed by the tycoon.
An unidentified source said that Santiparb was flown to Phatthalung province on a helicopter so he could show the police where he allegedly dumped the businessman's body. Another report said that a search team from a Border Patrol police unit – the 434th Company – had located the body and was trying to retrieve it.
Deputy Prime Minister Chalerm Yoobamrung spoke out for the first time on the case last night, saying: "The government and state officials had nothing to do with his disappearance."
"His existence or nonexistence is of no [interest] to the government. I am giving weight to murder, with money as a motive. I conclude he has been murdered already," said Chalerm, without offering any proof.
At a press conference earlier in the day, Santiparb had told a different story. He said that on June 6, he dropped Ekkayuth to have dinner with friends in Saphan Kwai till 11pm and drove him back to his home in town. He said his boss ordered him to wait as he wanted him to take him to the South.
He said Ekkayuth ordered him to disconnect the security cameras at his residence and Ekkayuth kept the hard disk himself. Santiparb said Ekkayuth spent the night at his sister's house in Lat Krabang district. The next morning Ekkayuth told him to drive him to Suvarnabhumi airport where a man would bring him some cheques. He said he saw Ekkayuth sign the cheques.
He also picked up more documents from a woman. Supaporn Waenlor, Ekkayuth's sister said she did not believe Santiparb's storybecause she did not trust him. She did not believe her brother would want to go to Burma by car as he hated sitting for too long.
Drugs suspect sought by FBI arrested in Din Daeng
The Nation /Phuket Gazette
PHUKET: Immigration Police yesterday arrested a 32-year-old US citizen, wanted in Florida on suspicion of dealing drugs, at an apartment in Bangkok's Din Daeng district.
Immigration police chief Panu Kerdlarppol said Ryan Steven Miller was apprehended after US authorities and the FBI requested his arrest.
Miller, who fled to Thailand from Vietnam last October, first came to the FBI's attention in 2007 when he allegedly sold around 300,000 Ecstasy pills over six months, before being hired by a Vietnamese narcotics ring to transport drugs.
The FBI says Miller then smuggled heroin with the True Asian Pride gang, earning as much as US$600,000 (18.6 million baht) per week.
Miller has not worked since fleeing to Thailand, but has received 40,000 baht a month from "a friend", say police. Miller was initially charged with an unauthorised stay in the Kingdom.
In a separate case, Immigration Police yesterday arrested 45-year-old Myanmar fugitive Shwe Nu for his alleged involvement in a drugs bust in Myanmar last August that yielded 171,000 yaba tablets. Nu was arrested at Soi Charoen Krung 76 after he entered Thailand on Monday.
Police have revoked his visa and are keeping him under custody pending extradition.
After Rattanakosin ban, search for F1 site widens
The Nation / Phuket Gazette
PHUKET: Rattanakosin Island will not be used to host a Formula One race, and organisers will have to search elsewhere for a site to host the country's first F1 race in 2015, with Phuket being considered.
Tourism Minister Somsak Phurisisak said that the Bangkok Metropolitan Administration issued a law on May 16 which prohibits car racing in historic Rattanakosin, where organisers had wanted to locate the Formula One circuit.
He added that efforts to launch a Thailand Formula One Grand Prix would not cease as the committee would look for a new site, focusing their search in the Chaengwattana Government Office Complex and Muang Thong Thani areas of the capital. "In fact many cities have shown an interest in hosting the race. We have no plans to build a stadium, as the circuit is expected to run through cultural sites," Somsak said.
Cleverley awaiting Manchester United's first Thai player
The Nation / Phuket Gazette
PHUKET: Manchester United midfielder Tom Cleverley will boost young Thai players' hopes with a message that being "clever" on the pitch matters more than size when he makes a brief visit for a promotional event with Nike.
In Thailand to promote Nike's street football tournament, the 23-year-old England international is also scheduled to conduct a clinic for local youth today.
Standing just 1.75 metres (5 ' 7″), the Manchester United star is no taller than most Thai players, and he dismisses the idea that size is a requirement for success in the sport.
"A lot of footballers these days are small [Leo] Messi, [Andres] Iniesta, [Cesc] Fabregas, [Paul] Scholes. Some of the best players are small. I don't think size matters," Cleverley said in an interview with the popular TV news talk programme "Rueng Lao Chao Nee".
Asked whether he had any advice for young Thai players aiming to follow in his footsteps, Cleverley replied: "Just three things: always work hard, enjoy what you do and listen to your coaches."
He also saw no reason why Thai players could not make the grade at Manchester United.
"We've got players from all over the world. Shinji [Kagawa] from Japan and Antonio [Valencia] from Ecuador and all over the Europe. So why not?"
Having joined Manchester United academy as a 12-year-old, Cleverley, who has made nine appearances for England, revealed the lessons he had learned at Old Trafford were not confined to the pitch.
"Being at the United Academy, you learn to play football in the right way – passing and moving. Again, size doesn't matter as long as you are clever on the pitch and also off it. They teach you how to be a nice person and a good professional."
The England midfielder believes his success in coming through the youth ranks to become a member of United's first-team squad was down to self-confidence.
"As a young player growing up there, you have to [avoid] being nervous, [you've] got to be confident. You play with the reserves and then you go up and train with players like [Ryan] Giggs and Scholes. Just [don't] be nervous, be yourself and enjoy it.
Cleverley recently became a new father when his girlfriend Georgina Dorsett gave b
— Phuket Gazette Editors