Phuket Gazette Thailand News: BRN threatens no more peace; Amnesty bill under review; Trang Airport still closed, Fugitive's son weds star actress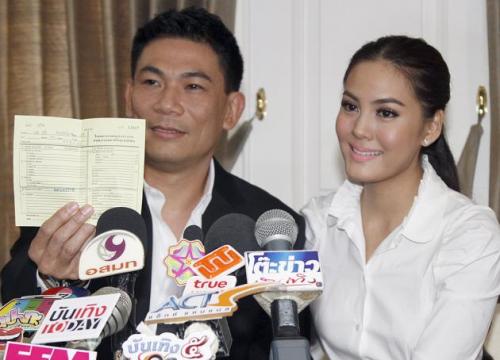 PHUKET MEDIA WATCH
– Thailand news compiled by Gazette editors for Phuket's international community
Insurgents threaten to quit peace talks in latest video message
The Nation / Phuket Gazette
PHUKET: In another YouTube video message released on Tuesday night, insurgents in the deep South threatened to quit the peace dialogue, using inflammatory statements to lambaste Thai authorities on unspecific issues.
The clip shows three men wearing balaclavas and combat gear and holding automatic weapons. There have been similar video messages in the past but this is the first time one shows the speakers armed. One of the men says: "The Thai occupiers have committed betrayal, violence, lied and slandered the Pattani people."
Deputy Prime Minister Pracha Promnog said yesterday that he had viewed the clip. He said the insurgents represented by the Barisan Revolusi Nasional (BRN) would only want to stall the peace dialogue, which he said had not been completely terminated.
"They would like to delay any further talks until Thailand heeds their five demands," said Pracha, who is in charge of national security. He said Thailand should soon discuss the five demands, which are:
– a role for Malaysia as the mediator, not just facilitator;
– that the dialogue continue on behalf of Pattani Malayu people led by BRN;
– observers from Asean, the Organisation for Islamic Cooperation, and non-governmental organisations;
– unconditional release of all detainees; and
– recognition of BRN as liberators, not separatists.
Pracha said Thai intelligence had contacted BRN for clarity on the demands.
There was no clear answer, and so far certain BRN members still agreed that negotiation was the best way to restore peace.
He repeated a BRN statement that it was not responsible for the killing of highly respected imam Yakob Raisri, of the Pattani Central Masjid. Pracha did not say who was involved, but believed the killing was done by people opposed to the peace dialogue between the BRN and Thai authorities.
The three men in Tuesday's video clip did not refer to incidents that occurred during the Ramadan truce, which they could have used as an excuse to lambaste Thai authorities and quit the dialogue, if they could prove Thai authorities were responsible for those incidents.
There were 86 incidents during the period this year, according to Prince of Songkla University's Deep South Watch (DSW).
The number is lower than the 99 last year. The insurgents killed 52 people and injured 98.
Between July 10 and Wednesday, 29 people were killed and 105 injured. Of the fatalities, six were government officers and nine were local residents. Among the 105 injured, 63 were soldiers.
Committee to vet amnesty bill
The Nation / Phuket Gazette
PHUKET: Parliament has voted to appoint a 35-member committee to vet the amnesty bill on its second reading. The 35 members include Matubhum party-list MP General Sonthi Boonyaratglin, who was recruited under the Cabinet quota, and outsiders such as Thai Spring leader Kaewsan Atibodhi, who is in the quota of the opposition Democrat Party.
The MPs were asked to submit within seven days the points they wanted to be scrutinised.
After 15 hours of debate, the amnesty bill proposed by Pheu Thai MP Worachai Hema yesterday passed its first reading, accepted in principle, with 300 MPs voting for the bill and 124 against.
On the second day of debate yesterday, breaks had to be taken twice after arguments erupted, because government MPs wanted the debate to end, while opposition MPs insisted they wanted to continue scrutinising the bill. Deputy House Speaker Charoen Jankomol lost his patience and called for a vote on whether to end the meeting after MPs took turns to debate and counterattack.
Opposition party whip chief Jurin Laksanawisit said yesterday the opposition had changed its mind about boycotting the debate and would join the vetting of the amnesty bill on its second reading to prevent a grand-scale whitewash.
Jurin said the opposition had earlier considered boycotting the vetting of the bill, but reconsidered its position, because a vetting committee that consisted only of government MPs, might result in amnesty being granted to all wrongdoers, which would not be good for the country in the long term.
Government whip chief Amnuay Klangpa said he was not certain if the amnesty bill proposed by Pheu Thai MP Worachai Hema would be passed in the first reading yesterday, because MPs took more than five hours on Wednesday before they started the debate.
Bhum Jai Thai's Nakhon Ratchasima MP Boonjong Wongtrairat protested against the bill, reasoning that it would destroy the country's sovereignty and rule of law as well as promote violence. He urged Prime Minister Yingluck Shinawatra to withdraw the bill from Parliament's agenda and hold a public referendum on whether to keep it.
Article 3 of the bill, said Boonjong, stipulated that amnesty would be granted to leaders and this left room for personal interpretation as questionable political figures did not want to admit whether they fell in the category of "leader".
Pheu Thai's Chiang Rai MP Samart Kaewmeechai dismissed the opposition party's concerns that the bill would grant amnesty to all suspects charged under the lese majeste law. He insisted that during the vetting of the bill, government MPs would not include amnesty for those accused or convicted of lese majeste offences.
Pheu Thai party-list MP Nuttawut Saikuar argued that this amnesty bill was not the first of its kind as the country had previously passed 24 amnesty bills. He said the bill would be a tool to end political conflicts and lawmakers should not think only in terms of the rule of law but also in terms of what was best for society.
"A coup is the most serious violation of the rule of law because power to govern the country is consolidated under the thumb of one person while the Constitution is torn. Every time this happens, an amnesty law is passed to pardon the law offenders," he said.
Nuttawut, who was among red-shirt leaders in the 2010 rally protests, said the red-shirt leaders who took to the rally stage at the Ratchaprasong intersection had vowed not to accept pardons. He also insisted the bill would not include lese majeste offenders.
Fugitive politician's son weds actress Janie
The Nation / Phuket Gazette
PHUKET: The Thai entertainment industry yesterday was taken by surprise when former interior minister Vatana Asavahame's eldest son, Chonsawat "Ae" Asavahame, 45, revealed that he has tied the knot with actress Janie Thienphosuvan, 32.
Vatana is currently in exile to avoid charges related to the Klong Dan corruption case. He is charged of being involved in encroaching on public land in Phang Nga.
Nearly all TV stations covered yesterday's press conference by the couple at his home in Samut Prakan, knocking the parliamentary deliberations about the amnesty bill out of the spotlight. Google searches in Thai language for "Janie" yesterday doubled those for "amnesty bill".
Chonsawat, who has a daughter with yesteryear singer Nantida Kaewbuasai, said the couple had registered their marriage on Tuesday, at 9.09am.
He said any legal issues between himself and Nantida had bee
— Phuket Gazette Editors
Keep in contact with The Thaiger by following our
Facebook page
.
Noodle shop 'taking the piss' with special ingredient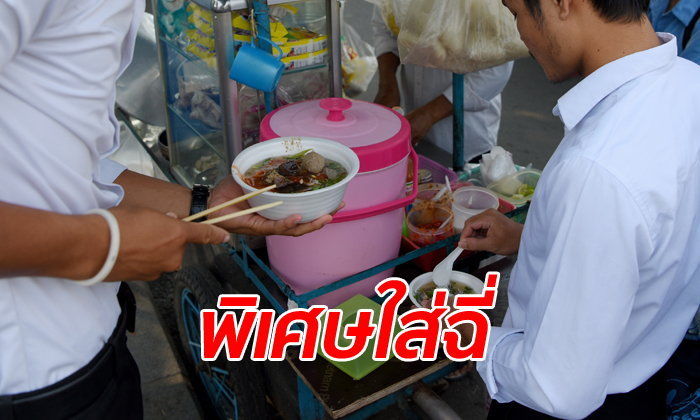 PHOTOS: sanook.com
Thai Facebook page 'Return.v12' has posted a storey about people who believe in the "power of urine" and that it can heal body pain and diseases. The noodle shop owner admitted that he has been using his own urine as a "secret ingredient" and that he has a lot of customers because of it.
He claims that his customers tell him that his noodles makes their muscle pain go away but admits he hasn't told them about the additional surprise ingredient.
Ever since he added the secret ingredient to the noodles his sales have improved. He also attached a picture of his noodles.
Another member of the Facebook group asked the question…
"Hello, urine can be used in food right? I own a restaurant in the middle of a city, if I add my urine to the dishes would it make my food more delicious and would my customers gain better health? I'll add more for those who come from this group."
We don't know where the noodle shop is.
"My family owns a noodle shop. Many people in the area come to my shop. Many of them are workers coming in for lunch. My customers often told me that they had back pain and muscle pain. I didn't know how to help them, I wanted to tell them the truth but I didn't want to seem weird about it."
"So I took the issue into my own hands and started adding my own urine into the soup pot. Customers started loving my noodles, they tell me how their pain has gone away since they started eating my noodles. Some even asked if I had a secret ingredient haha."
No photos were available of the cook adding the secret ingredient.
SOURCE: sanook.com | ThaiResidents.com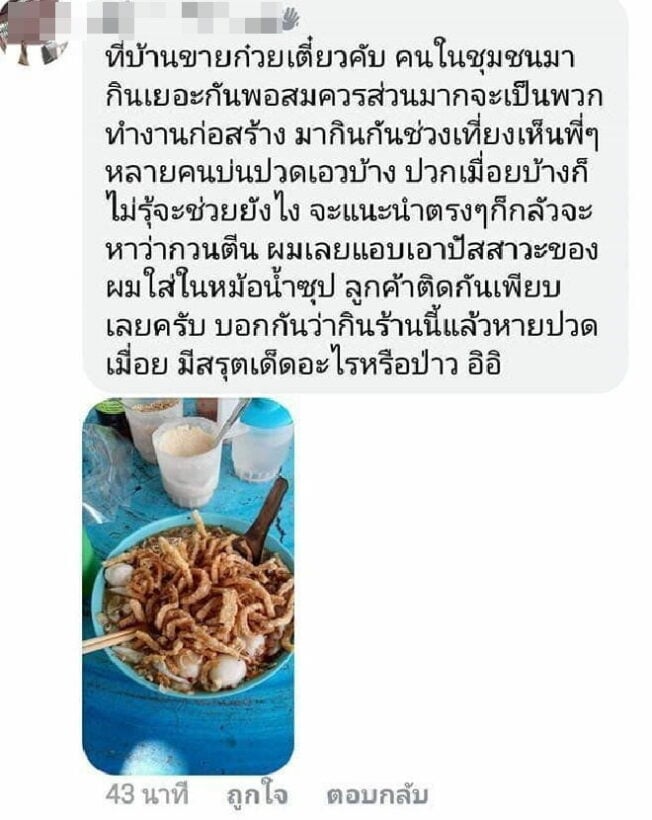 Keep in contact with The Thaiger by following our
Facebook page
.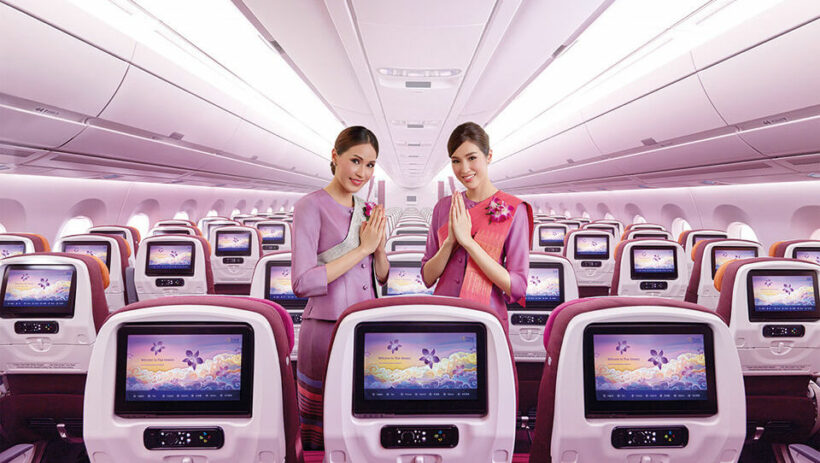 PHOTO: The pleasant smile and wai won't fill aircraft seats anymore
Whilst it's always a generally pleasant experience flying Thai Airways, the airline, in a business sense, is a basket case racking up nearly a decade of losses, first under the Yingluck Shinawatra Government and then the military government of the NCPO.
Most people in aviation circles agree on the main challenges for the national carrier.
• Entrenched nepotism and cronyism
• Top heavy management
• Contracts for older staff which do not reflect aviation business realities in 2019
• Uncompetitive pricing
So do what QANTAS did in Australia in 2003.
QANTAS was Australia's legacy airline which had similar long-standing contracts and Union issues that made it difficult for the national carrier to compete in the modern aviation business. It battled for decades with the staff, all on cushy contracts, and the Unions were resistant to change as well.
So they started JetStar, a completely separate company headquartered in Melbourne, but under the wider QANTAS banner. It would take over the 'leisure' routes and compete as a low-cost carrier. As QANTAS slowly moved routes over to its cheaper subsidiary the parent airline had a much better argument to pay-out the older, uncompetitive contracts and lay-off the 'old pot boilers'.
JetStar was not a glamorous airline and lacked the reputation and brand-love of the 'flying kangaroo' but, as a business strategy, was a winner for QANTAS and gave them options to modernise the national airline business. The CEO, Alan Joyce, came through Aer Lingus in Ireland then the failing Ansett Airlines in Australia to completely turn Australia's national carrier upside-down. The strategy worked.
The model has been repeated by other national airlines.
Thai Airways sort of tried the same strategy with Thai Smile in 2012. The offshoot of the parent Thai Airways International, would fly leisure routes for the national carrier but it was still owned entirely by Thai Airways and wasn't set up as a separate entity so was subject to much of the same 'handbrakes' that was holding back Thai Airways from competition in the modern aviation market.
Brand Thai Airways is starting to look a bit tired. The Thai smile, orchids, pleasant staff wai-ing to the camera is all a bit naff when most customers in 2019 are looking for a safe, efficient, on-time airline, at a competitive price. Let's face it, the seating is much the same, give or take, in just about any plane now. Unless you have the deeper pockets and can afford to sit closer to the front of the plane, you're in cattle class whether you're on Thai Airways, Air Asia or RyanAir. A Boeing 737 or Airbus A320 is much the same aeroplane no matter who is flying it.
So what does Thai Airways have to offer customers these days that they won't get on the many alternatives airlines flying on the same routes? Nice uniforms? A Thai stir-fry included in your airfare? (I'm battling to think of anything else…)
At the same time their website , whilst much improved in the past 12 months, is still a bit 'clumsy' compared to other airlines', the fleet is starting to look a bit 'tired', the eight years of loss after loss is starting to noticeably weigh on the airline's staff, and in many cases the airfares are simply too expensive.
Unless you're a huge Thai Airways fanboy or fangirl, there are fewer reasons every year to keep flying Thailand's national airline.
Thailand's surging tourist industry, which despite a few blips this year will continue to grow, has provided a huge opportunity for Thai Airways to thrive and grow. Instead the airline's management have squandered an enormous opportunity. Whilst calling for patience as they make (almost zero) changes, many other airlines have jumped into their flying space with newer aircraft, better promotions, cheaper flights and a better business plan.
If Thai Airways was a private company they would have been out of business a decade ago. Instead they keep coming back to the Thai government with their hat out for contributions to bail them out of quarter after quarter of losses.
The airline's main backer, the Thai government, provides a massive disincentive for the airline to clean up the internal mess and modernise. Where's the urgency to make the necessary changes when the government will always end up bailing them out? The airline has simply weaponised 'saving face' – the national carrier simply CAN'T fail.
But maybe the view of Thai Airways as a potential profitable business is old-fashioned and the costs to the Thai taxpayer should be seen as an 'investment' into the country's growing tourist industry. Middle Eastern airlines are operated in this way where they make massive losses but provide excellent service on modern aircraft dragging tourists through and to their airports and destinations.
Now Thai Airways is asking for the Thai government to bankroll the purchase of new aircraft for its fleet. That the Thai Government seems in no rush to write out any more cheques to Thai Airways is a good indication that some hard decisions now need to be made.
Keep in contact with The Thaiger by following our
Facebook page
.
Thailand Prime Minister rejects calls to ban plastic bags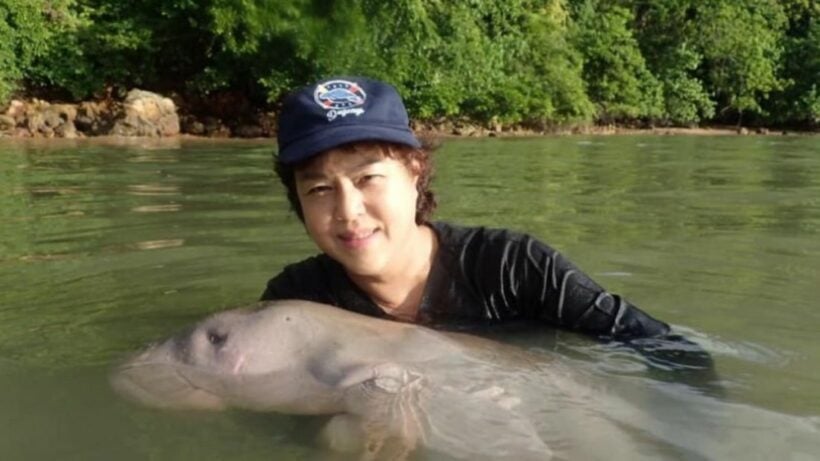 PHOTO: Chiang Rai Times
In what some may see as a baffling contradiction, Thai PM Prayut Chan-o-cha promised to protect marine life, while simultaneously rejecting an increasing number of calls for a ban on single-use plastic bags.
Following the death of Marium, a young dugong who had ingested plastic waste, the PM says he has ordered the agencies concerned to take more measures to protect sea life.
Of particular concern to the PM is the fate of another young dugong.
"Yamil must not die".
The PM says the use of some plastic will be banned by 2022, including single-use plastic bags, but insists the issue is not solely the government's responsibility.
"Everyone has a duty to help reduce plastic waste. It is unfair and pointless to blame the government when sea animals die due to marine waste. This issue is everyone's responsibility," he maintains.
A conservation plan known as the "Marium Project" has been approved by the cabinet, along with a number of other proposals to protect marine life, specifically dugongs.
Among them is a plan to create more dugong conservation areas such as Koh Libong in Trang province, where Marium was looked after.  The chosen sites should have beaches rich in sea-grass, a preferred food source for the dugong.
SOURCE: Bangkok Post
Keep in contact with The Thaiger by following our
Facebook page
.