Phuket Gazette Thailand News: BoT Gov slams Govt policies; Thaksin b'day party near Bangkok; Lottery surge; PM placates Isarn; Nenkham's B300mn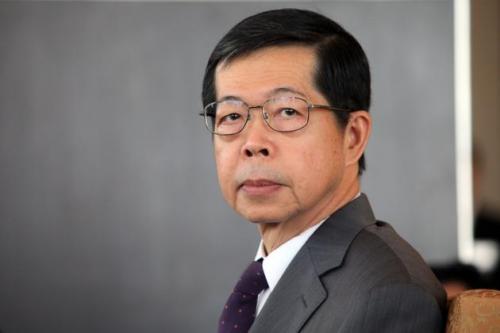 PHUKET MEDIA WATCH
– Thailand news compiled by Gazette editors for Phuket's international community
BoT Gov slams Govt policies as unsustainable
The Nation / Phuket Gazette
PHUKET: Bank of Thailand Governor Prasarn Trairatvorakul has slammed government policies as geared towards short-term consumption, saying they have shortcomings and cannot sustain economic competitiveness in the long term.
In a speech to Asean ambassadors and high-ranking officials at the Foreign Ministry yesterday, he said policy-makers needed to be goal-oriented, consistent, proactive and to coordinate with one another, because the country is bracing for greater challenges in light of rapid changes in the global economy.
Meanwhile, academics at a Thai Publica seminar, "Brainstorm on Fiscal Cliff, Thai Government Debts", also attacked the government yesterday for policies not designed to boost long-term national competitiveness, saying they could create a Thai version of the "fiscal cliff". Global challenges – particularly the slowdown of the Chinese economy – were a warning that Thailand, at the national and individual levels, must be more cautious in spending. In the first quarter, Thai household debts reached 77 per cent of gross domestic product (GDP), mainly due to stimulus measures launched in recent years.
Prasarn urged the government to pay more attention to national development plans, which cover all areas of society and the economy, and require action.
"Any subsequent policies must be drawn in line with national goals. The goals and national development plans should not be left idle on the shelf," he said.
Aside from setting goals, policy-makers should not shift focus. Singapore and Malaysia had advanced quickly because of policy consistency, he said.
Policy-makers should also be alert to global challenges and be willing to coordinate, as no single party can achieve success.
"If Thailand is a ship navigating in the sea, the ship has travelled a long distance. Yet, it will have to sail further and the destination is not within sight. Our journey has suffered from monsoons and we have been side-tracked and unknowingly got involved too much with ad-hoc problems, which cost us time and money. Yet, if we regain our senses, set sail at full speed and lead the ship towards our goal, we won't be vulnerable to monsoons and reach the goal in a fast and sustainable way," he said.
At the Thai Publica seminar, Sethaput Suthiwart-Narueput, chief of the Thailand Future Foundation, said future budget allocation must answer national strategies and be in line with expected returns and cost-benefit analysis. All projects with costs that cannot be defined, like the rice-pledging scheme, must be scrapped, Sethaput said.
A foundation study found that in 2009-10, government annual expenditure rose 9.2 per cent on average – above average growth of 7.2 per cent. Funds were allocated on a ministerial basis, rather than according to national strategies. In these years, little money was put to scientific and technological innovation or energy to boost competitiveness.
Generally, the allocation pattern did not support the evaluation of economic returns, particularly the evaluation of central budgets, he said. At some ministries like Education, which saw its budget double in 10 years, the level of Thai scientific knowledge, according to PISA rankings, in 2009 was lower than in 2010. And logistical competitiveness fell from 31st in 2007 to 38th in 2012, although budgets for the Transport Ministry increased every year.
PM touts benefits of plans for Isarn voters
The Nation / Phuket Gazette
PHUKET: After her two-day visit to the northeastern provinces of Buri Ram and Maha Sarakham, Prime Minister Yingluck Shinawatra yesterday said the government was working to create sustainable incomes, lessen social disparity, promote the eco-friendly growth of local communities and prepare for the development of transportation and water-management infrastructure.
Part of the Bt350-billion budget for the water projects would be earmarked to tackle specific problems in the provinces, she said, adding that dual-track trains and road construction in the provinces would be part of the Bt2-trillion infrastructure project.
Investment in the projects will lead to employment for local people, the premier said. The provinces' economies must grow along with the national economy, she said.
Government Spokesman Teerat Ratanasevi said residents of Maha Sarakham and Buri Ram had less access to tap water than people in the rest of the country.
Meanwhile, studies would be conducted to implement agricultural zoning in the provinces. Organic jasmine rice, silk and tourism had potential and should be promoted, he said.
After a meeting with students from Maha Sarakham University and Maha Sarakham Rajabhat University, Yingluck said she wanted the universities and technical colleges in the province to serve as education hubs that produce graduates for the Northeast. Moreover, the universities had skills that could be harnessed by the Agriculture Ministry for use in its research on rice breeds, in order to ensure that more rice products from the province meet GMP (good manufacturing practice) standards, she said.
The premier said the National Economic and Social Development Board would use the knowledge and information gathered from her visit on Sunday and yesterday to develop strategic plans for other provinces in the future.
Pheu Thai to mark Thaksin's birthday
The Nation / Phuket Gazette
PHUKET: Singthong Buachum, a Pheu Thai Party member, said he will hold celebrations at Wat Kaew Fah in Nonthaburi to mark ex-PM Thaksin Shinawatra's 64th birthday on July 26. Thaksin is expected to phone in at the event.
Similar celebrations will also be held in other parts of the country. Singthong said he would also try to get members of Thaksin's family to join the event in Nonthaburi.
Lottery Office urged to probe ticket vendor surge
The Nation / Phuket Gazette
PHUKET: The Commerce Ministry will ask for cooperation from the Government Lottery Office to investigate the new lotto business as the number of sellers has been skyrocketing.
"This could lead to unfair trade practices," Deputy Commerce Minister Natthawut Saikua said yesterday.
Lottery trading has been increasing every month. The ministry needs to look into the reason as many small operators are in the industry, he said.
According to the Business Development Department, new lotto vendor registrations reached 1,521 in May. However, only 267 of those have clear addresses, while the rest have shared shareholders. Some addresses are shared by more than 20-40 lotto traders.
Last month, 818 new lotto sellers signed up, of which 97 have clear address and the others duplicated addresses.
The department also reported that 1,170 companies went out of business last month, a jump of 41 per cent from May and a rise of 12 per cent from June last year.
Of the closed-down business, 34 were exporters. There were fewer export businesses failing because the baht lost some of its strength.
Last month, new business regi
— Phuket Gazette Editors
Keep in contact with The Thaiger by following our
Facebook page
.
Never miss out on future posts by
following The Thaiger
.
Burmese child contracted Covid-19 while crossing the border, report says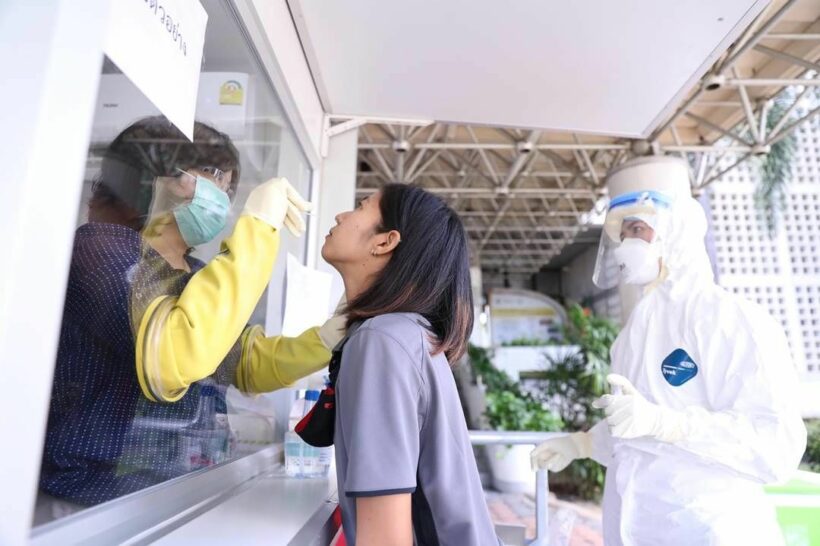 The 2 year old Burmese child, who tested positive for Covid-19 after leaving Thailand, may have contracted the virus while travelling from Thailand to Myanmar, according to a report from Thailand's Ministry of Public Health Disease Control Department.
The department says they suspect the child was exposed to the virus while crossing the border from the Mae Sot border district in Tak to Myanmar's Myawaddy town. The child's parents worked in Ayutthaya and quit their jobs last month. The department says the toddler probably contracted the virus around September 4 to September 10 while the family was travelling.
The family crossed natural, unofficial passageways into Myanmar. The news website Xinhua says it was an "apparent intent to evade anti-pandemic measures at the Mae Sot border checkpoint."
Those in Thailand who came in close contact with the family tested negative for the virus. 146 people who worked with the family at Ayutthaya migrant worker camps all tested negative for Covid-19. Those in close contact with the family in the Nakhon Ratchasima province, where the parents worked prior to Ayutthaya, tested negative as well. 2,635 people in Mae Sot tested negative for Covid-19.
Health officials are still investigating 2 apparent local transmissions of Covid-19. Earlier this month, a Bangkok DJ tested positive for Covid-19, breaking Thailand's 100 day streak without a local transmission. The DJ tested positive for G strain of the virus, a more infectious strain that is typically found in imported cases detected during state quarantine rather than local transmissions. Health officials do not know where the DJ contracted the virus.
A Uzbek football player for the Buriram United team recently tested positive for Covid-19. He was asymptomatic and tested negative for the virus multiple times during quarantine after he arrived to Thailand. Although it seems like a local transmission, some health officials speculate the virus has a longer incubation period than 14 days.
SOURCE:Xinhua
Keep in contact with The Thaiger by following our
Facebook page
.
Never miss out on future posts by
following The Thaiger
.
Thailand News Today | Amnesty finishes, protest round-up | September 21, 2020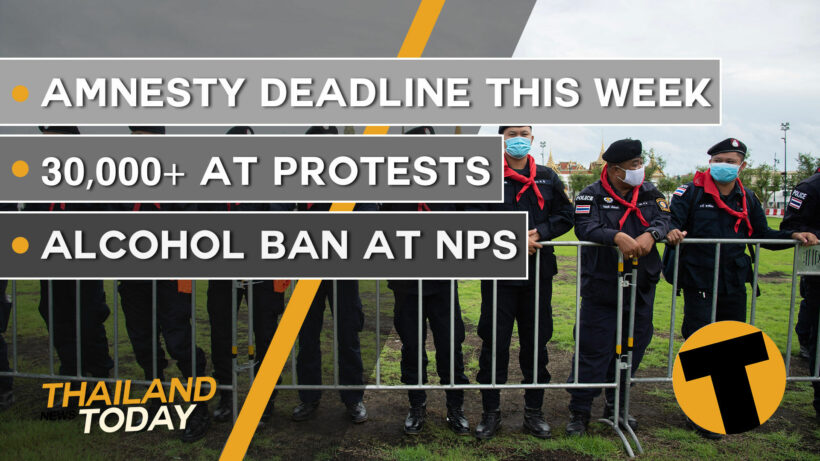 Daily video news about Thailand with Tim Newton
Get a visa or go to jail.
Thai Immigration Tourists, and anyone else with a lapsed visa, ha ve only 5 days to renew their visa or they could get arrested. The current visa amnesty ends on September 26 and there isn't going to be another sudden announcement for another grace period, according to immigration officials. Those who overstay will face arrest and be deported back to their home countries. Immigration officials estimate there are more than 150,000 foreign nationals who need to have their tourist visas renewed. Immigration officials said today that people without a valid visa after September 26 could face jail.
"Overstaying the tourist visa is punishable by both a jail term and fine under the Immigration Act."
Some foreigners who arrived on tourist visas earlier in the year have been in Thailand since late March when the Thai borders closed and many international flights were cancelled due to the world coronavirus pandemic. The visa amnesty was renewed twice since many people were unable to their home countries, but now the amnesty is coming to an end this Saturday.
There were hopes that the end of the visa amnesty could co-incide with the introduction of the new Special Tourist Visa so that those either unable to leave, due to lack of flights or problems returning to their home countries, could 'roll over' onto the new 90 day visas. But that has not been announced at this stage and remains just wishful thinking. The best thing you can do, if you don't currently have a valid visa to stay in Thailand, is urgently contact your embassy, make an appointment online at your nearest Immigration office, or speak to a professional visa agent. But, be warned, there are plenty of scammers posting official looking urgent posts in social media offering to issue you with a visa so you can stay in Thailand. Do your homework before spending money with any visa agent.
Weekend protest rallies draw 30,000 people but no formal response
Protesters gathered from early Saturday morning at the Thammasat Tha Prachan campus. Although officially denied permission to hold their protest on the Campus grounds, the demonstrators stormed the campus's gates, without resistance from onlooking police or security officials. By the afternoon the crowd had reached some 30,000 people, less than the 50,000 expected but a lot more than the 15,000 expected by government officials in the lead up to the Saturday rally. Largely peaceful the protesters sat in the wet season drizzle to listen to speeches and performances before marching together to the adjacent royal parade grounds of Sanam Luang. Here the protest continued under the watchful eye of police, all unarmed, who barricaded off sensitive areas of the historic parade grounds and access to the Grand Palace.
The protest continued into the night and punctuated the themes of political freedom, new Democratic elections, the dissolution of the Thai parliament and, controversially, reforms to the country's revered monarchy. On Sunday morning there was a symbolic placement of a brass plaque to commemorate the event, seen as a replacement to a similar plaque that commemorated the Siam Revolution in 1932 that mysteriously vanished in 2017. The protesters then marched to the Privy Council to officially hand over a copy of their 10 point manifesto.
Meanwhile, 45,000 books – a collection of speeches and poems by some of the protest leaders – were seized in a nearby Bangkok house. The books were to be handed out to protesters. 5 people were arrested at the time.
Alcohol banned at national parks after complaints of trash and drunk tourists Alcohol is now banned at national parks after tourists allegedly got drunk at a waterfall and others left a load of trash by their campsite. Just last week, trash left at a campsite at Khao Yai National Park was boxed up in a parcel and sent back to the campers. Other tourists were allegedly drunk and making a lot of noise at the Namtok Samlan National Park, Varawut says. He says both groups of tourists face charges for their actions.
• Alcohol is banned at national parks for the time being
• Loud noise is not allowed after 9pm and noise must be stopped at 10pm
• When renting a tent, tourists must provide identification, address and phone number
Keep in contact with The Thaiger by following our
Facebook page
.
Never miss out on future posts by
following The Thaiger
.
MP files complaint against 3 opposition MPs for allegedly joining the protest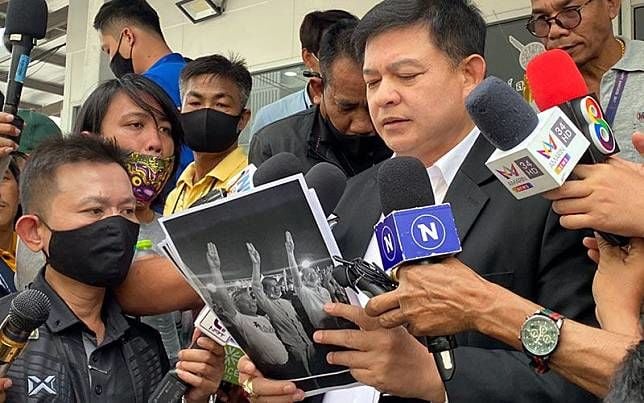 A member of parliament filed a complaint against 3 opposition MPs for allegedly joining the weekend's pro-democracy protest where activists demanded reform of the Thai Monarchy. He's also putting together a legal team aimed at dissolving the members' 3 opposition parties.
Palang Pracharat MP Sira Jenjakha says he has a photo of the 3 members raising their hands in a 3 finger salute, a symbol of resistance against the military run government. He says the protest was illegal, and the location, the Royal Field next to the Grand Palace, is off limits to unauthorised people.
He filed the complaint with the Chanasongkhram police against Mongkolkit Suksintharanont, of the Thai Civilized Party, Peerawit Ruangluedolapark, of the Thai Rak Thai Party and Nattha Boonchai-insawat of the Kao Klai Party.
A legal team assigned by Sira will collect evidence and file a petition with the Constitutional Court calling on the dissolution of the 3 opposition parties: Thai Civilized Party, Thai Rak Thai Party and Kao Klai Party.
He says he also plans to ask the House Speaker to investigate the 3 members to determine if they breached the parliament's ethical conduct.
SOURCE: Thai PBS
Keep in contact with The Thaiger by following our
Facebook page
.
Never miss out on future posts by
following The Thaiger
.