Phuket Gazette Thailand News: Bangkok rallies underway; Chamber warns of economic collapse; Child rapist killer gets life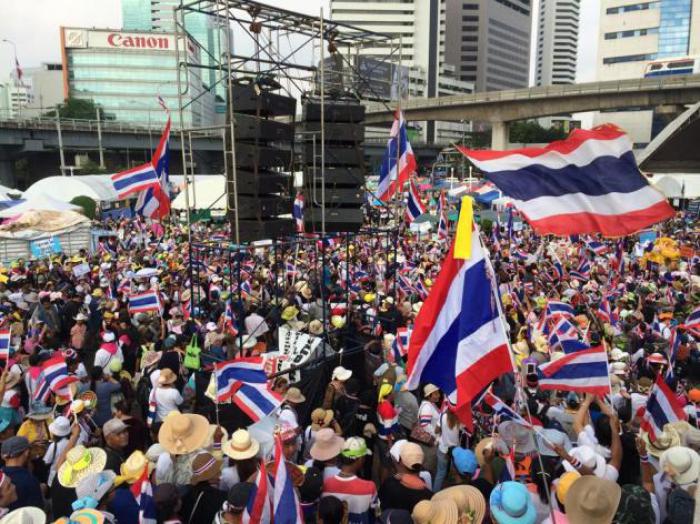 PHUKET MEDIA WATCH
– Thailand news compiled by Gazette editors for Phuket's international community
PDRC mass rallies in Bangkok take hold
The Nation / Phuket Gazette
PHUKET: The People's Democratic Reform committee led by Suthep Thaugsuban march from Lumpini Park to the Royal Plaza and Parliament began this morning to affirm its stand that reform must be done before the next election.
By 8:30am, Leaders on the rally stage of the People's Democratic Reform Committee inside the Lumpini Park started organising protesters into groups for the march. At 9:40am, Suthep Thaugsuban and his wife, Srisakul Promphan, arrived at the King Rama VI statue in front of the Lumpini Park. to pay respect to the King Rama VI statue.
Leaders urged protesters in front of the park start marching at 10am, with Suthep leading the main procession of protesters, who were divided into six groups.
By 10:30am, Suthep's procession had reached the Rajprasong Intersection. Scenes from the Blue Sky channel show people crowd the intersection and the pedestrian flyovers around the area.
Govt should step aside to avoid economic collapse, warns commerce chamber
The Nation / Phuket Gazette
PHUKET: The Thai Chamber of Commerce has urged the caretaker government to suspend performing its duty to pave the way for negotiations before national reform and prevent the collapse of the economy.
The call yesterday came as pressure continued to build against Prime Minister Yingluck Shinawatra and her government.
Recent court rulings have been unfavourable to her administration and independent agencies are investigating allegations against the PM.
The anti-government People's Democratic Reform Committee (PDRC) has called for another mass rally in Bangkok today in a bid to pile on the pressure. The group, which is campaigning to rid the country of the so-called Thaksin regime, has demanded that the PM and her cabinet resign and make way for national reform ahead of the next election.
Yingluck yesterday said she would not be "taking a break from politics" to reduce political pressure against her family. She said she was focused on how to get all the parties involved to agree to have a new election soon, after the Constitutional Court last week nullified the February 2 election. In that poll, protesters prevented candidates in 28 constituencies from registering, ensuring it could not be completed.
The National Anti-Corruption Commission has accused the caretaker prime minister of dereliction of duty for allegedly failing to stop corruption in the government's rice-pledging scheme. The anti-graft agency has given Yingluck until Monday to defend herself against the allegation. But she said the time given was too short and suggested that the NACC was treating her unfairly.
If the prime minister is formally indicted, she will have to suspend performing her duties.
Isara Vongkusolkij, chairman of the Thai Chamber of Commerce and Board of Trade, said the private sector expected a new election and a new government soon in order to have a budget to help prop up the economy. He said the country needed a permanent government in place by the third quarter if gross domestic product were to expand by 2.5-3 per cent this year. But if it were later than that, growth was projected to be lower than 2.5 per cent.
Isara said exports and tourism were expected to be the main drivers of the economy, with help from border trade. He anticipated that a solution to the prolonged political unrest would be achieved soon, with a "neutral prime minister" in place and one-year national reform.
Thai Chamber of Commerce deputy secretary-general Pornsilp Phatcharintanakul said: "The government may pause operating to pave the way for negotiations and the national reform, which could be done within three months, while I expect the national conflicts cannot be eased this year."
Given the national conflicts and not having a new government to deliver an investment promotion policy, Thailand has become less attractive to investors and some foreign companies that had manufacturing bases here have relocated to neighbouring countries such as Indonesia. Reportedly, some electronics companies and Japanese carmakers relocated their manufacturing bases to that country partly because of its larger population.
Pornsilp does not expect a new government to be formed until early next year. The country's economy will recover in the third quarter of 2015. He said there was no new public investment at present, while the private sector was afraid to invest.
Pornsilp said export growth this year might be less than 5 per cent, as Thailand's key trade partners are underperforming.
No Democrats at multi-party meeting on new election
The Nation / Phuket Gazette
PHUKET: Some 53 political parties that ran in the February 2 election want a new poll to be held 45-60 days after the election's nullification was announced in the Royal Gazette, Pheu Thai Party legal expert Bhokin Bhalakula said yesterday.
Speaking after a meeting of representatives from the political parties, Bhokin said the Election Commission (EC) and the government should discuss who would issue an election decree, which would amend the House dissolution decree issued earlier.
The EC should meet with the parties in early April, he said.
Yesterday's meeting was held at the Royal Police Cadet Academy in Nakhon Pathom.
The Constitutional Court nullified the election on March 21. Bhokin said it had yet to be discussed who would be responsible for the cost of the election that has now been nullified and whether the parties that contested it must submit expense reports to the EC.
He said anyone who obstructed the election must face legal action.
Asked whether the parties still trusted the EC, Bhokin said: "We have to accept [the agency], anyway."
It has been revealed that some Pheu Thai MP candidates were gathering signatures in an attempt to impeach EC member Somchai Srisutthiyakorn.
While key members of the Chart Thai Pattana, Chart Pattana and Phalang Chon parties attended the meeting, no representative from the Democrat Party was present.
Meeting coordinator Suratin Picharn, the leader of the New Democracy Party, said he invited all registered political parties and learnt that Democrat leader Abhisit Vejjajiva had been in an accident. He had understood that a deputy party leader would come instead, but no one showed up.
Yesterday was the first day of the Democrat Party's two-day general assembly.
Pheu Thai secretary-general Phumtham Wechayachai said the objective of yesterday's multi-party meeting was to gather information for the EC so it could learn from the mistakes of the February 2 election.
"We insist that the election must go ahead. If the EC says it is not ready or it wants more time, we have yet to consider what to do with the EC," he said.
"Today, we think only that there must be an election. Therefore, we have no thought about a back-up prime minister or 'neutral PM', because that's the way of thinking of those who don't support elections."
Meanwhile, Suthep Thaugsuban, the top leader of the anti-
— Phuket Gazette Editors


Read more headlines, reports & breaking news in Thailand. Or catch up on your Thailand news.
Pheu Thai wins the Lower House – Unofficial from the EC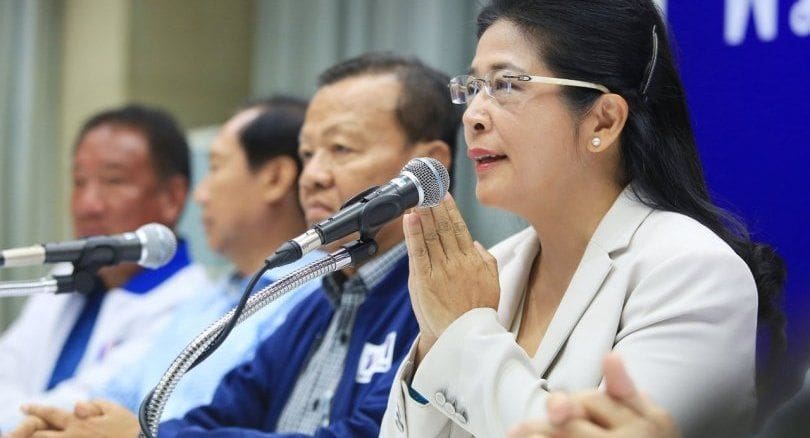 The Election Commission has just announced the official tally for constituency MPs, showing that Pheu Thai Party has won 138 of the 350 seats on offer.

Phalang Pracharat, meanwhile, came in second with 96 seats, trailed by Bhumjaithai with 39. The Democrats only won 33 seats, while Future Forward snared 30.

The rest of the seats were shared between Chartthaipattana (7), Prachachart (6) and Action Coalition for Thailand (1)
Police checking 50, mostly, minor violations post election day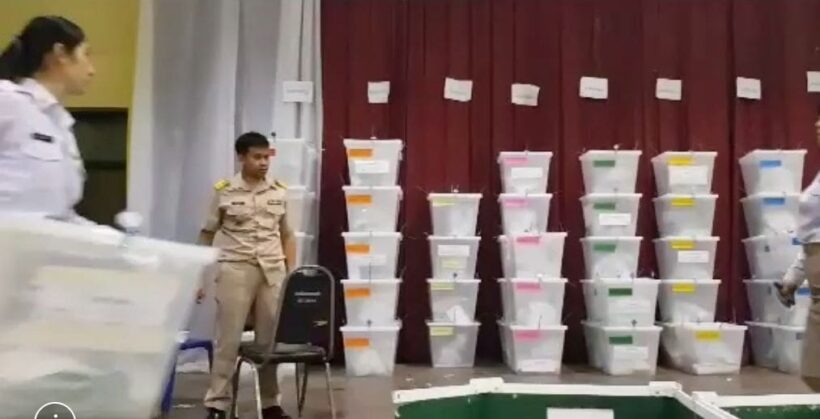 Police around Thailand are prosecuting 50 alleged violations of election laws and continue to monitor the post-poll situation for further signs of potential trouble.
The Royal Thai Police say they're on alert for 'ill-intentioned groups' fomenting post-election chaos, national police deputy spokesman Colonel Krissana Pattanacharoen said this morning.
The 50 cases under investigation include buying votes, deliberate destruction of ballots and the sale of alcohol while polling was underway.
Krissana says police were working closely with the Election Commission to ensure fast, transparent and fair investigations.
He said both the March 17 advance polling and yesterday's election proceeded without violence and national police chief Pol General Chakthip Chaijinda had thanked the rank and file for their good work in providing public order and security at polling stations, facilitating traffic flow, and serving in the transport and safeguarding of ballot boxes.
Intelligence officers were now monitoring the situation, he said.
SOURCE: The Nation
STUDY: Daily marijuana use increases risk of psychotic disorder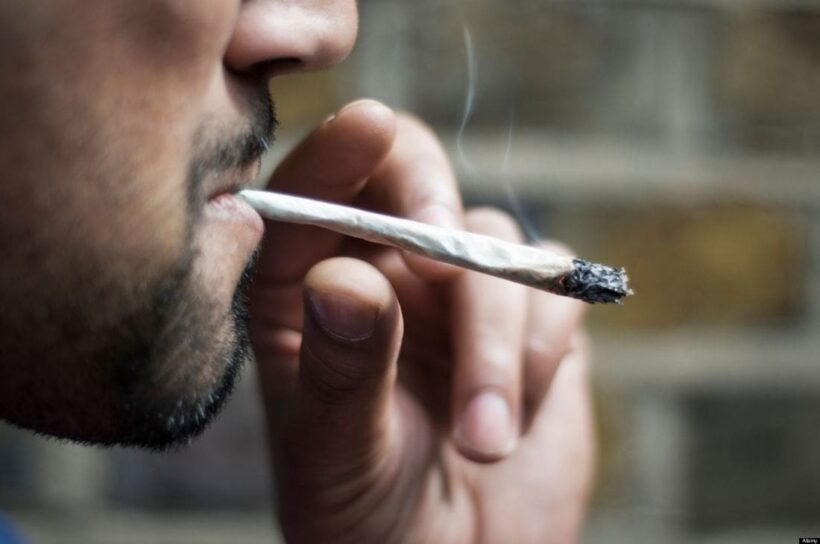 The legalisation of medical-use marijuana continues to sweep across the globe, recently in Thailand where the roll-out and enactment of practical uses of the new legislation are underway.
But this spread of a new legal credibility of the drug continues whilst possible health risks (or benefits) are not fully understood. Properly medically supervised or scientifically conducted studies continue to come out weekly with varied results about the benefits or dangers of long-term cannabis use.
According to new research published in 'Lancet Psychiatry', a weekly peer-reviewed general medical journal, people who use cannabis daily, as well as those who use high-potency weed, may be three times more likely to develop psychotic disorder than never-users.
The new evidence is consistent with previous experiments that suggest heavy use and high THC concentration cannabis – a 10% concentration of THC (the psychoactive substance within cannabis) or higher – can be harmful to mental health.
Dr. Marta Di Forti, lead author and a clinician scientist at the Institute of Psychiatry, Psychology & Neuroscience, King's College London said the 'Psychotic disorder' was precisely what was studied.
"We are talking about people who meet diagnostic criteria and come to the attention of mental health services to receive treatment for psychosis. So they have to have symptoms of psychosis across the spectrum – hallucination, delusions – that have lasted at least for a week."
Currently, medical cannabis is legal in most European countries, though recreational use is only legal in Netherlands, Czech Republic and Spain (in certain situations). Meanwhile many other countries continue to discuss legalisation.
Di Forti and her co-authors pf the paper looked at data from five countries in Europe… UK, the Netherlands, Spain, Italy and France. Brazil was also included in the sample where cannabis is illegal.
They found 901 patients with a first-time episode of psychosis over a five-year period and compared them to 1,237 matched non-patients.
Daily use of cannabis was more common among patients with psychosis compared to the controls, they found. About 30% of patients reported using cannabis daily compared to just 7% of non-patient controls. And use of high potency cannabis was also more common among patients than controls – 37% compared to 19%.
The study results do not provide enough information for her to say "use only this amount, only this often" to remain safe.
At this stage, the paper estimates one in five new cases of psychosis may be linked to daily cannabis use, and one in 10 cases linked to use of high potency cannabis.
You can read the full report in Lancet Psychiatry.