Phuket Gazette Thailand News: Anger, violence rock voting in capital; Poll blockades across South; Northern snow just frost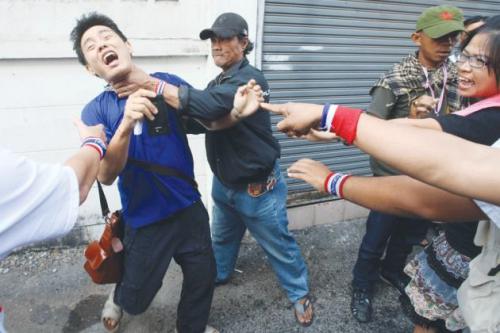 PHUKET MEDIA WATCH
– Thailand news compiled by Gazette editors for Phuket's international community
Anger and violence rock voting in capital
The Nation / Phuket Gazette
PHUKET: Advance voting for the national election was disrupted yesterday by violence, with the murder of an anti-government protest leader and a dozen people injured. This includes voters who wanted to cast ballots.
Police have said they will boost security, with 10 times the number of guards for the election next Sunday (February 2), which the government insists will go ahead.
Suthin Taratin, leader of People's Army to Overthrow the Thaksin Regime, was killed in an incident in Bang Na in which 10 others were injured. This took place outside a polling station when protesters were confronted by a pro-government mob during the campaign to derail the voting.
There were four incidents yesterday in different parts of Bangkok as anti-government protesters tried to prevent advance voting. Protesters confronted election officials at many polling stations while disputes broke out at many other places with voters and pro-government groups, police spokesman Piya Uthayo said. Police will boost their forces by 10 times the number used yesterday to provide security for the election next Sunday, he said, and would try to stop clashes between protesters and pro-government groups or voters, he said.
Protesters blamed the government and demanded that it take responsibility for the violence but vowed to continue to disrupt the election, leader Suthep Thaugsuban said. He called last night for troops to ensure the People's Democratic Reform Committee are safe from violence.
The PDRC regards their disruption of advance voting yesterday as a victory against the government. "The protesters always won over the government in all targeted areas," PDRC core leader Thaworn Senniam said.
Most polling stations in the South and 90 per cent of venues in Bangkok were completely shut down, he said.
Of the 375 constituencies in the country, 89 were unable to open for advance voting, according to Somchai Srisutthiyakorn, an election commissioner supervising elections. Only 440,000 or 22 per cent of the two million registered voters managed to cast their ballots, he said, but noted that the turnout was low even though most constituencies experienced no disruption.
Surapong Tovichakchaikul, supervisor of the Centre for Maintaining Peace and Order, condemned the interference as a violation of the law and derailing of Thai democracy.
But most polling went smoothly. "The government insists that the election (on February 2) will go on as planned. Only 10 per cent were disrupted and the people who intervened in the voting will be punished by law," he said.
Surapong blamed the Election Commission (EC) for failing to ask for help from the government to provide safety for voters, and claiming some commissioners had "cooperated" with protesters.
The government would sue the EC for misconduct under Article 157 of the Criminal Code, he said.
EC chairman Supachai Somchareon said the government had the right to do that but the commission could defend itself and explain the situation.
"We have done our best and believe that the court will listen to us," he said.
Prime Minister Yingluck Shinawatra plans to meet members of the EC tomorrow to discuss election arrangements.
Somchai said he will propose that the government set a new election date, as the EC may not be able to run the ballot on Feb 2 smoothly. The EC had not cooperated with protesters to disrupt the election, he said.
The Constitutional Court ruled on Friday that the election could be held on a new date if it could not be held as per the original schedule. The court said the government and the EC must fix the new date.
Supachai said the EC was thinking of postponing the election but if the government wanted to continue and stage the poll, the EC may have no choice but to do that.
"If the government insists, we will go on although it's clear that we won't have 95 per cent of winners for the opening of Parliament," he said.
Advance voting blocked in many areas in South
The Nation / Phuket Gazette
PHUKET: Advance voting for the February 2 poll in 20 northeastern, 15 northern and 25 central and eastern provinces proceeded uneventfully yesterday but was blocked by protesters in many southern provinces and Bangkok.
Puchong Nutrawong, secretary-general of the Election Commission, said that in the northeastern province of Surin, voters could still cast their ballots even though anti-government protesters had surrounded polling booths.
In Samut Songkram, voting was cancelled before 8am because protesters had laid siege to the polling stations. Of the 15 southern provinces, Narathiwat, Yala and Pattani could open and some ballots were collected, while the 11 other provinces were closed after the venues were surrounded by protesters.
In Chumphon, election officials could not open voting venues because protesters blocked the entrance with rallies. In other southern provinces, voters could cast their ballots only in some constituencies. Some provinces had no venues because election officials had quit.
There were hardly any anti-government protests in northern provinces, except in Phichit, but voters there could still cast ballots.
The turnout in Chiang Mai, Prime Minister Yingluck Shinawatra's home province, was
meagre, while all northeastern provinces were spared any hassles, even Ubon Ratchathani and Udon Thani, the latter a stronghold of pro-government red shirts.
In Khon Kaen, supporters of the People's Democratic Reform Committee gathered in a show of force at some places but did not disrupt voting.
In Nakhon Ratchasima, 800 PDRC protesters almost clashed with 200 red shirts as they marched to try to block the voting venues in Constituency 1, one kilometre away from the Thao Suranaree Monument. More than 100 riot control police were able to prevent brawls between the two groups. The PDRC protesters could walk and pass through the red shirts within 15 minutes.
In the central province of Ang Thong, 200 PDRC protesters and farmers rallied in front of the voting station to oppose the poll but citizens were still able to cast their ballots. The scene was similar in Rayong.
In Krabi, 10 women in sarongs lined up in front of the PDRC protesters to prevent access to the polling station in Constituency 1, which was 500 metres away. Hundreds of police were deployed to keep the peace.
In Prachuap Khiri Khan's Constituency 1, only one person, a police officer, managed to cast his ballot, so the district chief closed the polling station.
Frustrated voters say rights violated
The Nation / Phuket Gazette
PHUKET: Thousands of thwarted absentee voters vented their anger yesterday, saying anti-government protesters had denied them their democratic rights.
"All Thais have one right to vote. We are the same. Even if the protesters do not accept this election, they should not block others from entering the polling station and casting their ballot," said Chana-eak Butrod, a 25-year-old banker.
He was among hundreds of voters who, starting at 7am, were prevented from entering Saint John's Polytechnic School in Chatuchak district by
— Phuket Gazette Editors
Want more from the Thaiger family?
📱 Download our app on Android or iOS for instant updates on your mobile
📧 Subscribe to our daily email newsletter
👍 Like/Follow us on Facebook
🔔 Subscribe to or Join our YouTube channel for daily video updates
Illegal border crossings bringing in new Covid-19 infections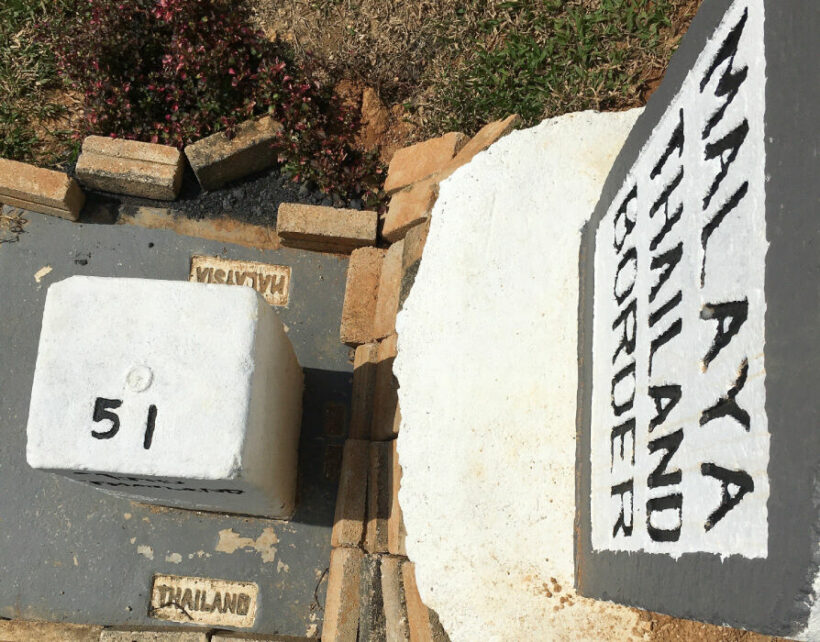 Authorities are worried about illegal border crossings into Thailand bringing in the Coronavirus after 5 recent Covid-19 infections from such crossings. Bypassing all health and security checkpoints along the border, 5 Thai nationals were identified today as being positive for Covid-19 after they snuck into the country, according to the Centre for Covid-19 Situation Administration.
Authorities nabbed 2 after border crossings from Malaysia illegally on April 28 and May 3rd, while another snuck across the Burmese border into Tak on May 2. The last 2 came from Cambodia on Thursday across the Sa Kaeo border. All 5 illegal border crossers are now in state hospitals for Covid-19 treatment.
According to CCSA data in the first four months of 2021 a total of 15,378 people were arrested by Thai authorities while sneaking across borders. Even after security forces increased patrolling along the borders, people managed to sneak in from Myanmar, Malaysia, Laos, and Cambodia. 6,700 of those who crossed the border were Burmese citizens, while another 1,700 of them were Thai nationals.
With nearly 400 lives lost to Covid-19 and over 83,000 people having been infected in the pandemic, the CCSA declared that Prime Minister Prayut Chan-o-cha and National Security Council Secretary-General Natthapol Nakpanich agree that these illegal border crossers without Covid-19 screening are a serious problem.
Many Thai people work in Malaysia and as the pandemic drags on they are sneaking across the border, desperate to make it home to their family. Another recent case found illegal Burmese border hoppers in a taxi en route to Hat Yai after they crossed into Thailand from the Malaysian border. They were trying to travel incognito across Thailand in order to cross the border again back into their home country of Myanmar.
The dilemma is even worse at the Burmese border as the often violent protests following the February 1 military coup has been pushing much of the country into poverty, and creating refugees who are flocking to the border in hopes of crossing over to safety. Many are seeking to escape the conflict and find work in Thailand.
SOURCE: Bangkok Post
Want more from the Thaiger family?
📱 Download our app on Android or iOS for instant updates on your mobile
📧 Subscribe to our daily email newsletter
👍 Like/Follow us on Facebook
🔔 Subscribe to or Join our YouTube channel for daily video updates
Thailand Consumer Confidence Index hits record low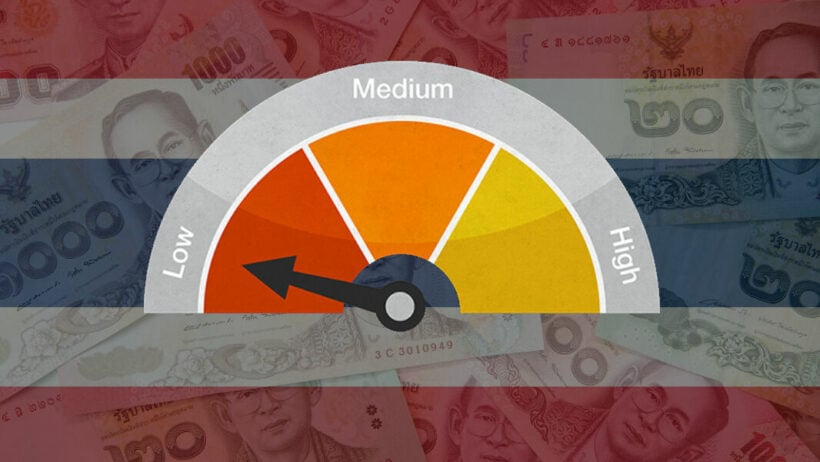 The University of the Thai Chamber of Commerce has reported that the Consumer Confidence Index has hit another new record low of 46.0 in April. The Covid-19 global pandemic has had a devastating effect on the economy and consumer confidence has fallen frequently to the lowest points that it has seen since 1998.
The president of the UTTC believes that consumers generally don't feel like there has been much of a recovery for the economy since the global pandemic began and without a stimulating event to motivate economic growth, the index is expected to continue to fall further. The university estimated that if the third wave of Covid-19 continues past the end of May the economy can expect to lose 400 to 600 billion baht.
The UTTC president stressed that the government should hasten to step up relief measures and make sure they continue relief and economic stimulus throughout the pandemic to avoid economic catastrophe. He predicted that the economy and the Consumer Confidence Index will continue on a downward slope without any hope of improvement until the vaccine rollout gets well underway towards herd immunity, and new Covid-19 infections are decreased dramatically.
Today saw another 2,101 new Covid-19 infections and 17 deaths in Thailand. Vaccination efforts are continually being stepped up, but still remain woefully slow.
The Consumer Confidence Index first started falling last year, with a drop below the previous record low in 1998 in April of 2020, when it fell to 47.2. A few months later, by July of last year, it had recovered significantly, climbing back over 50. But by March of this year, the index had fallen again to 48.5. With April's tumble of 2.5 points, the Consumer Confidence Index pushes once again to a new record low.
SOURCE: Thai Business News
Want more from the Thaiger family?
📱 Download our app on Android or iOS for instant updates on your mobile
📧 Subscribe to our daily email newsletter
👍 Like/Follow us on Facebook
🔔 Subscribe to or Join our YouTube channel for daily video updates
Thailand searches for cow vaccine for lumpy skin disease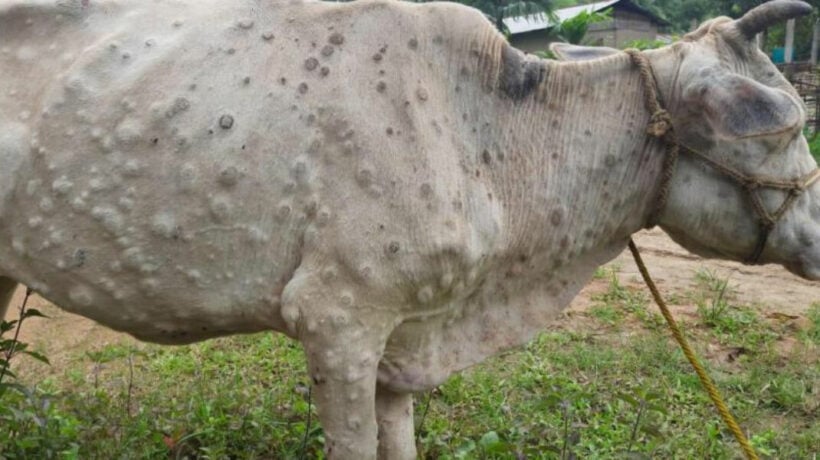 Move over Covid-19 there's a new disease sweeping the country as Thailand's cow population is afflicted with a lumpy skin disease. The Department of Livestock Development is now working on procuring vaccines from overseas manufacturers to import and treat the cattle population in Thailand. The lumpy skin is caused by pustules that are the most visible symptom, perhaps more detectable than other bovine signs such as drooling, loss of appetite and drowsiness.
The cow disease is spreading in the North, Northeast, and Central Plains area of Thailand and has been found in 18 provinces total. First identified in Roi Et, it has now spread in Chiang Rai, Kalasin, Kanchanaburi, Khon Kaen, Maha Sarakham, Nakhon Pathom, and Nakhon Phanom. The first case of the lumpy skin disease was reported in Don Daeng village last month and on April 9th officials reported it to the World Organisation for Animal Health.
The lumpy skin disease is found in cow pens and spread through flies, ticks, and mosquitoes, but the DLD says not to panic, it is not transmissible to humans. The department is distributing important information about symptoms and how the disease spreads to breeders and farmers in the area. They're requiring the breeders to monitor their cattle closely and have imposed measures to control the disease in heavy hit areas.
To prevent the spread of disease in livestock, traders are being requested to not buy and sell cattle within 50 km from disease-stricken regions. And for farmers caring for cattle, the DLD recommends spraying insecticide in all areas to prevent transmission via insects. Finally, in case the cattle were jealous of traveling humans, the DLD is advising farmers to prevent disease spread by isolating any new cow that comes into their farms with a 28-day bovine quarantine where they should be kept under nets to keep insects away.
SOURCE: Bangkok Post
Want more from the Thaiger family?
📱 Download our app on Android or iOS for instant updates on your mobile
📧 Subscribe to our daily email newsletter
👍 Like/Follow us on Facebook
🔔 Subscribe to or Join our YouTube channel for daily video updates