Phuket Gazette: Bangkok bomb plot update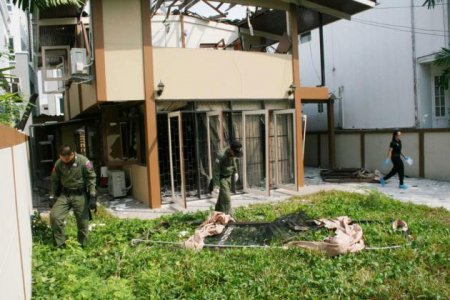 PHUKET MEDIA WATCH
– Thailand news compiled by Gazette editors for Phuket's international community
Bangkok bomb plot deepens
PHUKET (The Nation): Iran and Israel dropped diplomatic bombshells on each other yesterday, accusing one another of being behind Tuesday's bomb blasts in Bangkok.
Israel was quick to implicate Iran in the bomb incidents. "The attempted attack in Bangkok proves once again that Iran and its proxies are continuing to act in the ways of terror and the latest attacks are an example of that," Israeli Defence Minister Ehud Barak said.
But Iranian Foreign Ministry spokesman Ramin Mehmanparast denied his country was involved in any of the cases and said Tehran condemned any "terrorist action". He told the official IRNA news agency: "The aim of the Zionist regime's claims is to overshadow the assassination of Iranian scientists."
The Iranian spokesman also accused Israel of "trying to harm the friendly and historic relations between Iran and Thailand".
Also yesterday, the United States – a close ally of Israel – condemned the blasts in Thailand's capital and suggested they may be linked to Iran.
State Department spokeswoman Victoria Nuland said the US was awaiting the results of investigations. She offered condolences to those injured.
Nuland did not blame Iran directly. But she noted Monday's incidents in India and Georgia, and recent "Iranian-sponsored" and "Hezbollah-linked" plots to attack Israeli and Western interests in Azerbaijan and Thailand. She called it "reprehensible" for states to use terrorism as a foreign policy tool.
Thai authorities are holding two Iranians in connection with the three explosions in Bangkok on Tuesday.
One of the men, named as 28-year-old Saeid Morati according to a passport found in his possession, lost both his legs when he tried to hurl an explosive device at police while fleeing an earlier blast at a house in the Sukhumvit area. The other Iranian was detained as he tried to board a flight out of Thailand. A third suspect who fled to Malaysia was arrested at Thailand's request.
Meanwhile, Foreign Minister Surapong Towichukchaikul yesterday said Thai authorities have not described Tuesday's incident as an act of terrorism. But he urged terrorist groups not to include Thailand in their plots.
"At the moment, there is no evidence linking this incident to terrorism. So far the arrested [men] are accused of illegal use of explosives and of attempting to kill others and officials on duty," Surapong said. "Personally, I believe the incidents in Georgia, India, and Thailand have no connection."
He added, however, that: "I would like to ask people who think of plots harmful to Thailand to stop them. And I ask terrorists not to use Thailand as their base."
The foreign minister called his press conference yesterday after 10 foreign countries issued travel advisories for their citizens following the blasts. They are the United States, the United Kingdom, New Zealand, Canada, the Netherlands, Australia, Brazil, Japan, Norway, and Ireland.
Surapong said the US ambassador to Thailand, Kristie Kenney, had called him on Tuesday evening to ask for details about the blasts. The US Embassy later issued a warning advising American citizens to be careful when traveling in Thailand.
"I thank Ambassador Kenney for calling first. That allowed me an opportunity to explain the situation and the actions by the Thai authorities aimed at restoring foreigners' confidence," he said.
The foreign minister had earlier expressed his disappointment over a warning last month by the US Embassy about possible terrorist attacks in Bangkok.
Suspects meant to kill Israeli envoys, says Thai official
PHUKET (The Nation) : The three Iranian suspects in the Bangkok blasts are an assassination squad targeting Israeli diplomats, including the ambassador, a senior Thai intelligence official said yesterday.
One of their many methods was to attach magnetic bombs to diplomats' cars, the source told Agence France-Presse on condition of anonymity.
The source and AFP did not give details on who or which countries were behind the suspects' plan to strike against Israeli interests in Thailand.
The report corresponds well with foreign analyses pointing to an act of state-supported attack, or evidence being gathered indicating terrorism, but Thai authorities were attempting to play the incidences down both on Tuesday when they occurred and again yesterday.
An arrest warrant has been issued for an Iranian woman, Rohanni Laila, who entered Thailand on the same day as the three male suspects now in Thai and Malaysian police custody.
The Bangkok South Criminal Court has approved arrest warrants for all three male suspects following prescribed criminal procedures. They can now be placed under Interpol, if necessary.
Wichean Potephosree, secretary-general of the National Security Council, at a high-profile news conference yesterday said the attacks were not sabotage and not related to last month's arrest by Thai authorities of Lebanese man Artris Hussein, who has Swedish nationality, as a terror suspect.
The local blasts had no connection with similar attacks in India and Georgia, he said, although Israel has said they were ordered by Iran and had common links to the incident near Sukhumvit Soi 71 in Bangkok.
"The US statement did not link the incidents in India and Georgia to the ones in Thailand. It only said whenever the incidents in other countries occurred, it indicates that the attacks could still be conducted in similar fashion elsewhere," he added.
The second suspect, Mohammad Hazai, 42, was caught at Suvarnabhumi Airport late on Tuesday when he was about to board a flight to Malaysia.
The third suspect, Masoud Sedaghatzadeh, 27, managed to escape on an AirAsia flight, also on Tuesday evening, to Malaysia. However, Malaysian authorities yesterday detained the Iranian man at about 3pm in Kuala Lumpur at the request of Thai authorities. The suspect was about to leave the Malaysian capital for Tehran. He initially booked a February 25 flight for the Iranian capital.
Earlier deputy police chief Pansiri Prapawat said Sedaghatzadeh departed Bangkok for Kuala Lumpur on Tuesday afternoon.
Asked why Thai authorities were playing down the attacks and their likely links to transnational terror operations while foreign governments and media channels were indicating otherwise, Wichean did not answer, appearing grim and tense.
National Police chief Priewpan Damapong said separately that the use of explosives in Tuesday's attack was "similar to a bomb incident in India".
The three Iranian men were plotting to kill certain individuals but not to destroy any structures in Thailand, he said, giving no sources of information or analytical reference.
Iranian stripped of Thai residence status
PHUKET (The Nation): An Iranian man arrested in connection with Tuesday's blasts in Bangkok has been stripped of Thai residence status, Immigration Police chief Pol Lt-General Wibool Bangthamai said yesterday.
Saeib Morabi, who lost his legs in the incident, is being treated at Police General Hospital.
Police investigators visited him yesterday and, when evidence is available, will likely charge him with attempted murder, attempted murder of policemen on duty, possessing explosives and firearms without permission, and causing damage through explosions, a police source said.
A second suspect in police custody, Mohammad Hazai, 42,
— Phuket Gazette Editors
Keep in contact with The Thaiger by following our Facebook page.
Never miss out on future posts by following The Thaiger.
Thailand News Today | Week In Review | February 26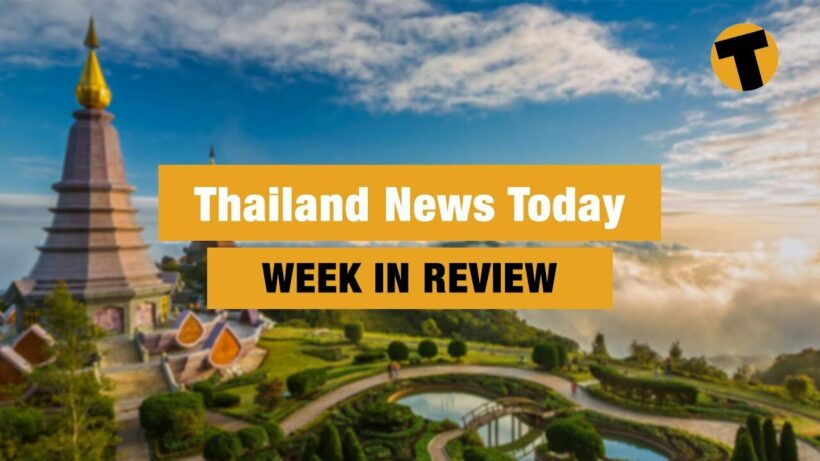 Thailand News Today usually covers five days of the news week. This week only four days as today (Friday) is a public holiday. Now we have a weekend edition which goes over the biggest, or best stories, from the past week. Out every Saturday afternoon, catch up with Jett and Tim's major Thai news stories. Welcome to the Thailand News Today Week in Review. Tim and Jett give you a quick recap of the main news stories.
To get all the latest news and information about Thailand, go to https://thethaiger.com. Like and subscribe our YouTube channel too. Go on, right now 🙂
You can also LIKE our Facebook page https://facebook.com/thethaigernews to get even more information about Thailand.
Keep in contact with The Thaiger by following our Facebook page.
Never miss out on future posts by following The Thaiger.
45 new cases today, 37 local‐Covid‐19‐Update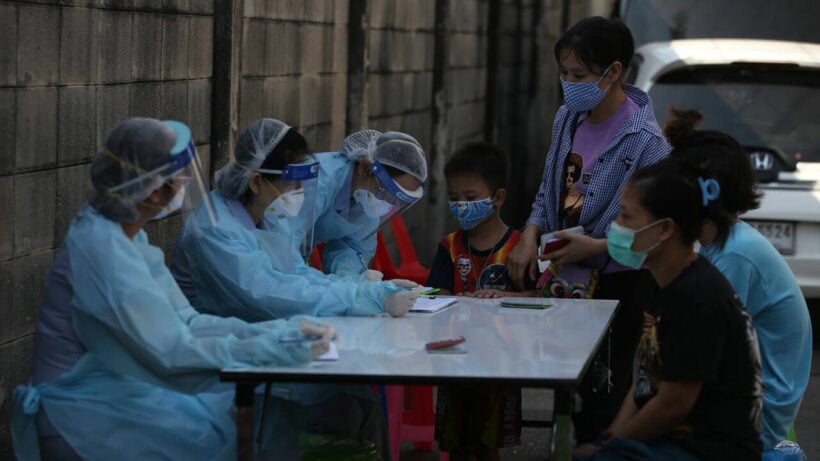 Thailand reports 45 new cases of Covid-19cases today, with 37 infections being locally-transmitted. 8 of those infections were imported, raising the total amount of infections since the pandemic began to 25,809.
The Department of Disease Control reports that 32 cases were confirmed at hospitals with 5 confirmed through active case finding in communities.
Samut Sakhon province, the 2nd wave epicentre, reported over half of the new cases at 19. 14 of those cases were confirmed at hospitals and 5 were detected in Myanmar communities. Bangkok has reported 3 new cases, Nakhon Nayok reported 5, Chai Nat 3, Nakhon Pathom 3, Saraburi 2, Prachuap Khiri Khan 1, and Samut Prakan 1.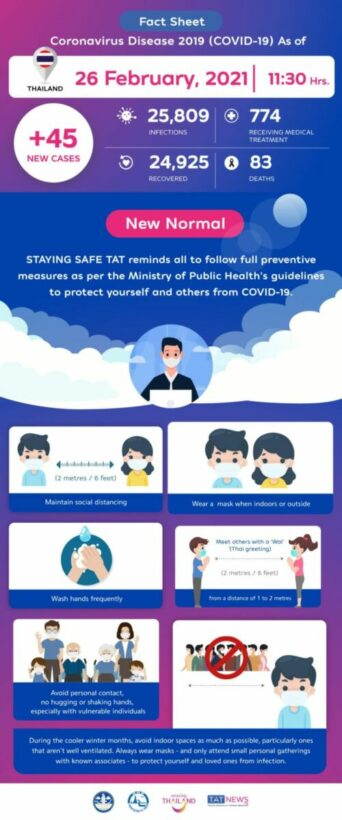 The 8 imported cases were those under quarantine arriving from Pakistan, Bangladesh, the UK, Germany, France, The Netherlands, and Kuwait. The case from the UK was that of a 6 year old Thai schoolgirl.
Globally, Covid-19 cases rose by 444,466 over the past day to 113.54 million. The worldwide death toll increased by 10,552 to 2.52 million. The United States still has the most cases at 29.5 million, with the most deaths at 520,785.
SOURCE: Bangkok Post
Keep in contact with The Thaiger by following our Facebook page.
Never miss out on future posts by following The Thaiger.
Surveys show Thailand still one of the top holiday choices post-pandemic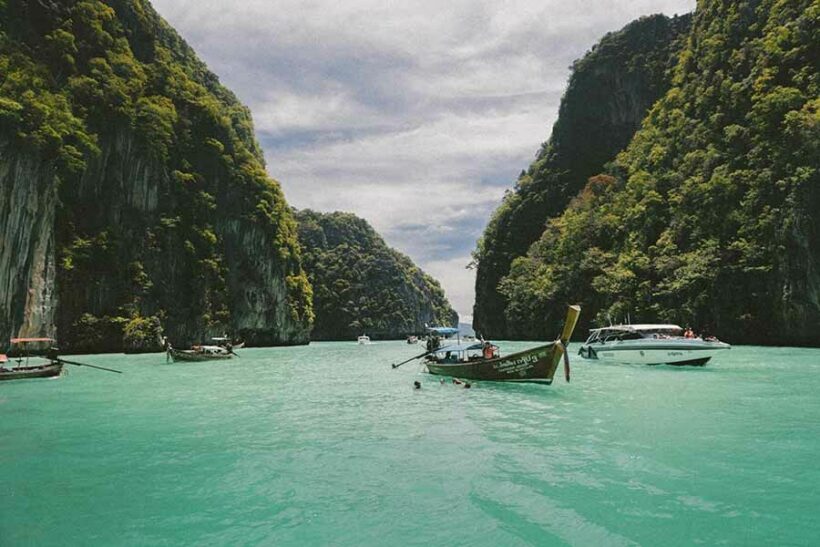 The Stockholm office of the Tourism Authority of Thailand has conducted a survey in which 62% of respondents say they want to spend winter in Thailand provided restrictions are lifted. The top destinations are Phuket, Krabi and Khao Lak, followed by Koh Samui, Koh Pha-ngan, Koh Tao, Bangkok, and Hua Hin.
68% say they would cancel bookings if the 14-day quarantine remains in place. 26% say they would still go ahead, and 13% said they'd be in favour of quarantine being cut to 10 days. 99% of participants say they would be worried about testing positive for Covid-19 after travel plans have been made.
Meanwhile, the TAT's London office has also been busy, carrying out a survey in conjunction with market research firm, YouGov. The idea behind the survey was to get an idea of the future of tourism once the pandemic is over.
4,127 people took part, with 75% of them saying they're prepared to be vaccinated if it's required for travel. 41% are against mandatory quarantine, although 52% would accept a 5-day quarantine. 62% of those planning holidays are over the age of 50 and interested in countries with low infection rates.
According to a Nation Thailand report, Siripakorn Cheawsamoot from the TAT says the findings of the survey indicate that up to 6 million people are interested in travelling to Thailand at some point this year.
Meanwhile, a number of online travel agency platforms in France have also carried out a survey. The poll, conducted by companies such as Go Voy, Opodo, and eDreams, showed that the number of hits to tourism-related websites rose by 15% once the success of Covid-19 vaccines was announced. The top destinations searched for were Dubai at 49%, Marrakesh at 27%, and Bangkok at 25%.
Another travel survey in the Americas found that most holidaymakers have chosen to postpone their trips by 7 months to a year, rather than cancelling completely. Siripakorn says that booking flexibility is a priority for Americans.
"Flexibility to reschedule is the top priority for American tourists, followed by safety. These tourists are looking for safety, no quarantine, flexibility, and no deposit."
Meanwhile, a report issued by Skift Research shows that travel will not recover until 2023 and will not return to pre-pandemic levels until 2025.
SOURCE: Nation Thailand
Keep in contact with The Thaiger by following our Facebook page.
Never miss out on future posts by following The Thaiger.