No travel ban on British arrivals, quarantine facilities tighten rules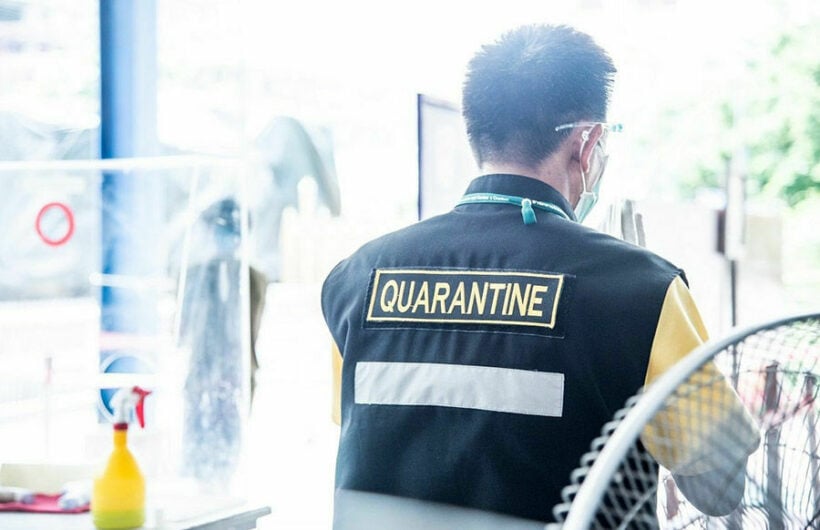 While there's no ban on travellers from the United Kingdom, quarantine facilities are tightening disease control measures for British arrivals after a new, faster-spreading Covid-19 variant was reported in the European country. British arrivals must now stay in their room for the majority of the stay under new measures set by the Department of Disease Control.
The department ordered ASQ facilities and state quarantine facilities to tighten measures in response to reports of the new Covid-19 variant. Visitors travelling from the UK are not allowed to leave their room until their second swab test comes out negative for Covid-19.
A British traveller currently in quarantine at a Bangkok ASQ hotel says he was told he cannot go to the hotel's "relax area" which is outside the room near the pool until after day 12 of the quarantine period.
There was talk of barring UK arrivals after 4 British visitors tested positive for Covid-19 while in quarantine, but Thailand's Foreign Ministry says the strict screening measures and mandatory 14 day quarantine are effective at containing the virus.
The ministry's deputy spokesperson Natapanu Nopakun says travellers from the UK and other "high risk" countries are still allowed to enter Thailand, but they will need to provide more documentation than those from "low risk" countries.
"The Foreign Ministry reaffirms that no additional travel restrictions have been imposed against those travelling to Thailand from the UK as we have maintained a strict screening as well as compulsory quarantine for all inbound passengers."
He says people wishing to travel to Thailand should check with their local Thai embassy as required documents vary from country to country.
"No travel ban, but of course more stringent measures in terms of documentation."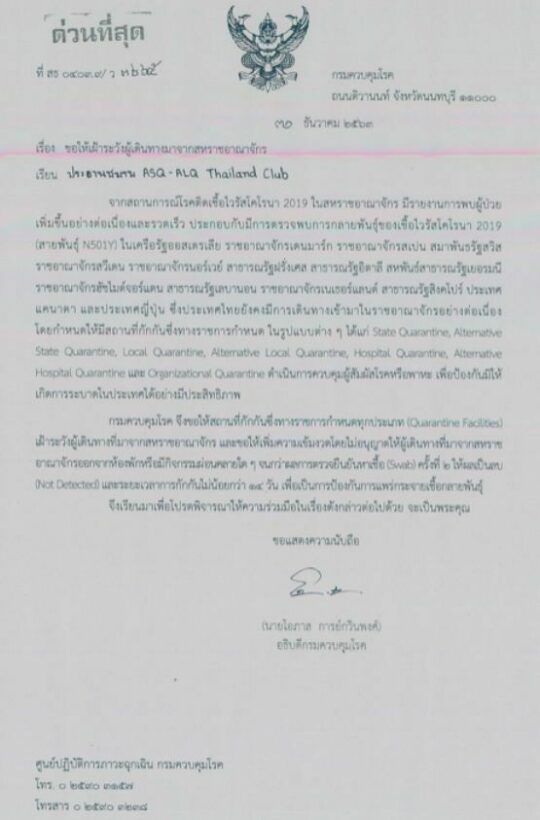 SOURCE: CCSA
Catch up with the latest daily "Thailand News Today" here on The Thaiger.
Keep in contact with The Thaiger by following our Facebook page.
Never miss out on future posts by following The Thaiger.
Hong Kong partially locks down, forcing thousands to undergo Covid screening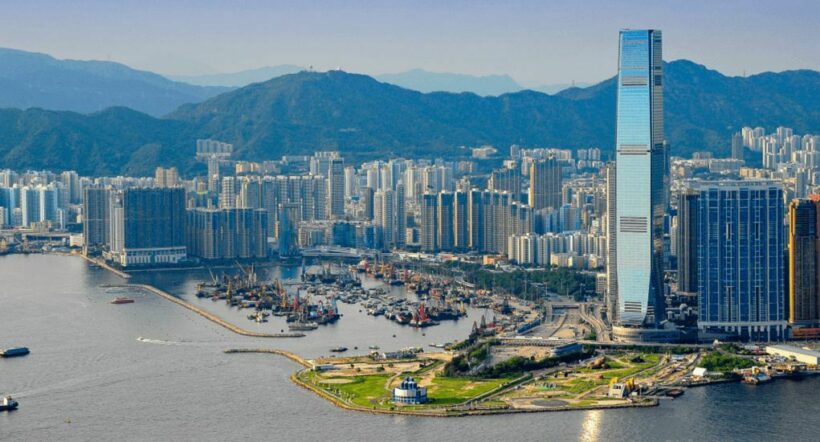 Hong Kong's government is forcing a partial lockdown until 10,000 residents of an area in the Kowloon peninsula, complete a Covid-19 test. The 2 day lockdown in the city's poorest neighbourhood of Jordan, comes after a new strain of the coronavirus was identified, making it the 1st lockdown that the city has seen.
The area, which features many deteriorating buildings and 150 stacked housing blocks, has confirmed 162 confirmed cases of Covid-19 this month, with the ratio of virus detected in sewage samples from buildings there was higher than that of other areas.
Over the last 2 months the city has been hit by a 4th wave of infections with authorities struggling to bring the daily numbers down. Such clusters have hit the low-income neighbourhoods the most, which are notorious for cramped conditions in districts such as Yau Tsim Mong.
In recent days, health officials began mandatory testing in some 70 buildings in the area but the government has now decided to test everyone much to the confusion of local residents. As rumours of a lockdown were leaked to the local media, the government didn't officially announce the measure until this morning. The area is also home to many ethnic minorities, mainly South Asian Hong Kongers, a community that often faces discrimination and poverty.
Earlier in the week a senior health official was criticised when he suggested ethnic minority residents might be spreading the virus more readily because "they like to share food, smoke, drink alcohol and chat together."
The health official's comments also came as a video was released of predominantly white migrants dancing at a packed brunch on the more affluent Hong Kong Island. But those who agreed with the health official pointed to cramped conditions, not race or culture, as being the cause of the virus spreading more easily.
SOURCE: Thai PBS World
Keep in contact with The Thaiger by following our Facebook page.
Never miss out on future posts by following The Thaiger.
Phuket wants Bangkok arrivals to skip quarantine to help tourism revenue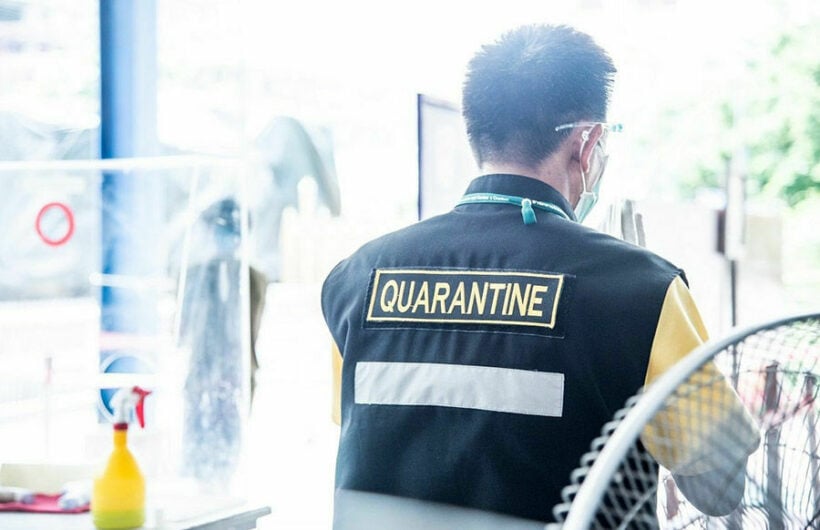 Phuket's tourism representatives are calling for an end to the mandatory quarantine levied at tourists arriving to the province from Bangkok. The tourism delegation have also told Phuket's provincial government to be prepared to start receiving international tourists starting in October.
According to The Phuket News, such a plan would include a requirement for all international travellers to Thailand to have the Covid-19 vaccine. By that time, it is expected that Phuket will have 70% of its population vaccinated, with the timeline possibly being sped up by the province planning to buy the vaccines with its own funds. Such a move would bypass the national government's timeline with the hopes of innoculating registered residents quicker. Governor Narong says such quarantine measures in place currently are preventing the province from profitting off domestic tourism.
"Phuket has been hit hard by the 2nd epidemic. Thai tourists do not come because they do not want to quarantine and follow the difficult steps to enter the province, not to mention there are no foreign tourists at this time."
In a meeting, the PTA President Bhummikitti, said the Covid-19 vaccine was "the last ticket and the last hope" for Phuket tourism, "because Phuket tourism has no way out at this time."
"Thai people are unable to travel due to the second outbreak, and foreign tourists are not to be mentioned at all. Vaccines are the hope of the Phuket tourism sector."
"The private sector wants to get clarity from the government whether we can follow this plan or not, because if it is left like this – open, close, lockdown and so on, as in the past – local businesses are all dead."
Bhummikitti pointed out that the government had promised to work with local industry on all matters related to Covid-19 and keeping the local economy alive. He said that the move would "allow tourism and the Phuket economy to be able to walk once more from having fewer Thai tourists."
Governor Narong said tracking systems will be in place when tourists do come back to the province.
"In order to ensure tourists that Phuket citizens as well as incoming tourists are safe from the Covid-19 virus, there will be a tracking system, and a fund established to be used as a remedy [sic] to help those affected if there is an infection from incoming tourists."
SOURCE: The Phuket News
Keep in contact with The Thaiger by following our Facebook page.
Never miss out on future posts by following The Thaiger.
Eastern provinces growing impatient with safety measures as Covid cases decrease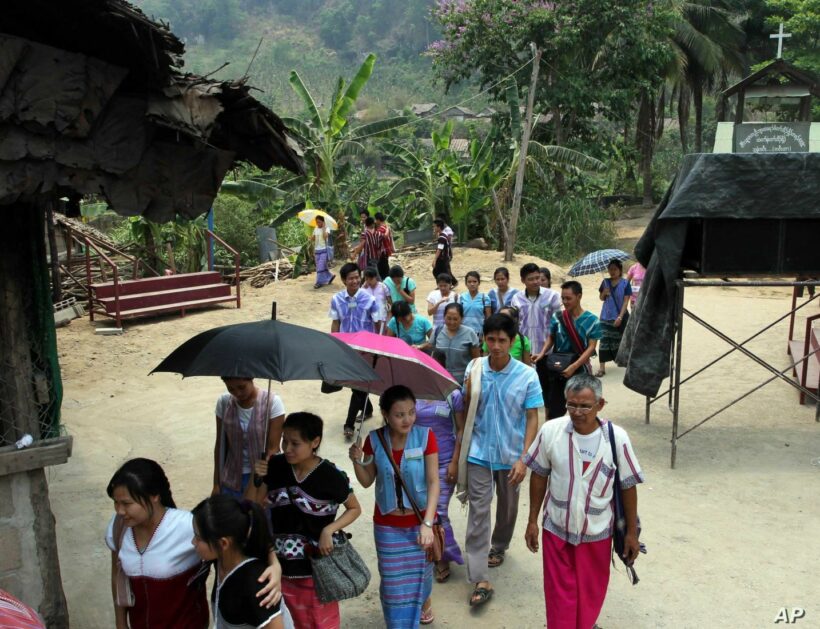 Thailand's eastern provinces are growing impatient as local businesses and residents await a relaxation in Covid-19 safety measures after seeing a drop in cases. Chonburi, Chanthaburi, Trat and Rayong are under a "highly controlled" status set by the CCSA (Samut Sakhon, south west of Bangkok, also falls into the same category at this time). These provinces, along with Samut Sakhon and Samut Prakarn, are under the strictest control measures in the country.
The cause of such tough measures levied upon the provinces was due to a spike in Covid cases after illegal gambling operations in Rayong and Chonburi were found to feature participants with the Covid-19 virus. But now, those areas are reporting very few cases of the virus leaving residents frustrated as they are unable to make a living or travel.
There has been only 1 case in the past 2 days in all 4 of the Eastern provinces. That case was in Rayong, with all other cases being in the low single digits. On top of the low cases, any new cases have been promptly dealt with by requiring contact-tracing, tracking and quarantine. But any hopes of the measures relaxing has been pushed back to the end of the month, with many questioning such a delay.
Even more frustrating is that Pattaya and Ko Chang have largely depended on domestic tourism after foreign tourists were stopped from entering Thailand. But the strict measures are preventing domestic travel as anyone wishing to enter or leave the provinces must have written permission, a move that essentially bans travel.
Bangkok, which has seen more cases reported than all 4 eastern provinces combined, is now easing restrictions by allowing
13 types of businesses
to reopen. The move has baffled the eastern provinces as such businesses are still ordered to shutter. The government has responded, somewhat, by offering a 3,500 baht handout for 2 months, but registration for the handout doesn't start until the end of this month. When the money actually hits residents' pockets is also unknown as it could take weeks.
Keep in contact with The Thaiger by following our Facebook page.
Never miss out on future posts by following The Thaiger.