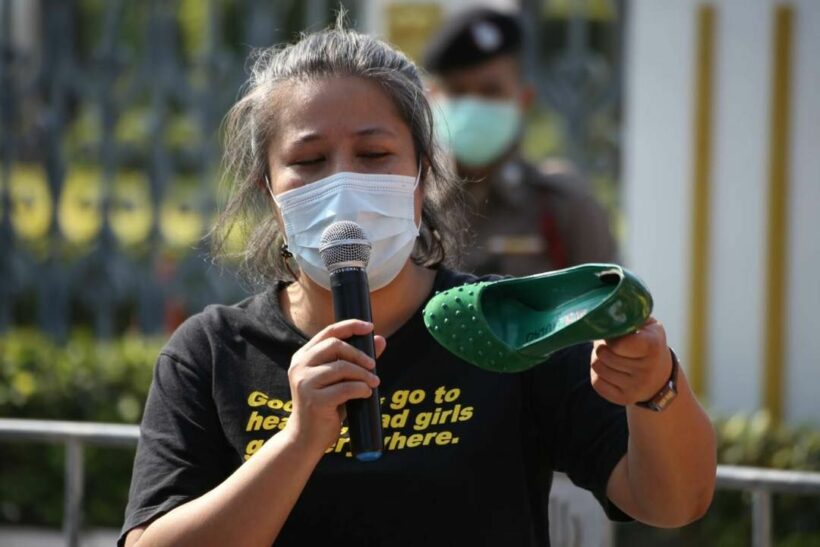 Thailand's nightlife workers have rallied in Bangkok, protesting outside Government House as they demand government assistance. The workers, known as the "high heel mob" are calling on PM Prayut Chan-o-cha to offer state aid to industry workers adversely affected by Covid-19 closure orders. According to a Bangkok Post report, the workers were led by the Empower Foundation.
Employees say their industry has been decimated by Covid-19 restrictions but, unlike other sectors, they have received no state aid to offset the financial hardship they're enduring. They say workers from bars, clubs, and other nightlife venues have made no money since the start of the pandemic nearly 2 years ago. Furthermore, they have been excluded from government relief measures, despite calling for help.
The workers are urging the government to include them in plans to provide monthly aid of 5,000 baht to employees. While the government has pledged such financial assistance for those in the social security system, Thanta Laowilawanyakul from the Empower Foundation says this excludes most workers in the nightlife industry.
"It has been 426 days since the government ordered the closure of nightspots to cope with the Covid-19 outbreak, causing us to lose our jobs and income. However, there are no government relief measures, as most of the workers are not insured under the social security scheme. The government should commit to its pledge of not leaving anyone behind and ensure that everyone can gain access to government aid and welfare."
The Bangkok Post reports that after the workers read out their list of demands at Government House, they proceeded to open boxes containing high-heeled shoes. The shoes had been sent by nightlife workers all over the country and included messages to the government about the financial hardship they're enduring.
SOURCE: Bangkok Post