National News: Five police killed in Yala; Flood warnings; Thais get out of Syria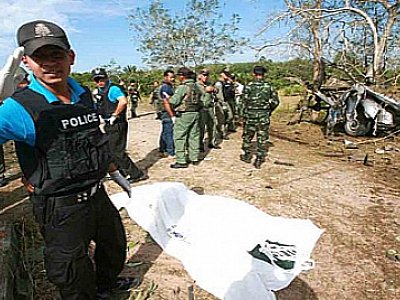 PHUKET MEDIA WATCH
– Thailand news compiled by Gazette editors for Phuket's international community
Pickup bomb kills five policemen in yala
Phuket Gazette / The Nation
PHUKET: Five police officers were killed yesterday and another wounded by a car bomb attack in Yala's Raman district.
The six man squad from Tha Thong Police Station, which was assigned to escort teachers at U Poh Shool, was on a mobile patrol before arriving near a bridge where a pickup truck with hidden explosives was parked. The truck exploded, hitting the police vehicle.
A manhunt was ordered on suspicion that wanted insurgent Kaman Chaichana, who has been active in the district, was also behind this ambush.
The detonation was remote, either by wire, mobile phone or two-way radio. The type and quantity of explosives used in the attack have not yet been identified.
The relief force and bomb disposal team dispatched to the scene were delayed by road spikes scattered by insurgents, who also made off with six assault rifles issued to the patrol officers.
The five dead victims were squad leader Captain Sutham Onthong, Sr Sgt Major Waeuseng Waedeng and Sergeants Natthaphong Bunkomol, Prasert Rodkul and Wichanont Namphakdee.
Pol Corporal Jakkrit Chasalee was hospitalised, but no details of his wounds were available.
Yesterday's attack is the deadliest since the bomb blast in Yala's shopping district in March, which killed eight and left more than 69 injured.
Here is a chronology of recent activity of the insurgents in Thailand's southern provinces:
JULY 3: A homemade bomb hidden in a bicycle's front basket goes off and injures five soldiers in Yala's Muang district.
JULY 4: Three homemade bombs planted in Narathiwat's Rusoh district detonate simultaneously, wounding 12 policemen and villagers.
JULY 9: A roadside bomb wounds two soldiers on foot patrol in Pattani's Thung Yang Daeng district.
JULY 13: Homemade bombs planted at four ATM units in Yala's Bannang Sata district and an M79 grenade attack on a security outpost wound one civilian and one policeman.
JULY 19: A bomb explodes at a shop in downtown Pattani, but nobody is hurt. A bomb in Yala's Than To district kills a villager and wounds another. A bomb is found after an ambush on villagers is carried out to draw security officials in Narathiwat's Si Sakhon district
JULY 20: On the first day of Ramadan, a 50 kilogram bomb hits a military vehicle on patrol in Narathiwat's Rangae district and wounds seven military rangers. A car bomb goes off in downtown Sungai Kolok in Narathiwat, burning down four shophouses and wounding eight people
JULY 25 (yesterday): A bomb hidden inside a parked pickup truck goes off in Yala's Raman district and hits a vehicle carrying policemen escorting teachers. Five of the occupants are killed and one wounded.
Tropical depression brings heavy rain and flooding to north
Phuket Gazette / The Nation
PHUKET: The Meteorological Department yesterday warned that Depression Vicente, downgraded from tropical storm status over China, would cause heavy rains and possible flash floods in lowland areas near waterways in the North and the Northeast until tomorrow.
In the northern province of Mae Hong Son, a landslide triggered by rain has blocked the road leading to a hill tribe village in Sop Moei district. The local authorities will use a backhoe to clear the road.
Farmland in Pai district has been submerged due to the heavy downpour. In Chiang Rai, local residents in risk areas have been warned of likely flash floods and mudslides.
Flash flooding from the upstream level of waterways in Phichit has led to off-season paddy fields going under water. The local irrigation office has opened sluice gates to speed up the release of water to the Yom River, which has the capacity to receive it.
The strong southwest monsoon over the Andaman Sea, mainland Thailand and the Gulf of Thailand has resulted in waves 2-3 meters high and will continue to the weekend.
All shipping is advised to use caution and small boats should stay ashore, the department warned on its website.
Thais studying in Damascus on the way home: Foreign Ministry
Phuket Gazette / The Nation
PHUKET: The Foreign Ministry has facilitated the evacuation of 17 Thai students from Syria's capital Damascus, which has been rocked by violence in recent weeks.
The group is expected to arrive in Bangkok next Wednesday, Thai Foreign Minister Surapong Tohvichakchaikul said.
The ministry, which contacted the Thai honorary consulate in Damascus to help evacuate the students, provided them with air tickets.
Surapong said there are some 50 Thais in Damuscus, some of them women married to Syrians. They did not want to leave.
Earlier, the Thai Labour Department had said no Thai labourers were currently working in the Syrian Arab Republic, where fierce fighting and other violence is now endemic.
Some 13 Thai labourers, who had been permitted to work in restaurants and Thai-style massage parlours there since 2009, returned to Thailand several months ago.
No other skilled Thai workers have been employed in Syria. The country suspended construction related employment as it has had no city or industrial development plans for many years.
— Phuket Gazette Editors
Keep in contact with The Thaiger by following our Facebook page.
Never miss out on future posts by following The Thaiger.
Thailand News Today | Bangkok protest fallout, northern fire bans | March 1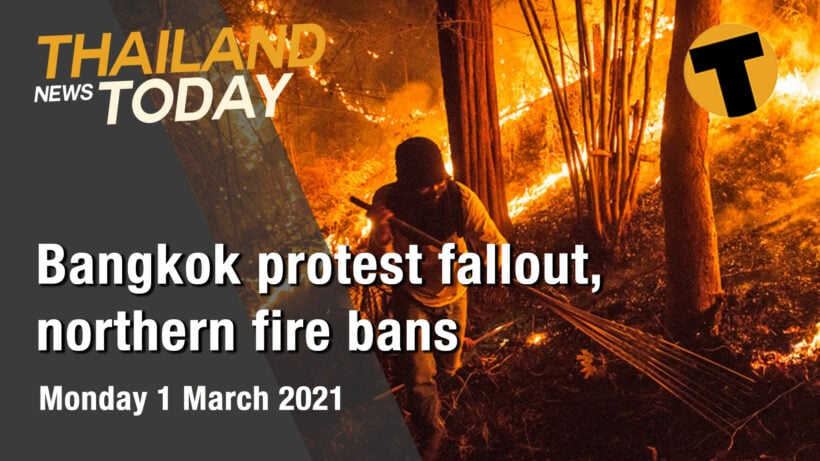 Coming up today… the fallout from yesterday's latest protest violence in Bangkok, the first vaccine in Thailand who got it, and a major drug haul along the Mekong.
But first we'll start up north where Lampang Province is joining other northern provinces todday by putting a total fire ban in place from today, March 1, until the end of April. Chiang Mai also started a ban on all deliberately lit fires from today and Lamphun, just south of Chiang Mai, already has one in place.
The bans are timely after a horrid weekend of air pollution in many of Thailand's provinces over the long weekend, even as far south as the tourist destination of Phuket where visibility was down to about 1 kilometre and the smell of smoke was noticeable.
Whilst up in the north… 4 Thai women were arrested at a security checkpoint in Tak's Mae Sot district after they illegally crossed the border from Myanmar into Thailand.
Illegal casinos and fancy hi-so massage parlours in Myanmar in areas near the border, have attracted wealthy Thais and Burmese. The establishments have also attracted plenty of Thais looking for well-paid work across the border.
In a major bust along the Mekong River, a notorious hotzone for drug trafficking, border patrol police seized 920 kilograms of dried, compacted cannabis from a boat along the Nakhon Pathom riverbank, bordering Laos.
Now to the weekend violence as the protests resume where they left off last year…
At least 22 people were arrested during the major Bangkok protest yesterday. It turned violent as pro-democracy activists marched toward the Thai PM's residence. It's been reported that one officer died during the rally, reportedly due to heart failure.
At least 33 people were injured… that includes 23 police officers. The clashes happened in front of 1st Infantry Regiment barracks on Vibhavadi Rangsit Road and involved around 1,500-2,000 activists fromthe Restart Democracy movement, part of the Free Youth group. The group has been protesting against the government and calling for reform of the country's constitution and monarchy since protests began in July of last year.
And Thailand's Covid-19 vaccine campaign started with Public Health Minister Anutin Charnvirakul who received the first of China's Sinovac vaccine yesterday. PM Prayut Chan-o-cha was initially planned to be the first to kick off Thailand's immunisation plan with the AstraZeneca vaccine, but due to problems with paperwork, the PM's injection was postponed.
Keep in contact with The Thaiger by following our Facebook page.
Never miss out on future posts by following The Thaiger.
Nearly 300 cats rescued from Bangkok home shelters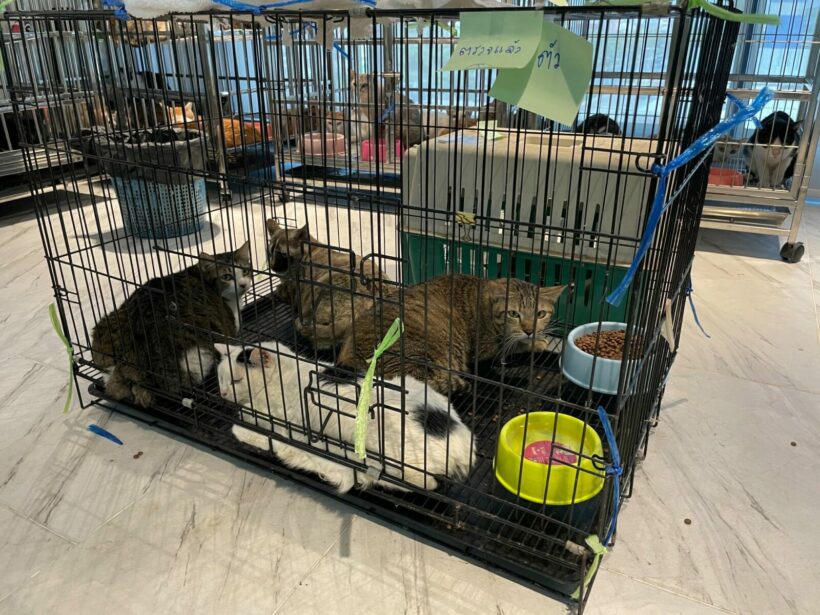 Nearly 300 cats, many in wire cages, were found in 2 recently abandoned home shelters in Bangkok. Some cats were found dead and an animal activist who rescued the cats says the homes were filthy and smelled of cat feces.
The owner of the homes was initially providing shelter for the stray cats, but due to the financial problems brought on by the coronavirus pandemic and the lack of donations, the owner could no longer afford to feed and care for the cats, according to animal activist Warattada Pattarodom. The owner did not come by for a while and a neighbour would sometimes come by to feed the cats.
"The owner did not come to this place for quite a while, many months. So you can say they were abandoned because of her unfortunate circumstance, but they were not abused."
After being rescued from the homes, the cats were taken to various veterinarian clinics for check ups. One veterinarian said he was sure the cats would recover.
"The cats got stressed because they were in an enclosure for a long time… but after last night they started to snuggle in the cage when people approached."
The cats will be sent to a shelter in Chiang Mai which is also caring for elephants. Since the pandemic, the Chiang Mai shelter started taking in cats. It now cares for nearly 1,000 cats.
Keep in contact with The Thaiger by following our Facebook page.
Never miss out on future posts by following The Thaiger.
Samut Sakhon shrimp market, recent Covid-19 wave's epicentre, is back open and bustling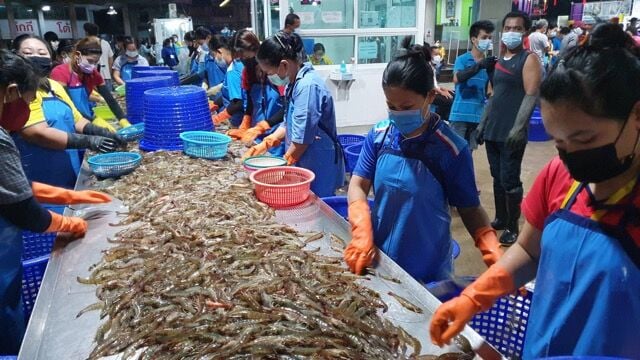 The Samut Sakhon seafood market, the epicentre of the recent wave of Covid-19 infections, has reopened. The Central Shrimp Market had been shut down, sealed off and sprayed down after hundreds of vendors, migrant workers and visitors were infected with the coronavirus. Now, 10 weeks later, the market at a fishing hub just southwest of Bangkok, is not only back open, it's bustling.
A waiting area now has rows sectioned off by plastic dividers to ensure social distancing. Those bringing fish to the market to sell must take a queue card and sit in the proper seat. The seafood will also be now sorted on a raised platform.
Market operators, vendors and customers are required to follow disease control measures. Screening points are set to check all vehicles entering the area including trucks delivering seafood as well as vendors and customers.
Workers are required to wear face masks, gloves, rubber boots and rubber aprons. Members of the market must have documents from a recent health screening.
SOURCE: Bangkok Post
Keep in contact with The Thaiger by following our Facebook page.
Never miss out on future posts by following The Thaiger.