Thailand
Nakhon Ratchasima tackles underprivileged kids' issues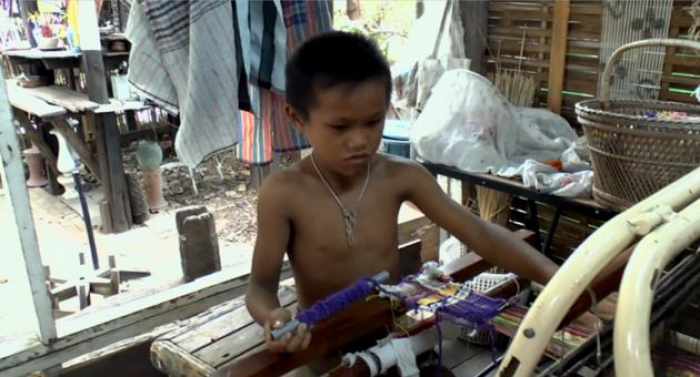 PHUKET MEDIA WATCH
– Thailand news selected by Gazette editors for Phuket's international community
Nakhon Ratchasima tackles underprivileged kids' issues
The Nation / Phuket Gazette
PHUKET: Six-year-old Yot (not his real name) was described by his scavenger mum as a problem child.
He hated going to school and was so addicted to computer games he began begging to cover the Bt10 per hour he needed to pay the Internet cafe.
However, when The Nation met Yot, he appeared to be attentive and eager to weave fabric with 40 other street children at the House of Silk in Nakhon Ratchasima's Muang district.
This is part of the province's "self-governing education approach" that sees local bodies providing education opportunities to underprivileged kids in order to keep them engaged in constructive activity rather than begging on the streets.
Yot lives with his mum and stepfather in a tin-roofed hut in a slum built along the railroad tracks. This is reportedly the largest slum in this northeastern province, also known as Korat.
Waratthaya "Khru Jeab" Chanrat, who has been teaching children in this community, including Yot, for nine years now, recalled a time when the public perceived Korat as an area full of child beggars. According to 2011 statistics cited by the Basic Education Commission, 60 per cent of the province's young population, or 193,709 children, lived below the poverty line.
Korat faced the problem of youngsters falling out of the formal education system and becoming street kids, who hung out either at the slum or Suan Rak and the Clock Tower.
Khru Jeab said Korat's education conundrum was extreme inequality. Some kids were sent to expensive schools by their families while others could not access any education at all. Many of them were even stateless and living without welfare because their poor parents had not bothered to apply for their birth certificates.
Thailand is home to five million "poor" children, or about a third of the population aged up to 18, according to the Quality Learning Foundation.
Kraiyos Patrawart, an economist for the foundation, found that each province received Bt6.5 billion for education, while households forked out Bt1.3 billion for education, and each province had 200,000 children aged 3-18.
Of that group, 54,000 were pre-schoolers and underprivileged kids both inside and outside the formal education system.
Based on such figures about underprivileged children, a study by Nicholas Burnett, a former Unesco deputy director-general, said the problem of children dropping out of school cost the country Bt330 billion a year in economic and social losses. This was equivalent to 3 per cent of GDP or half of the annual budget for education.
Regarding Korat's "self-governing education" approach, Amornwit Nakhonthab, an ad-viser to the foundation, said the challenge was to ensure that basic education was of good quality throughout the province. This would narrow the social gap and boost local youths' quality of life.
Reaching such desirable results required the cooperation of all agencies involved in this issue.
Khru Jeab praised this outlook, saying it was a direct response to local issues and catered to local people's needs. As each child and each area differs, the Education Ministry's "one-size fits all" approach to management doesn't always tackle issues at their roots.
"We have to consider children's needs, local area's needs, what is useful and practical and what's necessary for child develop-ment, not just have them study for good grades and no life skills," she said.
If local bodies were authorised to manage education, they could solve problems better than just taking policies from the central administration as the situation in local areas could differ.
"I want children to get an education. The government budget usually focuses on children in the formal education system even though there are many off-system children," Khru Jeab said.
"If the system is so good, why are there many children slipping out of it and why are there so many dropouts? Our local bodies have to support these off-system children but we get very little budget for that."
Winai Wittayanukul, deputy Korat governor, said deprived children were also found in rural communities. As farm income depends on harvests, a year of inferior crops and low prices diminishes kids' chances of attaining an education.If local bodies handled education, they would know best about
what the area needed. The province had gathered ideas about education to submit to the National Council for Peace and Order, which designs the national policy for education.
"I think other provinces would think like us because we all face the same problem [of education not being decentralised]," he added.
— Phuket Gazette Editors