AMLO follows money trail to bring down Siamese rosewood smuggling cartel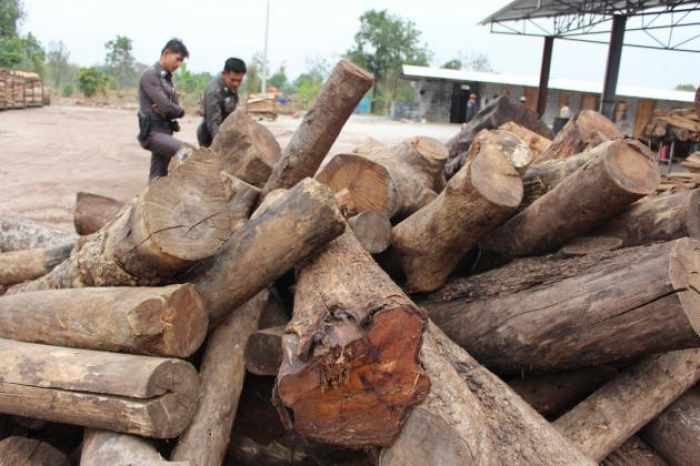 PHUKET MEDIA WATCH
– Thailand news selected by Gazette editors for Phuket's international community
AMLO follows money trail to bring down Siamese rosewood smuggling cartel
The Nation / Phuket Gazette
PHUKET: With the anti-money laundering law covering trade in endangered Siamese rosewood, investigators have been able to follow the money trail related to the timber smuggling gangs and have come up with a more complete picture of this illegal activity in the Northeast.
Investigators uncovered links between transnational gangs trading in the rare wood and drug traffickers, and learned that timber-smuggling convoys were similar to the ones used to smuggle drugs. The probe also found that the wood was sometimes paid for in narcotics, and found some links with local politicians.
After police broke up a gang based in Chaiyaphum on April 19 and subsequently confiscated Bt2 billion worth of assets, links were found to a Nakhon Ratchasima politician's older brother, who allegedly tried to bribe the police to help the gang. The network, allegedly led by Kampanart Chaimat, had reportedly traded in Siamese rosewood and wildlife since 2000.
In line with the National Council for Peace and Order's policy, Pol General Chalermkiat Srivorakhan, director of the Natural Resources and Environmental Crime Suppression
Centre, led a police crackdown on gangs said to be behind the felling of rosewood trees. They also uncovered a cartel led by Pakin Siriwarom, who was arrested in Ubon Ratchathani.
Pakin, believed to be a major rosewood trader with businesses in five provinces in the Northeast, had allegedly devised a new way of smuggling the rare wood using modified cars and 4-wheel-drive trucks.
When police asked the Anti-Money Laundering Office (AMLO) to go ahead with money-laundering charges against the suspect, the agency launched a four-month investigation into the gang's transactions and even visited Savannakhet province in Laos, where shophouses were reportedly rented to store the smuggled wood.
AMLO found that the cartel had set up a second-hand car dealership and took in any car – even ones under mortgage to gambling dens – because they could be modified to smuggle the wood. The modified vehicles were used to transport the timber at night and parked at the dealership during the day to avoid suspicion.
It was also difficult for police to monitor vehicles because up to 100 of them were used in rotation to smuggle the timber. All cars used for smuggling were under lease so as to prevent police from tracing them back to the person behind the smuggling.
Every time issues arose over a vehicle lease or came up in court, the dealership would claim the car and take it back. This way, the cartel was able to launder the hefty profits it earned from the rosewood.
It is believed that once the timber crossed the border it would earn at least four times the price of the car.
Payments for the smuggled wood, meanwhile, were paid into the bank accounts of nominees, who would then move the cash in ATM transfers to avoid detection. Payments that were collected from Laos in US dollars were reportedly declared as money earned from fruit exports or from gambling in casinos.
Once the cash was in Thailand, it was turned into Thai baht and laundered through tour businesses, massage parlours, second-hand car dealerships or even deposited in banks where relatives of the gang members worked, the AMLO report said.
A joint police-Army-AMLO team searched 20 locations linked to Pakin's group in Ubon Ratchathani, Mukdahan, Si Sa Ket, Amnat Charoen and Kalasin provinces and found several pieces of key evidence, such as wood dust and chains in the trunks of many cars on show at the dealership. They also found some weapons in the gang members' homes.
This was fitted with what police investigators had learnt – that every shipment of rosewood involved a five-car convoy. The first car was used to see if the coast was clear, while the second and third would carry the timber, the fourth was used to distract police, while the fifth car – reportedly driven by an armed ex-paramilitary ranger – would provide protection. The group reportedly contacted each other using the popular Line mobile-phone chat application.
AMLO chief Pol Colonel Sihanart Prayoonrat said that individuals found to have helped the illegal felling and smuggling of rosewood would face four years in prison and/or fines up to Bt40,000. They would also face penalties under the money-laundering law. This is just like drug dealers, who face a jail term and fine, plus have their assets confiscated.
— Phuket Gazette Editors
Keep in contact with The Thaiger by following our
Facebook page
.
Thais go bananas over freak plants in pursuit of lottery numbers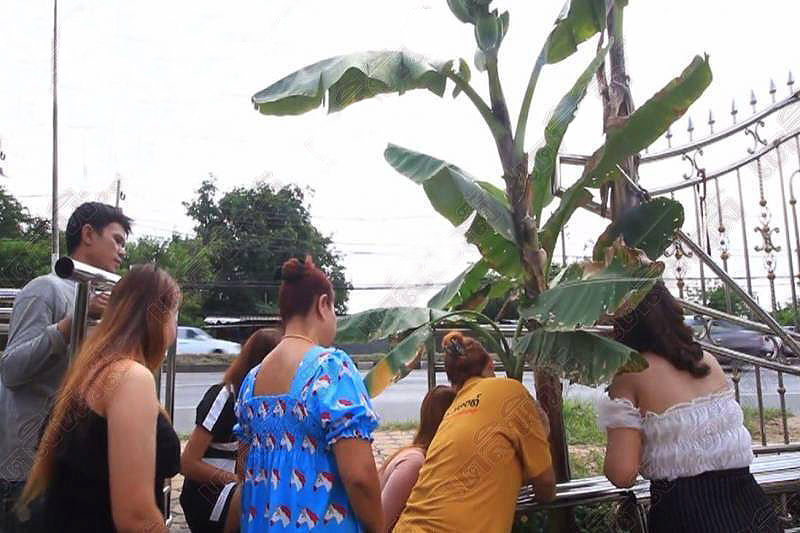 PHOTOS: Daily News
The answers are in the banana leaves.
Thai people LOVE playing the lottery (and gambling generally). In fact they're BANANAS about the twice-monthly lottery (it was drawn again today). Daily News has reported about two unusual banana trees growing in front of a shop in Klong 4 Pathum Thani, just north of Bangkok. The trees did not have blossom and on one plant two bananas were pointing skywards. On another there was a whole bunch pointing up into the sky.
There was a steady stream of the faithful lighting incense, praying and rubbing powder on the trees to get lottery numbers. One group thought '542' was the magic numbers and a path to riches (we're not sure how they came to this conclusion). 53 year old Surachai says the trees had been growing for a few months and that he'd never seen anything like it before.
An unnamed agricultural expert suggested that there was probably something wrong with the banana plants. Trees and malformed animals are a favourite source of inspiration to select numbers for the lottery, as are numbers of houses and vehicles involved in events where people experience "miracle" escapes from danger, or even bizarre accidents.
SOURCE: Daily News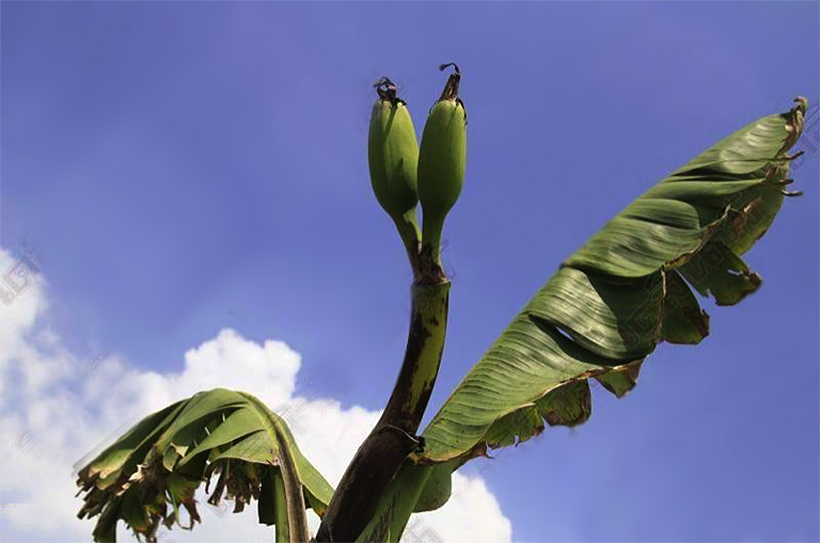 Keep in contact with The Thaiger by following our
Facebook page
.
Clean Up to the Countdown – Crackdown on illegal software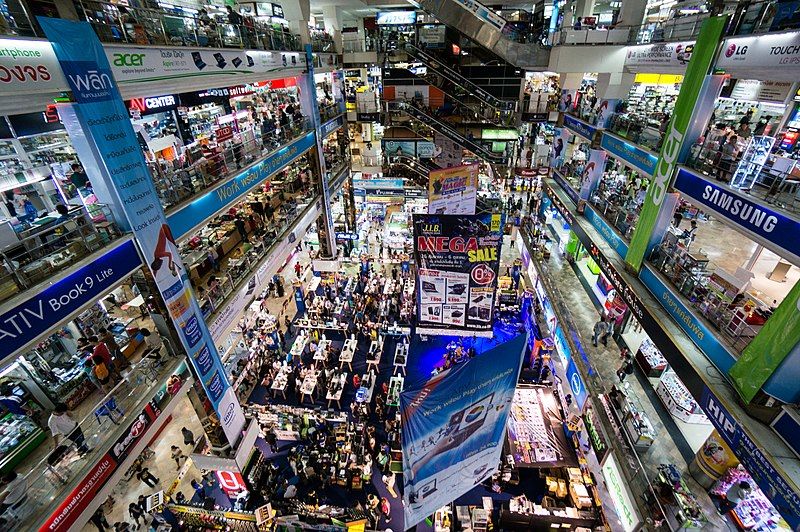 PHOTO: Pantip Plaza, Bangkok
The Clean Up to the Countdown campaign aims to encourage top executives to legalise their corporate software before midnight on December 31, 2019."
BSA The Software Alliance is partnering with Thai police and chief executives on a campaign to crackdown illegal software in the workplace by the end of 2019. Many companies still use illegal, pirated or copied computer software.
This campaign will target 10,000 companies across Thailand that are thought to be using illegal software. This includes corporations in a variety of business sectors, such as manufacturing, construction, banking and finance, engineering, architecture, media, design, IT and healthcare. Many of these companies are known users of software, but lack license agreements from software providers.
The Nation reports that the BSA is working with police to ramp up enforcement against corporations using illegal software and has already helped identify nearly 10,000 companies in 10 provinces suspected of using illegal software.
The Economic Crime Suppression Division wants to see business leaders take a proactive approach to cleaning up their corporate software assets so that they can enter 2020 fully legal and compliant. From now until the end of the year, it will continue to raid companies suspected of not complying with Thai laws protecting software copyright.
While ECD enforces the Thai laws, BSA is contacting thousands of corporate leaders in Thailand to offer guidance and advice in addressing illegal software use in the workplace.
BSA Senior Director Tarun Sawney believes that some CEOs may be aware their company is using illegal software and are wary of investing in genuine software.
"But there are other CEOs whose companies have hundreds or thousands of PCs, who simply may not be aware of the type of software running on their corporation's PCs, and whether it is legal or not."
"BSA wants to help CEOs do the right thing but this requires that CEOs take a hands-on approach to addressing the risk of using illegal software in business operations. Our advice is that CEOs treat the risk of illegal software with the utmost importance. This means being hands-on and proactive. CEOs can and should control this risk factor."
The solution, according to the software industry, includes a better effort by CEOs at self-policing their own use of software by corporations in Thailand. The Clean Up to the Countdown campaign is a part of Legalize and Protect initiative launched earlier this year. So far, the initiative has helped thousands companies in Thailand legalize their software assets and protect data from malware and hackers.
SOURCE: The Nation
Keep in contact with The Thaiger by following our
Facebook page
.
Thai Airways must modify rehabilitation plan to survive: Airline President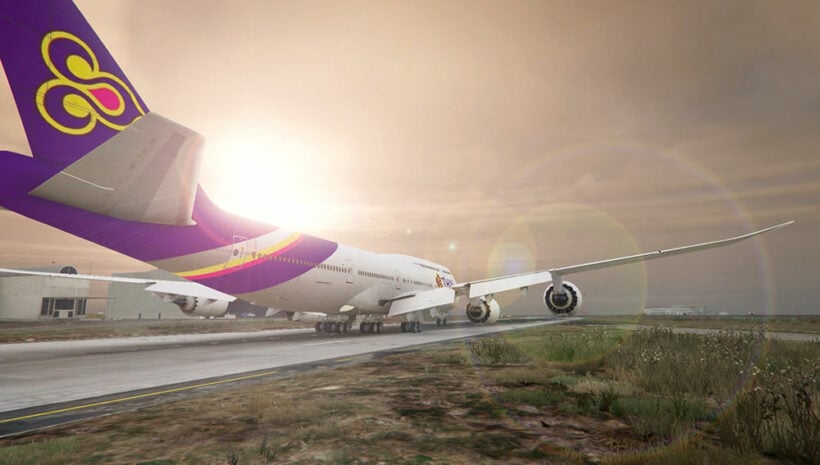 PHOTO: gta5-mods.com
"Thai Airways will have to modify its rehabilitation plans to survive in the face of tight competition." This frank admission by the airline's president Sumet Damrongchaith.
The national carrier is now carrying a total debt of over 2.45 billion baht and losses of more than 20 billion, despite being able to reduce its debts by 48 billion baht over the past five years.
Sumet says the first step will be to restructure the airline's management and finances as well as reconsider its plan to spend 1.5 billion baht on 38 new aircraft. He admits the biggest problem is that Thai Airways has low capital but a high debt-to-equity ratio of eight times.
In order to maintain its competitiveness, the carrier will have to reduce its debts versus assets and boost its working capital with support from the ministries of Transport and Finance. Hence, it plans to borrow approximately 3.2 billion baht in fiscal 2020 in line with the budget limit set by the Office of Public Debt Management.
This loan will be taken to support the airline's investments as well as for its working capital, to update equipment and maintain existing aircraft, but will not be used to repay old debts.
The Nation also reports that the airline is also concerned about maintaining its liquidity because at the end of June this year, its revolving credit line stood at 13.4% of the total revenue forecast for 2019.
Sumet admits that, though the original rehabilitation plan has a set framework, the situation has now changed due to the appreciation of the baht, so in order to achieve goals, the work method has to be redesigned, such as finding a way to procure more passengers.
"We are now in the process of analysing new markets."
Meanwhile, Thai Aiways' board chairman Aek-Niti Nitithan-Praphas says the board is reconsidering plans to procure a new fleet taking into consideration the state of the global and domestic economies as well as the US-China trade war.
"The growth of the tourism industry and the airlines' financial status needs to be reviewed in line with strong competition and routes that are no longer popular. It's better to carefully revise the plan instead of exposing the airline to greater risk. The target should be reduce expenses by 20%."
Meanwhile, Thai Airways aims to boost the sale of tickets, find ways of increasing online shopping of duty-free goods and reducing unnecessary expenses by 10%without affecting the quality of service in the last three months of 2019.
The airline is also negotiating the option of cutting down overtime expenses and is looking into curbing losses incurred by it's semi-budget offshoot Thai Smile by increasing its flying hours to 10.5 hours daily. These steps are expected to help the airline reach breakeven point in the short term.
The airline is also considering long-term goals such roping in more passengers by offering greater benefits to Royal Orchid Plus members, focusing on digital marketing, retiring non-performing assets as well as increasing revenue from related businesses such as kitchens and aircraft repair centres.
SOURCE: The Nation
Keep in contact with The Thaiger by following our
Facebook page
.