BREAKING: Radioactive caesium-137 cylinder missing in Thailand was smelted, sparking health concerns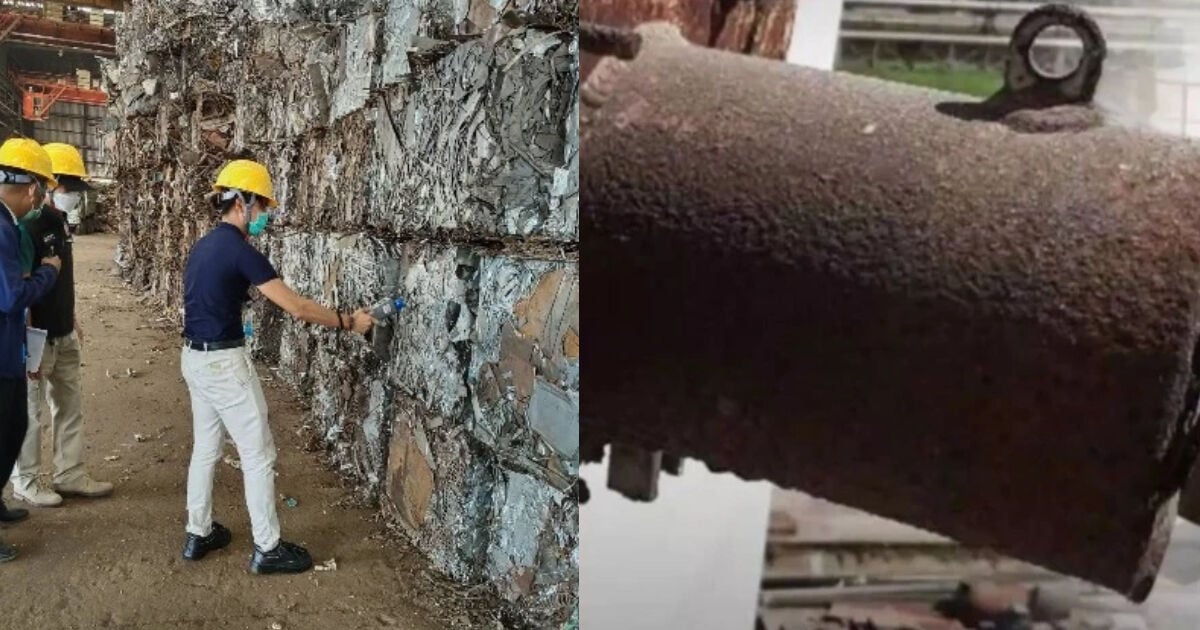 UPDATE
The radioactive cylinder containing caesium-137 which went missing from a power plant in Thailand was smelted in a furnace at Chow Steel Industries Public Company Limited's smelting factory in Prachin Buri province, the governor of Prachin Buri province admitted this morning.
The radioactive implications of this incident are unclear right now.
Officials from the Office of Atoms for Peace detected caesium-137 in the furnace at the smelting factory in Nong Ki subdistrict in the Kabin Buri district yesterday.
The cylinder was heated at 1,200 degrees Celsius with other metals and turned into "red dust," reports ThaiPBS.
Chow Steel Industries Public Company Limited's factory has been closed and access to the area has been cut off. At least 70 employees and residents near the factory are being prepared to undergo blood tests.
The "red dust" was sent to a metal factory in Rayong province. Office of Atoms for Peace officials travelled to the factory in Rayong and found 24 tonnes of "red dust" contaminated with caesium-137.
Officials insist that the radioactive dust has not dispersed into the environment and is in a confined space.
Head of the Centre for Nuclear Emergency Operations and Radiation, Kittikawin Aramun, said that caesium-137 levels did not exceed the standard in a 5-kilometre radius of the factory. Soil, water and air samples were tested, he said.
If the dust did escape into the environment, it presents a danger to human and environmental health, according to Dr Marsom Ponglamai from Bangkok Hospital in Pattaya, who said…
"If caesium-137 is fused, burned and vaporised, it can travel hundreds of thousands of kilometres depending on the wind (in the Chernobyl incident, caesium-137 flew over 1,000 kilometres to Sweden) and inflict harm on living things it comes into contact with.
"Caesium-137 could infiltrate into soil, water and food and cause damage to animals and humans… Beta and gamma rays will change DNA and cause mutations, which if don't kill, can cause cancer, especially leukaemia and thyroid cancer.
"Caesium-137 has a half-life of 30 years and will not fully dissolve in nature for 100 years. [If the caesium-27 escapes into the atmosphere] it is likely to cause rates of leukaemia and thyroid cancer to go up in the affected area.
"People who think they might have come into contact with caesium-137 should watch out for symptoms like nausea, vomiting, diarrhoea and burning skin.
"The government should be transparent about this…"
Several Thai media outlets reported earlier that the cylinder was found crushed into a block with other metals in preparation to be smelted but "tragedy was avoided" as it hadn't yet been put into the furnace. It turns out this was not true and the cylinder had been smelted.
There are eight furnaces at Chow Steel Industries and trucks coming in and out every day containing scrap iron and metal.
The radioactive substance was believed to have gone missing from National Power Plant 5A Co., Ltd., in the Si Maha Phot district of Prachin Buri province on February 23.
How the radioactive cylinder went "missing" is still a mystery.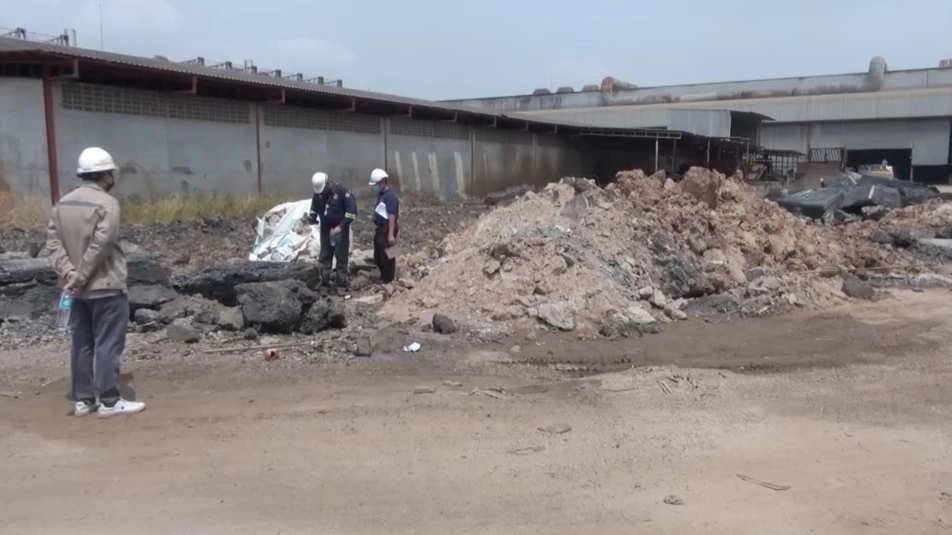 UPDATE #1: Power plant in Thailand ups reward for missing radioactive cylinder to 100,000 baht
A power plant in Prachin Buri province in central Thailand has upped the reward for information on the whereabouts of a missing radioactive cylinder containing Caesium-137 from 50,000 to 100,000 baht.
The Office of Atoms for Peace have checked CCTV and scoured second-hand shops in the Si Maha Phot district to no avail.
The radioactive cylinder was noticed missing on Friday but is believed to have been taken from the plant on February 23.
Prachin Buri governor Ron Nakhonchinda said that all factories within a 2-kilometre radius of the plant have been searched but the Caesium-137 is still missing. The search is being expanded to other provinces, said Governor Ron.
Given the grave danger the radioactive substance presents to human and environmental health, more than 20 power plant officials have been interrogated about the missing cylinder at Si Mada Phot Police Station, but none of them has provided information so far.
If you see the cylinder – a steel tube around five inches in diameter, eight inches long and weighing 25 kilogrammes – don't touch it.
Immediately call Khun Aree on 085-835-0190, Khun Phattana on 085-835-2735, or the Disaster Prevention and Mitigation hotline on 1784.
ORIGINAL STORY: Authorities scramble to find radioactive cylinder stolen from power plant in Thailand
Thai authorities are scrambling to find a steel tube containing the radioactive isotope Caesium-137 believed to have gone missing from a power plant at an industrial estate in Prachin Buri province in central Thailand on February 23.
Staff noticed the cylinder was missing on Friday and filed a record at Sri Maha Phot Police Station that day.
The company said that anyone with information on the Caesium-137's whereabouts will be rewarded with 50,000 baht.
The substance is encased in a steel tube around five inches in diameter, eight inches long and weighs 25 kilogrammes.
Staff at the plant said the radioactive isotope will not cause damage to health or the environment unless the cylinder is dismantled.
Caesium-137 is invisible and has no odour. Any body part exposed to the substance will suffer from necrosis (body tissue decay) from beta and gamma radiation.
Permsuk Sutchapiwat, secretary of the Office of Atoms for Peace – Thailand's agency responsible for nuclear research – warned…
"If someone breaks the cylinder, when you are directly exposed to it, you could be exposed to a high risk of cancer and serious illness, so please don't break the cylinder."
According to the CDC…
"External exposure to large amounts of Cs-137 can cause burns, acute radiation sickness, and even death. Exposure to Cs-137 can increase the risk of cancer because of exposure to high-energy gamma radiation.
"Internal exposure to Cs-137, through ingestion or inhalation, allows the radioactive material to be distributed in the soft tissues, especially muscle tissue, exposing these tissues to the beta particles and gamma radiation and increasing cancer risk."
National Power Plant 5A Co., Ltd., and the Office of Atoms for Peace set up a team of 50 people to search for the missing radioactive isotope but couldn't find it anywhere on the plant grounds. They believe it has been taken away.
The team searched 26 locations in the Si Maha Phot district including scrap metal yards, second-hand shops and antique shops to no avail.
The team are expanding their search for factories in Chachoengsao which buy steel from scrap metal yards/factories.
Current assessments detect no presence of the substance in the immediate area.
Thailand News

Join the conversation and have your say on Thailand news published on The Thaiger.
Thaiger Talk is our new Thaiger Community where you can join the discussion on everything happening in Thailand right now.
Please note that articles are not posted to the forum instantly and can take up to 20 min before being visible. Click for more information and the Thaiger Talk Guidelines.